ALEGRIA, a 4-passenger deluxe barge, cruises on the Canal du Midi in the South of France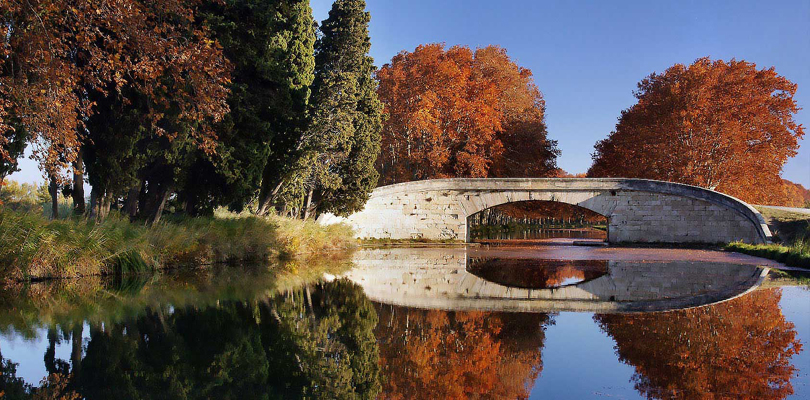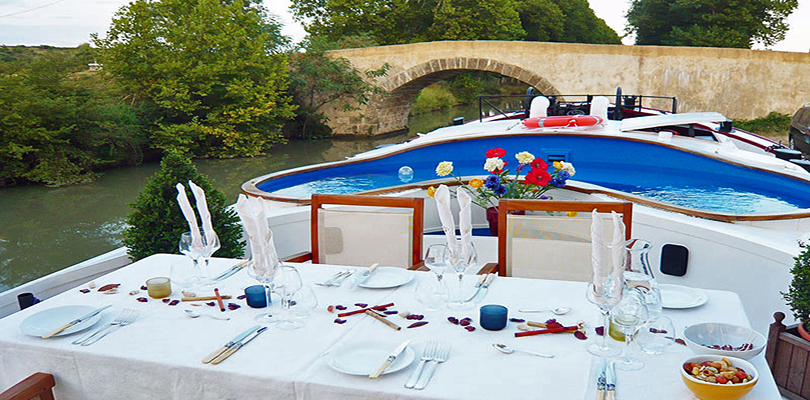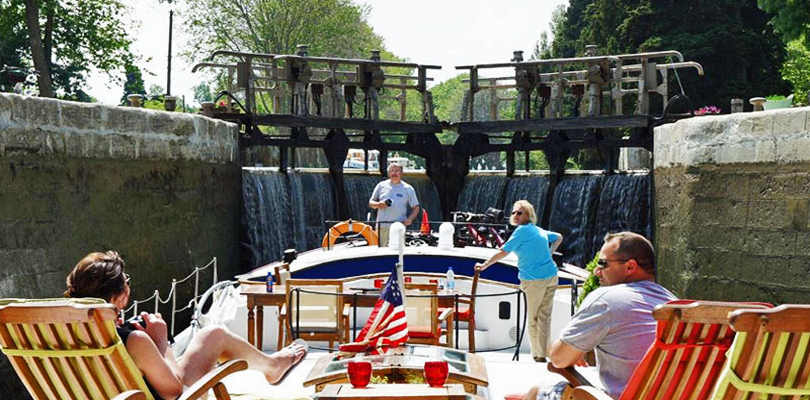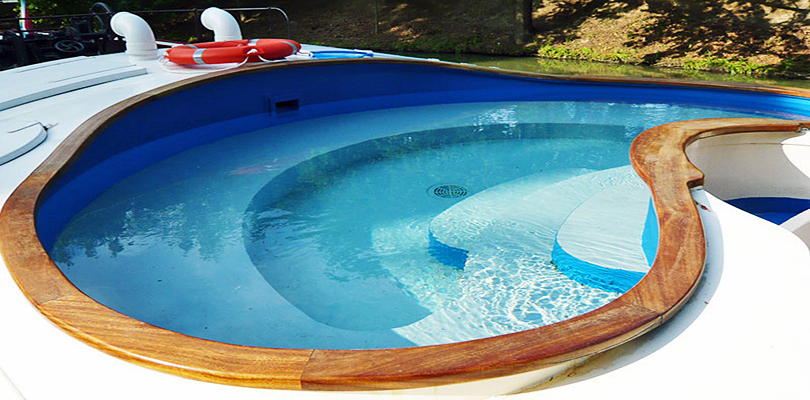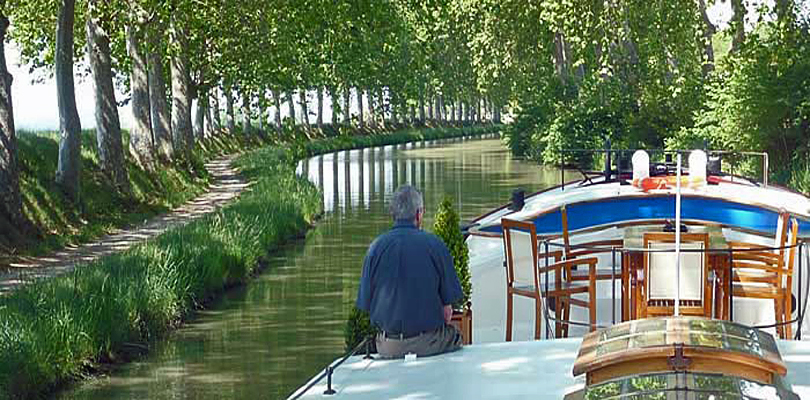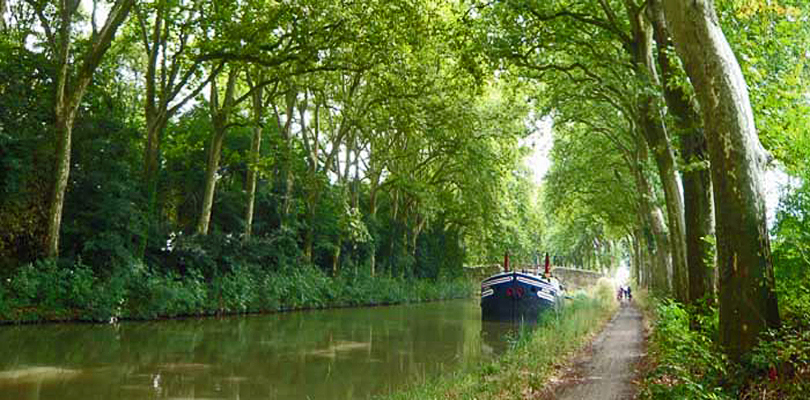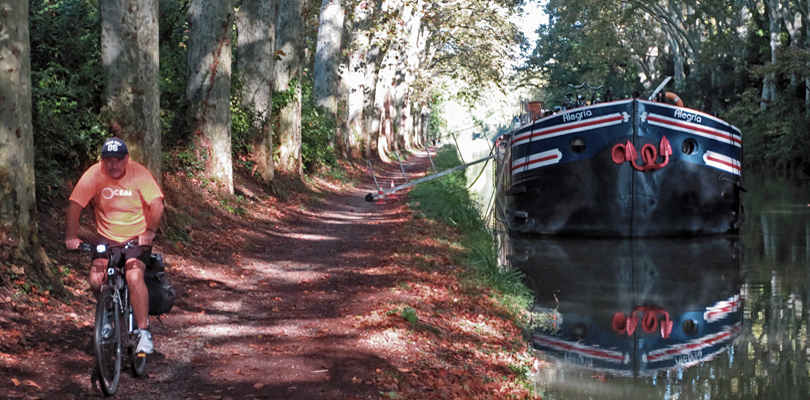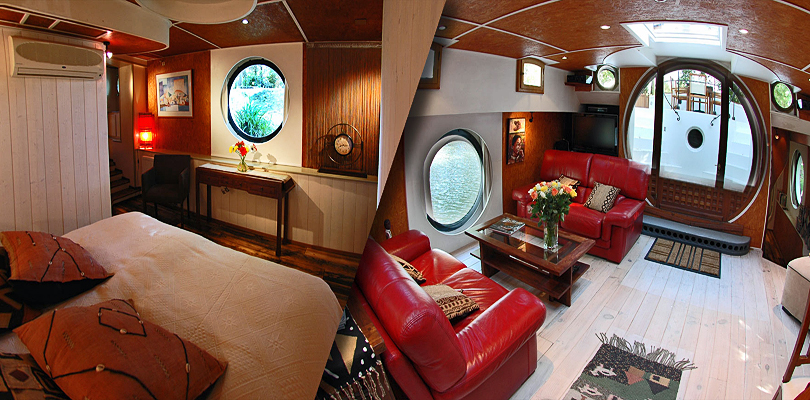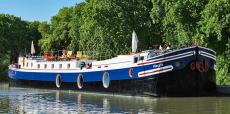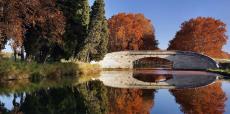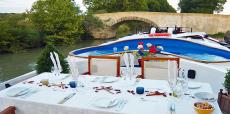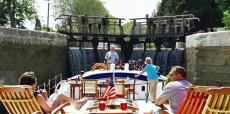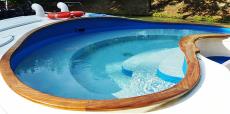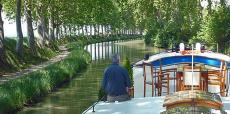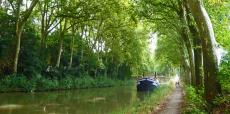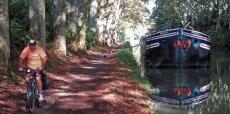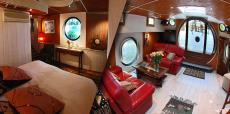 ALEGRIA Cruise Stops
ALEGRIA is one of the latest barges launched on the Canal du Midi, and we are pleased to add her to our fleet of owner operated charter barges. The unique and modern look sets her apart from other barges with large round windows at water level, curved angles with well planned cabins which are spacious and intimate. The open salon, heated pool and dedicated crew gives the pampered guests the full enjoyment and relaxation a canal cruise can offer.
Captain Olivier warmly greeted us on our visit in September of 2013 and again in 2014. We were delighted with the African art which he brought from his many years in South Africa lending an exotic flair to the already enticing design and curves of Alegria.
If you are looking for a romantic honeymoon or an private getaway for four friends or family, Alegria is an excellent choice for a personalized barging experience.
Cruise Highlights
All-inclusive with open bar, wines with lunch and dinner, gourmet cuisine, guided excursions
Cruise the historical Canal du Midi
See the famous "staircase" of the nine locks of Fonsérane
Walk around the Oppidum d'Enserune, a pre-Roman hilltop settlement
Shop the lively market town of Olonzac
Learn the fascinating history of the Cathars as you visit the hilltop stronghold of Minerve
Stroll the authentic medieval City in Europe, Carcassonne
Walk or bike the canal along the continuous towpath or relax on deck and enjoy the unfolding French countryside
Cruise Features
Owner Operated:
Yes - Captain Olivier Baudry

Number of Passengers:
4
Category:
Deluxe
Cabin Bookings:
No
Charter Bookings:
Yes
Cruising Region
: Canal du Midi, South of France
Length of Cruise
: 6 nights - Saturday to Friday
Cruising Season
: April - October
Theme Cruises:
Custom cruises upon request
Meeting Location
: Designated meeting point
Floorplan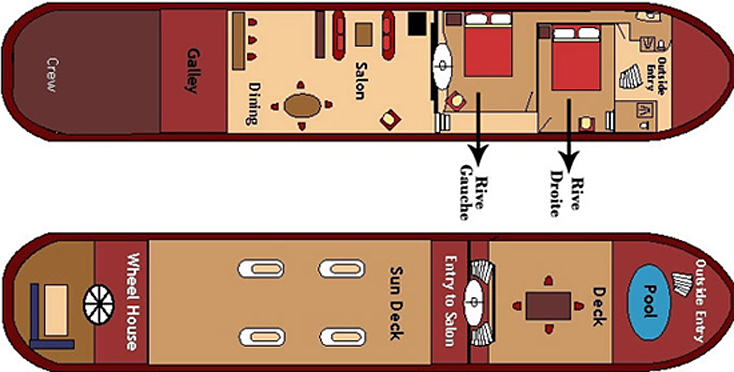 Cruise Rates 2018
(2019 cruises are not available on Alegria - please contact us for alternatives)
​Prices below are for full board cruises (all meals included).
Saturday to Friday (6 nights)


Value Season Departures
April 7, 14
July 14, 21, 28
August ​​4, 11
October 1​3, 20

Charter Rates

2 passengers
3 passengers
4 passengers


$18,900
$19,600
$20,300


Regular Season Departures
April ​​21, 28
May ​5, 12, 19, 26
June ​2, 9, 16, 23, 30
July 7
August 18, 25
September ​1, 8, 15, 22, 29
October ​​6

Charter Rates
2 passengers
3 passengers
4 passengers


$21,600
$22,300
$​23,000

Included in Cruise Price
Transportation between agreed meeting location (Narbonne, Beziers, Carcassonne) and the barge
Six nights accommodation in private cabin with ensuite bath
All meals, wine and drinks on board
Open bar
Daily escorted excursions by air-conditioned van
All barge amenities including bicycles, small pool on deck, music system, library, etc.
Not Included in Cruise Price
Air or other transportation to the meeting location
Trip cancellation or medical insurance (available when booking)
Personal expenses
A discretionary gratuity for the crew suggested at 5-10% of the cruise price
ALEGRIA Features
Passengers: 4
Category: Deluxe
Crew: 4
Barge Size: 100 ft long
Cabins: 2
Cabin Size: 190 and 210 sq ft including bathroom
Accommodations: 2 staterooms with king or twin beds
Heat & Air: Central heat and air conditioning

Amenities

Hairdryers
Heated towel racks
Occitane toiletries
Home theatre system
Library
Bicycles
Sundeck with comfy chairs
Small built-in pool on deck
Minivan with A/C
Email Access: WiFi for use with personal devices (may not be available in remote areas)
DVD/CD player and sound system
Electricity: 220V

Theme Cruises

Custom cruises














Cruising on ALEGRIA
Canal du Midi
Beziers (Poilhes) to Carcassonne (Puicheric) (or reverse)

Saturday - Poilhes
We have the pleasure of welcoming you at the airport or at the railway station (from 4pm) and transferring you to Alegria, moored in Poilhes. After the crew is introduced to you and after you settle down, you are served a welcome Champagne drink while we start cruising slowly along the Canal. After a u-turn we come back to the mooring of Poilhes. You can slowly stroll through this lovely village of less than 500 inhabitants before partaking of apéritifs. We serve your first dinner on board and spend the night in Poilhes, our "home mooring".
Sunday - Poilhes to La Croisade
On this Sunday morning our guide proposes to you a "multi-site" excursion: the City of Béziers, the famous "stair case" of the Nine Locks of Fonsérane, the archeological (6th century BC) site of the Oppidum of Ensérune, and the Malpas Tunnel, the first canal tunnel built in the world. After lunch (or during lunch depending on the weather conditions), you cruise to La Croisade and pass underneath the lowest bridge on the Canal: the famous bridge of Capestang. Mind yourhead! After a four hour cruise, dinner is served on board and you spend the night in a restful place, a stone's throw away from an old 17th century stone bridge.
Monday - La Croisade to Le Somail
In the morning we cruise slowly to Le Somail, one of the most charming villages along the Canal. Should you need a book for the week, you can buy one from a unique book shop that has approximately 50,000 second-hand books in stock - in many different languages! In the afternoon you may choose to relax on the barge, explore the village, cycle, etc, but we also propose a visit to a wine farm or an olive mill nearby along with other sites that might suit your interests. At the end of the day, your Captain has the pleasure of inviting you for a dinner in a local restaurant. It's the perfect opportunity to enjoy the atmosphere of a French restaurant!
Tuesday - Le Somail to Roubia
In the morning, we go to one of the best markets in the region in Olonzac. It is a feast for the eyes and pocketbook from a Provençal table cloth to special olives locally grown. Then the guide takes you to Minerve, a fascinating site and a previously fortified village in a very special cliff top environment. Minerve was attacked in 1210 by the terrible army led by Simon de Montfort: the right time for us to tell you everything about the Crusade of the Albigeois in the 13th Century, one of the harshest stories of our past. The afternoon cruise takes you to the typical Minervois village of Roubia for the overnight mooring. The dinner is served on board.
Wednesday - Roubia to Homps
In the morning you visit Narbonne, a beautiful town full of Roman history, including the elegant Palace of the Archbishop. You will love its Mediterranean and Gothic style. Lunch is a treat in a typical restaurant with fish specialties. After lunch, you are driven back to the barge for the afternoon cruise. You pass your first lock after Roubia and we cruise to the port of Homps, one of the busiest harbors in the old times of the commercial era.
Thursday - Homps to Puicheric
In the morning you visit the great City of Carcassonne, the most well preserved medieval city in Europe. The size of the walls and the narrow streets inside are quite impressive. You are right in the middle of French history! There also many shops where you can buy typical souvenirs to bring back to friends or children. After lunch, you embark on the last leg of the cruise for the week, from Homps to the area of Puichéric. You pass the last lock of the cruise and you can admire the wooden and iron sculptures made by the most famous lock-keeper on the Canal. The barge is moored just on top of this beautiful and unique lock. You spend your last night on board Alegria after the farewell dinner prepared by our chef.
Friday - Transfer to train station or airport
After your breakfast, it is unfortunately time to conclude this unforgettable cruise. We transfer you back to the airport or railway station … so that you can continue your adventure in Europe or wherever!!!
This is a sample itinerary and is subject to change. The itinerary is in reverse direction on alternate weeks.
Barge Cruise Reviews for ​Alegria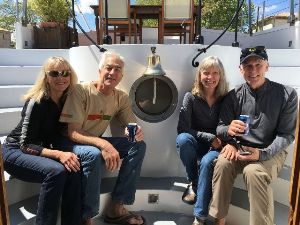 "The crew was perfect! A wonderful group of people. The cabins were spacious, comfortable and quiet, and the excursions fun and informative. Tour guide Barry was great. The best part was the crew, amazing food and libation, and really comfortable barge. Beyond our expectations. A once in a lifetime trip!" Jeff and Cathy H, April 2016
"Overall the barge and crew were excellent. The barge was the perfect size for 4 people to cruise for 6 days. The pool on the deck was fabulous on the hot days we had. The crew were attentive, responsive, polite and respected our space while at the same time very friendly and informative. We loved the size of the cabins and the light coming in the porthole. We loved the excursions. It was nice to get off the boat each day and explore the countryside. The barge route was very peaceful. We loved the combination of being on-board and the excursions. The food was fabulous."
Debra B, August 2014​