L'ART DE VIVRE, an 8-passenger first class barge, cruises the Nivernais Canal in Northern Burgundy, France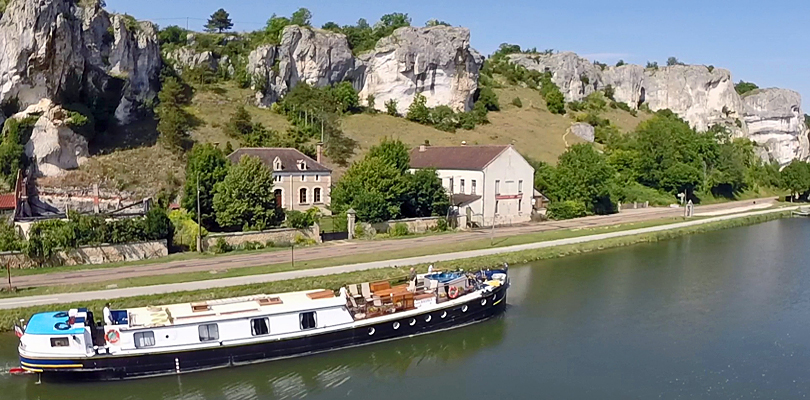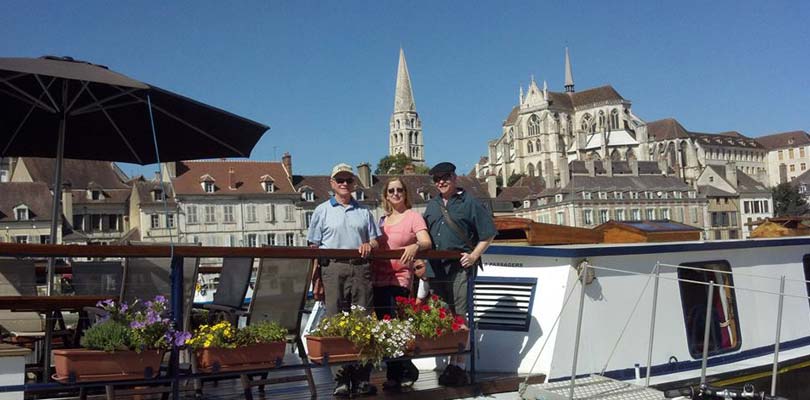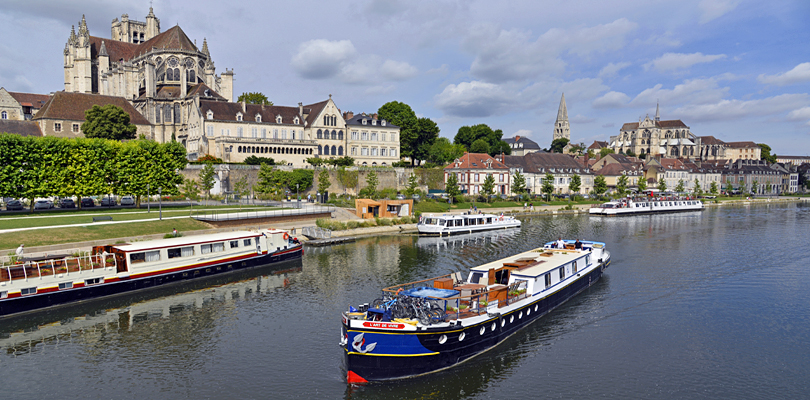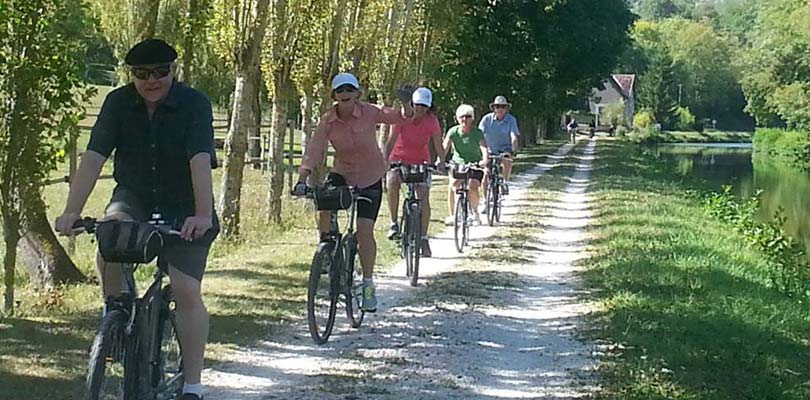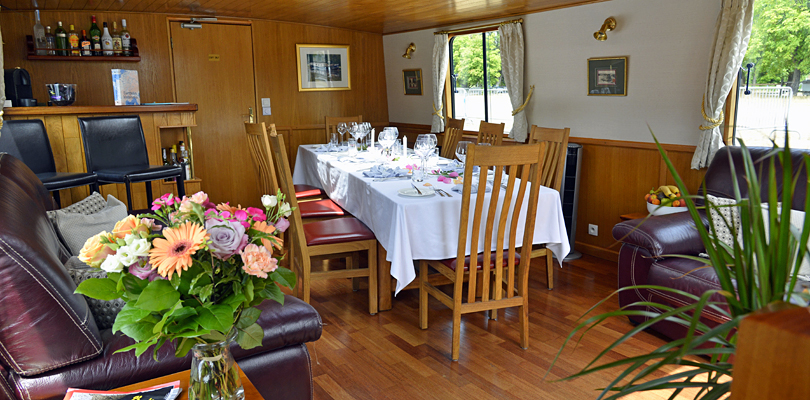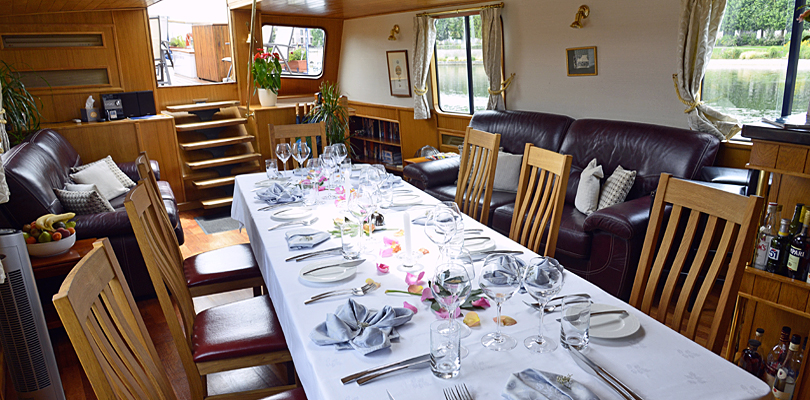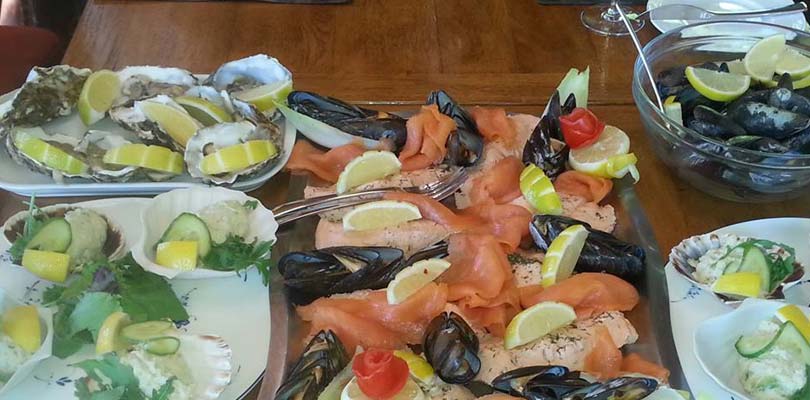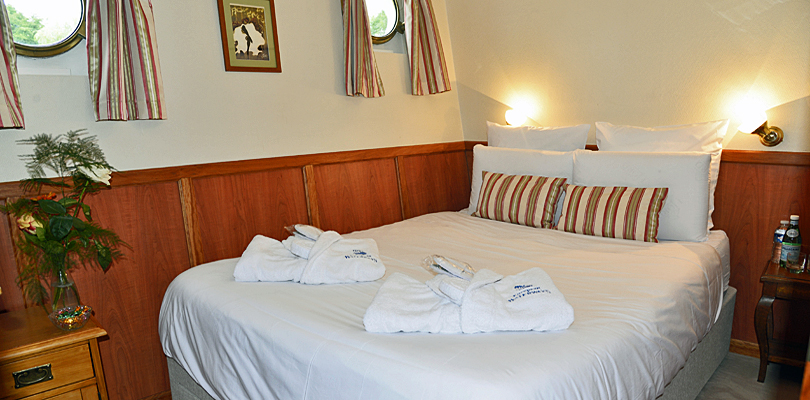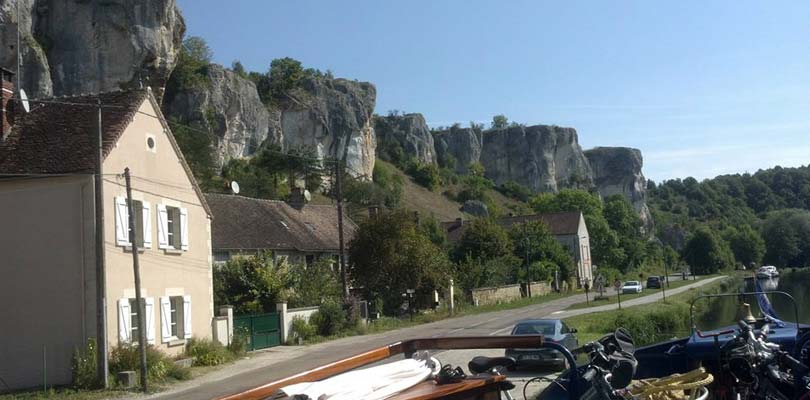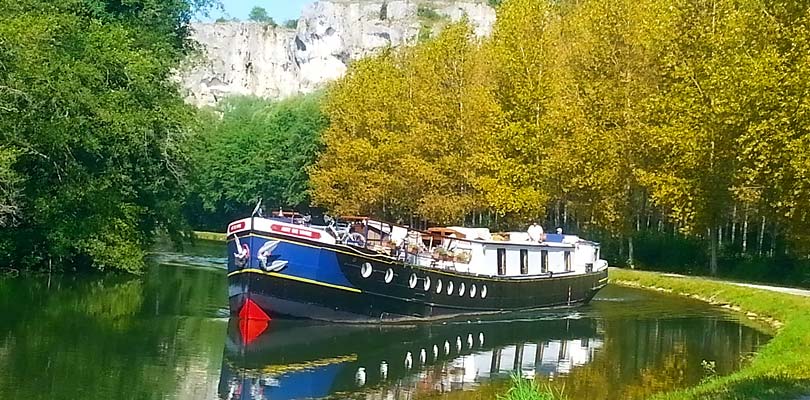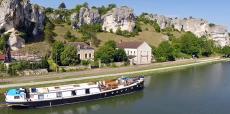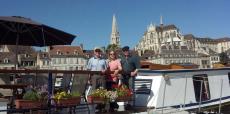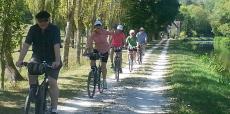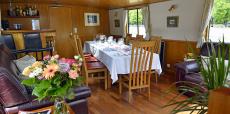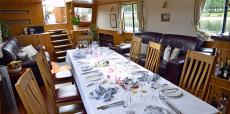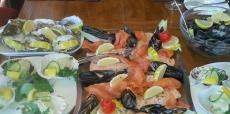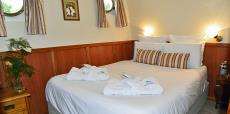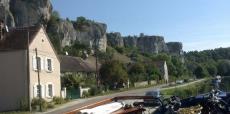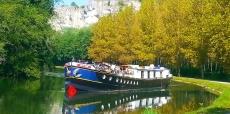 L'ART DE VIVRE Cruise Stops
L'ART DE VIVRE is a first-class floating celebration of the Burgundian "good life". Relax in comfort and enjoy the pampering of a warm and caring crew as you experience the charm, beauty and serenity of the beautiful Nivernais Canal. Superb food, regional wines and fascinating daily excursions will provide you with all you need for a glorious week of cruising. L'Art de Vivre is ideal for individuals or a private charter of friends or family to enjoy "the art of living."
Private charters may choose from a variety of theme cruises including wine, cycling, walking and the fun-for-all-ages L'Art de Vivre Family Cruise.
Cruise Highlights
The Nivernais Canal itself is one of the oldest and most beautiful in France with curved stone bridges, peaceful villages, vistas of vineyards and lush green pastures
Shop in riverside Auxerre and tour its magnificent cathedral
Wine tasting of fine Chablis wines in a 12th century cellar
Visit Chateau de Bazoches, home of the famous military architect Maréchal Vauban
Explore Noyers, one of the most beautiful small villages in Burgundy
Visit historic Vézelay with its hilltop basilica and boutiques
Optional hot air ballooning is available
Cruise Features
Owner Operated:
No

Number of Passengers:
8
Category:
First Class
Cabin Bookings:
Yes
Charter Bookings:
Yes
Cruising Region
: Nivernais Canal, Northern Burgundy, France
Length of Cruise
: 6 nights - Sunday to Saturday
Cruising Season
: April - October
Theme Cruises:
Classic, Family, Walking, Cycling, Tennis, Wine Appreciation
Meeting Location
: Hotel Westminster, Paris, 2:00 pm
​
Floorplan

Cruise Rates 2018
Sunday to Saturday (6 nights)



Value Season Departures
April ​​​8, 15, 22
July 2​​2, 29
August ​​5, 12, 19
October 7, 14, 21

Cabin Rates

Staterooms per person, double occupancy

$ 4,490
Single supplement


$ 1,700
Charter Rates

6 passengers

$31,300

7 passengers

$32,400

8 passengers


$33,500


Regular Season Departures
April ​29
May ​​6, 13, 20, 27
June ​​​3, 10, 17, 24
July 1, 8, 15
August 26
September ​2, 9, 16, 23 30

Cabin Rates


Staterooms per person, double occupancy

$ 5,250
Single supplement


$ 1,900
Charter Rates
6 passengers

$36,200

7 passengers

$37,500

8 passengers


$38,800

Included in Cruise Price
Transportation between Hotel Westminster in Paris and the barge
Six nights accommodation in private stateroom with ensuite bath
All meals, wine and drinks on board
Open bar
Daily escorted excursions by air-conditioned van
All barge amenities including bicycles, hot tub on deck, music system, library, etc.
Not Included in Cruise Price
Air or other transportation to the meeting location
Trip cancellation or medical insurance (available when booking)
Personal expenses
A discretionary gratuity for the crew suggested at 5% of the cruise price
L'ART DE VIVRE Features
Passengers: 8
Category: First Class
Crew: 4
Barge Size: 100 ft long
Cabins: 4
Cabin Size: 110 sq ft including bathroom
Accommodations: 4 staterooms with queen or twin beds and ensuite bathrooms
Heat & Air: Central heat and air conditioning



Amenities

Hairdryers
Toiletries
Library
Bicycles
Sundeck with comfy chairs
Hot tub
Mercedes minivan with A/C
Email Access: WiFi for use with personal devices (may not be available in remote areas)
CD Sound System
Electricity: 220V

Theme Cruises

Classic, Family, Cycling, Walking, Tennis, Wine Appreciation










Cruising on L'ART DE VIVRE
The Nivernais Canal, Northern Burgundy
Auxerre To Chevroches (or reverse)

Sunday - Transfer from Paris to Barge in Auxerre
Guests are met at the Hotel Westminster in Paris and transferred by private chauffeured minibus to the pretty L'Art de Vivre. Following a champagne welcome, you are free to explore the medieval town of Auxerre, or take a stroll along the banks of the River Yonne before returning for dinner on board.
Monday - Auxerre to Vincelles
Our morning cruise takes us through some delightful locks and past vineyard-clad hillsides to our rural mooring at Vincelles. The afternoon excursion is to Chablis, home of one of the most famous white wines in the world. A tasting in one of the town's aged cellars will introduce you to some of the local Petit Chablis and Chablis wines. Dinner on board.
Tuesday - Vincelles to Mailly-la-Ville
After breakfast, our excursion is to the medieval town of Auxerre. Originally the capital of Lower Burgundy, the town prides itself on its lavish Renaissance houses, fine churches and particularly its magnificent cathedral situated close to the river. We then return to the hotel barge for a cruise southwards through rich pasturelands and past grazing Charolais cattle to the sleepy village of Mailly-la-Ville. After your relaxed lunch on board, perhaps this is a good time to enjoy a walk or bicycle ride along the towpath. Dinner on board.
Wednesday - Mailly-la-Ville to Le Saussois
This morning, we visit the charming 14th century medieval market village of Noyers-sur-Surein, one of the most beautiful villages in France, on an excursion through delightful countryside. In the afternoon we cruise past the cliffs at Le Saussois, a stunning natural setting with an international climbing centre. There will also be the opportunity to enjoy delightful walks or bicycle rides along the towpath, before dinner ashore at a local restaurant.
Thursday - Le Saussois to Lucy-sur Yonne
In the morning we enjoy an excursion to the pilgrimage town of Vézelay, one of Burgundy's most famous treasures with the Romanesque Basilica of St Mary Magdalene, craft shops and fine views of the surrounding countryside. After lunch back on board L'Art de Vivre, an afternoon cruise through the picturesque Yonne Valley to arrive at Lucy-sur-Yonne. Dinner on board.
Friday - Lucy-sur Yonne to Chevroches
A morning cruise through beautiful countryside takes us to our final mooring at the pretty canalside village of Chevroches and again this is a perfect time for a walk or a bicycle ride. In the afternoon, we visit the elegant Château de Bazoches, built in the 12th century and whose illustrious visitors included Richard the Lionheart. The château was later remodelled by Maréchal Vauban and there are wonderful views from its elevated hillside setting. Captain's Farewell Dinner on board.
Saturday - Transfer to Paris
After breakfast, guests are transferred to the Hotel Westminster in Paris.
This is a sample itinerary and is subject to change. The itinerary is in reverse direction on alternate weeks.
Client reviews about their barge cruise on L'ART DE VIVRE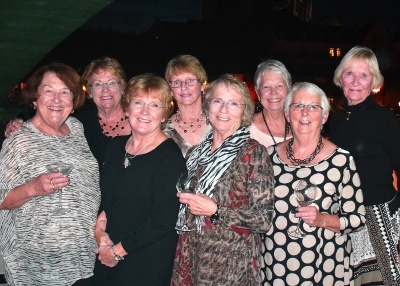 "The week spent on the barge was wonderful. The crew could not have been more attentive, friendly, and efficient. They worked together like an oiled machine. Each of the crew in their own way made us feel like they enjoyed our company. The barge itself was very inviting and the actual cruising was very relaxing. We loved lounging on the deck chairs as the countryside rolled by. The cabins were definitely small, but Claire kept them clean and inviting. Paul made each excursion very meaningful. Though the chateau, the basilica, the villages, etc. might have been beautiful in their own right, Paul's explanation of their history, their design, their value to the French countryside made everything come alive. His love of the area was evident. The rolling hills of the Burgundy area were beautiful. Each village had its own little flavor. It is difficult to decide what I liked best - the friendly crew who attended to our every need/desire, the gourmet food, the wine and cheese tasting, the beautiful countryside, Paul's ability to make everything interesting."
Gal pals Gayle, Penny, Judy, Pat, Bonnie, Nancy, June and Kate, October 2014
"Want to thank you for the best trip I have ever taken. Went on the L'Art de Vivre in Burgundy with Captain Paul, Jonathon, Claire, and the most fantastic chef ever, Jim. There is not a thing I could have changed to make it better." Judy P 2014
"I thoroughly enjoyed my time on the barge because the crew made it so special. I have never had such wonderful meals as prepared by our chef, Jim. Claire took care of our every need and Jonathon piloted our barge with expert skill, plus he was such a kind gentle person. Captain Paul was a wealth of information about the area which we all enjoyed hearing about." Pat W 2014
"The crew was absolutely awesome and most gracious--made me feel like a queen! The excursions were so educating and Paul is so knowledgeable! The meals were 'out of this world.' It was worth every penny." Nancy S 2014
"It is difficult to decide what I liked best - the friendly crew who attended to our every need/desire, the gourmet food, the wine and cheese tasting, the beautiful countryside, or Paul's ability to make everything interesting. The week spent on the barge was wonderful." Gayle M 2014
"A wonderful gastronomic experience! The crew was absolutely fantastic, very knowledgeable and helpful. The barge route was great - quiet and very much liked the rural flavor." Joan R 2013