LA NOUVELLE ETOILE - ALSACE, an 8-passenger ultra deluxe barge, cruises in Alsace, France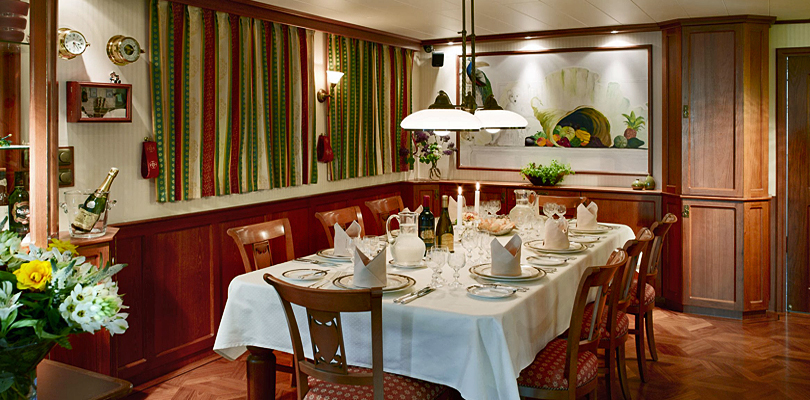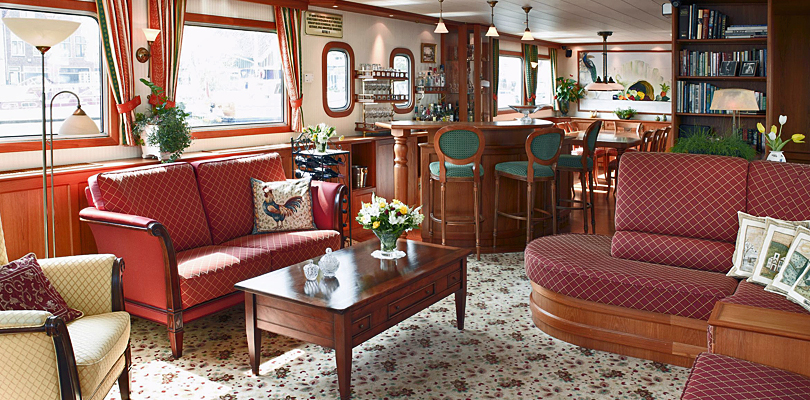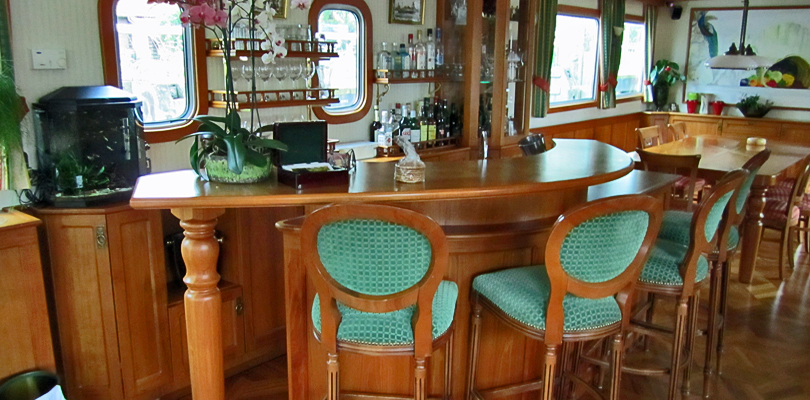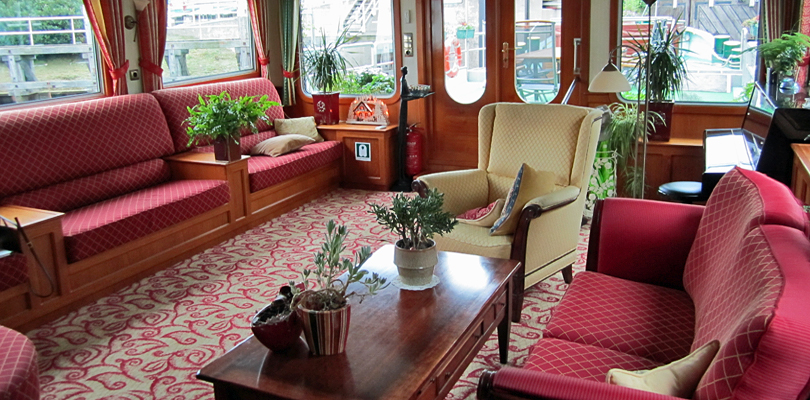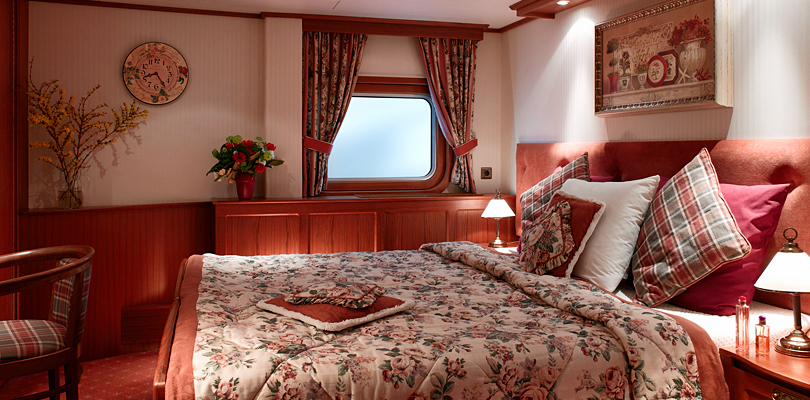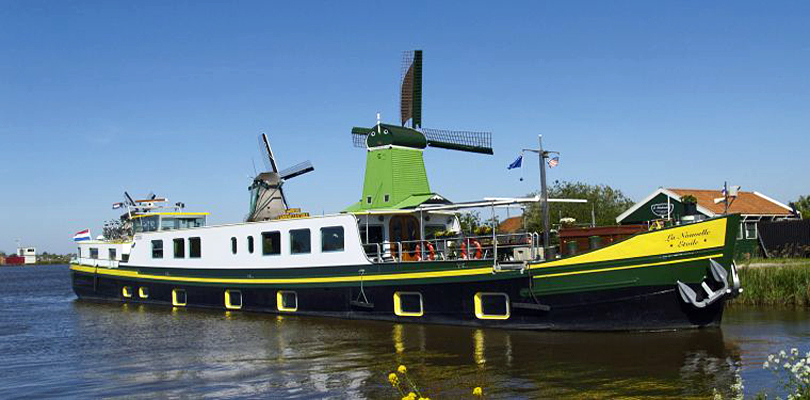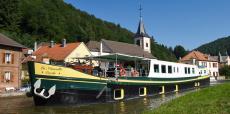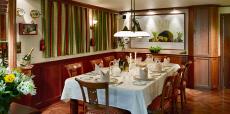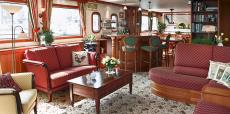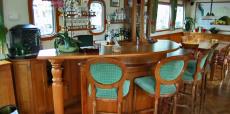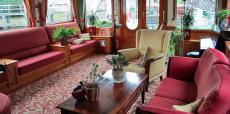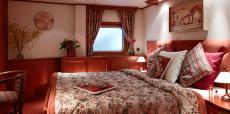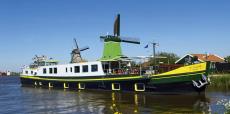 LA NOUVELLE ETOILE - ALSACE Cruise Stops
LA NOUVELLE ETOILE spends the early fall in the Alsace region of France. This ultra deluxe barge is pure floating elegance as she cruises along historic rivers and scenic canals. The barge itself is the new standard in barging with every luxurious amenity possible. Yes, there is Satellite TV and internet access for those who want to stay in touch. For an exquisite experience with the most caring of owners, La Nouvelle Etoile is one of the best.
Cruise Highlights
Gothic cathedrals from the 11th century and 14th century Renaissance residences
A fascinating ride on the unique Arzviller lift that allows the barge to glide effortlessly up and down the mountainside using a sophisticated system of weights and balances
The foothills of the Vosges Mountains with hilltops dotted with ruins of feudal castles
A visit to the village of Cristallerie of Harz where fine crystal is still blown by hand
Flower filled picturesque wine villages
Sample some of the best Alsatian wines right at the vineyards
Welcome the beauty, color and splendor of this magical region during the change of seasons
Cruise Features
Owner Operated: Yes - Jan and Diana Meijer
Number of Passengers: 8
Category: Ultra Deluxe
Cabin Bookings: Yes
Charter Bookings: Yes
Cruising Region: Alsace, France
Length of Cruise: 6 nights - Sunday to Saturday
Cruising Season: August - September
Theme Cruises: Three Country cruise, Tulip Season in Holland, Custom and Theme cruises available upon request
Meeting Location: At a designated meeting point and time
Floorplan

Cruise Rates 2019
Sunday to Saturday (6 nights)



Value Season Departures
July 28
August ​4, 11, 18



Cabin Rates

Suite per person, double occupancy

$ 8,450

Single supplement

$ 4,225

Charter Rates

8 passengers


$​63,650

Included in Cruise Price
Transportation between ​designated meeting location and the barge
Six nights accommodation in private s​uite with ensuite bath
Open bar with all wines, alcoholic beverages and soft drinks
Daily escorted excursions by air-conditioned van
All barge amenities including bicycles, hot tub on deck, music system, library, etc.
Not Included in Cruise Price
Air or other transportation to the meeting location
Trip cancellation or medical insurance (available when booking)
Personal expenses
A discretionary gratuity for the crew (suggested minimum is 5% of the cruise price)
​
LA NOUVELLE ETOILE Features
Passengers: 8
Category: Ultra Deluxe
Crew: 5
Barge Size: 128 ft long
Cabins: 4
Cabin Size: 200 sq ft including bathroom
Accommodations: 4 suites with king or twin beds
Heat & Air: Central heat and air conditioning



Amenities

Double marble sinks
Oversized shower
Large windows in suites
Hairdryers
Toiletries
Library
Bicycles
Sundeck with comfy chairs
Jacuzzi Hot tub
Exercise Room
Telephone
Minivan with A/C
Email Access: Yes
TV/DVD: Satellite TV
CD Sound System
Electricity: 220V
Wheelchair Accessible: Yes, 1 suite

Theme Cruises

Three Country Cruise, Tulip season in Holland, Custom and Theme cruises available upon request













Cruising on LA NOUVELLE ETOILE
Classic Cruise in Alsace, France
Nancy to Strasbourg


Sunday - Transfer to Barge in Nancy
You are met at a designated meeting point and transferred to the hotel barge moored in the heart of Nancy for a champagne welcome. We then enjoy a leisurely late afternoon cruise at sunset, before your first gourmet dinner on board.

Monday - Nancy to Einville
We will enjoy a morning cruise to Einville and then to Nancy and after lunch we enjoy a walking tour of the city. We begin at the elegant "Place Stanislas", flanked by handsome Baroque palaces and enclosed by ornate gold and wrought iron entry gates, the square is considered one of the grandest in all of France. The Art Nouveau movement originated in Nancy and so you may choose to visit the Ecole de Nancy to see its fine collection. Dinner on board.

Tuesday - Einville to Schneckenbusch
After a morning cruise past tidy farms and pasturelands, we will drive to the privately owned Chateau de Fleville. This graceful Renaissance residence adjoins a 14th century castle keep. The interiors are richly furnished with 18th century antiques. We then return to La Nouvelle moored in the peaceful village of Schneckenbusch for the night. Dinner on board.

Wednesday - Schneckenbusch to Lutzelbourg
Each day we travel on the canal we have been gradually climbing to the crest of the Vosges Mountains. After navigating two tunnels carved into the mountaintop, we will encounter the Inclined Plane at Arzviller. This unique lock allows a barge to glide effortlessly up or down the mountainside using a sophisticated system of weights and balances. A short drive along the way will take us to the Christallerig of Harz village where fine crystal is still hand blown. We continue the cruise through the Zorn Valley where the surrounding hilltops are dotted with ruins of feudal castles. Our overnight stay will be in Lutzelbourg. Dinner on board.

Thursday - Lutzelbourg to Saverne
We wind through the heart of Saverne, past the regal 18th century Bishop's Palace. From Saverne, we will take an afternoon drive along the Route du Vin d' Alsace to the old fortified town of Obernai where we will visit the Marker Square and the 14th century ramparts that surround the city. Stop along the way at Winegrower to taste some of the best Alcasian wines. Dinner on board.

Friday - Saverne to Strasbourg
After breakfast we cruise to the busy port of Strasbourg. After lunch we have an afternoon tour of Strasbourg, which includes the folk museum and the 11th century gothic cathedral, leaving enough time to stroll around to explore the fine shops. Returning to the hotel barge we have time to relax before the Captains Farewell Dinner on board.

Saturday - Transfer to Drop-Off Point
After your last elegant breakfast on board you will be driven to a designated drop-off point.
On alternate weeks the cruise will be in the reverse direction. This is a sample itinerary and is subject to change.
Barge Cruise Reviews for La Nouvelle Etoile
"La Nouvelle Etoile exceeded our expectations with the cabins being larger than expected. The excursions were just right, not too rushed or touristy. The barge route was gorgeous and amazing. Best of all was the crew - seriously! We could have stayed much longer." Eric S.
"My wife and I had the best time. We have done yacht and barge trips in the past, and this was as close to perfect as you can get." Anonymous by Request