LA NOUVELLE ETOILE - HOLLAND - BELGIUM, an 8-passenger ultra deluxe barge, cruises in Holland and Belgium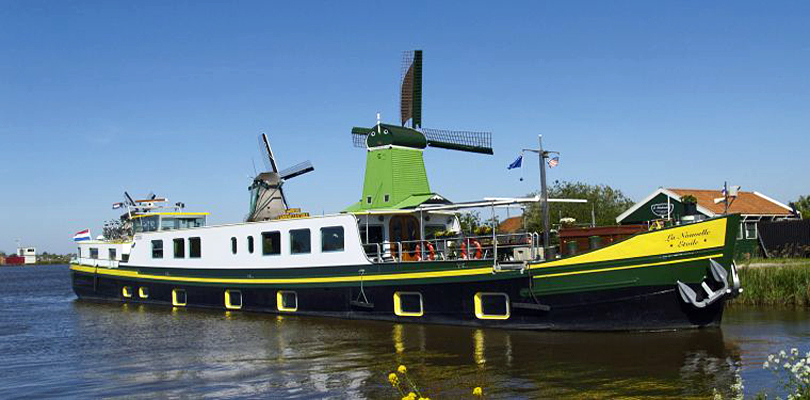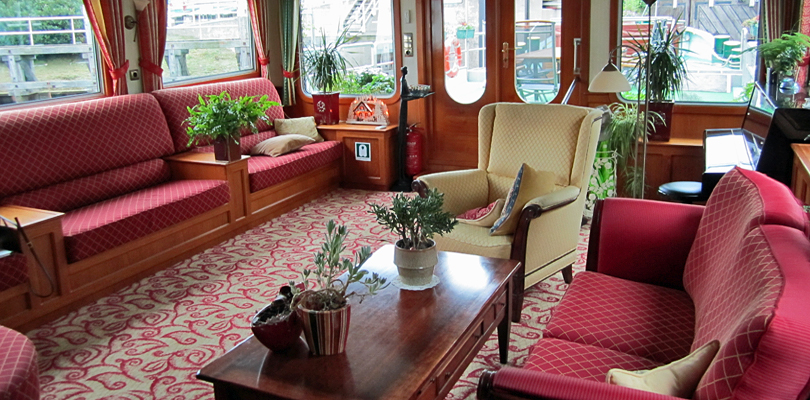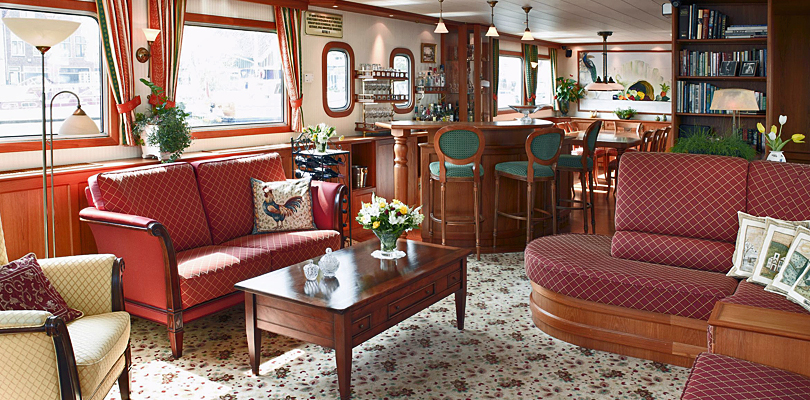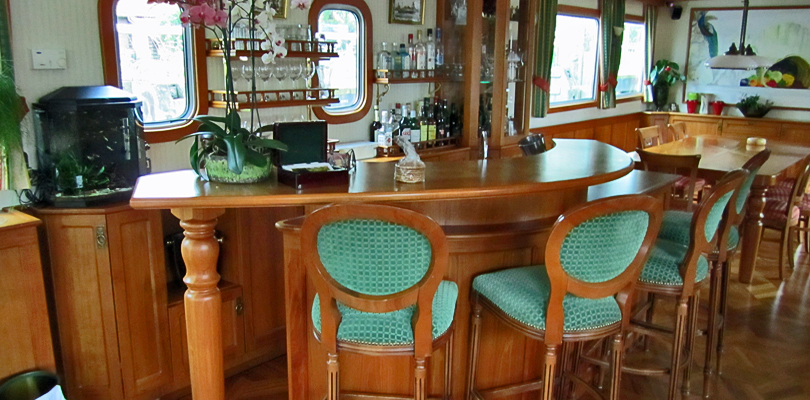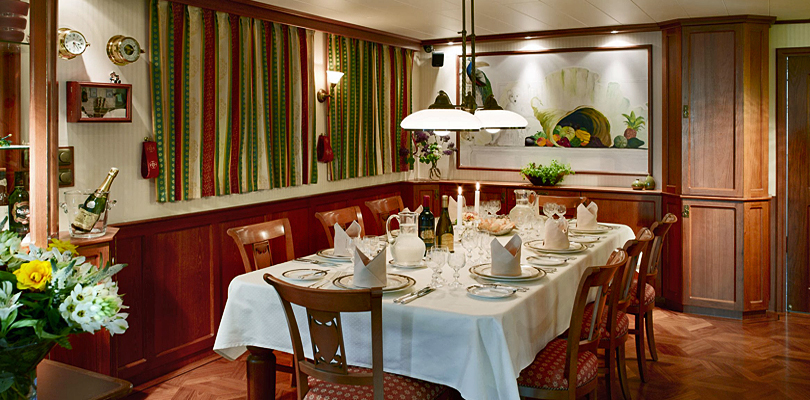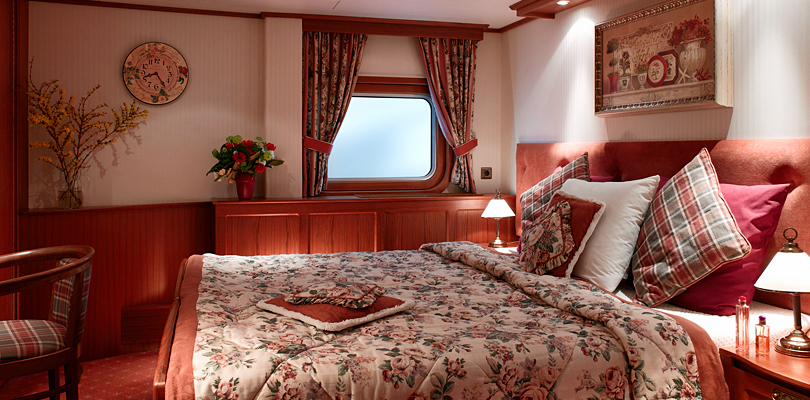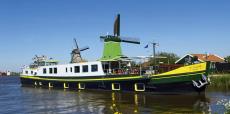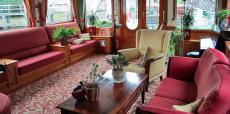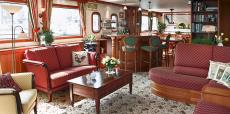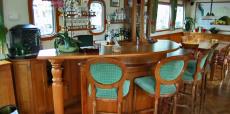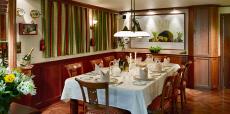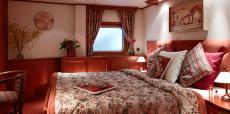 LA NOUVELLE ETOILE - HOLLAND - BELGIUM Cruise Stops
LA NOUVELLE ETOILE spends 3 weeks in the summer cruising the Champagne region of France, between Paris and Epernay. This ultra deluxe barge is pure floating elegance as she cruises along historic Marne river and scenic canals. The barge itself is the new standard in barging with every luxurious amenity possible. Yes, there is Satellite TV and internet access for those who want to stay in touch. For an exquisite experience with the most caring of owners, La Nouvelle Etoile is one of the best.
Cruise Highlights
Visit the village of Zaanse Schans to see a working windmill, a clog maker and a cheese maker
Cruise through the heart of Amsterdam
Stroll through colorful Aalsmeer, the largest flower auction in the world
Cruise to the cheese capital of Gouda and visit a local cheese farmvisit to the pottery works where the exquisite porcelain is still painted by hand
Tour a pottery works in Delft where the exquisite porcelain is still painted by hand
Spend an incredible afternoon at the magnificent Keukenhof Gardens, a famous 79-acre park containing millions of colorful flowers
Visit the Cruquius Museum, an historic pumping station that originally helped to drain the Haarlemmermeer, and the museum dedicated to the great Dutch portrait artist, Frans Hals
Cruise Features
Owner Operated:
Yes - Jan and Diana Meijer
Number of Passengers:
8
Category:
Ultra Deluxe
Cabin Bookings:
Yes
Charter Bookings:
Yes
Cruising Region
: Holland
Length of Cruise
: 6 nights - Sunday to Saturday
Cruising Season
: March - April
Theme Cruises:
Three Country cruise, Tulip Season in Holland, Custom and Theme cruises available upon request
Meeting Location
: A designated meeting point
Floorplan

Cruise Rates 2018
Sunday to Saturday (6 nights)



Regular Season Departures
April ​1, 8, 15, 22, 29 - Holland Tulip Cruises
May 6
May 13 - Holland to Belgium Cruise
May 20 - Belgium to Paris, 12-Day Cruise

See prices below
" " "
" " "
" " "
$13,690 per person; $7,045 single supplement; $104,600 charter up to 8 passengers

Cabin Rates

Suite per person, double occupancy

$ 8,200
Single supplement

$ 4,100

Charter Rates

8 passengers


$61,800

Included in Cruise Price
Transportation between your hotel in Paris and the barge
Six nights accommodation in private s​uite with ensuite bath
Open bar with all wines, alcoholic beverages and soft drinks
Daily escorted excursions by air-conditioned van
All barge amenities including bicycles, hot tub on deck, music system, library, etc.
Not Included in Cruise Price
Air or other transportation to the meeting location
Trip cancellation or medical insurance (available when booking)
Personal expenses
A discretionary gratuity for the crew suggested at 5% of the cruise price
LA NOUVELLE ETOILE Features
Passengers: 8
Category: Ultra Deluxe
Crew: 5
Barge Size: 128 ft long
Cabins: 4
Cabin Size: 200 sq ft including bathroom
Accommodations: 4 suites with king or twin beds
Heat & Air: Central heat and air conditioning



Amenities

Double marble sinks
Oversized shower
Large windows in suites
Hairdryers
Toiletries
Library
Bicycles
Sundeck with comfy chairs
Jacuzzi Hot tub
Exercise Room
Telephone
Minivan with A/C
Email Access: Yes
TV/DVD: Satellite TV
CD Sound System
Electricity: 220V
Wheelchair Accessible: Yes, 1 suite

Theme Cruises

Three Country Cruise, Tulip season in Holland, Custom and Theme cruises available upon request













Cruising on LA NOUVELLE ETOILE
Holland Tulip Cruise
Haarlem to Haarlem
Sunday - Haarlem to Zaandam
After your pick-up by our driver from the designated meeting point you will be taken to the barge moored in the center of Haarlem for a champagne welcome. We will relax for the afternoon with a cruise to Zaandam, where we will moor for the night and you will enjoy your first gourmet dinner on board.

Monday - Zaandam to Ouderkerk
After an elegant breakfast we will take a short drive to the Zaanse Schans to visit a working windmill, a clog maker and a cheese maker. In the afternoon we will cruise to Amsterdam, through the heart of the city where the small canals and architecture will take you back to a previous century and then along the Amstel River to Ouderkerk. Dinner on board.

Tuesday - Ouderkerk to Gouda
An early rise and drive to the colorful flower auction in Aalsmeer. Upon return we will set off for a cruise on the canals to the cheese Mecca of Gouda. After lunch, we will take a drive out to a local cheese farm. Besides cheese, you will find beautiful buildings, excellent shopping and the most magnificent stained glass windows in Holland. Dinner on board.

Wednesday - Gouda to Delft
A morning cruise to Rotterdam through the center of this busy port and then onto Delft. Visit the Delft Pottery works, where porclain is still handmade and painted. Spend the rest of the afternoon strolling around this beautiful ancient Dutch city. Dinner on board.

Thursday - Delft to Oude Wetering
A morning cruise through the canals past Leiden, across the Brasemmer Lakes to Oude Wetering. Spend the afternoon at the famous Keukenhof Gardens with the largest display of flowers in the world. Here you will see hundreds of varieties of tulips, hyacinths and other beautiful bulbs. Dinner on board.

Friday - Oude Wetering to Haarlem
Morning cruise to Haarlem, a picturesque town and the home of the famous Dutch painter Frans Hals where we will tour its museum. Farewell celebration on board and the last delightful gourmet dinner.

Saturday - Haarlem
This will be your last wonderful breakfast on board. You will then be driven to the designated drop off point.

This is a sample itinerary and is subject to change.

Barge Cruise Reviews for La Nouvelle Etoile
"La Nouvelle Etoile exceeded our expectations with the cabins being larger than expected. The excursions were just right, not too rushed or touristy. The barge route was gorgeous and amazing. Best of all was the crew - seriously! We could have stayed much longer." Eric S. 2012
"My wife and I had the best time. We have done yacht and barge trips in the past, and this was as close to perfect as you can get." Anonymous by Request