MS ELISABETH - PARIS, an 8-passenger deluxe barge, cruises near Paris on the Rivers Seine and Oise, France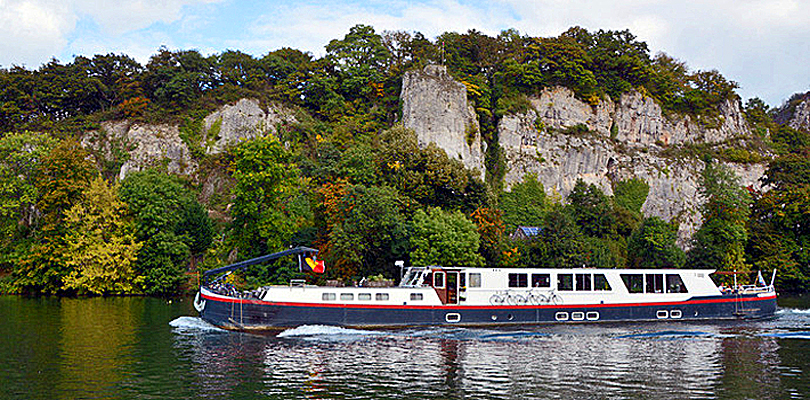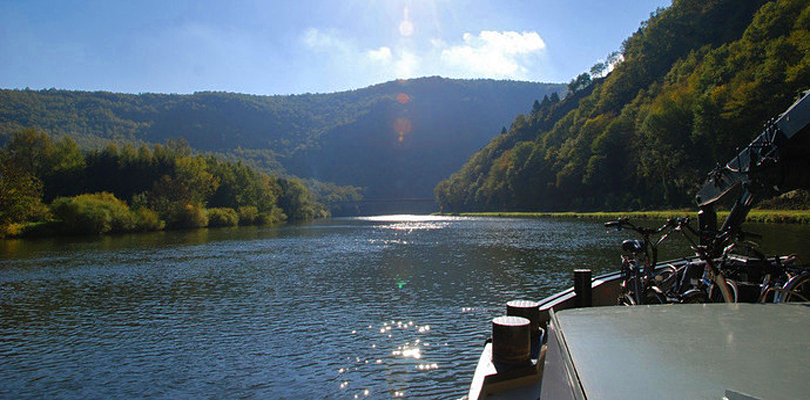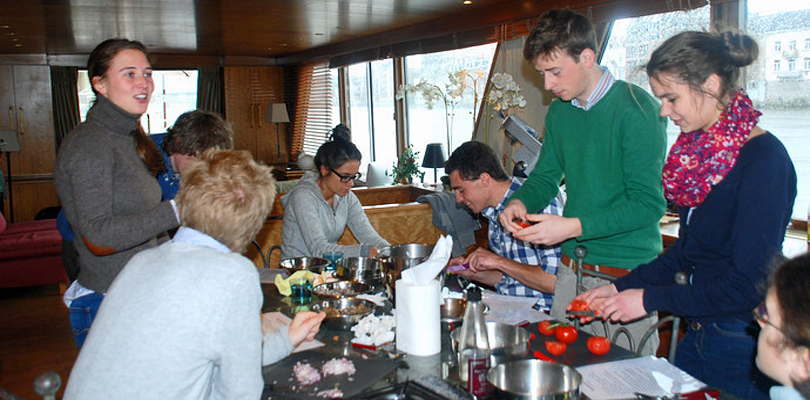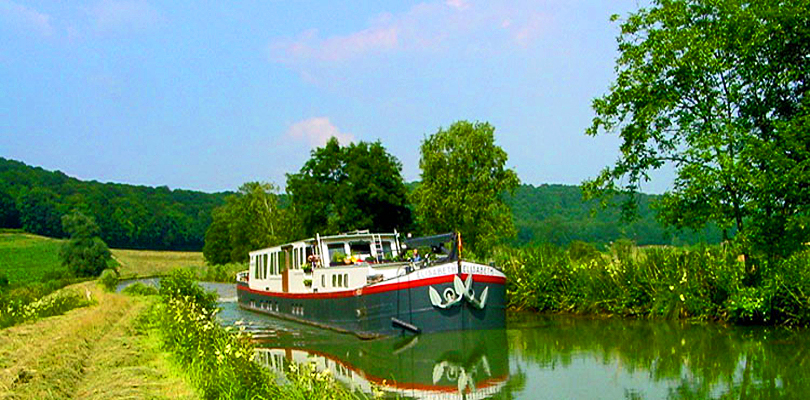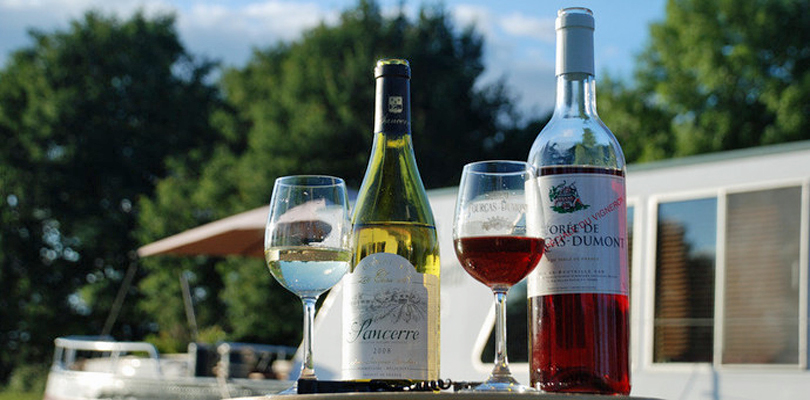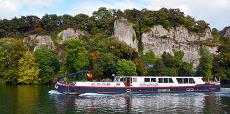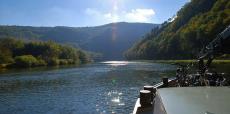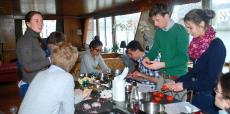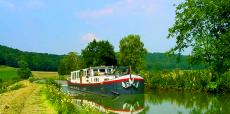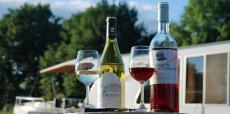 MS ELISABETH - PARIS Cruise Stops
MS ELISABETH, a newly converted charter barge, makes it's debut in 2015. Owners Captain Bernard and Chef Martine Buisseret will be operating this previously private luxury barge as she cruises through the heart of the Île-de-France region of the French impressionist painters. Tours will be centered around these artists, along with the important chateaux of the area. Aboard, there are four spacious cabins for up to eight guests. The colorfully appointed interior provides a warm and comfortable setting to relax and enjoy the beauty and charm found along the route.
Cruise Highlights
Enjoy a free two day pass to visit the many Paris museums before your cruise begins
Walk the "Impressionists Walk" in Bougival, the village known as the "Cradle of Impressionism"
Visit the elegant estate of Napoleon and Josephine at Chateau de Malmaison
See Monet's House and Gardens at Giverny
Lunch at the restaurant where Van Gogh lived above in Auvers-sur-Oise and painted most of his paintings before committing suicide
Join Chef Martine for a fun and tasty cooking lesson
Tour the magnificent Chateau de Chantilly, with its lavish interior design, gardens and waterways
Relax on board with the gourmet food, delicious wine and beautiful scenery
Cruise Features
Owner Operated:
Yes - Martine and Bernard Buisseret

Number of Passengers:
8
Category:
Deluxe

Cabin Bookings:
No
Charter Bookings:
Yes
Cruising Region
: River Oise, Ile-de-France
Length of Cruise
: 6 nights - Sunday to Saturday
Cruising Season
: May - October
Theme Cruises:
Family, Cooking, Wine Appreciation
Meeting Location
: Paris. Transportation by van included.
Floorplan

Cruise Rates 2015
Sunday to Saturday (6 nights)



All Season Departures
June 14, 21, 28
July 5, 12, 19, 26
August 2, 9, 16, 23, 30
September 6, 13, 20, 27
October 4, 11

Cabin Rates Not Offered


Charter Rates
6 passengers

$36,000

7 passengers

$38,000
8 passengers


$40,000

Included in Cruise Price
Transportation between Paris and the barge
Six nights accommodation in private stateroom with ensuite bath
All meals, wine and drinks on board
Daily escorted excursions by air-conditioned van
All barge amenities including bicycles, music system, library, wifi, etc.
Not Included in Cruise Price
Air or other transportation to the meeting location
Trip cancellation or medical insurance (available when booking)
Personal expenses
A discretionary gratuity for the crew suggested at 5% of the cruise price
MS ELISABETH Features
Passengers: 8
Category: Deluxe
Crew: 4
Barge Size: 130 ft long
Cabins: 4
Cabin Size: 2 queens at 193 & 125 sq ft; 2 twins at 110 sq ft.
Accommodations: 4 cabins with 2 queen or 2 twin beds
Heat & Air: Central heat and air conditioning



Amenities

Hairdryers
Wardrobes
Writing desk and chair in cabins
Library with board games
Bicycles
Covered sundeck with comfy chairs
Demonstration kitchen to watch the chef
prepare meals
Minivan with A/C
Email Access: WiFi connection,
TV/DVD/CD: Television with DVD/CD sound system
Electricity: 220v

Theme Cruises

Family, Cooking, Wine Appreciation













Cruising on MS ELISABETH
River Oise, ​Ile de France
Bougival to Boran (or reverse)
Friday and Saturday - Before Your Cruise
We'll gift you with a Two Day Paris Museum Pass, which provides free entry and no lines in 60 museums in and around Paris. Preview the work of Vincent van Gogh at the Musee d'Orsay, while at the Musee de l'Orangerie, view Claude Monet's masterworks, the Nymphéas (Water Lilies), painted in the artist's garden at Giverny and donated to the French state.

Sunday - Paris to Bougival
A member of MS Elisabeth crew will meet you at 2:00 pm at your assigned hotel in central Paris – if for a charter, it will be at one hotel of the group's choice. From there, you'll be chauffeured to the town of Bougival – only a one hour drive puts you right into a town and its scenes celebrated by Impressionist painters. All of these artists lived and painted in Paris or surrounding regions - the towns becoming within easy reach due to the new railways. In the 19th century, Bougival emerged as a fashionable suburb, ultimately becoming known as the "Cradle of Impressionism," Renoir liked to frequent and depict patrons in the waterfront cafes, ("Luncheon of the Boating Party" was painted in 1881) while Sisley and Pissaro painted outdoor scenes of the town.

Upon boarding, you'll meet your guide for a walking tour. This will introduce both the town and the artists, perhaps visiting a series of six historical placards known as "Impressionists Walk" at locations from which the noted painters depicted the scenes of Bougival. Then it is back to MS Elisabeth for a welcome aboard cocktail reception, introduction of crew and the first of many gourmet dinners on board.

Monday - Bougival to Conflans-Sainte-Honorine
After breakfast, depart with Chef Martine to the market at Sainte Germain-en-Laye, a fifteen minute drive from the barge. Enjoy a walk through the town and the gardens of the castle in the middle of Sainte Germain-en-Laye. Afterwards, visit the beautiful market as Martine picks out the freshest produce and cheeses for your meals aboard. Then it is on to the Hotel Pavillion IV where, in an earlier building on the site, King Louis XIV (the famed "Sun King") was born in 1638. Enjoy a drink on the terrace with its incredible view of Paris. Then it is back to MS Elisabeth for lunch, followed by a visit to Chateau de Malmaison (You can be driven there in our van or choose to bicycle), elegant estate of Emperor Napoleon and his wife Josephine. On display are Josephine's collections of art and furniture, as well as fashions of the early 18th century period.

Return to MS Elisabeth in late afternoon for a two hour cruise to Conflans-Saint-Honorine, located at the confluence of the Rivers Seine and Oise. Partly on account of its strategic position, Conflans-Sainte-Honorine is considered the capital of the French inland waterways, and the right bank of the River Seine is still lined with barges (although these are now used mainly as houseboats). Cocktails and dinner on board end this interesting day.

Tuesday - Conflans-Saint-Honorine
Claude Monet is considered the founder of Impressionism. He lived from 1883 until his death in 1926 in the village of Giverny. His house and his garden, the village and its surroundings, were his subject matter and they still attract half a million visitors each year from all over the world. Monet's ivy-covered home has been beautifully restored, but it is the gardens, depicted in his most famous paintings, that attract the most interest and awe. We depart at 9:00am to arrive when the grounds open and will spend the morning soaking up the beauty of the gardens, the house, and if time, visiting the nearby Giverny Museum of Impressionism which showcases works by American artists who painted alongside Monet.

Return to MS Elisabeth for lunch and the second excursion of the day to the Andresy Gardens. Guests may elect to bicycle to the gardens or travel in our van. Tonight we will present the White Dinner and ask that guests dress totally or partially in white!

Wednesday - Conflans-Sainte-Honore to Cergy-Pontoise
This morning, we cruise to Cergy- Pontoise, a newly built town and home to a public university. Now is the time to bicycle and meet the barge at around noon for lunch on board. After lunch, we visit the Abbey de Maubuisson.Contemporary art has given a second life to this ancient 13th-century abbey. Many of the temporary shows are punctuated with ultra-modern pieces that fit beautifully in the magnificently restored interior with vaulted ceilings and in the tree-lined park. Then return to MS Elisabeth for cocktails and dinner.

Thursday - Cergy-Pontoise to L'Isle Adam
This morning, enjoy a short and idyllic cruise to L'Isle Adam, pictured above right, one of the most enchanting villages in France. The rest of the day will be devoted to famed Impressionist painter Vincent van Gogh, beginning with lunch Auberge Ravoux. The Auberge Ravoux is a French historic landmark located in the village of Auvers-sur-Oise, where Van Gogh lived and produced 80 paintings and 64 sketches before committing suicide in July, 1890. One of these paintings is "Street Scene in Auvers-sur-Oise." Van Gogh's room has been painstakingly restored to its original condition. The dining room where Van Gogh took his meals is also restored and is now a restaurant serving meals inspired by nineteenth-century regional cuisine.

Other visits in this in this historic village include the Chateau, with a multi-media show introducing the ambiance and works of the Impressionists and the cemetery where Van Gogh and his brother Theo are buried.

Friday - L'Isle Adam towards Boran-sur-Oise
After an 8:30 am breakfast, we visit L'Isle Adam, one of the most famous markets in France, where Chef Martine will explain all the famous products of France to you. It's also a good opportunity to purchase some souvenirs. Back on board, Martine offers cooking lessons as we cruise a couple hours towards Boran-sur-Oise while enjoying lunch. Then, it's a short drive to our visit of the Chateau de Chantilly. This magnificent château was owned by the richest man in Europe, the Duc d'Aumale, who spared no expense with the lavish interior design, gardens and waterways. As all his heirs died he left everything to the Instititut de France for the public. Each room, from the Main Library with its fabulous ceiling and more than 40,000 books and manuscripts to the delicate workmanship in the family chapel, has something of unique interest. Return to MS Elisabeth in late afternoon to relax before the final festive dinner.

Saturday - Chauffeured Return to Paris
At 10:30 am, depart for Paris and one location's of your group's choice. Estimated arrival time is 11:30 am. Please make all onward travel plans on the basis of this timing. We hope you have wonderful memories of your MS Elisabeth cruise.

On alternate weeks the cruise will be in the reverse direction. This is a sample itinerary and is subject to change.
Stay tuned for reviews on MS Elisabeth's new "Impressioniste and Chateaux Cruise" debuting in 2015.