RENDEZ-VOUS - BURGUNDY, a 6-passenger deluxe barge cruises in Southern Burgundy, France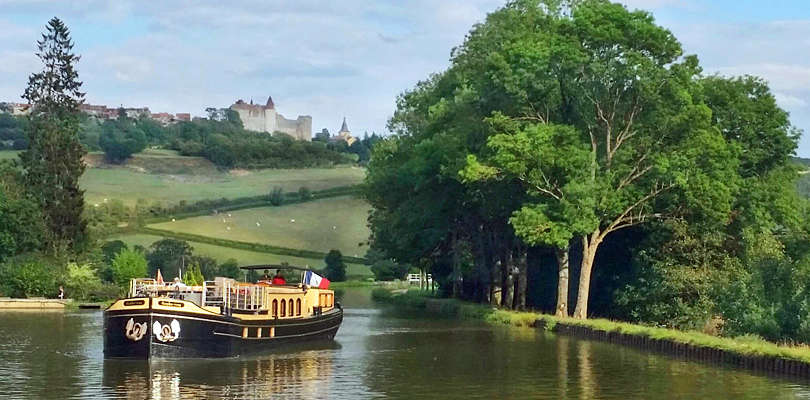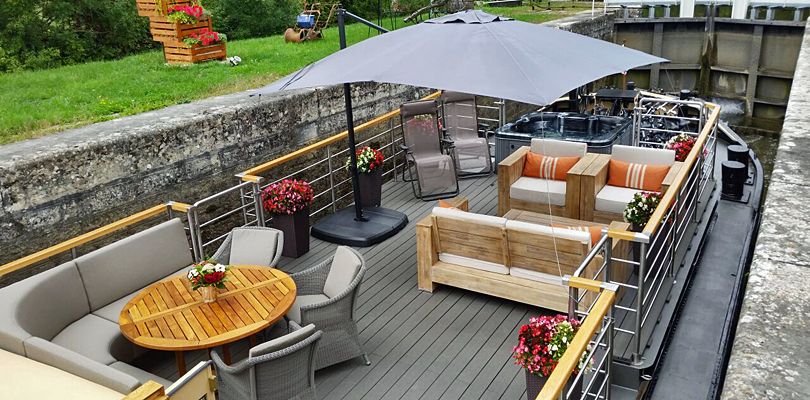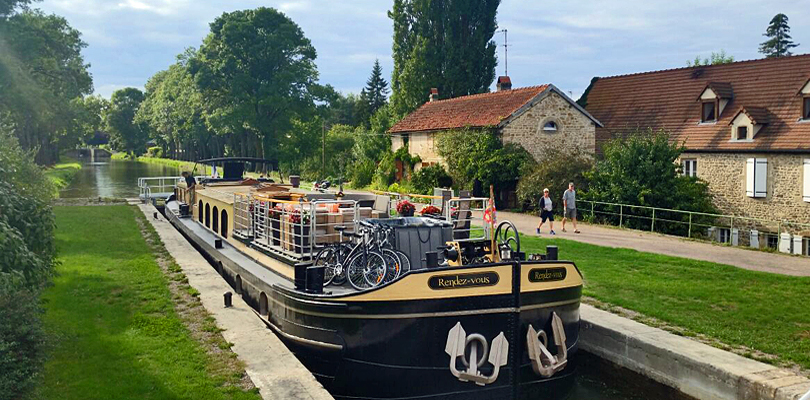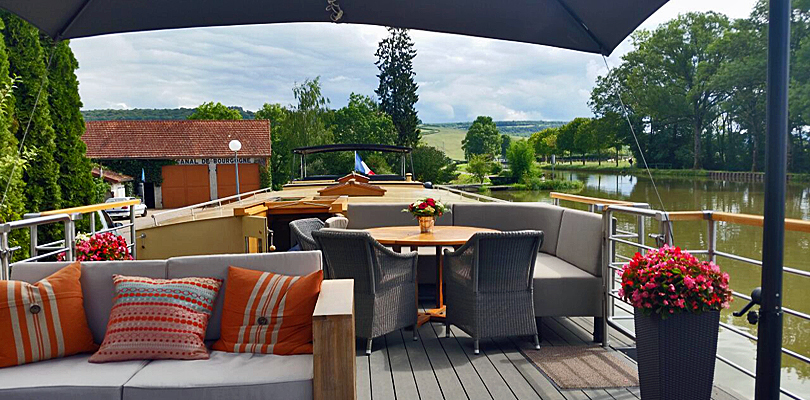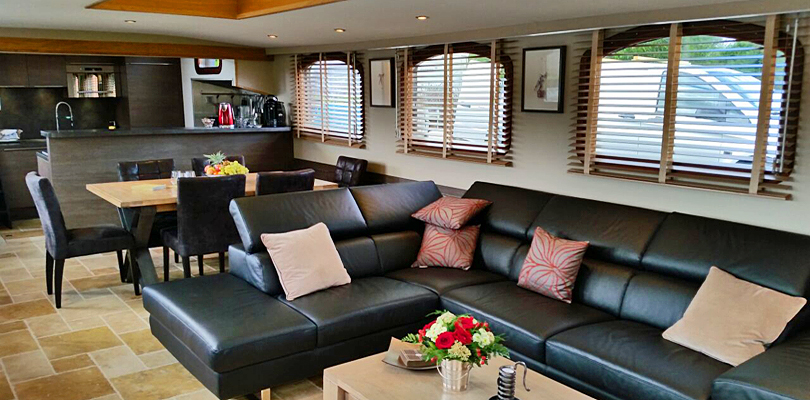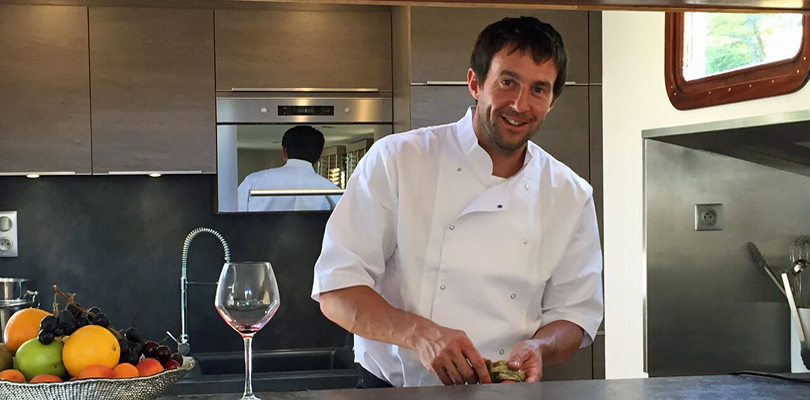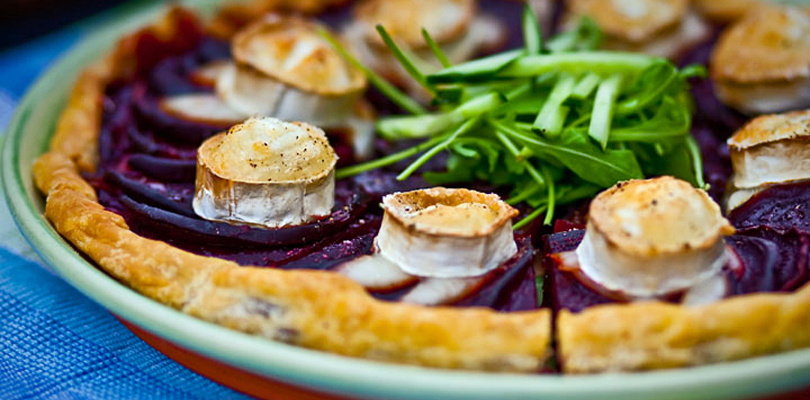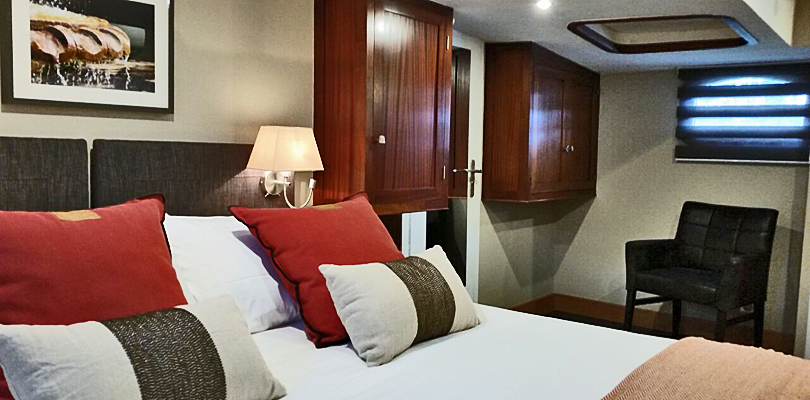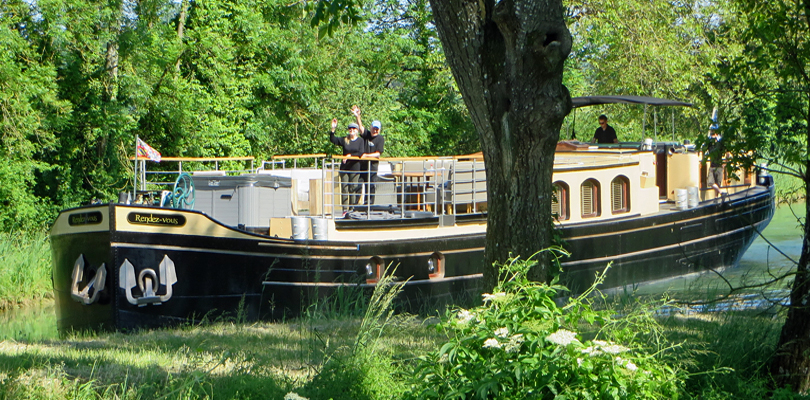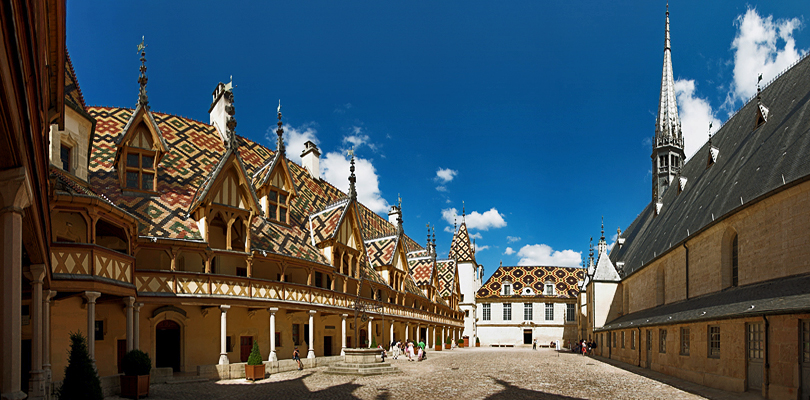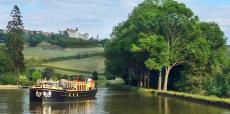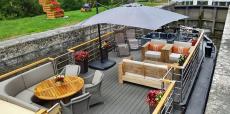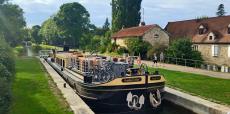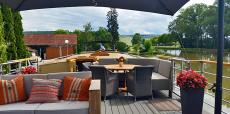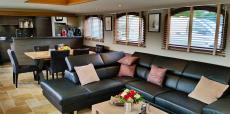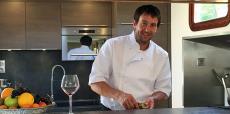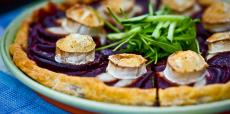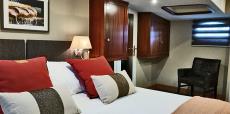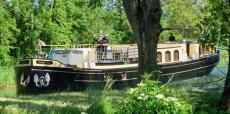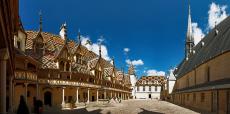 RENDEZ-VOUS - BURGUNDY Cruise Stops
RENDEZ-VOUS, debuting the summer of 2015, is designed for guests who want a high quality cruise but also an experience which reflects their interest in cuisine and wine, fitness and immersion into the culture and people of France. This new barge will pack a lot of casual living into its space, including an open kitchen to watch and interact with the chef, a large and canopied deck and cozy en-suite cabins with all the amenities. Décor is contemporary and comfortable, with high quality furniture, fabrics and accent pieces, all hand-selected. Experienced managers and tour guides Spencer and Rejane Hayes, will manage Rendez-Vous with the same attention to detail and quality as its ultra deluxe sister ship, Prosperite.
Cruise Highlights
Walk the historic town center of Dijon, including the Cathedral of St. Benigne and Les Halles market
Bicycle ride through the Route des Grands Crus vineyards
Enjoy a wine tasting at the Clos de Vougeot
Visit Beaune, center of the Cote d'Or wines, and have a private mustard tasting
Visit a cheese farm with a wine tasting
Optional golf will be available on several easily reached courses along the route
Cruise Features
Owner Operated:
Closely managed by owners
Cindy and Earl

Number of Passengers:
6
Category:
Deluxe
Cabin Bookings:
No
Charter Bookings:
Yes
Cruising Region
: Burgundy Canal, Southern Burgundy, France
Length of Cruise
: 6 nights - Sunday to Saturday
Cruising Season
: June - October
Theme Cruises:
Family, Wine Appreciation, Cooking, Golf
Meeting Location
: ​2:00 pm at one location in Paris or 4:00 pm in Dijon or Beaune - one location for all passengers
Floorplan

Cruise Rates 2018 - Charter Only
Sunday to Saturday (6 nights)
Departures
April 1, 8, 15, 22, 29
May ​​6, 13, 20, 27
June ​​3, 10, 17, 24
July ​​​1, 8, 15, 22, 29
August ​5, 12, 19, 26
September ​​​2, 9, 16, 23, 30
October ​7, 14, 21
Whole Boat Charter Rate for up to 6 passengers - $3​1,500

Included in Cruise Price
Transportation between one location in Paris, Dijon or Beaune and the barge
Six nights accommodation in private stateroom with ensuite bath
All meals, wine and drinks on board
Open bar
Daily escorted excursions by air-conditioned van
All barge amenities including bicycles, hot tub on deck, music system, library, etc.
Not Included in Cruise Price
Air or other transportation to the meeting location
Trip cancellation or medical insurance (available when booking)
Personal expenses
A discretionary gratuity for the crew suggested at 5% or more of the cruise price
RENDEZ-VOUS Features
Passengers: 6
Category: Deluxe
Crew: 4
Barge Size: 100 ft long
Cabins: 3
Cabin Size: One at 120 sq ft and two at 103 sq ft, including bathroom
Accommodations: 3 cabins with queen or twin beds
Heat & Air: Central heat and new air conditioning throughout



Amenities

Demonstration kitchen to interact with chef
Newly renovated cabins and bathrooms


Hairdryer and toiletries
Opening portholes for fresh air
Heated towel rack in baths
Safe in each cabin

New panoramic windows throughout
Designer furniture with ambient lighting
Library
Bicycles
Partially covered deck for dining and sun terrace
Hot tub on deck
New Mercedes Sprinter minibus with A/C
Email Access: WiFi for use with personal devices (may not be available in remote areas)
TV/DVD/CD with Sound System
Electricity: 220V
Two new 28 kw generators in marine sound proof casing

Theme Cruises

Family, Cooking, Custom, Golf, Wine Appreciation











Cruising on RENDEZ-VOUS
Burgundy Canal, Southern Burgundy
Fleurey-sur-Ouche to Vandenesse-en-Auxois (or reverse)

Sunday - Transfer to Barge in Fleurey-sur-Ouche
Your charter party is met at one designated meeting location in Paris at 2PM (or Dijon or Beaune at 4PM) and chauffered to the barge moored in Fleury-sur-Ouche. A traditional champagne reception welcomes you aboard, where you will meet your crew. Afterwards, take time to unpack or take a walk on shore before the first of many gourmet dinners on board.

Monday - Fleurey to Gissey-sur-Ouche
This morning's cruise takes us from Fleurey to Gissey-sur-Ouche, through the beautiful valley of the Ouche. After lunch on board, visit the vineyards of Côte de Nuits for a cycling tour along the Route des Grands Crus. Enjoy a wine tasting at the Clos de Vougeot, where medieval monks invented winemaking techniques. Return to Rendezvous for dinner on board.

Tuesday - Gissey to La Bussiere-sur-Ouche
After breakfast, we visit the capital of Burgundy, vibrant Dijon with its well-preserved medieval core. Touring the city on foot, we'll visit the ornate Cathedral and the gorgeous Les Halles Market. The market was designed in the 19C by Gustave Eiffel, a native son of Dijon. It is one of France's largest and best-known markets. After lunch in the market, return to Rendezvous for a cruise to La Bussiere-sur-Ouche. This is the perfect time to walk or bike the towpath or relax on deck and absorb the gorgeous countryside as it floats gently by.

Wednesday - La Bussiere-sur-Ouche
Beaune is the unofficial capital of the Côte d'Or, with millions of bottles of wine stored in cellars beneath its cobblestoned streets. This thriving town's raion d'etre is wine: making it, tasting it, selling it, but most of all, drinking it. Begin the day with a special wine tasting, where you will be presented with a selection of wines for your sampling pleasure. The tour then continues at the Hospice, also known as the Hotel Dieu, an immaculately preserved medieval hospital, which was in full use until the early 20th century. Enjoy lunch at a lively bistro and continue the day with a private mustard tasting. Then some free time to shop in the pedestrian zone and stop in the square for a café. Return to Rendezvous and dinner on board.

Thursday - La Bussiere to Pont d'Ouche
This morning we'll cruise from La Bussiere to Pont d'Ouche. After lunch aboard, we'll visit the village of Chateauneuf-en-Auxois its fairy tale castle perched high over the canal. Tour the castle as well as the village, with its delightful small crafts shops. Return for dinner on board.

Friday - Pont d'Ouche to Vandenesse-en-Auxois
We start the day with a gentle cruise to Vandenesse-en-Auxois and lunch aboard. This afternoon, we will visit a local farm for a cheese tasting. Other fun and interesting activities will be announced later. Then it's back to Rendezvous for a last, festive dinner and reliving of your week on board.

Saturday - Chauffeured Transfer Back to Paris
After breakfast at 9AM, you will be transferred back a designated point in central Paris, or alternatively, your entire group returning to Charles de Gaulle Airport.
This is a sample itinerary and is subject to change. The itinerary is in reverse direction on alternate weeks.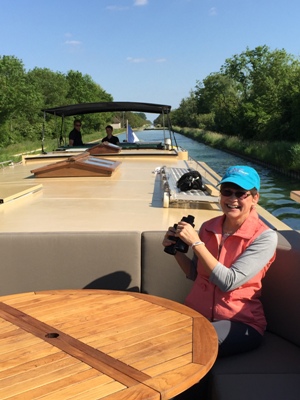 Barge Cruise Reviews for Barge Rendez-vous
Beth and Jack visited with the owners on board the new Rendez-vous in late May 2015 as it was making its shakedown cruise on the Burgundy Canal. Excitement was in the air as all systems were working well, Chef Joe was preparing one of his delectable meals and owners Earl and Candy with friends were enjoying the very smart deck with table with bench seating and separate lounging area. With only some finishing touches such as art, flowers on deck and some trim here and there, Rendez-vous will be making its maiden voyage in early July. Stay tuned for updated photos when it is floating the canal with all new contempory decor and hip vibe.
Rendez-vous gets our seal of approval as an expertly managed barge ideal for lovers of fine living in a casual style. Beth and Jack Hanson, owners of CanalBargeCruises.com - 2015
Reviews from Rendez-vous' first passengers
"Our family has traveled extensively (seven continents and over 70 countries) and had many lovely and rewarding experiences, but for us, the trip on the Rendez-Vous was the best ever -- truly the icing on the cake. I can't imagine having a better crew. They worked wonderfully well together to insure they met our every need, and then some. Our excursions fit very nicely into the area in which we were traveling. Our guide was extremely knowledgeable about the area and quite willing to meet any need that arose, and the van was clean and quite comfortable. Each meal was creative, delicious, and as good or better than you would expect to find in a 5-star restaurant. Our cabin was great. Air conditioning was a life saver during the warmer summer nights." TBL August 2015
"We had an absolutely wonderful time on our trip!! It exceeded our expectations. The crew was absolutely superb!! They attended to our every need with good humor and professionalism. We threatened to kidnap them and take them home with us! Hostess Camille, Captain Fred, Tour Guide Spencer and Chef Joe each did their respective jobs with aplomb and they worked well together. I think our family melded well with their family. The cuisine was delicious, beautiful, plentiful, and everything we could hope for. We loved Chef Joe's daily descriptions of what he was doing. The wines were wonderful and complimented the food well. Only trouble is we ate and drank too much! We all loved the cheese selections lovingly described by Camille at lunch and dinner. Spencer's sightseeing tours were perfect ...not too much, not too little. His knowledge and connections in the region made the excursions very personal and special. Our cabins were very comfortable. The rooms were nicely appointed, great bathrooms! Nothing was unclear or confusing prior to our cruise. Pre-trip information was great...no problems. Summing up our experience...one of the best, most relaxing vacations I've ever taken!" K.C. July, 2015

"Our cruise on the Rendezvous was wonderful in every way!!! What a terrific crew and team!" J.V. July, 2015