C'EST LA VIE - CHAMPAGNE, an 8-passenger ultra deluxe barge, cruises in the Champagne Region, France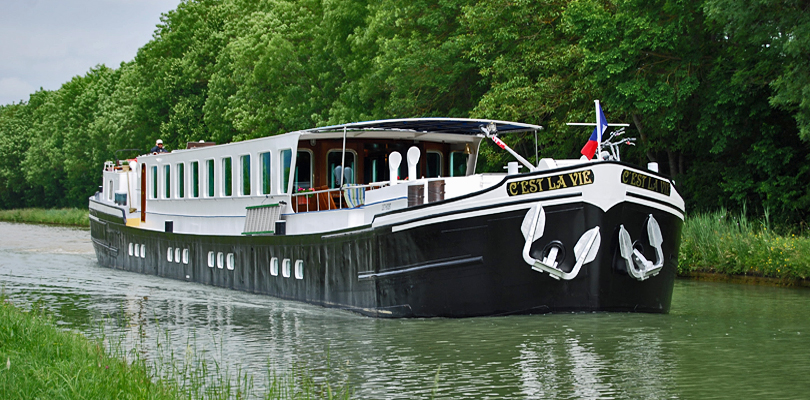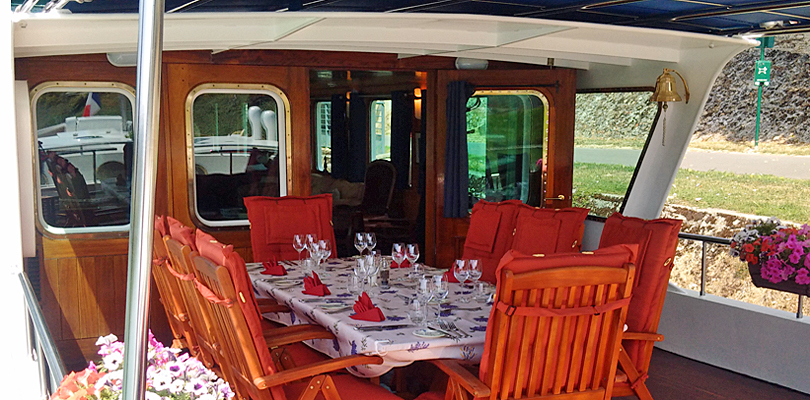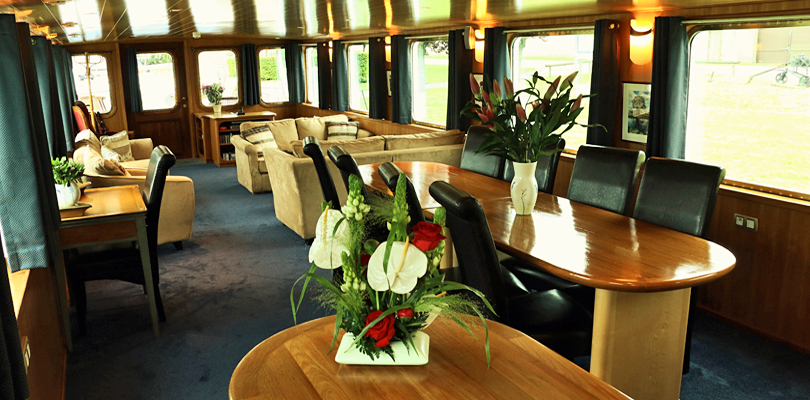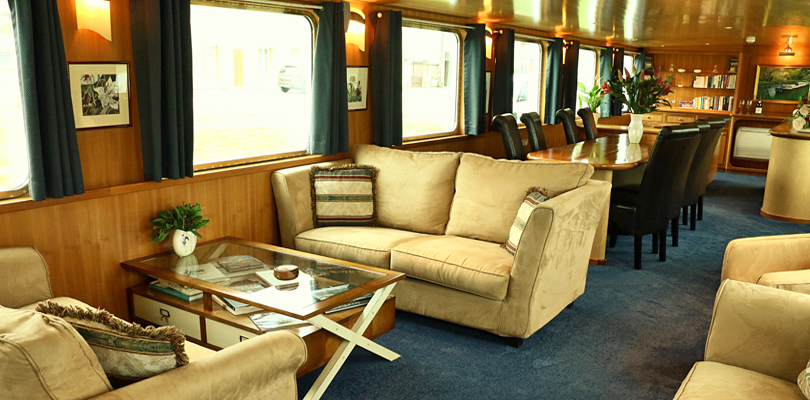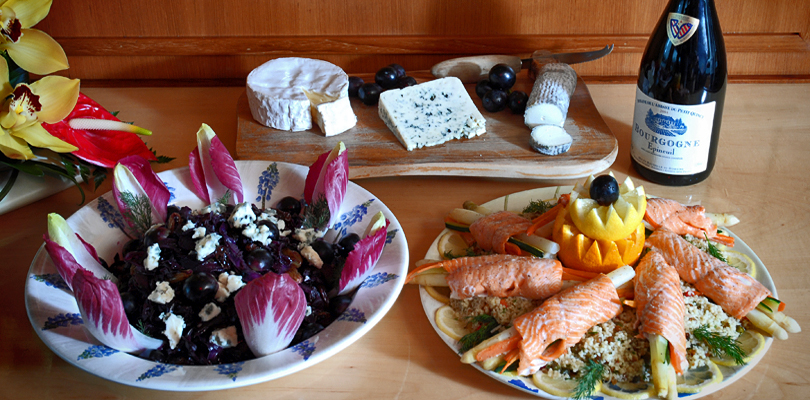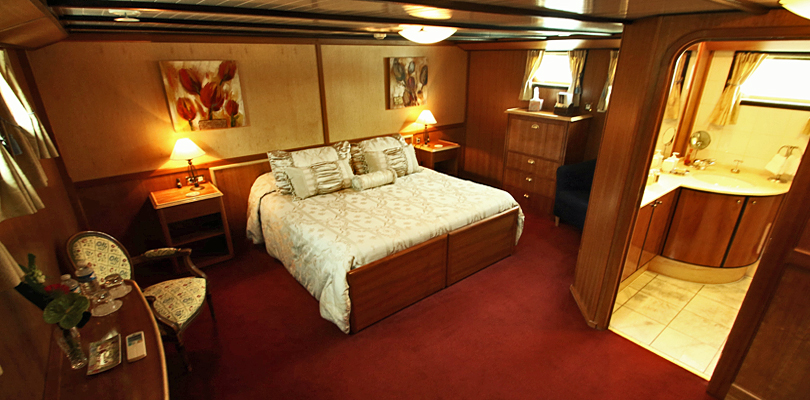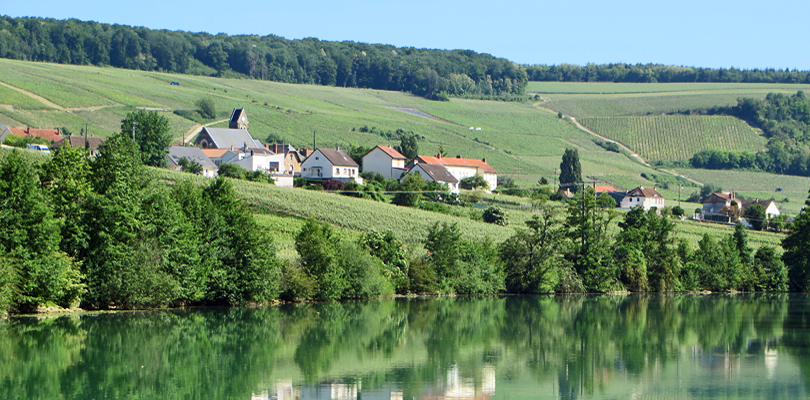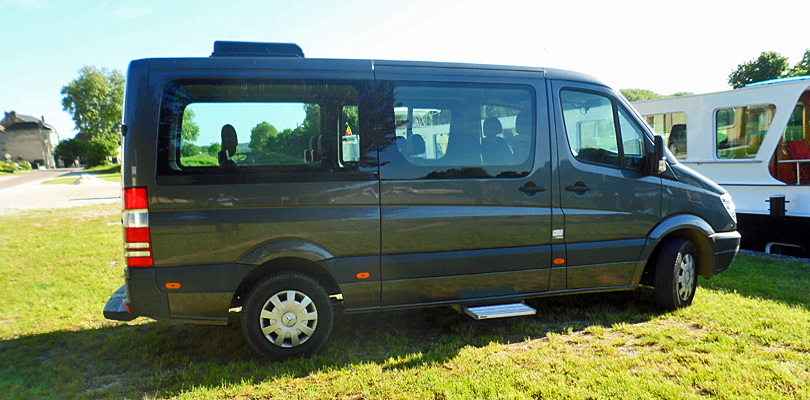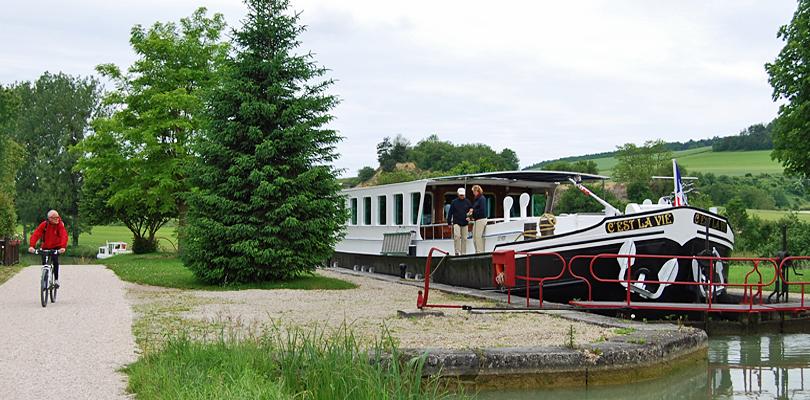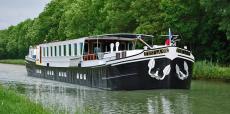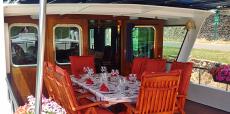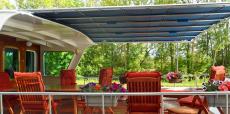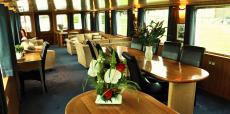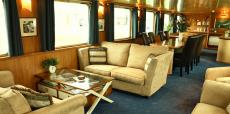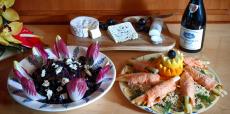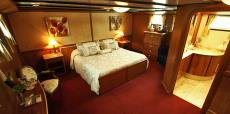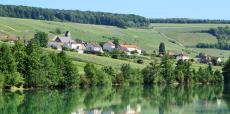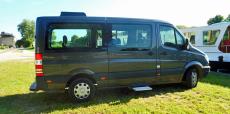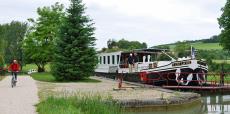 C'EST LA VIE - CHAMPAGNE Cruise Stops
C'EST LA VIE will spend ​September and October in 2018 cruising in the Champagne Region of France. The name Champagne is of course synonymous with the world's most famous sparkling wine. The mystique and pleasure of Champagne will be unraveled during your week's cruise on board C'est la Vie. Excursions will visit the prominent battle sites and monuments that marked this war from 1914-1918. Tour the spectacular Gothic Cathedral of Reims and the fascinating museum situated in the old archbishop's residence, the Palais de Tau. There is always plenty of time to sit back and relax on deck and enjoy the beautiful countryside.
Cruise Highlights
WW1 Battlefield and cemetery of Belleau-wood
American WWI monument of Chateau-Thierry
Chateau of Vaux-le-Vicomte
Champagne visit to a small family run winery
Trench warfare of WW1
Gothic Cathedral of Reims
Moet & Chandon Champagne house in Epernay
L'Assiette Champenoise Restaurant in Reims (3 Michelin Stars)
Cruise Features
Owner Operated:
Yes - Olivier and Deb Megret
Number of Passengers: 8
Category:
Ultra Deluxe Class
Cabin Bookings:
Yes with minimum of 2 cabins
Charter Bookings:
Yes
Cruising Region
:Champagne, France
Length of Cruise
: 6 nights - Sunday to Saturday
Cruising Season
: September, October
Theme Cruises:
Classic, Family
Meeting Location
: Designated meeting point and time in Paris
Floorplan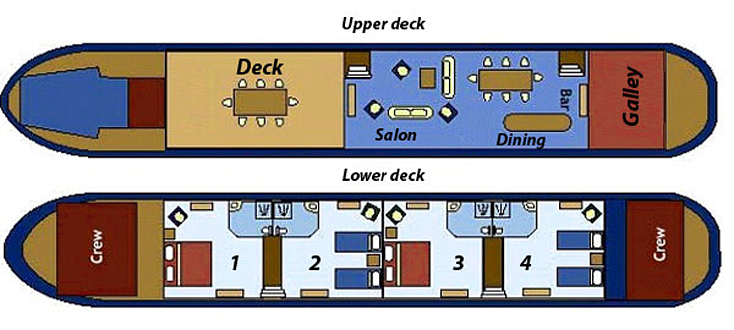 Cruise Rates 2018
Sunday to Saturday (6 nights)



Value Season Departures
October 14, 21


Cabin Rates (minimum of 2 cabins required)

Staterooms per person, double occupancy

$ 6,695
Single supplement


$ 3,695
Charter Rates

6 passengers

$46,800

7 passengers

$49,000

8 passengers


$51,200


Regular Season Departures
August ​26 (relocation cruise: Montargis - Meaux)
September ​2, 9, 16, 23, 30
October 7


Cabin Rates (minimum of 2 cabins required)


Staterooms per person, double occupancy

$ 6,995
Single supplement


$ 4,995
Charter Rates
6 passengers

$51,960

7 passengers

$53,900

8 passengers


$5​5,960

Included in Cruise Price
Transportation between Paris and the barge
Six nights accommodation in private stateroom with ensuite bath
All meals, wine and drinks on board (including one dinner on shore)
Open bar
Daily escorted excursions by air-conditioned van
All barge amenities including bicycles, music system, library, etc.
Not Included in Cruise Price
Air or other transportation to the meeting location
Trip cancellation or medical insurance (available when booking)
Personal expenses
A discretionary gratuity for the crew suggested at 5% of the cruise price
C'EST LA VIE Features
Passengers: 8
Category: Ultra Deluxe Class (link to Categories)
Crew: 6
Barge Size: 128 ft long
Cabins: 4
Cabin Size: 230 sq ft including bathroom
Accommodations: 4 staterooms with your choice of twin bed or king bed configuration, all with ensuite bathrooms
Heat & Air: Central heat and air conditioning



Amenities

Hairdryers
Toiletries
Library
Bicycles
Sundeck with comfy chairs
Large salon with fully stocked bar
Minivan with A/C
Email Access: WiFi
TV/DVD/CD: CD Sound System; iPod docking station
Electricity: 220V

Theme Cruises

Classic, Family





Cruising on C'EST LA VIE
Marne River and Canal Lateral a la Marne
​Meaux to Sillery (or reverse)
Sunday - Transfer to Barge in Meaux
You'll be met at 3:00 pm in the lobby of your Paris hotel and chauffeured to the C'est La Vie at anchor in the village of Meaux. After the traditional champagne welcome from Captain Oliver Mégret and the crew, there is time to unpack and take a stroll around town before enjoying the first of many gourmet dinners on board.

Monday - Meaux to St. Jean-les-Doux-Jumeaux
Begin the day with our breakfast buffet featuring village-baked pastries just warm from the oven! Then relax on deck while cruising on the River Marne to St. Jean-les-Doux-Jumeaux. C'est La Vie floats through heavily-wooded countryside. Adorable villages hug the shore and patient fisherman wave as we pass. After lunch (served on deck weather permitting) we'll visit the Chateau of Vaux-le-Vicomte, an enormous privately-owned property with grand gardens and an intriguing history. Built by Nicholas Fouquet, finance minister to Louis XIV, the chateau became a lightening rod for the jealous king. Fouquet landed in jail for the rest of his life and the king built Versailles in retaliation! Could Fouquet have been the man in the iron mask, some people certainly think so? Return to the C'est La Vie for dinner aboard.

Tuesday - St. Jean-les-Doux-Jumeaux to C​hateau Thierry
After another delicious breakfast, cruise to Chateau Thierry through a gorgeous landscape of villages, vineyards, pastures and forests. Nestled into the champagne-producing slopes, this ancient town is associated with the Frankish king Charles Martel whose castle here was built in the 8th century and Joan of Arc who entered through the town gates in 1421. Afternoon excursion to nearby World War I sites. Belleau Wood was the scene of the second battle of the Marne in spring 1918, which ended the last German offensive of World War I. The cost was 8,000 American troops killed, missing or wounded. Overlooking Chateau Thierry is the massive French-American Friendship Monument and the Aisne-Marne American Cemetery. Back on board for your gourmet dinner.
Wednesday - C​hateau Thierry to ​Damery
Morning cruise on the River Marne, through scenery that could have been painted by the Impressionists. Vineyards, fields and farmhouses cling to distant hills, while villages and gardens line the river. After lunch take a short drive to visit famed champagne producer Moet & Chandon in Epernay. This elite company was founded in 1743 by Claude Moet and was characterized from the beginning by international markets and such high-level contacts as Madame Pompadour and Napoleon. Now it dominates Epernay with a complex of historic buildings and a billion bottles of bubbly stored in eighteen miles of tunnels! We'll tour and then taste! Next visit Haultevillers, a pretty champagne village perched high over the vineyards. Tour the unassuming church of monk Dom Perignon, credited with inventing the champagne producing process. Back to the C'est La Vie in time cocktails and dinner.
Thursday - Damery to Tours sur Marne
This morning's cruise we leave the river Marne for the canal Lateral a la Marne, perfect time to put your working shoes on or ride a bicycle along the tow path and catch the C'est la Vie at the next lock. After lunch we will pay a visit to a small family run vineyard, for the 2nd of your champagne tasting experiences. Driving through vineyards as far as the eye can see. We return to the C'est La Vie in plenty of time to prepare for your dinner shore at the 3-star Michelin restaurant the L'Assiette Champenoise, delicately chosen by Olivier.

Friday - Tours sur Marne to Sillery
Cruise this morning on the canal is going to take us through a small tunnel. There is time to walk or bicycle on the towpath as C'est La Vie climbs up a flight of locks. After lunch, we drive to Reims, an important city from Roman times onwards. Visit the great Reims Cathedral, which is even larger than Notre Dame in Paris and where the many of the French kings were crowned. Visit the Archbishops place which has been turned into a museum and step back in time. Walk along the pedestrian streets in this vibrant city, or take a coffee in many of the side walk cafes and watch the world go by. Head back to the C'est La Vie for The Captain's Dinner which ends your cruise in style!
Saturday - Transfer to Paris
After breakfast, you'll be chauffeured back to Paris by the end of the morning.
This is a sample itinerary and is subject to change. The itinerary is in reverse direction on alternate weeks.
Barge Cruise Reviews for C'est La Vie
"The barge cruise will remain one of the most perfect vacation experiences we have ever had, and there will always be smiles remembering the wonderful Captain Olivier and crew of C'est La Vie." Bill and Helen K, June 2014
"There aren`t enough superlatives to describe the barge cruise Lynn and I just returned from. It was so much more than we expected. Olivier and Deb are very hardworking, customer minded, no detail overlooked, very organized and fun. They provided a magnificent experience we will never forget. Glenn, the ``tour director`` was a treasure.....he was an encyclopedia of information on French and European history as well as a font of knowledge on wine, grapes and all the wine growing details. Jerry, the `Chef`` was outstanding. He prepared wonderful dishes, beautifully presented...each and every time. He was also very personable and aimed to please whenever asked .....another huge asset for Olivier and Deb. Ruth, the stewardwess, was very sharp. Daily she provided guest room services as well as lunch and dinner cheese services. Not only was she very knowledgeable about the cheeses, she also did the wine selections a few times. She was smart, service minded, and lots of fun.
We thought we were taking a canal barge cruise but unexpectedly enjoyed a lesson in wine, food, and the history of the Burgundy region. Way beyond expectations!" Tom T. June 2012
"I can't recall any other trip I have ever encountered and come back telling everyone you know that you have to experience this wonderful trip for yourself. The crew, we will regard as life long friends and the other passengers we continue to keep contact. Some things in life are special and the experience we had on the C'est la Vie was very special. If you are contemplating doing something that you will never forget, just do it." M. Peters 2011