ENCHANTE, an 8-passenger ultra deluxe barge cruising on the Canal du Midi in the South of France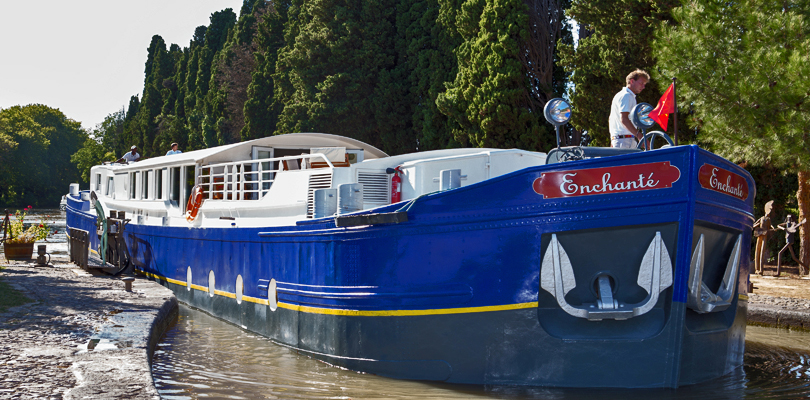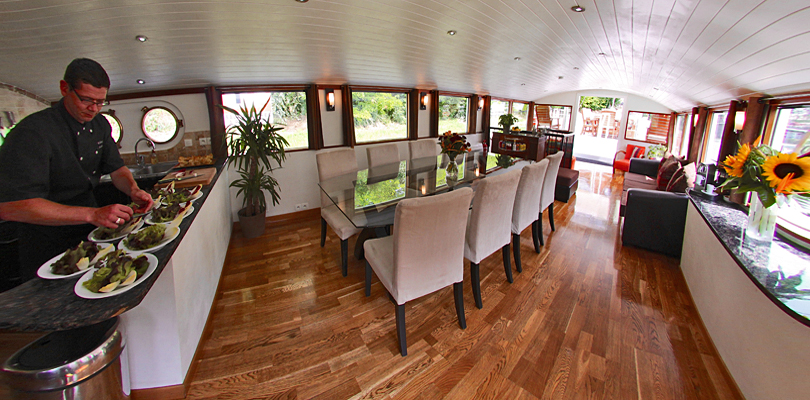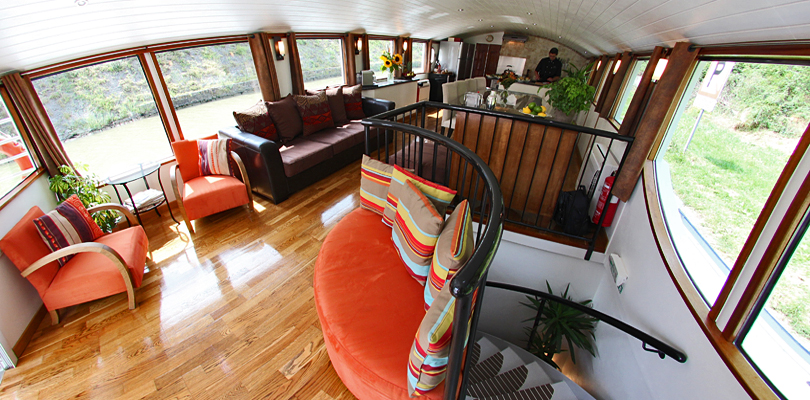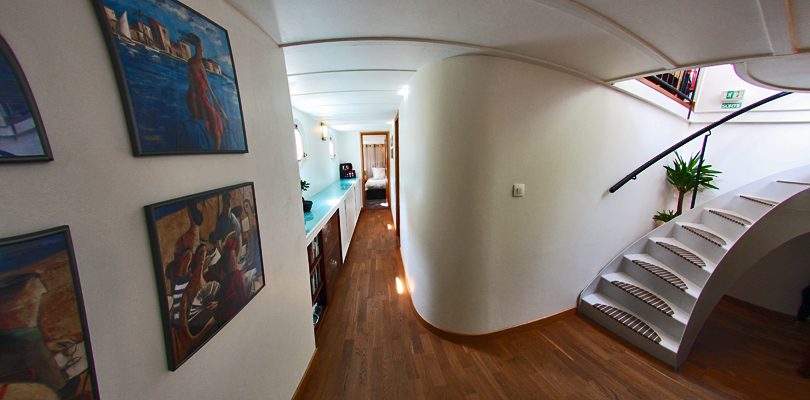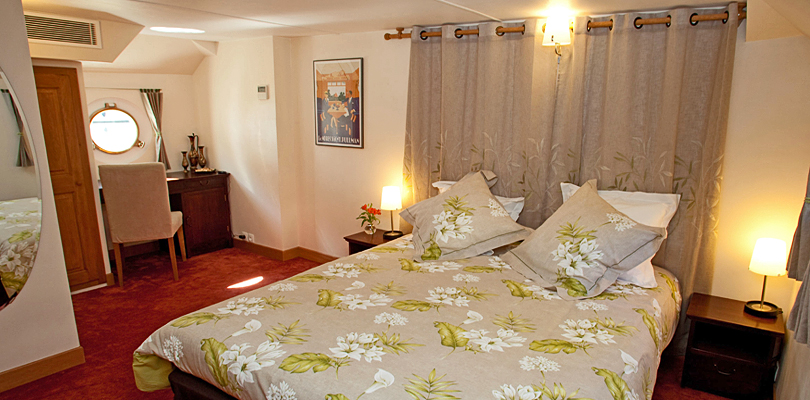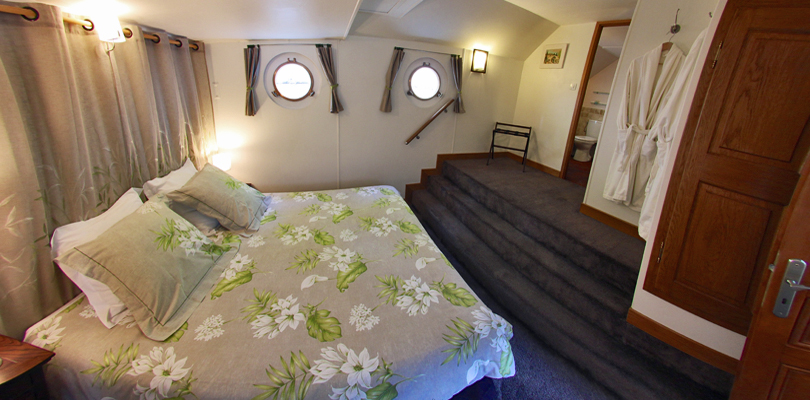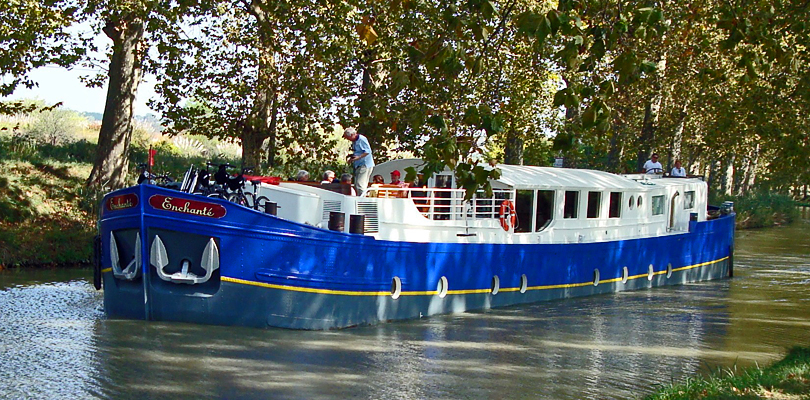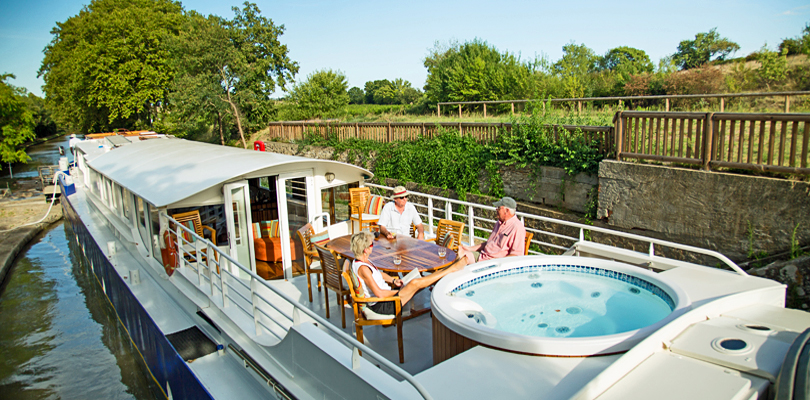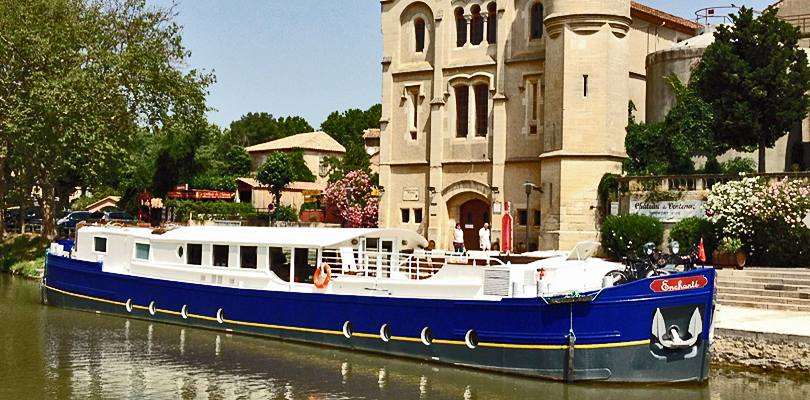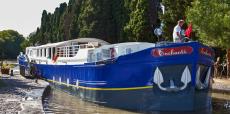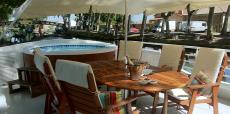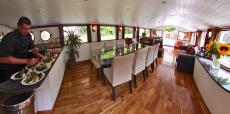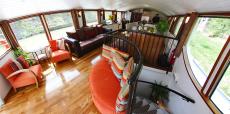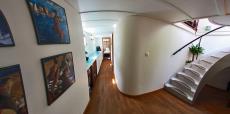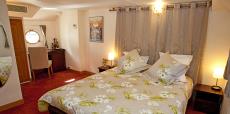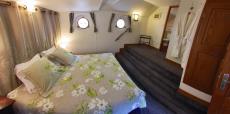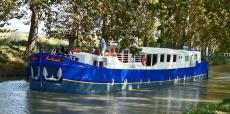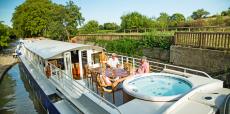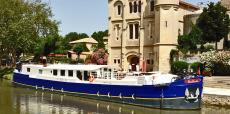 ENCHANTE Cruise Stops
ENCHANTE is a stylish, two level barge providing spacious cabins and living area. Built to the highest standards, Enchanté provides luxurious accommodations and is tastefully furnished in a contemporary decor. Its highly professional crew of five is led by knowledgeable and experienced owners Louisa and Roger Gronow who will ensure your cruise is memorable and more! Enchanté's inviting sun deck is perfect for al fresco dining, soaking in the spa pool and luxurious lounging. Or maybe take a bike out for a spin or two during your cruise. Bon Voyage!
As the most luxurious 8-passenger barge on the Canal du Midi with 4 equal suites of 165 sq. feet, Enchante is ideal for those who enjoy comfort and space in a casually elegant vessel.
Cruise Highlights
Winery tour and tasting of fine Minervois wines
Tour Narbonne's Archbishop's Palace and experience the colorful market
Visit an olive oil press to sample the famous Lucques olives
Tour of beautiful Lagrasse and its 8th century abbey
See the Cathar hilltop town of Minerve with its spectacular setting
Tour of the medieval city of Carcassonne
Pretty villages along the canal to explore with plenty of opportunity for walking and biking
Cruise Features
Owner Operated:
Yes - Roger and Louise Gronow
Number of Passengers:
8
Category:
Ultra Deluxe
Cabin Bookings:
Yes
Charter Bookings:
Yes
Cruising Region
: Canal du Midi, Languedoc Region, South of France
Length of Cruise
: 6 nights - Sunday to Saturday
Cruising Season
: March - October
Theme Cruises:
Classic, Family, Golf, Wine Appreciation, Culinary
Meeting Location
: Designated meeting point in Narbonne for cabin bookings. More options for charter bookings.
Floorplan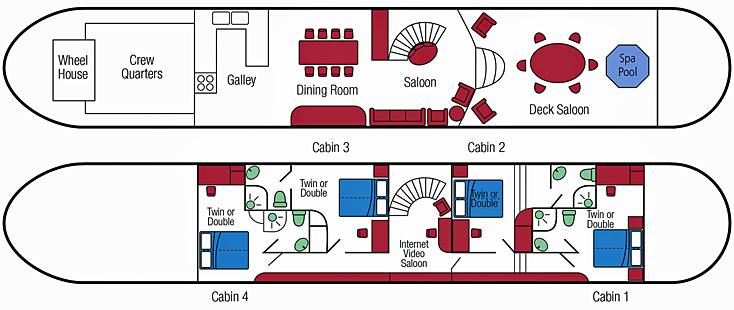 Cruise Rates 2018
Sunday to Saturday (6 nights)

Value Season Departures
March ​​18, 25
April 1, 8, 15, 22
July ​22, 29
August ​​​5, 12, 19
October 7, 14, 21

Cabin Rates

Staterooms per person, double occupancy

$ 5,990
Single supplement


$ 2,200
Charter Rates

6 passengers

$41,300

7 passengers

$43,200

8 passengers


$45,100


Regular Season Departures
April 29
May ​​6, 13, 20, 27
June ​​3, 10, 17, 24
July ​​1, 8, 15
August ​26
September ​​2, 9, 16, 23, 30

Cabin Rates


Staterooms per person, double occupancy

$ 6,850
Single supplement


$ 2,500
Charter Rates
6 passengers

$47,300

7 passengers

$49,500

8 passengers


$51,700

Included in Cruise Price
Transportation between designated meeting place in Narbonne and the barge
Six nights accommodation in private stateroom with ensuite bath
All meals, wine and drinks on board
Open bar
Daily escorted excursions by air-conditioned van
All barge amenities including bicycles, hot tub on deck, music system, library, etc.
Not Included in Cruise Price
Air or other transportation to the meeting location
Trip cancellation or medical insurance (available when booking)
Personal expenses
A discretionary gratuity for the crew suggested at 5% of the cruise price
ENCHANTE Features
Passengers: 8
Category: Ultra Deluxe
Crew: 4
Barge Size: 100 ft long
Cabins: 4
Cabin Size: 165 sq ft including bathroom
Accommodations: 4 staterooms with your choice of twin bed or queen bed configuration, all with ensuite bathrooms
Heat & Air: Individually controlled heat and air conditioning



Amenities

Hairdryers
Toiletries
Percale cotton linens
Library
Bicycles
Sundeck with chairs, lounges & table
Sound system iPod/MP3/CD compatible
Computer with internet 3G connection
Games
Minivan with A/C
Email Access: Yes, in some areas
TV/CD/DVD: CD and iPod system
Electricity: 220V

Theme Cruises for Charters

Classic, Family, Golf, Wine Appreciation, Culinary Cruise






Cruising on ENCHANTE
Canal du Midi, Languedoc, South of France
Trèbes to Salleles d'Aude (or reverse)
(Wine Appreciation, Culinary, Family and Golf Itineraries for charters also available - please inquire)

Sunday - Trèbes
Guests are met at the designated meeting point in Narbonne and escorted by minibus to Enchanté, moored in Trèbes. A champagne welcome and an introduction to the Captain and crew, followed by dinner on board.

Monday - Trèbes to Puichéric
A fascinating morning tour of Carcassonne. Dating back to the Gallo-Roman era, this is the most complete medieval fortified city in existence today with its 52 watchtowers, portcullis and extraordinary repertoire of defences, which resisted the many armies that tried to storm this glorious Camelot setting. This afternoon, we cruise along the 330-year-old canal and gently circle the contours of the land through the dappled Cathedral-like canopy of the plane trees, to Puichéric lock. You might want to admire the lock-keeper's artistic creations which surround the lock-house. Dinner on board.

Tuesday - Puichéric to Jouarres
This morning, our cruise descends the trademark locks of the Canal du Midi as the steep relief requires them to be more numerous and deeper. This is a great opportunity to walk or cycle from one lock to the next as Enchanté cruises on, navigating the triple locking system. The afternoon excursion is a wine tour and tasting at the winery of Château Saint Jacques d'Albas in Minervois, one of the few regions to receive the much envied French mark of approval for wines known as A.O.C. (Appellation d'Origine Controlée).This informative tour offers an opportunity to sample wine in situ and find out more about the Languedoc's long-standing and continuing wine trade. Dinner on board.

Wednesday - Jouarres to Roubia
This morning, we visit a Benedictine Abbey founded in the 8th century. Nestled in Lagrasse, a village awarded the title of "Plus beaux villages de France" and home to many artisans who have set up workshops in the medieval centre, the restored Abbey was once one of the most prosperous thanks to Charlemagne's charter. Then we sample some local cuisine with lunch ashore in a spectacular setting overlooking the Corbières, before returning to Enchanté for our cruise to Roubia . This afternoon, while cruising under the shade of the plane trees which line the canal, we pass the canal bridge "l'Epanchoir", one of the many feats of engineering invented by Pierre Riquet for the Canal du Midi. Dinner on board.

Thursday - Roubia to Le Somail
A morning cruise through vineyards and pine trees to the charming and historical village of Le Somail, purpose-built for the Canal du Midi. This bustling little village is situated on the "grand bief", another engineering prowess unique to the Canal du Midi. Take some time to explore the old bookstore of Le Somail. An afternoon excursion to "L'Oulibo", meaning olive in the Occitan language, a local co-operative olive oil press where we will sample the famous Lucques olive oil. We continue by minibus to Minerve, the ancient capital of the Minervois, which boasts a 12th century Cathar fort surrounded by deep limestone gorges. Besieged by Simon de Montfort in 1210, its hilltop location affords spectacular views. Dinner on board.

Friday - Le Somail to Salleles d'Aude
This morning's excursion is to Narbonne, a Roman Mediterranean capital where the Visigoth monarchs once lived. Enjoy a visit to the Archbishop's Palace and the indoor market at the hub of this bustling canal side town, where you will have time to shop or simply absorb the vibrant atmosphere. Afternoon cruise through the series of locks and narrow bridges of the Robine Canal, built after the Canal du Midi to link Narbonne to the Mediterranean. Cycle ahead and explore the village of Sallèles d'Aude, our final mooring. Captain's Farewell Dinner on board.

Saturday - Salleles d'Aude
After breakfast, disembark Enchanté and transfer to the designated drop-off point in Narbonne.
This is a sample itinerary and is subject to change. The itinerary is in reverse direction on alternate weeks.
Barge Cruise Reviews for Enchante
"Hi Beth,
Just want to let you know what a dream trip we had on the Enchante. Everything was perfect just as it had been represented. The crew was so friendly, efficient, attentive and unobtrusive and the other guests (there were only six of us!) were delightful. We all got along marvelously and all had fun. And, once again, it was a pleasure doing the planning with you. You, also, were all the things I've said about the crew. The entire experience was one of wonderful memories. We will recommend you and the Enchante' whenever the opportunities arise. Thank you, Beth!" Diana and Jake, August 2014
"Louisa, the owner, subbed all week as the tour guide and was gracious and always full of smiles. Miss Kitty was always in pursuit of spoiling us, had a wry sense of humor, and was wine and cheese over-knowledgeable. Chris, the chef, was a a laid back chef who delighted us at every meal - food was gorgeous and eventually we caught on that no one would believe us unless we took pictures. Elle somehow managed to steer that 100' barge right down the center of the canal with tight turns and all those locks. We loved the crew, the camaraderie of the other guests, the food and the small number of people." Martha S. 2012