ESPERANCE, a 6-passenger deluxe barge, cruises on the Canal du Midi in the South of France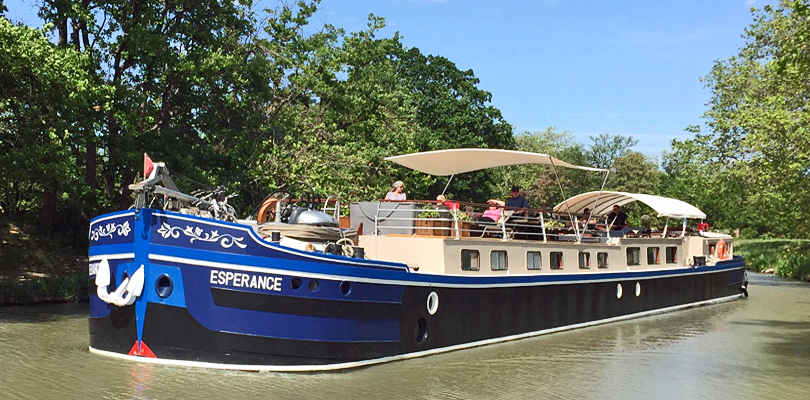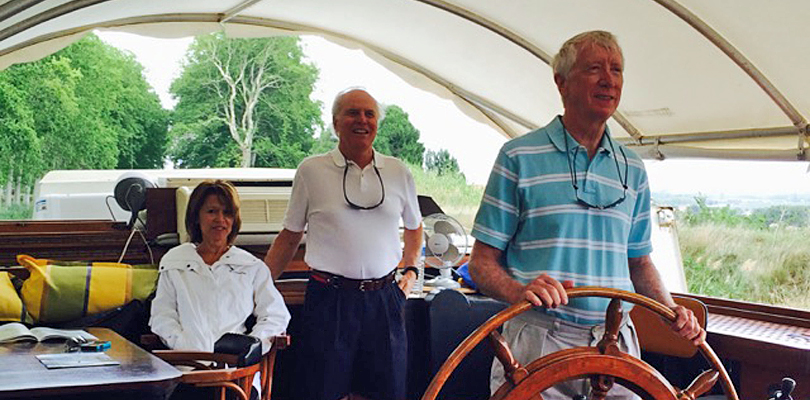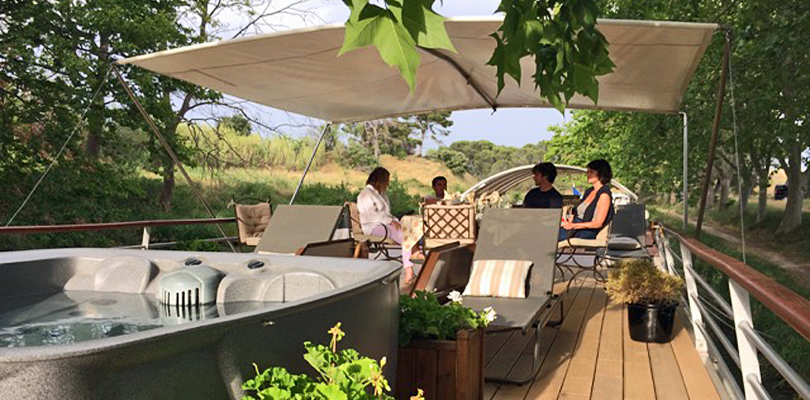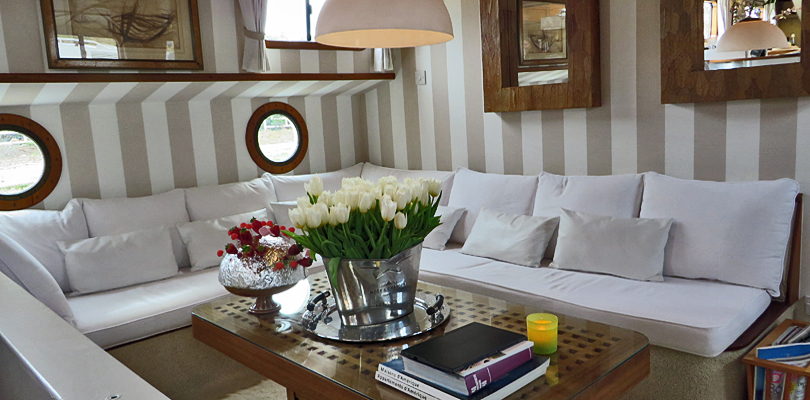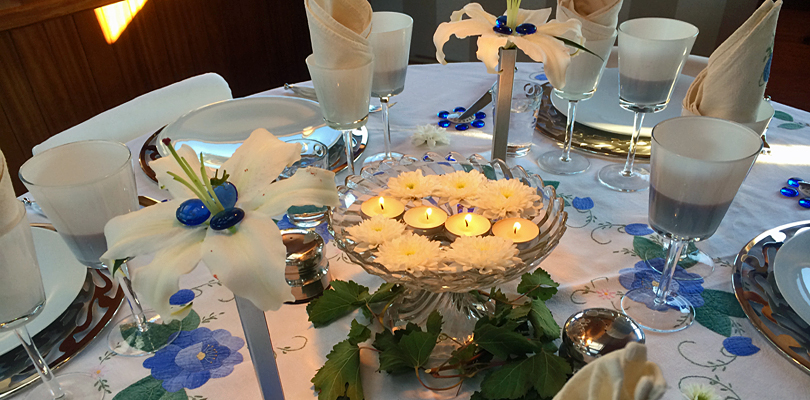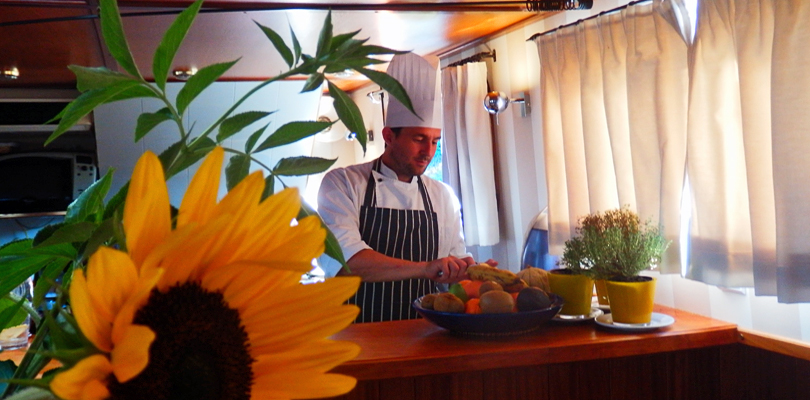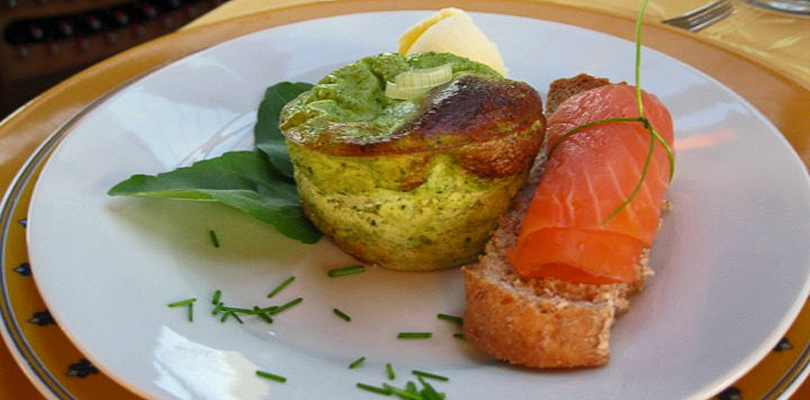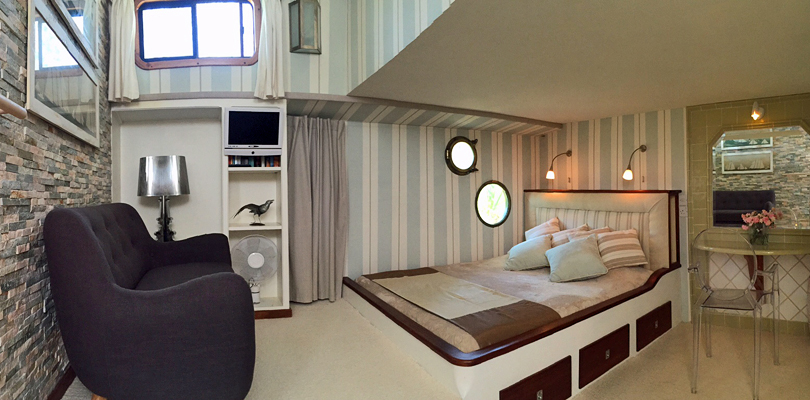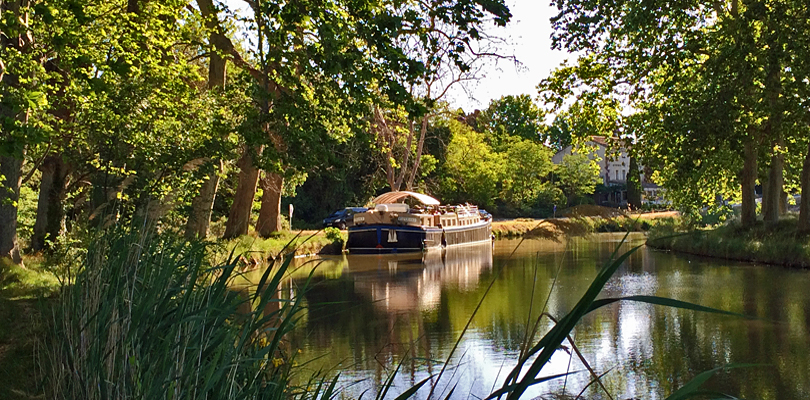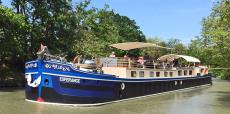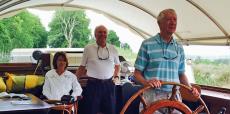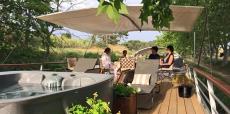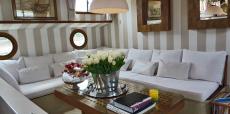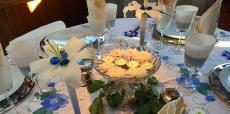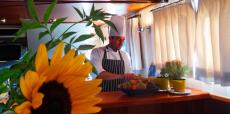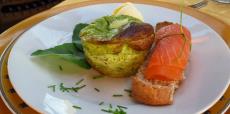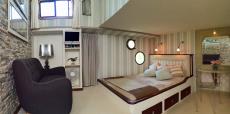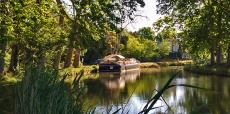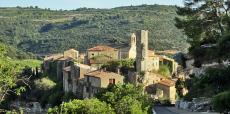 ESPERANCE Cruise Stops
ESPERANCE is a deluxe contemporary barge sparkling in warm Provencal colors with large suites and spacious wheelhouse where guests can gather. It has an open salon, dining room and kitchen where guests are welcome to watch the chef prepare meals. A large partially covered sundeck offers comfortable seating, dining table and a hot tub. The owner, Mathias Gilles, grew up in Provence and now cruises on the Canal du Midi as your trusted captain and entertaining host. This barge cruise combines countryside and village moorings to enjoy the peacefulness of the canal with an interesting array of locals sights to immerse you in the culture and scenery of the Languedoc wine region. This is an entirely personalized experience customized around your interests.

We are happy and proud to be one of Esperance's exclusive agents in the U.S. Having a friendship and agent relationship with Mathias has always been a pleasure.
Cruise Highlights
Etang de Montady, a viewpoint overlooking the entire region
Tunnel of Malpas, an architectural wonder of its day with interesting history
Roman town of Narbonne with its vibrant market, archbishops' palace and bustling streets
Hilltop town of Minerve renowned for its Cathar history and extraordinary setting
The famous walled town of Carcassonne, said to be the best preserved wall town in Europe
Plenty of time for walking and biking
A crew that is friendly and flexible, customizing your cruise around your interests
Cruise Features
Owner Operated:
Yes - Captain Mathias Gilles

Number of Passengers:
2-6
Category:
Deluxe
Cabin Bookings:
No
Charter Bookings:
Yes
Cruising Region
: Canal du Midi, South of France
Length of Cruise
: 6 nights - Sunday to Saturday
Cruising Season
: April - October
Theme Cruises:
Charter only, 2 to 6 passengers
Meeting Location
: Designated meeting point
Floorplan

Cruise Rates 2018 - Charter Only
Sunday to Saturday (6 nights)



All Season Departures
April ​​​1, 8, 15, 22, 29
May ​​​6, 13, 20, 27
June ​​3, 10, 17, 24
July ​​​1, 8, 15, 22, 29
August ​​​5, 12, 19, 26
September ​2, 9, 16, 23, 30
October ​​​7, 14, 21, 28

Half Board Charter Rates

2 passengers

$15,500

4 passengers

$21,000

6 passengers


$26,000

Full Board Charter Rates
2 passengers

$17,500

4 passengers

$23,000

6 passengers


$29,000

Included in Cruise Price
Transportation between designated meeting point and the barge
Six nights accommodation in private stateroom with ensuite bath
Open bar and wine with meals
FULL BOARD: All breakfasts, lunches and dinners
HALF BOARD: All breakfasts, lunches and 2 dinners on board (4 dinners on shore at guests' expense)
Daily escorted excursions by air-conditioned van
All barge amenities including bicycles, hot tub on deck, music system, library, etc.
Not Included in Cruise Price
Air or other transportation to the meeting location
Trip cancellation or medical insurance (available when booking)
Personal expenses
A discretionary gratuity for the crew suggested at 5% of the cruise price
ESPERANCE Features
Passengers: 2-6
Category: Deluxe
Crew: 3
Barge Size: 99 ft long
Cabins: 3
Cabin Size: 3 at 160 sq. ft. including bathroom
Accommodations: Master suite with queen bed; 2 suites with queen or twin beds
Heat & Air: Central heat and air conditioning

Amenities

Hairdryers
Open kitchen to watch chef
Home entertainment system
WiFi internet access
Automatic satellite TV system
Library and games
DVD's and music
Bicycles
Large partially covered sundeck with hottub, dining area and 6 lounge chairs
Mercedes Viano extra long van with leather seats, double open roof, double sliding doors, TV with individual wireless headphones
Email Access: Yes, in salon
TV/DVD/CD: Yes, in each bedroom and salon for DVD's and music
Electricity: 220V

Theme Cruises

Honeymoon Cruise, Full or Half Board Cruise, Custom Cruises


Video to welcome you aboard
ESPERANCE









Cruising on ESPERANCE
Canal du Midi
Beziers to Homps (or reverse)
Sunday - Transfer to Barge
A member of the crew will welcome you at 4:00 pm in Narbonne at the train station, hotel or car rental office and transfer you to your beautiful barge, Esperance, moored in the enchanting countryside of the famous Canal du Midi. A champagne reception will be served on deck as an inviting beginning to your week on board. You will then have plenty of time to discover the barge, its environment and to settle into your bedroom before dinner.

Monday - Near Beziers to Capestang
Today be prepared for a very relaxing day. You will be surprised by the peacefulness of the barge while gliding through this beautiful 16th century canal. We will stop in Colombiers where you will have time to go for a walk before lunch. The afternoon cruise will take us to the pretty village of Capestang through the exciting tunnel de Malpas famous for its unique structure. Quite an experience! This is the perfect day to go for a bicycle ride or enjoy a hike while the barge is moving slowly along the canal.

Tuesday - Capestang to Countryside
After a morning cruise with many turns and loops, we will find a romantic mooring in the middle of the vines and arched trees, a perfect spot in nature to enjoy a gourmet lunch. Your guide will then come and pick you up to visit Pezenas, a magical city full of art and history. The entire old town is rich with period mansions, wonderful wrought iron balconies, stone sculpture and ornate doorways. Molière is reputed to have created some of his famous characters right here in a Pézenas barber shop.

Wednesday - Countryside to Le Somail
Let the world float by as the barge is moving slowly on this elegant tree lined canal. We will cruise to Le Somail, a picturesque village with a fascinating antique bookshop and local potters and artists. We will then drive to Narbonne, a lively city dating back to Roman times. The choice is yours - you can go shopping in the many walking streets around the old town center, visit the colorful covered market, the Archbishop's Palace, or the Roman archaeological museum. You can also choose to spend your afternoon at the Mediterranean Sea and visit the Olive factory at L'Oulibo, a prize winning olive oil mill and a great place for tasting and buying olive oil or tapenade.

Thursday - Le Somail to Countyside
A peaceful morning cruise will take us through a couple of villages where we may stop to get some wine for your lunch, the best way to discover true local wines. A very scenic drive into the Minervois hills and the Gorges de la Cesse arriving at Minerve. This amazing medieval village is perched on a spectacular rocky outcrop formed by the rivers Cesse and Brian. Famous for its Cathar history and its wine countryside, this village is full of charm and history. On the way back, how about a little wine tasting to discover more about the excellent wines this region has to offer?

Friday - Countryside to Homps
After going through a couple of traditional locks and some double ones, the barge will cruise to our last mooring for the week in Homps. After lunch, a short drive will give you plenty of time to discover the world famous walled medieval town la Cité de Carcassonne. This extraordinary place is a UNESCO World Heritage Site and is said to be the most visited site in France. If you have already visited " the Cité," we will visit Lagrasse, an attractive village now home to numerous pottery workers and artists attracted by the place itself and the renowned natural light of the region. The two 'highlights' of the village are perhaps the Abbey and the bridges, although the narrow medieval streets of the village itself are also very attractive, and remains of the town walls can still be seen.

Saturday - Transfer to Narbonne
After a wonderful breakfast, your guide will take you to your hotel, car rental office or railway station to continue your travels.
This is a sample itinerary and is subject to change. The itinerary is in reverse direction on alternate weeks.
Barge Cruise Reviews for Esperance
"We had a fabulous vacation that lived up to my exalted expectations. The barge trip was outstanding…the countryside and canal beautiful, and the pace leisurely. By the second day we had bonded with the three-man crew and were like family thereafter. We joked with Matt (Captain Mathias), traded anecdotes and recipes with Joe (chef) and absorbed geographical/historical lessons from Hervé, our skilled pilot who steered the Esperance ably under and through the narrowest bridge apertures imaginable. Gloria watched Joe prepare meals, and added to her recipe collection. We were served fabulous food every day. The consensus was that Joe outshone the restaurants we sampled onshore. Matt always had the proper wine available, which accentuated Joe's presentations, warmed our hearts, and lubricated our tongues. Glenn taught Joe how to make Old Fashions, Bloody Marys, and Brandy Milk Punch (all popular drinks in south Louisiana). David and I were introduced to a lot of very good regional wines that (unfortunately) we will never see in the U.S. Although not a wine drinker at the outset, Glenn became one by the third day. I was the only passenger to partake of an occasional digestif at the end of the evening, but calvados, cognac, and aqua vit were readily available to all who wanted it. While on deck during the day, wine and/or cocktails were available for the asking (or sometimes the mere prompting). For our last evening meal on board, I asked Joe to make cassoulet. He responded with a tour-de-force. The simple dictionary definition of cassoulet is, "a stew made of meat and beans," which does not do justice to the dish expertly prepared. Joe's version took a day in preparation, involved more meat than beans (e.g., pork sausage and duck confit), and emerged from the oven in the perfect blend of flavors and texture. It was quite simply the best cassoulet I have ever eaten, displacing my previous #1 partaken at Carcassone decades ago, on a previous visit to the region.
"Captain Mathias Gilles' quiet, behind-the-scenes efficiency allowed for "smooth sailing" throughout. He is quite the joker, delighting in daily repartee with his guests, but also a font of information and advice on all things viniferous. Despite the strain we put on his inventory, he always had another bottle ready at hand and suitable to the occasion. We retired each night with a full belly and a warm glow. I can't sing Joe's praises loudly enough, and I made sure I got his email address so I could "consult" with him in the future.
"Hervé was a masterful pilot who capably nudged our barge through narrow overhead bridge openings that looked impossible to brook. At most of these crossings we could easily touch the underside of the bridge from our deck chairs atop. At some, we literally had to duck our heads. At one particularly tight aperture, the people on shore and in other nearby boats stood and watched to see if we would make it through; and applauded when we did! A much smaller (by two-thirds) boat behind us, piloted by an obvious amateur, only succeeded in getting through after three tries, which heightened our appreciation for Hervé's talents. A native Belgian, Hervé was also an excellent tour guide. He led each of our shore excursions and informed us of the history and architecture of the sites we visited. Visits to the hilltop town of Minerve (an ancient fortress city) and the medieval abbey in Lagrasse highlighted our shore excursions. As days passed, anticipation steadily built for the trip to Carcassonne on the final day of the cruise. It began promising enough, but on arriving at Carcassonne we were greeted by drizzling rain and bitter winds. Being unprepared for the adverse weather, we cut our visit short, but not before touring the inner castle. Afterwards, we peeked inside the cathedral. By a stroke of good luck, we encountered three male singers of foreign extraction (Hervé speculated they were Russian) whose a capello music was amplified by the church's natural acoustics. It was so uplifting I could have sat and listened for hours. However, as we encountered them near the end of their performance, we were soon on our way back to the Esperance, where we revived ourselves with that night with Joe's marvelous cassoulet." Bob H 2014
"We are convinced that Mathias is the best barge captain anywhere on the planet, and Joe's cooking was to die for. We did not expect the food to be as superb as it was. The cabin accommodations were excellent in every way. We lacked for nothing. We had a wonderful guide, Marion, and she was so responsive to what we wanted to do and see. Mathias was the best. Not only was he the consummate host, and an amazing pilot, but he keeps his barge in perfect operating condition." Judy D 2013
"Loved the barge cruise! Mathias and Joe were so accommodating and willing to please us in every way. Very casual and fun but still very professional. The master suite was incredible. The decor was perfect and restful. Tour guide Aurora was very accommodating, prompt, knowledgeable and a pleasure! Loved the relaxation and beautiful surroundings and the beautiful table settings Mathias created each night. Joe's cuisine was excellent and beautifully presented." Claire S 2013
"Everything about the barge trip was great. We loved Mathias. Not only is he a skilled captain, but he took wonderful care of us - and he's very entertaining. He seemed to know what we needed even before we did. The barge is so comfortable, as you know, and our chef was superb. We liked everything he fixed. It really was a perfect vacation - we had beautiful weather so we could sit out on the deck and enjoy the canal as it passed by. We all kept saying we could hardly believe we were so fortunate." Linda S 201