SARAPHINA, a 4-passenger charming class barge, cruises on the Canal du Midi in the South of France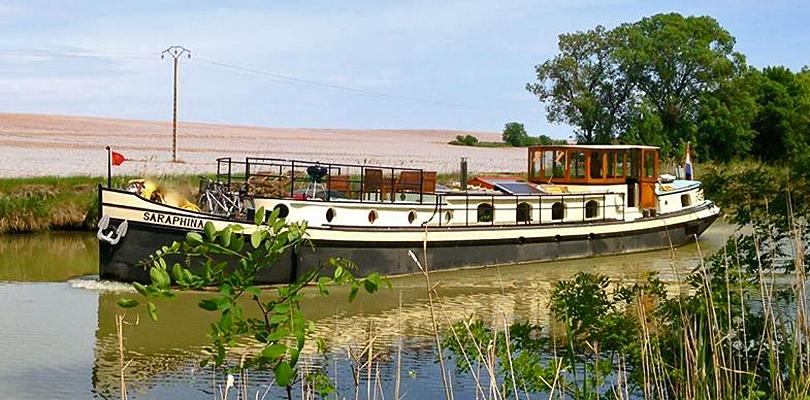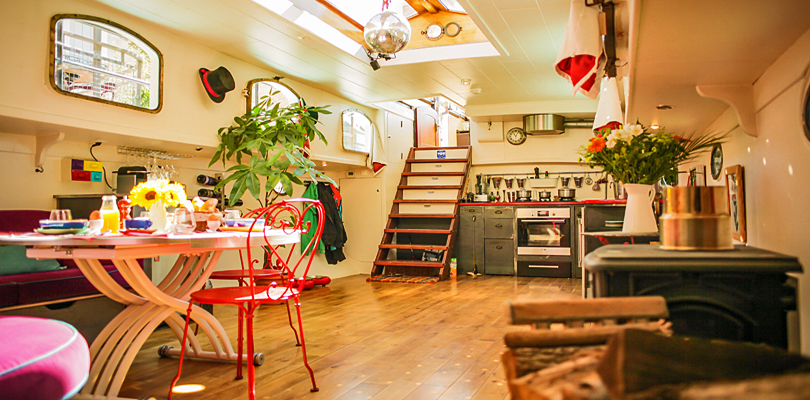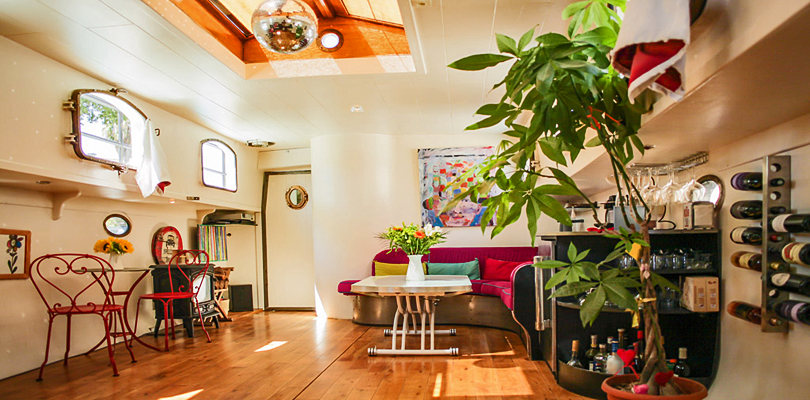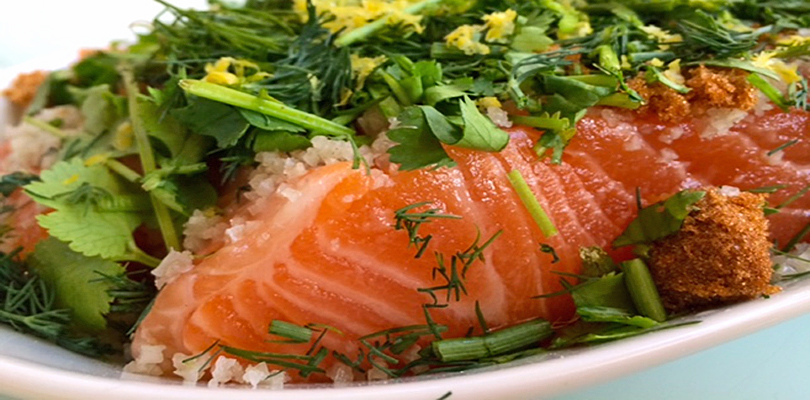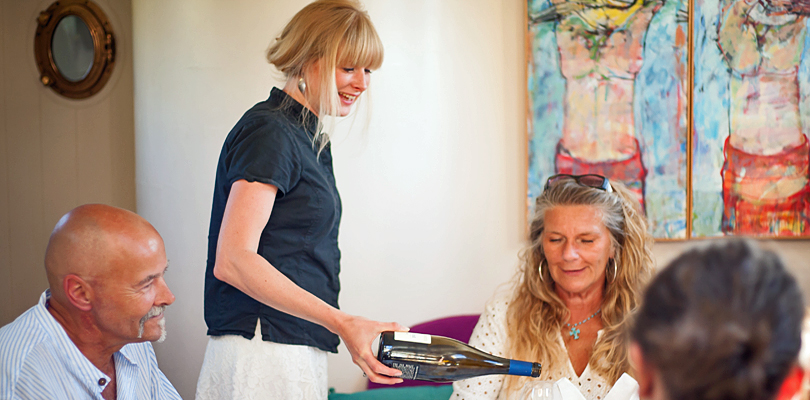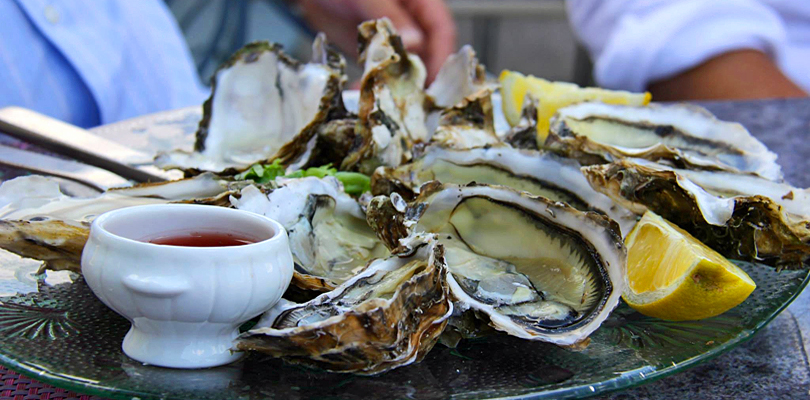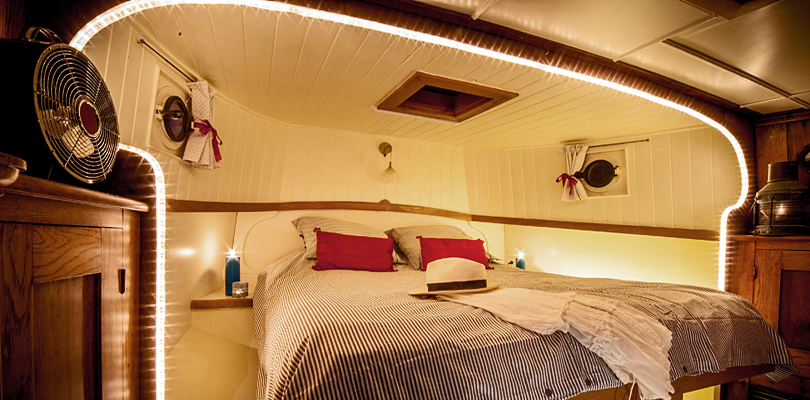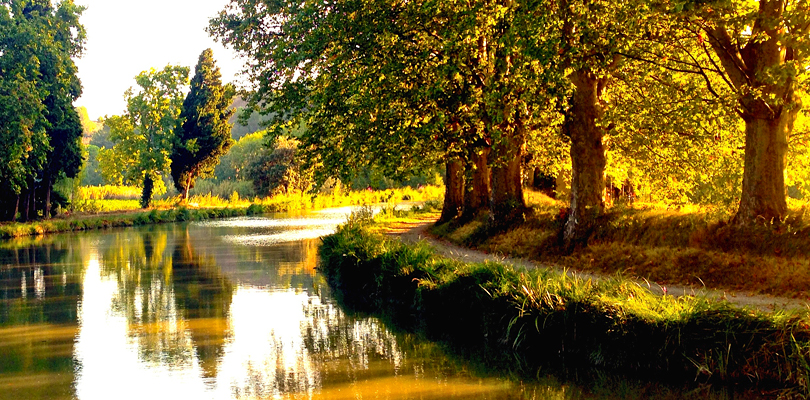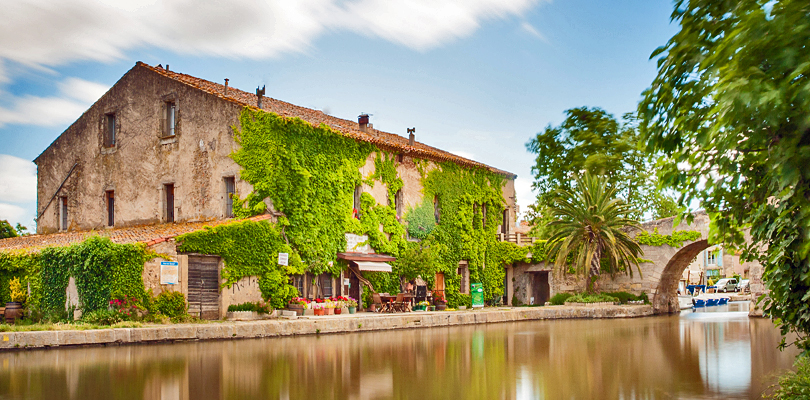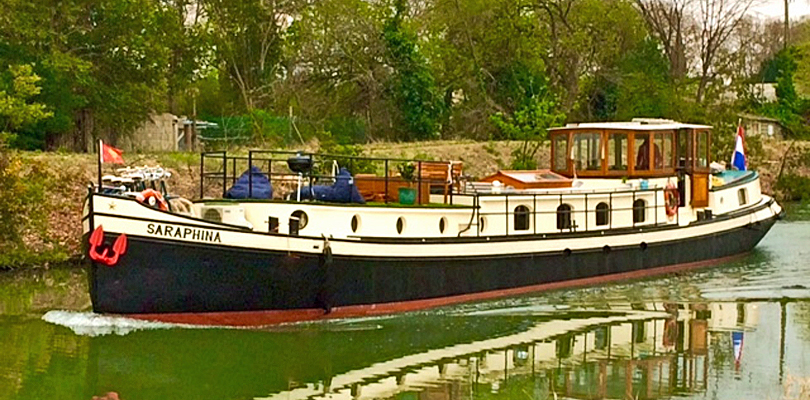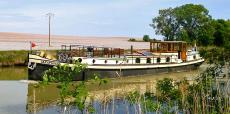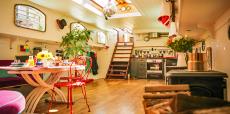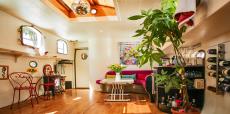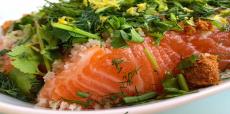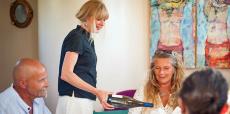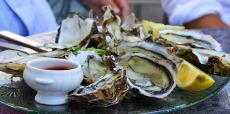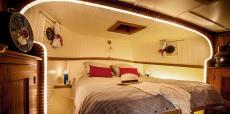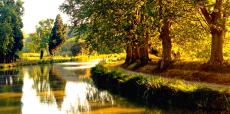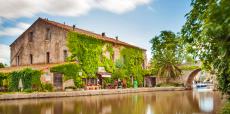 SARAPHINA Cruise Stops
​Captain Finnegan and Emily, owners of Saraphina, bring their extensive experience in hospitality and piloting from their many years on luxury barges to make your week cruising on Saraphina a fun and casual holiday. Saraphina is a Dutch barge built in 1924 and converted in 2007 to a warm and welcoming vessel with a mixture of traditional charm in the captain's cabin and wheelhouse to a contemporary, bright and whimsical interior delighting the artistic spirit in their guests. They have carefully and creatively designed the barge to ensure their guests enjoy a relaxed and comfortable stay. The open kitchen where Finnegan and Emily prepare meals makes the flavor of the barge like friends welcoming friends to their home for ​an adventurous vacation.
Cruise Highlights
Cruise on the Canal du Midi, a Unesco World Heritage Site
Ride the majestic seven continuous locks at Fonserannes near Beziers
Visit the arts, crafts and antiqueshops along the historic streets of renaissance Pezenas
Enjoy the beautiful Cistercian abbey of Fontfroide
Stroll through the hilltop city of Minerve, a Cathar fortress
Walk the streets of Narbonne to visit historical sites a a colorful market
Enjoy the wines of Languedoc, the largest wine region in France bordered on the South by the Pyrenees Mountains and the Cevennes Mountains in the north
Wander around the beautiful fortified medieval fortress, Le Cité, on the hill above Carcassonne
Cruise Features
Owner Operated: Yes - Finnegan and Emily with their well behaved dog, Lula, who may be boarded on shore if guests prefer
Number of Passengers: 4
Category: Charming Class
Cabin Bookings: No
Charter Bookings: Yes
Cruising Region: Canal du Midi, South of France
Length of Cruise: 6 nights - Sunday to Saturday
Cruising Season: April - October
Meeting Location: ​4:00 pm in Narbonne at the train station, hotel or other agreed upon location
​
Floorplan

Cruise Rates 2020 - Charter Only
Sunday to Saturday - 6 night charter



Sunday Departure Dates
April 7, 14, 21, 28
May 5, 12, 19, 26
June 2, 9, 16, 23, 30
July 7, 14, 21, 28
August 4, 11, 18, 25
September 1, 8, 15, 22, 29
October 6,13, 20

Charter Rates for 2 passengers

Full board with all meals on board and on shore

​$13,900

Charter Rates for 4 passengers


Full board with all meals on board and on shore

$17,450

Included in Cruise Price
Round trip transfers in air conditioned vehicle from pre-arranged meeting point to the canal barge and return after the barge cruise
Accommodation for 4 passengers for 6 nights in 1 queen bed cabin and 1 queen or twin bedded cabin, both with ensuite bathrooms
All meals including wine and open bar
Excursions in the private, spacious air conditioned vehicle including admittance fees
Use of 4 bicycles
Champagne welcome aboard
Open bar, coffee and tea anytime
Not Included in Cruise Price
Air or other transportation to the meeting location
Trip cancellation or medical insurance (available when booking)
Personal expenses
A discretionary gratuity for the crew (suggested minimum is 5% or more of the cruise price)


​
SARAPHINA Features
Passengers: 4
Category: Charming Class
Crew: 3 with their well behaved dog, Lula, who can be boarded on shore if guests prefer
Barge Size: 82 feet long by 13 feet wide
Cabins: 2
Cabin Size: Bow queen or twin cabin is 183 sq. feet. Aft queen cabin is 140 sq. feet, including bathrooms
Accommodations: 2 ​cabins
Heat & Air: Central heat and air conditioning

Amenities

Open kitchen to watch your meals being prepared
Bathrobes, hairdryers, complimentary toiletries
Sturdy Dutch bicycles
Sundeck with bench seating, chairs and umbrella
Passenger friendly wheelhouse for seating and dining
Email Access: WiFi access (may not be available in remote areas)
Electricity: 220V














Cruising on SARAPHINA
Canal du Midi
Portiragnes Plage to Homps (or reverse)
Sunday - Transfer to Barge near Portiragnes
We pick you up from your hotel, train station, or local airport and bring you safely aboard Saraphina. After a short cruise through the "mini Camargue" and a Champagne welcome, your first dinner will be served aboard. Our beautiful mooring in the countryside is close to the village of Portiragnes.

Monday - Portiragnes to Beziers
After breakfast, you will be taken to the historic streets of renaissance Pezenas, with its arts, crafts and antique shops. After a typical bistro lunch in Béziers, we cruise over the aquaduct and up the majestic flight of locks at Fonserannes. This evenings mooring is ​​near the town of Béziers.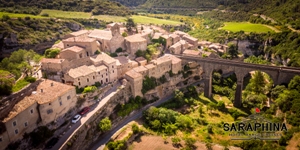 Tuesday - Beziers to Capestang
The morning visit brings you to the cistercien abbey of Fontfroide. After lunch at a quaint restaurant with a stunning view of the "Pond of Montady", we cruise along the windiest part of the canal to our mooring in Capestang, a small village with a charming square where you can enjoy an aperitif with a view on the enormous 12th century collegian church .

Wednesday - Capestang to Le Somail
Our tour guide takes you to Narbonne, known for the archbishops palace, the gothic cathedral, shopping, and the famous covered foodmarket, where you will choose a selection of sea food or charcuterie to enjoy back onboard. We then cruise to another stunning mooring next to the sleepy village of Le Somail. Take the opportunity to visit the world famous antique book shop and the ateliers.

Thursday - Le Somail to Roubia
T​oday, we visit brings the medieval Cathar village of Minerve and the Oulibo olive oil factory​. ​After ​an enjoyable lunch ashore, we return to the barge for an afternoon cruise to Roubia. If desired, a wine tasting before dinner ​can be arranged.

Friday - ​Roubia to Homps
The medieval city of Carcassonne is a highlight of the week. After a guided tour around Europe's largest medieval fortified town, and lunch, we set off for the final cruise to the village of Homps and our farewell dinner aboard.

Saturday - Transfer to Drop-Off Point
After breakfast, you will be transferred to the train station, hotel or local airport for your onward journey.
This is a sample itinerary and is subject to change. The itinerary is in reverse direction on alternate weeks.
Barge Cruise Reviews for Saraphina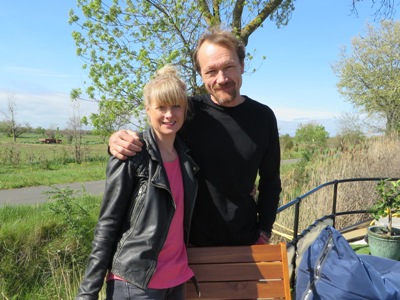 Emily and Finnegan are ready to welcome you on their whimsically decorated and invitingly creative barge.