ANJODI, an 8-passenger first class barge, cruises on the Canal du Midi in the South of France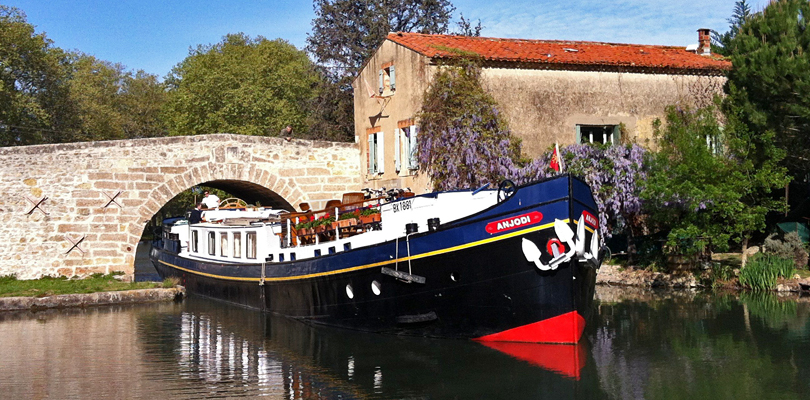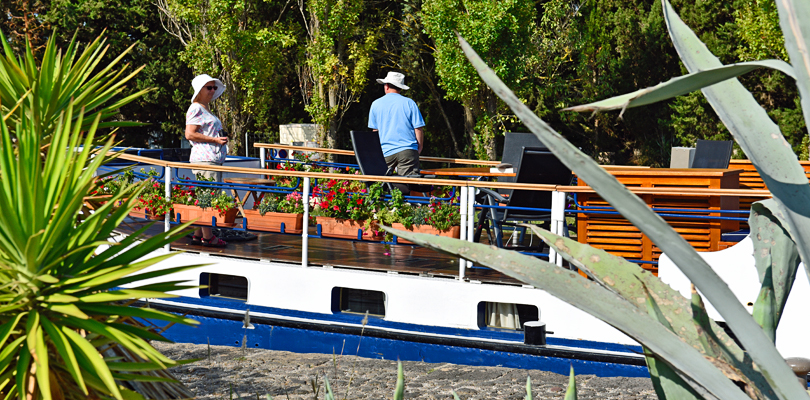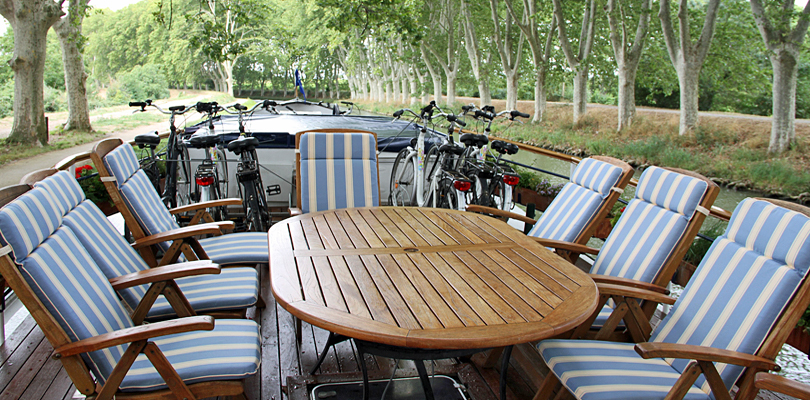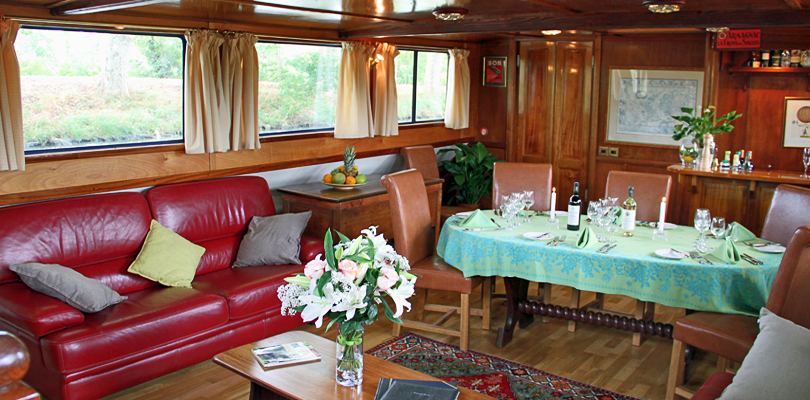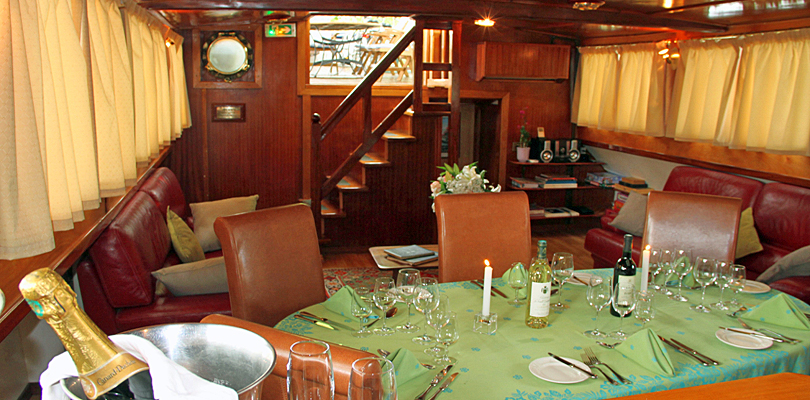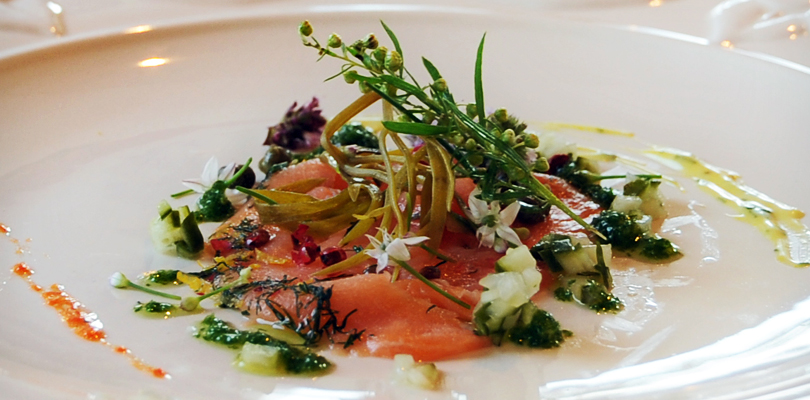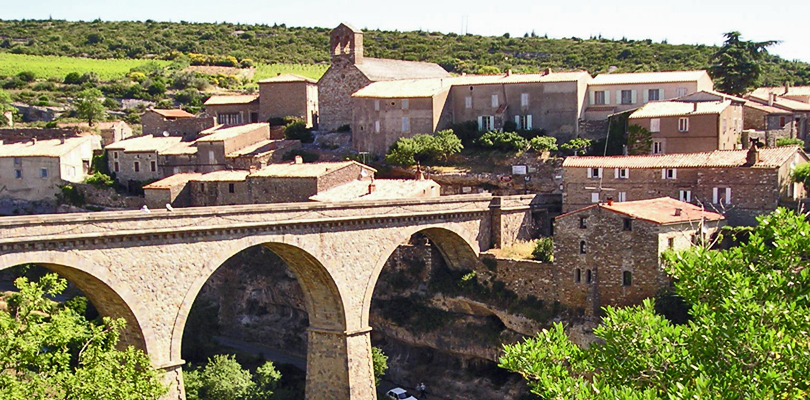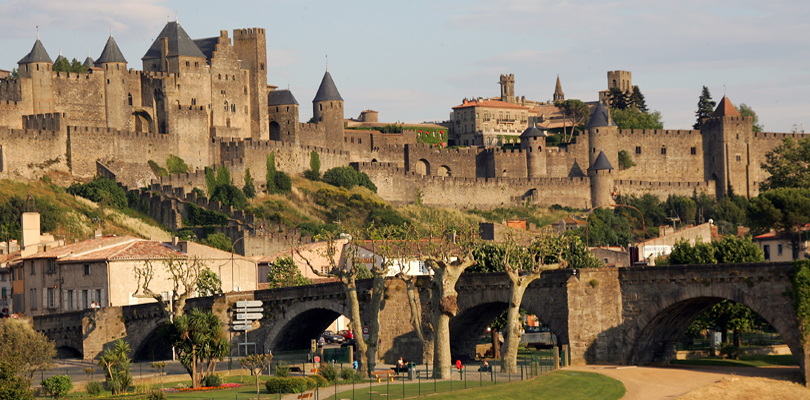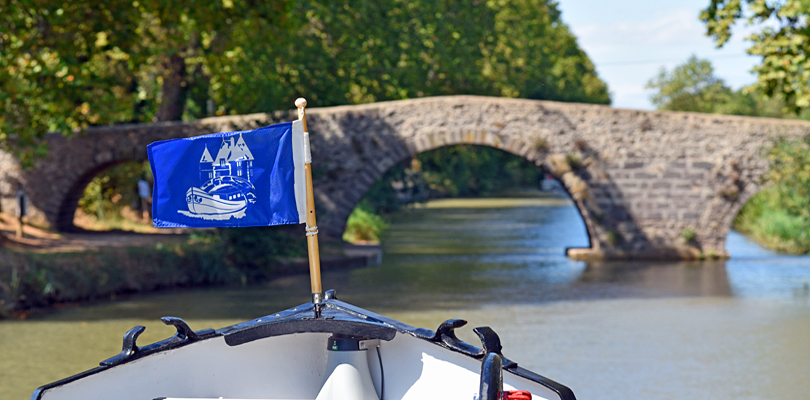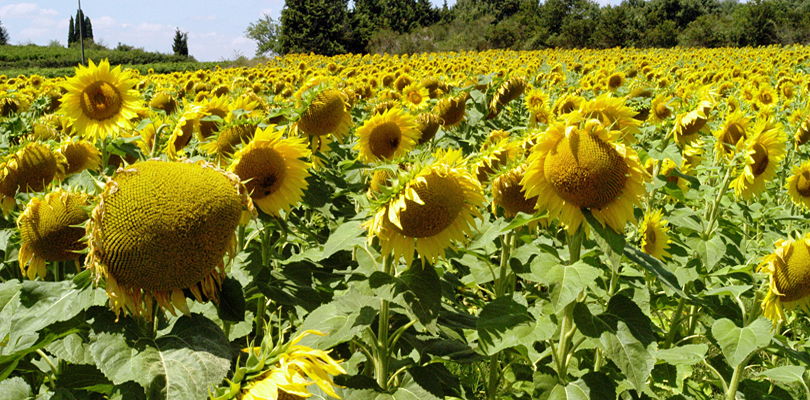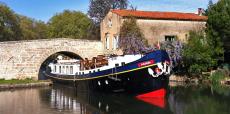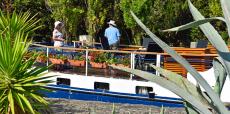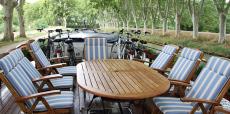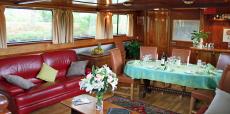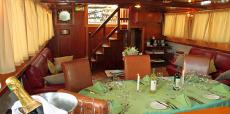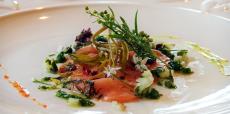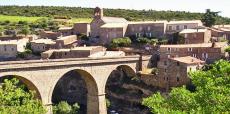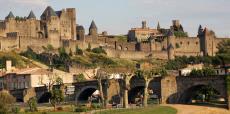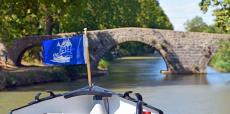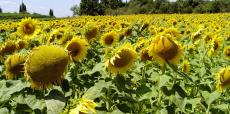 ANJODI Cruise Stops
ANJODI is a traditional first class barge that has been refurbished with the tasteful elegance of hardwoods, hand-crafted paneling and polished brass, reminiscent of a classic yacht. Long a favorite, Anjodi cruises the 300-year-old Canal du Midi, from the oyster beds of Marseillan to the beautiful village of Le Somail. Daily guided excursions, wine tastings and plenty of time to walk or bike the towpaths will make your cruise an unforgettable week.
Whether you are booking as individuals on a hotel barge or as a private party on a charter cruise, those who enjoy a casual, cozy atmosphere with friendly crew will relish the fine food and wines on board as well as the diverse excursions to historic sights nestled in the vast Languedoc vineyards.
Cruise Highlights
All-inclusive with open bar, wines with lunch and dinner, gourmet cuisine, guided excursions
Visit to Pezenas, a village associated with the French playwright Moliere
Private wine tastings in the cellars of Chateau Perdiguier and Chateau Guery
Cruise through the world's oldest canal tunnel at Malpas
Stroll the 12th century fort of Minerve and discover Cathar history
Visit the Roman capital of Narbonne, the Archbishop's Palace and outdoor market
Explore Beziers before dining at a local auberge for a delicious dinner
Tour Carcassonne, the most complete medieval fortified city in existence today
Excellent walking and biking
Cruise Features
Owner Operated:
Crew Operated

Number of Passengers:
8
Category:
First Class
Cabin Bookings:
Yes
Charter Bookings:
Yes
Cruising Region
: Canal du Midi, Languedoc Region, South of France
Length of Cruise
: 6 nights - Sunday to Saturday
Cruising Season
: March - October
Theme Cruises:
Family, Golf, Wine Appreciation
Meeting Location
: Narbonne
Floorplan

Cruise Rates 2023
Sunday to Saturday (6 nights)



2023 Value Season Departures
April 2-8, 9-15, 16-22, 23-29
July 16-22, 23-29, 30-August 5
August 6-12, 13-19, 20-26
October 8-14, 15-21, 22-28

Cabin Rates

Staterooms per person, double occupancy

$5,250
Single supplement


$1,900
Charter Rates

6 passengers

$36,200

7 passengers

$37,600

8 passengers


$39,000


2023 Regular Season Departures
April 30-May 6
May 7-13, 14-20, 21-27, 28-June 3
June 4-10, 11-17, 18-24, 25-July 1
July 2-8, 9-15
August 27-September 2
September 3-9, 10-16, 17-23, 24-30
October 1-7

Cabin Rates


Staterooms per person, double occupancy

$6,090
Single supplement


$2,200
Charter Rates
6 passengers

$41,800

7 passengers

$43,400

8 passengers


$45,000

Included in Cruise Price
Transportation to and from local meeting place
Six nights accommodation in private stateroom with ensuite bath
All meals, wine and drinks on board
Open bar
Daily escorted excursions by air-conditioned van
All barge amenities including bicycles, hot tub on deck, music system, library, etc.
Not Included in Cruise Price
Air or other transportation to the meeting location
Trip cancellation or medical insurance (available when booking)
Personal expenses
A discretionary gratuity for the crew (suggested 5-10% of the cruise price)
​
ANJODI Features
Passengers: 8
Category: First Class
Crew: 4
Barge Size: 100 ft long
Cabins: 4
Cabin Size: 1 at 88 sq. feet, 1 at 91 sq. feet and 2 at 98 sq feet, including bathroom
Accommodations: 4 staterooms with queen or twin beds, all with ensuite bathrooms (twin beds are recommended for convenience and space)
Heat & Air: Central heat and air conditioning



Amenities

Hairdryer, bathrobes, toiletries
Closet with space under bed for storing luggage
Library of books, games and maps
Boules for playing petanque
Telescope
WiFi for use with personal devices (may not be available in remote areas)
Music system with CD's with iPod connectivity
Individually controlled heating and air conditioning
220V (plug adapter and possibly converter required for 110V appliances)
6 person hot tub on deck
Sundeck with table, chairs and umbrellas
8 road bicycles
8 passenger Mercedes Sprinter for guided excursions

Theme Cruises

Family, Golf, Wine Appreciation




Cruising on ANJODI
Canal du Midi, Languedoc, South of France
Marseillan to Le Somail (or reverse)

Sunday - Marseillan
You will be met at Narbonne TGV station at 4pm, or Hotel Residence in Narbonne, if you have stayed there pre-cruise, and escorted by minibus to Anjodi moored in the lake side fishing village of Marseillan, enjoying a view over the oyster beds and home of Noilly Pratt Vermouth. Champagne welcome followed by time for a relaxing stroll around this lovely fishing village before dinner aboard.
Monday - Marseillan to Portiragnes
This morning we visit Pezenas, a delightful village, mostly known for its associations with the French playwright Moliere, who is said to have written many plays while staying there. This afternoon we cruise from Marseillan to Portiragnes through the nature reserve of Bagnas with potential sightings of flamingoes and other birds. Dinner aboard.
Tuesday - Portiragnes to Beziers
This morning we cruise to the bottom of the Fonserannes 7 lock flight at Beziers where we continue along the 300 year old tree lined Canal du Midi. After lunch enjoy an informative wine tasting in the 14th Century Chateau de Perdiguier, famed for its 15th century frescoes and Cabernet Sauvignon and Chardonnay wines Dinner in Beziers at a local auberge.
Wednesday - Beziers to Poilhes
This morning we cross the aqueduct over the River Orb and then ascend the 7-lock flight of Fonserannes before reaching the world's oldest canal tunnel at Malpas. On arrival at the picturesque village of Poilhes we take an excursion out to Minerve, the ancient capital of Minervois, which boasts a 12th Century Cathar fort surrounded by deep limestone gorges. Besieged by Simon de Montfort in 1215, its hill-top location affords spectacular views. A fascinating recreation in miniature of the bloodthirsty Cathar rebellion and small museum complete the intriguing picture. Dinner aboard.
Thursday - Poilhes to Argeliers
A morning visit to Narbonne, a Roman Mediterranean capital where the Visigoth monarchs once lived. Enjoy the Archbishop's Palace and Horreum. Explore the indoor market at the hub of this bustling town, where you will have time to shop or simply absorb the relaxed atmosphere. Return to the barge for a cruise along the shaded canal to Argeliers, stopping off en route at Chateau de Guery, a 500 year old canalside vineyard, for a pre-dinner wine tasting of the full-bodied Corbieres. Dinner aboard.
Friday - Argeliers to Le Somail
Morning visit to Carcassonne. Dating back to the Gallo Roman era, this is the most complete medieval fortified city in existence today. With its 52 watchtowers, portcullis and extraordinary repertoire of defences, it resisted the many armies that tried to storm this Camelot setting. In the afternoon we cruise along the historic Midi Canal to the delightful village of Le Somail. Captain's Farewell Dinner aboard.
Saturday - Transfer to Narbonne
After breakfast, depart from Le Somail by minibus to Narbonne TGV station or center by 11am.
This is a sample itinerary and is subject to change. The itinerary is in reverse direction on alternate weeks.
Barge Cruise Reviews from Clients on ANJODI
"We had a wonderful time! The weather wasn't great but we still had a lot of fun. We had a lockkeeper's strike one day and a broken cable the next but in fact that meant that our cruising was pushed to two days with better weather so it all worked out. We hadn't thought much about the quality of food and wine we were going to get and we were absolutely delighted with that aspect of the trip. It was very interesting to try different wines and cheeses every day with an explanation of each of them.

I don't know if we were particularly lucky with our chef, Oli, as we think he is destined for greater things than being chef on a barge. Perhaps this is the level of chef Anjodi normally has but we felt we were very privileged to have him. The captain, Laurent, was fabulous – very friendly and obviously extremely competent. He had several stressful situations to deal with on our trip and he handled them with great aplomb. Our hostess, Emily, was terrific and very attentive and Matthew, the deck hand/driver/guide, was just great too. We like to think they had fun with us as well!

We have many happy memories and will certainly recommend this trip to others – and tell them to contact you! Thanks for everything you did to help us out." Sally F.