ALOUETTE, a 4-passenger ultra deluxe barge, cruises on the Canal du Midi in the South of France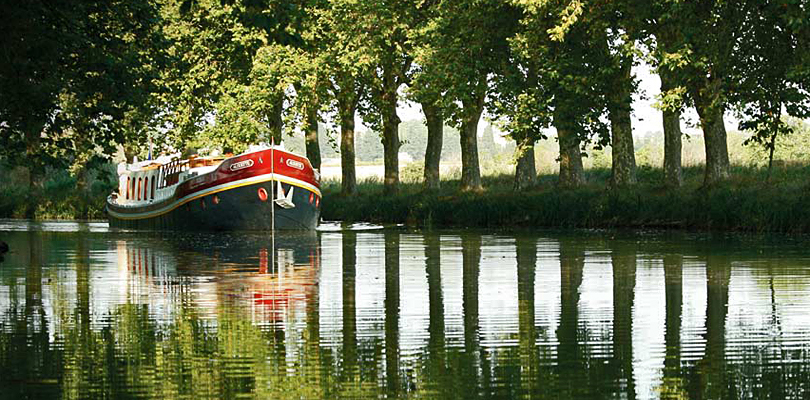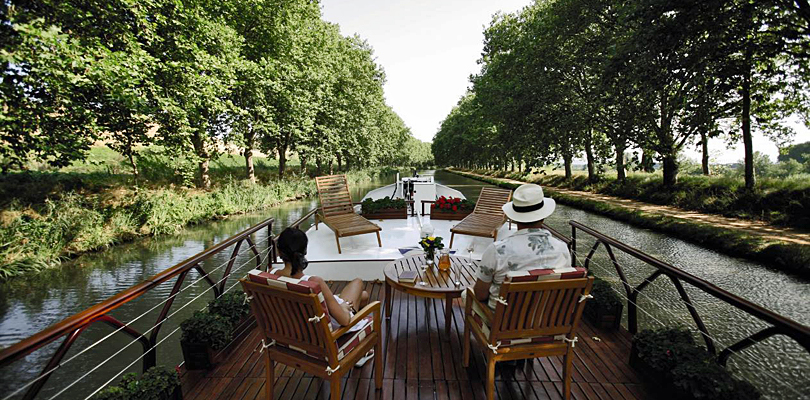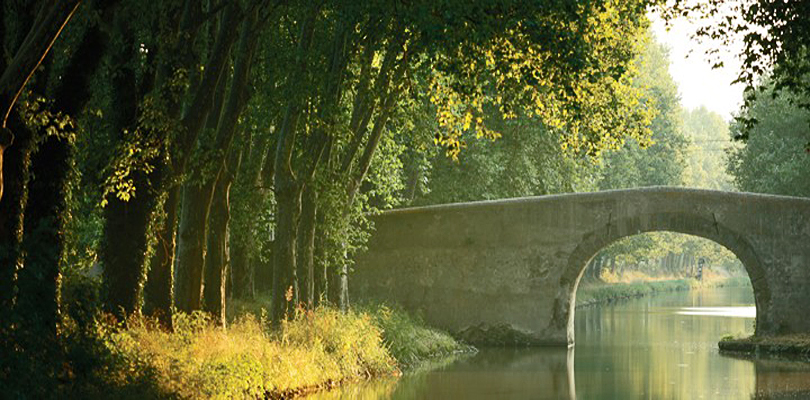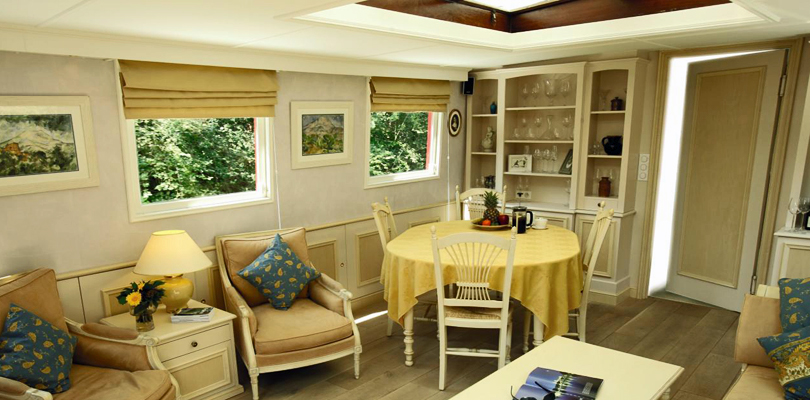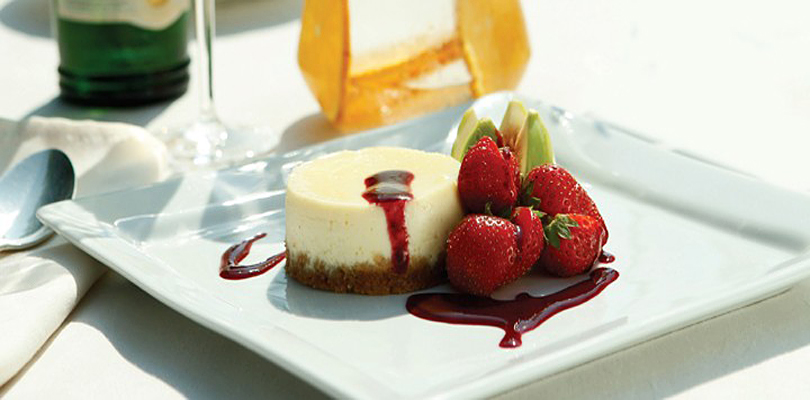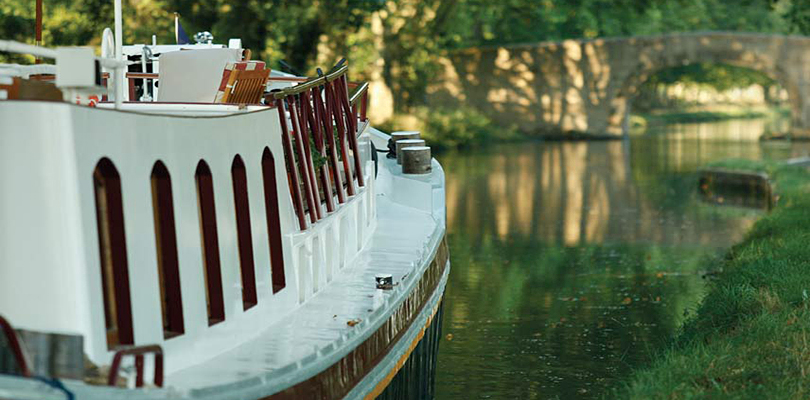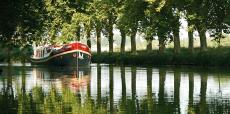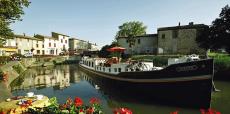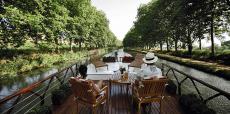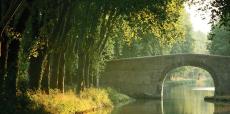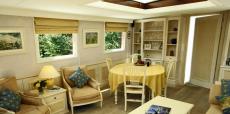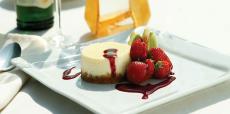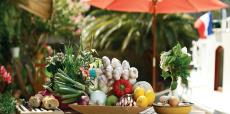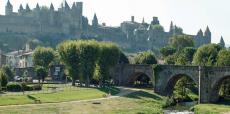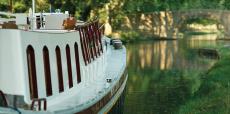 ALOUETTE Cruise Stops
BELMOND ALOUETTE
is one of the original barges to cruise the Canals of France and has been renovated to the highest standards in the style of a French country cottage. Alouette easily navigates the narrow locks on the Canal du Midi and is admired for her graceful lines as she floats along. Relax and soak up the beautiful scenery along the canal from the spacious sundeck and experience the local delicacies cooked to perfection by the onboard chef.

For an intimate, luxurious private holiday with family or friends, Belmond Alouette will enfold you in comfort and style with a top crew to take care of your every need.
Cruise Highlights
All-inclusive with open bar, wines with lunch and dinner, gourmet cuisine, guided excursions
Cruise along one of the most beautiful sections of the historical Canal du Midi
Visit a local vintner to taste some of the popular Languedoc wines
Walk the sanctuary and gardens of l'Abbaye de Fontfroide, an 11th C Cistercian monastery
Stroll the Oppidum d'Enserune, a pre-Roman hilltop settlement and one of the most important archaeological sites in the region
Shop at the lively market town of Narbonne, once a main city of the Roman Empire
Learn the fascinating history of the Cathars as you visit the hilltop stronghold of Minerve and the walled city of Carcassonne
Enjoy plenty of opportunity to walk and bike the towpaths, or relax on deck and enjoy the unfolding French countryside
Cruise Features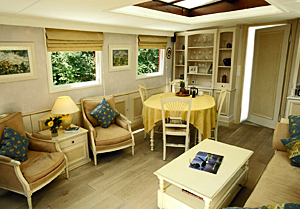 Owner Operated: Crew operated
Number of Passengers: 4
Category: Ultra Deluxe
Cabin Bookings: No
Charter Bookings: Yes
Cruising Region: Canal du Midi, South of France
Length of Cruise: 6 nights - Sunday to Saturday
Cruising Season: March - October
Theme Cruises: Family, Cooking, Custom
Meeting Location: First class train tickets are included from Paris to Beziers and return
Floorplan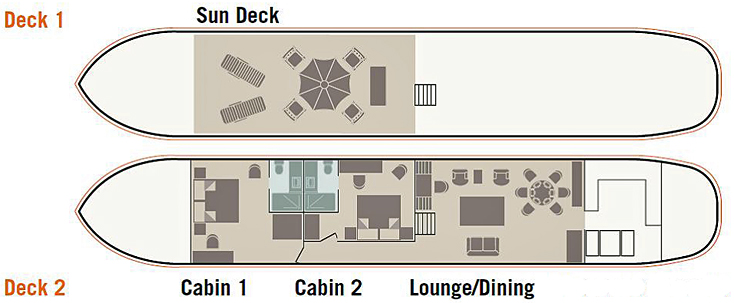 Cruise Rates 2023 (in Euros) - Charter only
Sunday to Saturday (6 nights)
Please inquire or call 1-800-880-0071 for rates.
2023 Cruise Dates
April ​2-8, 9-15, 16-22, 23-29, 30-May 6
May 7-13, 14-20, 21-27, 28-June 3
June 4-10, 11-17, 18-24, 25-July 1
July 2-8, 9-15, 16-22, 23-29, 30-August 5
August 6-12, 13-19, 20-26, 27-September 2
September 3-9, 10-16, 17-23, 24-30
October 1-7, 8-14, 15-21, 22-28
Included in Cruise Price
Transportation between Paris and the barge with first class TGV train tickets which are booked for the specific first and last dates of the cruise and are non-changeable or refundable.
Six nights accommodation in private stateroom with ensuite bath
All meals, wine and drinks
Open bar
Daily escorted excursions by air-conditioned van
All barge amenities including bicycles, music system, library, etc.
Not Included in Cruise Price
Air or other transportation to the meeting location
Trip cancellation or medical insurance (available when booking)
Personal expenses
A discretionary gratuity for the crew suggested at 5% or more of the cruise price
BELMOND ALOUETTE Features
Passengers: 4
Category: Ultra Deluxe
Crew: 4
Barge Size: 100 ft long
Cabins: 2
Cabin Size: 204 sq ft and 269 sq ft, including walk-in shower, sink and toilet
Accommodations: 2 suites with queen or twin beds
Heat & Air: Central heat and natural flow air conditioning



Amenities

Spacious wardrobe and storage space
Hairdryers
Toiletries
Safe
Phone intercom system
Small library of books and games
21 speed bicycles with helmets provided
Sundeck with lounge chairs and table for dining
8-passenger Mercedes Sprinter van with A/C
Computer with internet access in salon
WiFi (may not be available in remote areas)
Satellite TV and DVD player (in salon and staterooms)
Electricity: 220V

Theme Cruises

Family, Cooking










Cruising on BELMOND ALOUETTE
Canal du Midi
Carcassonne to Beziers (or reverse)

Sunday - TGV from Paris to Barge
A champagne reception welcomes you on board the barge in Carcassonne and gives you a chance to meet the crew. Later that evening enjoy your first dining experience on board.
Monday - Carcassonne to Trebes
Tour the wonderful medieval fortress of Carcassonne. Explore the intricate fortifications of the two castellated walls, one inside the other, about a mile in circumference. The views from the battlements towards the Pyrenées are stunning. Visit the Cathedral remarkable for its stained glass rose windows, elegant Romanesque nave and Gothic transepts. Back to the barge for lunch and an afternoon cruise to Trebes on the beautiful Canal du Midi, one of the most stunning canals in France.
Tuesday - Trebes to Homps
Enjoy a relaxing morning cruise from the comfort of the sun deck, or perhaps walk or cycle along the tow path. After lunch visit Minerve, an old village on a limestone cliff, which dominates the vineyards below. Its now ruined castle was once a Cathar stronghold besieged and captured by Simon de Montfort. On the way back to the boat stop at Peyriac-Minervois for wine tasting.
Wednesday - Homps to Le Somail
This morning, experience the wonderful under-cover market in Narbonne with the chef, and why not help choose dinner tonight! Narbonne is a lively Mediterranean city playing an important role as a wine producing centre. The municipal, military and religious architecture, the river banks of the Robine and its shaded boulevards all contribute to its charm. Enjoy lunch at a bistro just in front of the market then return to the barge for an afternoon cruise to Le Somail.
Thursday - Le Somail to Capestang
Discover the Abbaye de Fontfroide, a Cistercian monastery founded in the 11th century. Now privately owned, the abbey has been lovingly restored with a well-kept garden and peaceful cloister. On the way back to the boat, stop at Château Auris for a wine tasting. Back on board for lunch. Take in the grandeur and beauty of the Canal du Midi while you cruise to Capestang.
Friday - Capestang to Béziers
A morning cruise to Béziers. In the afternoon, visit Oppidum d'Ensérune, a pre-Roman hilltop settlement and one of the most important archaeological sites in the region. The top of the hill affords a panoramic view of the pond of Montady drained in 1247 and transformed into a curious pattern of cultivation. Meanwhile the chef is busy preparing your farewell gala dinner on board.
Saturday - Transfer to TGV to Paris
After breakfast, disembark the boat for return TGV to Paris.
This is a sample itinerary and is subject to change. The itinerary is in reverse direction on alternate weeks.
Barge Cruise Reviews for Alouette
"The crew of the Alouette - Joe, Ang, Chef Joe, and Olivia made our cruise most enjoyable. They created an atmosphere of friendliness while accommodating a first class service. The food was superb. Chef Joe prepared dishes that you could only get in 5 star restaurants. No other barge trip would be the same with any other crew. The cabin ​were very comfortable and roomy; the excursions very good and the guide knowledgeable and informative; the barge route was very picturesque and interesting (especially the locks). Your service, Beth, in booking the cruise was very good with good communication between both parties, kept informed every step of the way." Charles and Rita J​.