CAROLINE, a 6-passenger charming class barge, cruises on the Canal du Midi in the South of France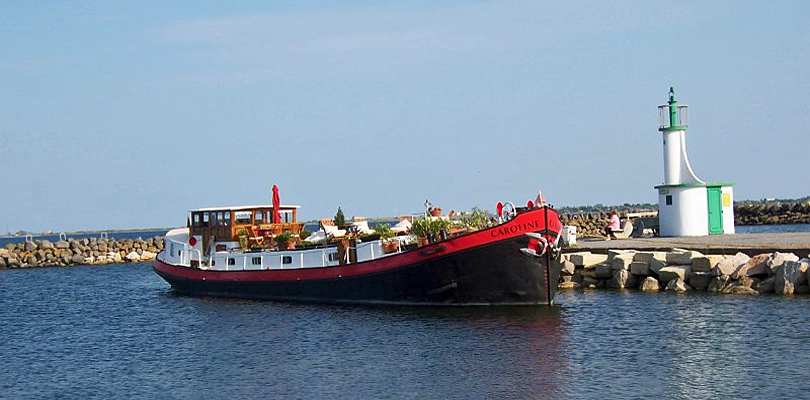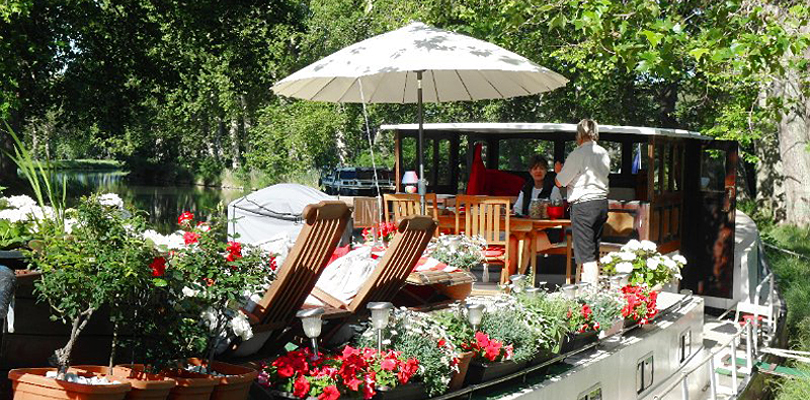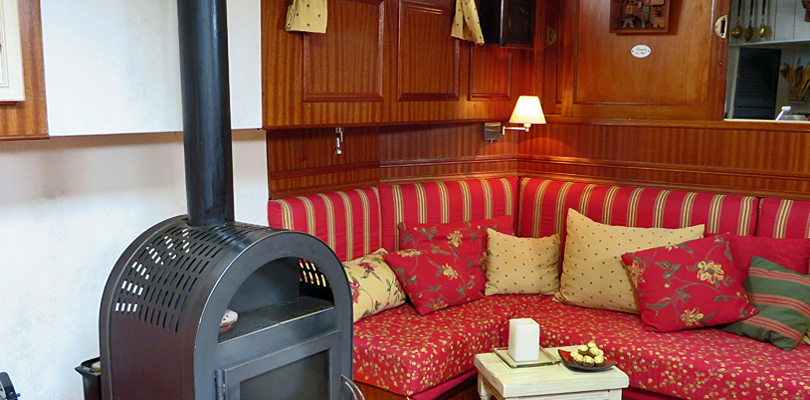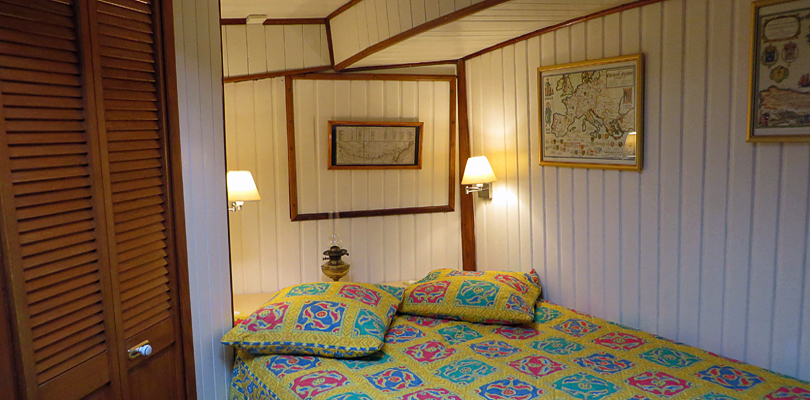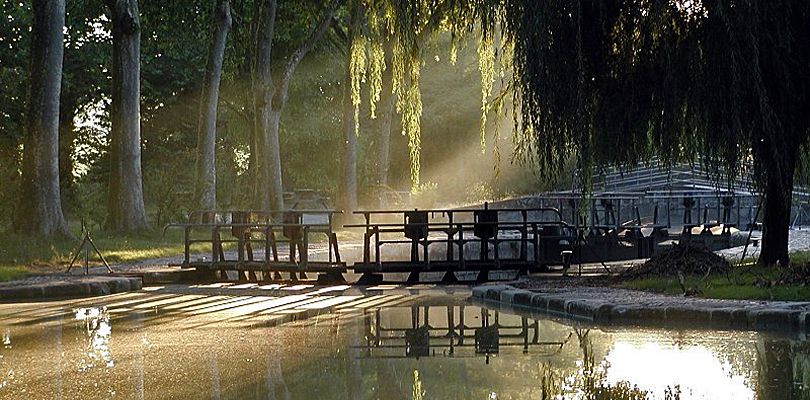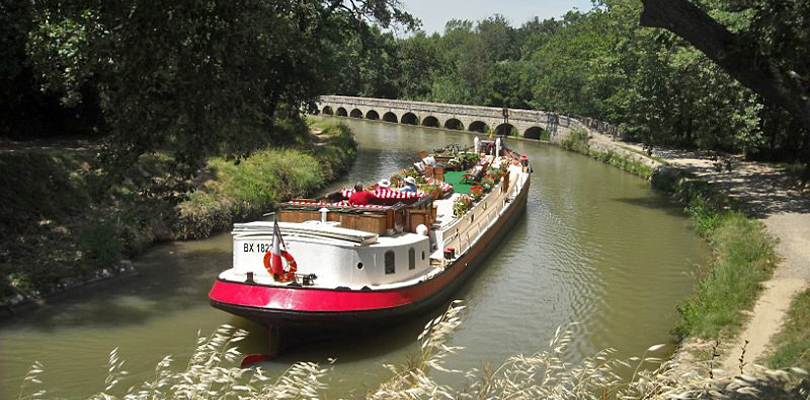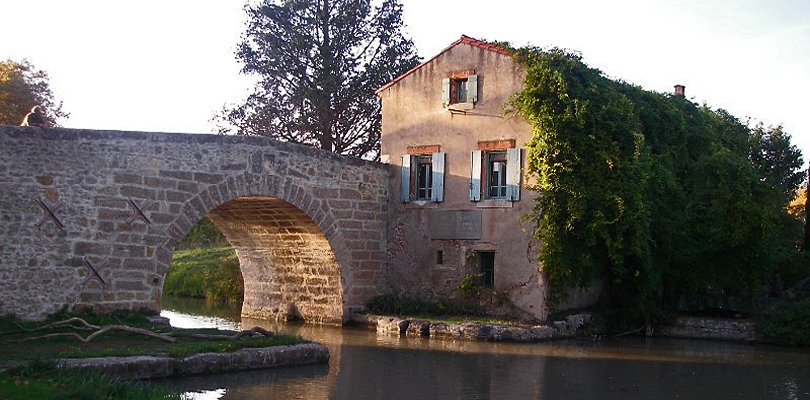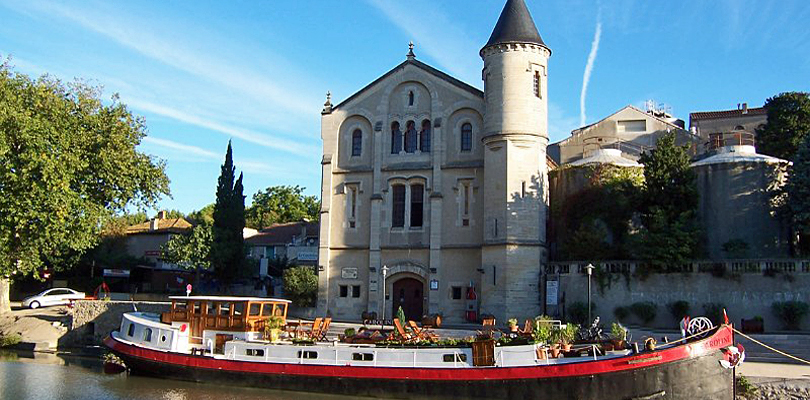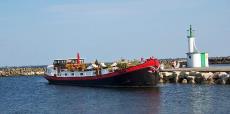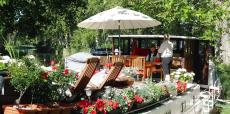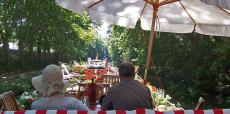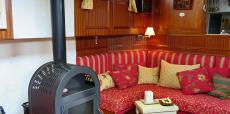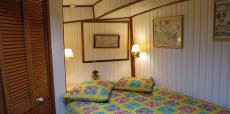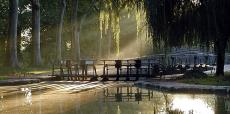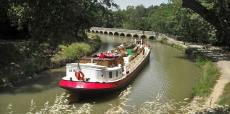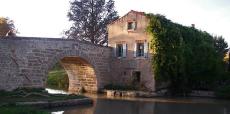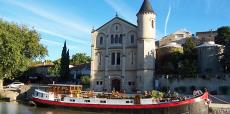 CAROLINE Cruise Stops
CAROLINE, a children friendly charming class barge, is a classic Luxemotor from Holland. Built in the 1920's, the barge has been remodeled to it's present beauty and comfort, inside and out. Feast aboard Caroline on regional delights prepared by your gourmet chef Ute. Enjoy the idyllic French countryside from the comfortable flowered sundeck as Captain Uli navigates the barge along the historical Canal Du Midi, a UNESCO World Heritage Site.
Captain Uli and Chef Ute are joined by their small Bichon dog, Bosun "Bo", who stays in the wheelhouse and captain's quarters.
Cruise Highlights
Cruise on the Canal du Midi, a Unesco World Heritage Site, lined with towering plane trees and pretty villages
Visit the pre-Roman site of Oppidum d'Enserunes, built in 800BC
Visit the city of Minerve and learn the fascinating history of the Cathars, a religious sect that was persecuted by Rome yet stayed true to their beliefs
Walk the streets of Narbonne to visit historical sites of this ancient Roman city
Enjoy the wines of Languedoc, the largest wine region in France bordered on the South by the Pyrenees Mountains and the Cevennes Mountains in the north
Wander around the beautiful fortified medieval fortress, Le Cité, on the hill above Carcassonne
Cruise Features
Owner Operated: Yes - Captain Uli and Chef Ute Weber
Number of Passengers: 6
Category: Charming Class
Cabin Bookings: On select weeks or upon request
Charter Bookings: Yes
Cruising Region: Canal du Midi, South of France
Length of Cruise: 6 nights - Sunday to Saturday
Cruising Season: April - October
Theme Cruises: Families with young children welcome
Meeting Location: Designated location in Beziers, Carcassonne or Narbonne depending on itinerary
​
Floorplan

Cruise Rates 2020 - Charter only
Sunday to Saturday (6 nights)



Sunday Departure Dates
April 5, 12, 19, 26
May ​​​3, 10, 17, 24, 31
June ​7, 14, 21, 28
August ​​30
September ​​6, 13, 20, 27
October ​4, 11, 18

All Season Charter Rates - 3/4 Board

Up to 2 passengers

$11,970
3 passengers

$11,970
4 passengers

$15,960

5 passengers

$19,950

6 passengers


$23,940

Included in Cruise Price
Round trip transfers in air conditioned vehicle from pre-arranged meeting point to the canal barge and return after the barge cruise
Accommodation for up to 6 passengers for 6 nights in 1 double bed cabin and 2 twin bed cabins, all with private bathrooms
All meals (except ​​3 lunches or dinners taken ashore at guests' expense) including wine with meals and drinks from the bar. Captain Uli will make reservations and provide transportation for meals on shore.
Excursions in the private, spacious air conditioned vehicle and admittance fees as stipulated
Use of on-board bicycles
Champagne welcome aboard
Coffee and tea anytime
Not Included in Cruise Price
Air or other transportation to the meeting location
Trip cancellation or medical insurance (available when booking)
Personal expenses
​​3 lunches or dinners taken ashore at guests' expense
A discretionary gratuity for the crew (suggested minimum is 5% of the cruise price)
​
CAROLINE Features
Passengers: 6
Category: Charming Class
Crew: 2 plus a small dog "Bo"
Barge Size: 96 ft long
Cabins: 3
Cabin Size: 88, 98 and 132 sq ft including bathroom
Accommodations: 3 staterooms - 1 double with ensuite bathroom and 2 twin bedded cabins each with private bathroom across the hall
Heat & Air: Central heat and air conditioning

Amenities

Fireplace
Bicycles
Carpeted sundeck with lounge chairs and umbrellas
Mercedes van with A/C and leather seats
Email Access: WiFi access (may not be available in remote areas)
TV/DVD player/library in salon
Electricity: 220V

Theme Cruises

Families with young children welcome














Cruising on CAROLINE
Canal du Midi
Beziers to Carcassonne (or reverse)

Sunday - Transfer to Barge near Beziers
Guests are picked up at approximately 4 p.m. by Uli, your Captain, at the pre-arranged meeting point and transferred by private air-conditioned minivan to the Caroline mooring. Champagne welcome reception aboard by Ute, your Chef, and time to settle in while Caroline is starting her first little cruise to your evening mooring. Relax on deck and watch the picturesque French landscape glide past. On this first evening you will enjoy the first four course welcome gourmet dinner on board.

Monday - Beziers to Countryside Mooring
Before we start the daily cruise, you might decide to have a morning visit to the pre-Roman site of Oppidum d'Enserunes, an 800 BC historical site overlooking the famous Etang de Montady. We set off cruising, meandering through truly unbelievable and stunning scenery. Back on the barge, we cruise by the petite village of Capestang, with lunch on deck al fresco. Spend the afternoon walking or biking the towpath or relax on deck with a chilled drink and enjoy the countryside pass by as we cruise to our countryside mooring for the evening.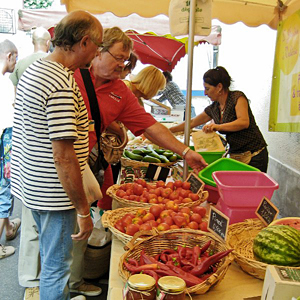 Tuesday - Countryside Mooring to Le Somail
This morning, we drive by car into the pretty village of Olonzac. Here we explore the local farmers market with their colourful display of fresh fruit and vegetables. Your Captain will introduce you to some of the local cheeses and seafood. We return to the Caroline for lunch to enjoy the market products. The afternoon cruise will take you through the pleasant landscape of Languedoc-Roussillon, known as the largest wine producing area worldwide. We moor tonight at Le Somail, a very charming little Hameau, with dinner ashore.

Wednesday - Le Somail to Ventenac
This morning we visit the little scenic hilltop village of Minerve, one of the "Most Beautiful Villages of France", with a population of 100 residents. Minerve's history connected to the Cathar Crusades which took place in the early 12th century. The Museum of Hurepel, tells about the cruelties that happened in this area 800 years ago. The afternoon cruise will take us through our first lock of the week. Enroute, we make a stop-over in Ventenac. Caroline will moor in front of the local Chateau which sits directly on the banks of the canal. Chateau Ventenac invites you in for a wine tasting of their famous "AOC Minervois". The vines of the "Appellation Minervois" have been introduced by the romans. When we reach our mooring later, there will be time to take a walk or a short bike ride along the towpath before dinner.

Thursday - Ventenac to Homps
This morning's excusion is to the ancient city of Narbonne. We visit the Palace of the Archbishop, the underground Roman cave storages and the Cathedral St Just, with its impressive organ. Narbonne was founded 118 BC by the Romans along the Via Domitia. This is the more than 2000 years old trade route connecting ancient Rome with Spain. Lunch will be at the covered food market in the centre of Narbonne. After lunch, we cruise through a series of 4 consecutive locks (ladder lock) before our night's mooring in Homps. Dinner ashore.

Friday - Homps to Countryside near Carcassonne
After breakfast, we cruise through more locks, transporting us 'uphill' to the next level of the Canal. We'll moor for the night in the peaceful countryside, away from the villages. This afternoon, we visit the fascinating fortified medieval fortress, Le Cité, the famous walled city of Carcassonne. Tonight, a spectacular 4 course gourmet farewell dinner will be served.

Saturday - Transfer to Drop-Off Point
After a relaxing breakfast, guests will be transferred to their local hotel, the rail station, or depending on our cruise direction, the Carcassonne Airport.
This is a sample itinerary and is subject to change. The itinerary is in reverse direction on alternate weeks.
Barge Cruise Reviews for ​Caroline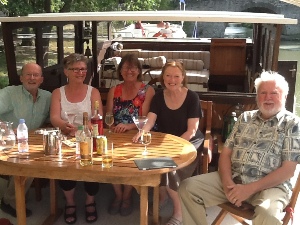 "Thank you, Uli and Ute, for giving us a great week. We liked everything about the cruise - the barge, crew and accommodations were excellent. The excursions were varied and interesting, and we enjoyed the cruise route very much. There is nothing we would suggest to make the experience more enjoyable." Mike M.
"We would highly recommend Ute and Uli Weber and the CAROLINE. These people know how to make guests feel comfortable; they are pleasant and flexible and anticipate their guests' needs. They know the French countryside and are filled with good information about the sights and sounds and foods of the region. Ute's meals were fantastic! Uli was a great guide and knew a lot about each of the towns we visited. Very prepared and extremely pleasant people to be with." Philip and Carolyn B.
"I found Uli and Ute to be delightfully friendly, cheerful and hospitable. Their barge is such a reflection of their warm personalities with its vibrant colors, flower laden deck and comfortable furnishings. Ute loves to cook for guests so be prepared for sumptuous meals. The small Bichon dog, Bo, is so sweet and his short legs limit him to the wheelhouse. Guests who enjoy a casual "at home" feeling will love cruising on Caroline." ​Beth H.