C'EST LA VIE - BURGUNDY, an 8-passenger ultra deluxe barge, cruises in Northern Burgundy, France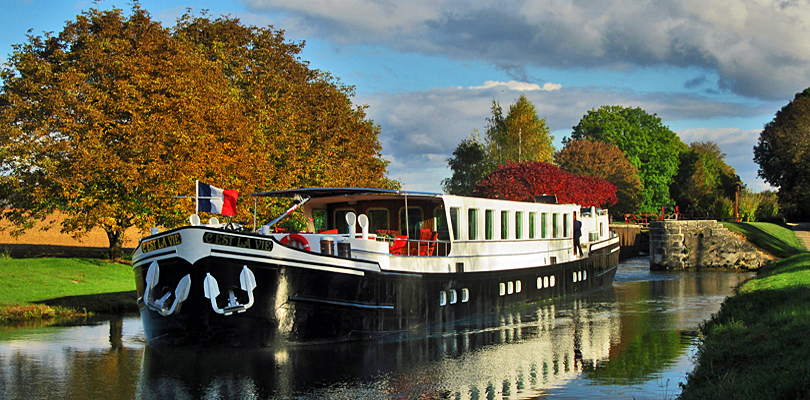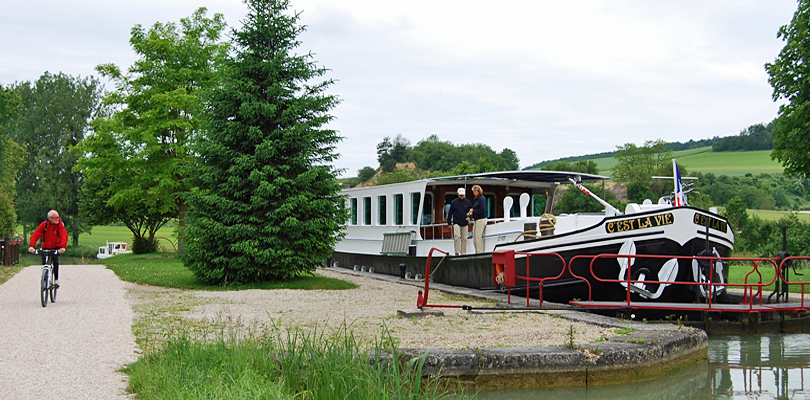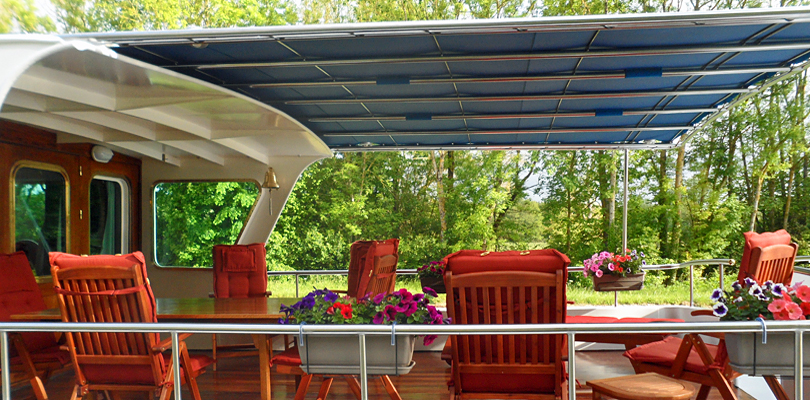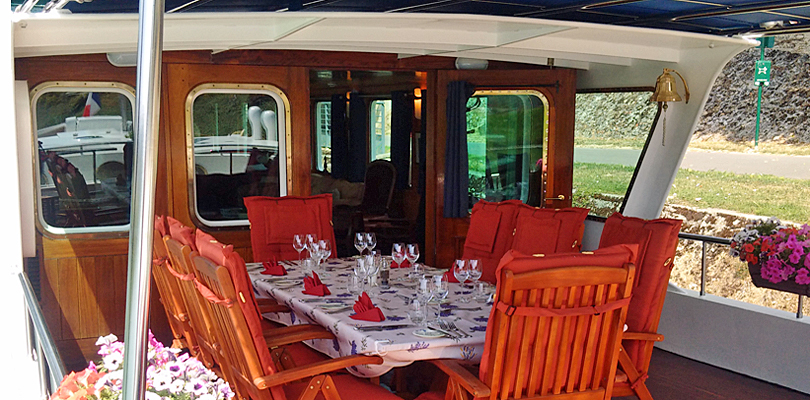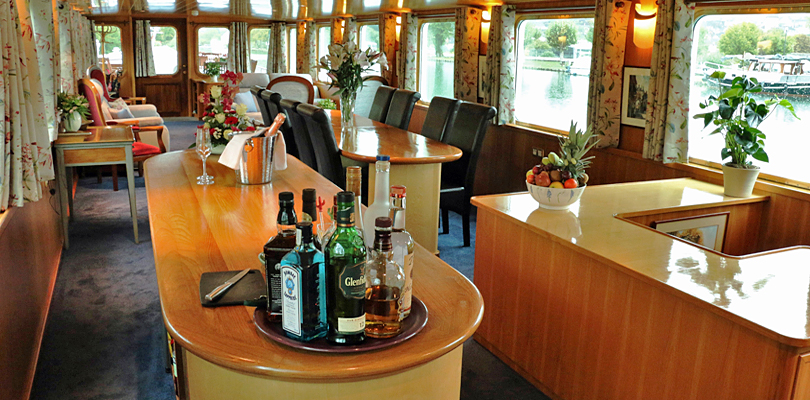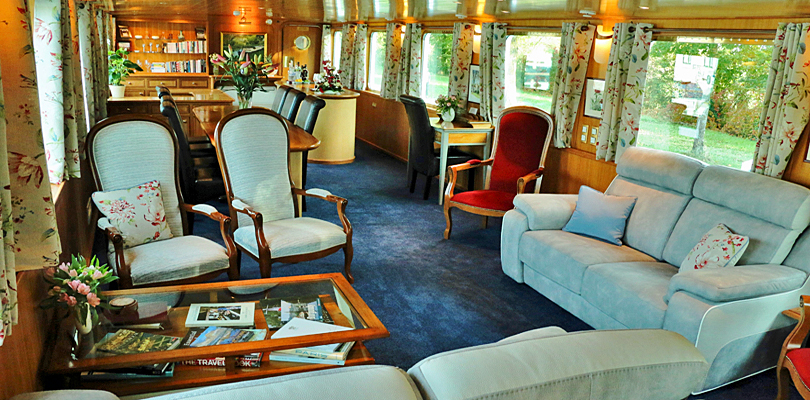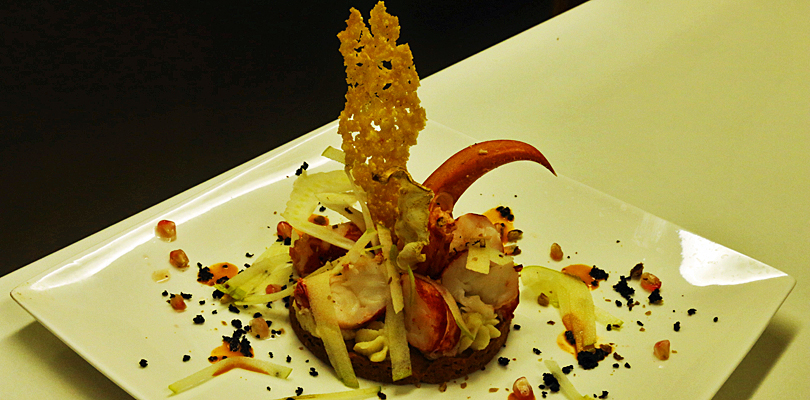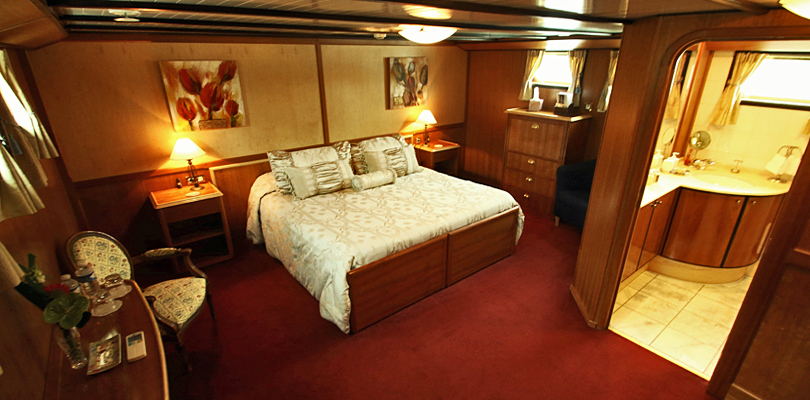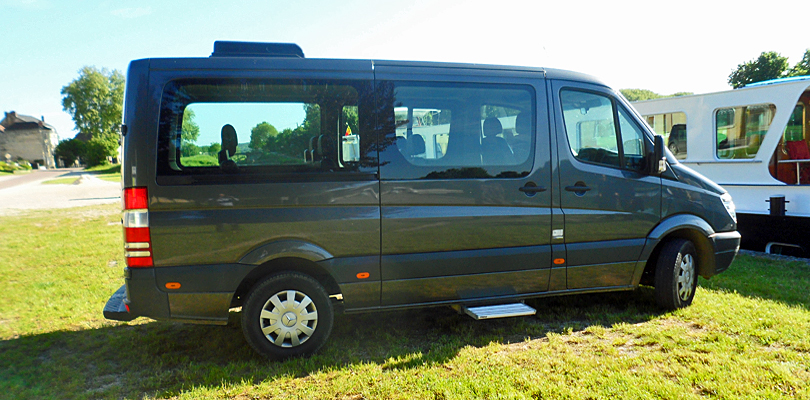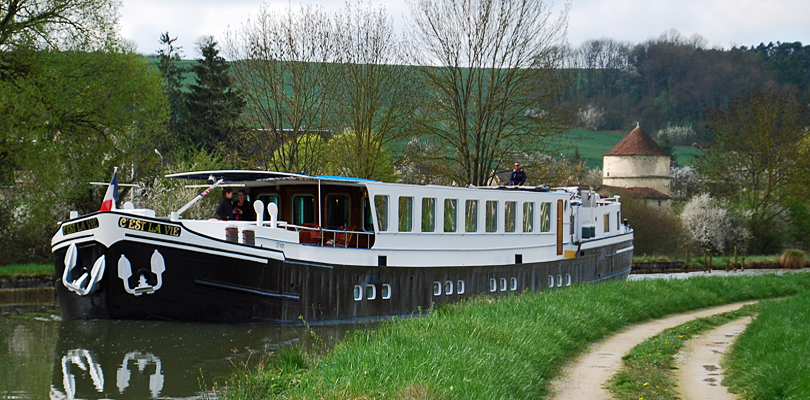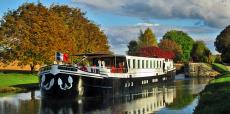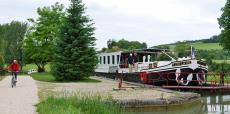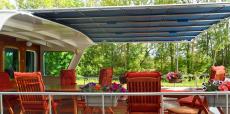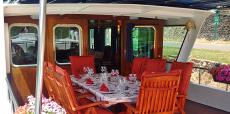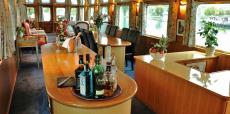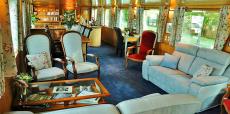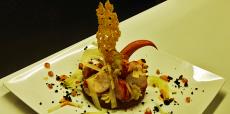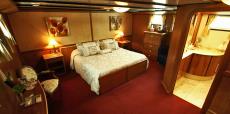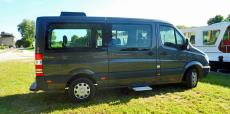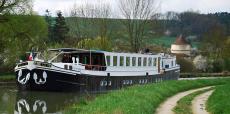 C'EST LA VIE - BURGUNDY Cruise Stops
C'EST LA VIE and owners, Olivier and Deb Megret, invite you to join them on their beautiful barge for an enchanting float through Burgundy. They have cruised this region for many years and have recently purchased C'est La Vie to cruise with guests in their own unique style. The idyllic Burgundy canal meanders through rolling green hills and Burgundian villages. ​Excursions to the Chablis vineyards and a gorgeous Renaissance chateau are just two of the cruise highlights. A special treat is a gourmet dinner at Hostellerie des Clos in Chablis. The barge itself is luxurious in space and amenities with large suites and spacious bathrooms. You can even join Olivier in the wheelhouse as he pilots C'est La Vie through the peaceful countryside.
This cruise is perfect for those who appreciate the finest in spacious accommodations as well as the skills and commitment of an experienced French captain and personable crew.
Cruise Highlights
12th century Cistercian Abbey of Fontenay, a UNESCO world heritage site
Italian Renaissance Chateau of Ancy-le-Franc, renowned for it wall paintings and frescos
Dinner on shore at Hostellerie-des-Clos in Chablis
Auxerre on the banks of the River Yonne with its half timbered houses and cobblestone streets
Medieval town of Noyers with its open air market
Wine tasting in picturesque Chablis
Opportunity to walk and bike along the towpaths and through villages while the barge floats along
Cruise Features
Owner Operated:
Yes - Olivier and Deb Megret
Number of Passengers: 8
Category:
Ultra Deluxe
Cabin Bookings:
Yes
Charter Bookings:
Yes
Cruising Region
: Northern Burgundy Canal, France
Length of Cruise
: 6 nights - Sunday to Saturday
Cruising Season
: Mid April ​through June in Northern Burgundy
Theme Cruises:
Classic, Family
Meeting Location
: Designated meeting point and time in Paris
Floorplan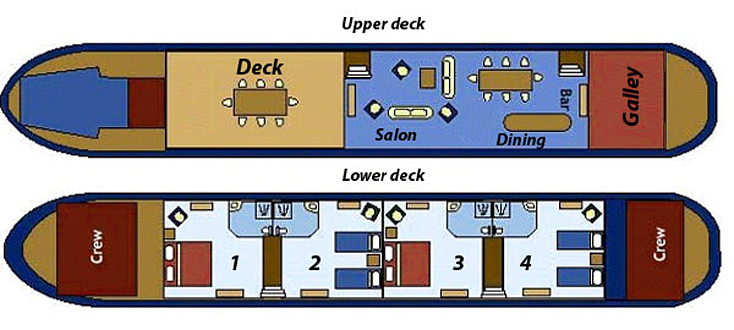 Cruise Rates 2022 and 2023 - Northern Burgundy
Sunday to Saturday (6 nights)



2022 Value Season Departures
April 10-16, 17-23, 24-30
May 1-7, 8-14, 15-21

2022 Value Season Cabin Rates

Staterooms per person, double occupancy

$ 6,995
Single supplement


$ 3,695
2022 Value Season Charter Rates

6 passengers

$47,400

7 passengers

$50,400

8 passengers


$53,600


2022 Regular Season Departures
May 22-28

2022 Regular Season Cabin Rates


Staterooms per person, double occupancy

$ 7,495
Single supplement


$ 4,995
2022 Regular Season Charter Rates
6 passengers

$5​2,200

7 passengers

$5​5,300

8 passengers
___________________________
$5​​8,400

2023 Value Season Departures
April 9-15, 16-22, 23-29, 30-6

2023 Value Season Cabin Rates

Staterooms per person, double occupancy

$ 7,500
Single supplement


$ 4,000
2023 Value Season Charter Rates

6 passengers

$47,700

7 passengers

$52,920

8 passengers


$5​6,280


2023 Regular Season Departures
May 7-13, 14-20, 21-27

2023 Regular Season Cabin Rates


Staterooms per person, double occupancy

$ ​8,000
Single supplement


$ ​5,000
2023 Regular Season Charter Rates
6 passengers

$5​​4,000

7 passengers

$5​8,100

8 passengers


$​61,320
Included in Cruise Price
Transportation between Paris and the barge
Six nights accommodation in private stateroom with ensuite bath
All meals – from dinner the first night to breakfast the last morning
All wines with lunch & dinner​
Open bar
Daily escorted excursions by air-conditioned van
All barge amenities including bicycles, music system, library, etc.
Not Included in Cruise Price
Air or other transportation to the meeting location
Trip cancellation or medical insurance (available when booking)
Personal expenses
A discretionary gratuity for the crew (suggested 5-10% of the cruise price)
​
C'EST LA VIE Features
Passengers: 8
Category: Ultra Deluxe
Crew: 6
Barge Size: 128 ft long
Cabins: 4
Cabin Size: 230 sq ft including bathroom
Accommodations: 4 staterooms with your choice of twin bed or king bed configuration, all with ensuite bathrooms
Heat & Air: Central heat and air conditioning



Amenities

Hairdryers
Toiletries
Library
Bicycles
Sundeck with comfy chairs
Large salon with fully stocked bar
Minivan with A/C
Email Access: WiFi
TV/DVD/CD: CD Sound System; iPod docking station
Electricity: 220V

Theme Cruises

Classic, Family





Cruising on C'EST LA VIE
Burgundy Canal, Northern Burgundy
Ravieres to St. Florentin (or reverse)

Sunday - Transfer from Paris to Barge
Guests are met in Paris at a pre-arranged meeting point at 3pm and driven to the "C'est La Vie", which is moored in the town of Ravières. A traditional champagne welcome and introduction to the crew awaits you before your first gourmet dinner aboard.

Monday - Ravières to Ancy le Franc
Morning cruise to the village of Ancy le Franc, allowing you time to walk off breakfast of locally baked croissants and other pastries. After a buffet lunch, enjoy a guided visit to the Cistercian Abbey of Fontenay founded by St Bernard. Dating back to the 12th Century it is listed on the Unesco World Heritage site. Return to the "C'est La Vie" for dinner.

Tuesday - Ancy le Franc to Lézinnes
After breakfast, you can walk or be driven for this mornings visit to the gorgeous Renaissance chateau of Ancy le Franc. Renowned for its 16th-century wall paintings and frescos (which are said to rival Fontainebleau), Ancy-le-Franc has been extensively and sensitively renovated. Return to the "C'est La Vie" for lunch and an afternoon cruise to the small town of Lézinnes. In the evening, you will be driven to Chablis for your dinner ashore at the restaurant Hostellerie des Clos.

Wednesday - Lézinnes to Tanlay
Morning visit to the medieval town of Noyers. Where you can walk through the ancient cobbled streets, enjoying the local market and discover the old ramparts and half timbered buildings from the 15th/16th centuries along the banks of the river Serein. Drive back to the "C'est La Vie" through fields of wheat and grazing animals for lunch and an afternoon cruise on the Burgundy Canal to Tanlay. This is the perfect moment to put on your walking shoes and explore the towpath and small villages along the way. Dinner aboard.

Thursday - Tanlay to Flogny la Chapelle
We take a morning cruise to Flogny la Chapelle, passing through the old town of Tonnerre with buildings from many eras, including Roman and Medieval. Lunch aboard before our afternoon visit to the town of Chablis, where you can taste some of the famous white wines of this region in one of their local cellars. Enjoy a drive through vineyards of Chablis, which cover the hillsides for as far as the eye can see. Return to "C'est La Vie" for another gourmet dinner aboard.

Friday - Flogny la Chapelle to St Florentin
A relaxing morning cruise to the town of St Florentin. After lunch, drive to the town of Auxerre. On the banks of the river Yonne. This historic town, first settled by the Romans, boasts a Cathedral, an Abbey and a Church. With buildings dating back to medieval times, this is the ideal place to stroll along its narrow streets and window shop. Or, just sit and relax with a coffee in one of its many cafés, reflecting on Napoleon, Joan of Arc or Charles VII who all passed through this elegant town. Return to the "C'est La Vie" for the Captain's Dinner, which ends your cruise in style.

Saturday - Transfer to Paris
After breakfast, you'll be chauffeured back to Paris.
This is a sample itinerary and is subject to change. The itinerary is in reverse direction on alternate weeks.
Barge Cruise Reviews for C'est La Vie
"The barge cruise will remain one of the most perfect vacation experiences we have ever had, and there will always be smiles remembering the wonderful Captain Olivier and crew of C'est La Vie." Bill and Helen K.
"There aren`t enough superlatives to describe the barge cruise Lynn and I just returned from. It was so much more than we expected. Olivier and Deb are very hardworking, customer minded, no detail overlooked, very organized and fun. They provided a magnificent experience we will never forget. Glenn, the ``tour director`` was a treasure.....he was an encyclopedia of information on French and European history as well as a font of knowledge on wine, grapes and all the wine growing details. Jerry, the `Chef`` was outstanding. He prepared wonderful dishes, beautifully presented...each and every time. He was also very personable and aimed to please whenever asked .....another huge asset for Olivier and Deb. Ruth, the stewardwess, was very sharp. Daily she provided guest room services as well as lunch and dinner cheese services. Not only was she very knowledgeable about the cheeses, she also did the wine selections a few times. She was smart, service minded, and lots of fun.
We thought we were taking a canal barge cruise but unexpectedly enjoyed a lesson in wine, food, and the history of the Burgundy region. Way beyond expectations!" Tom T.
"I can't recall any other trip I have ever encountered and come back telling everyone you know that you have to experience this wonderful trip for yourself. The crew, we will regard as life long friends and the other passengers we continue to keep contact. Some things in life are special and the experience we had on the C'est la Vie was very special. If you are contemplating doing something that you will never forget, just do it." M. Peters.