EMMA, a 6-passenger first class barge, cruises on the Canal du Midi in the South of France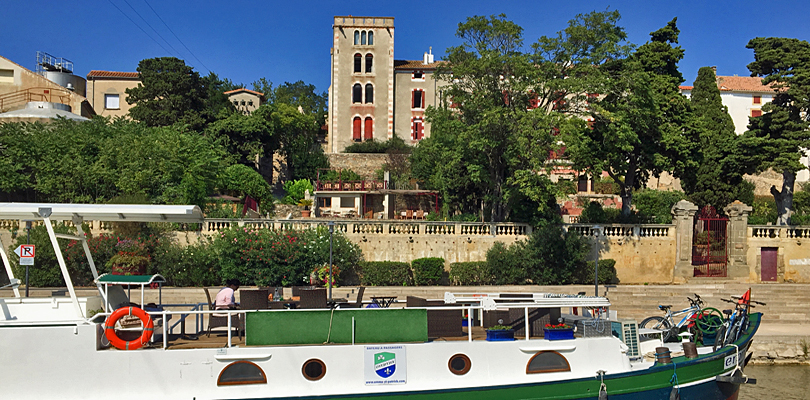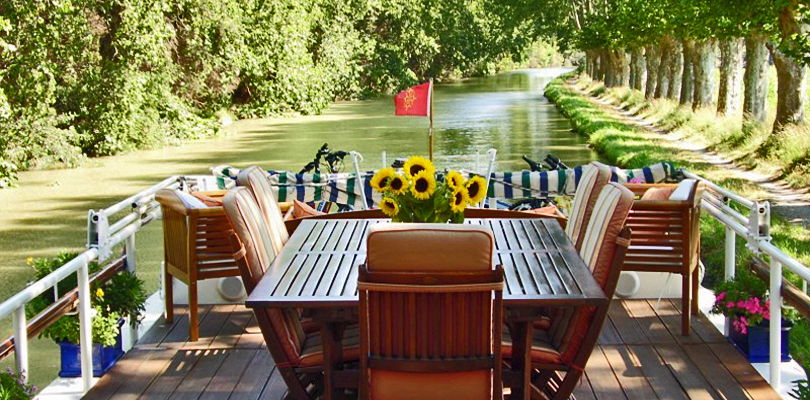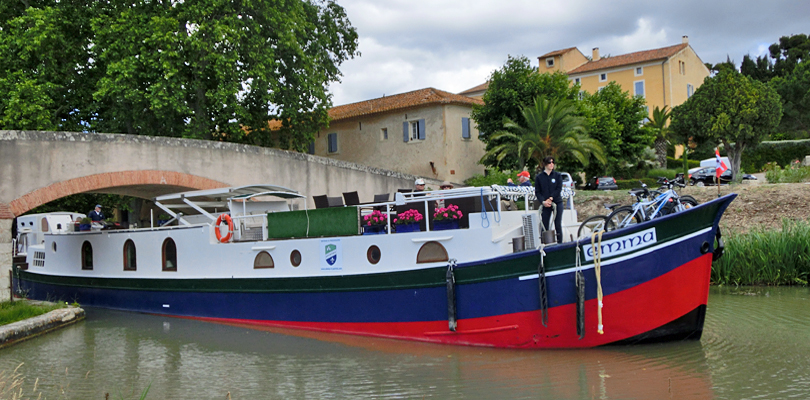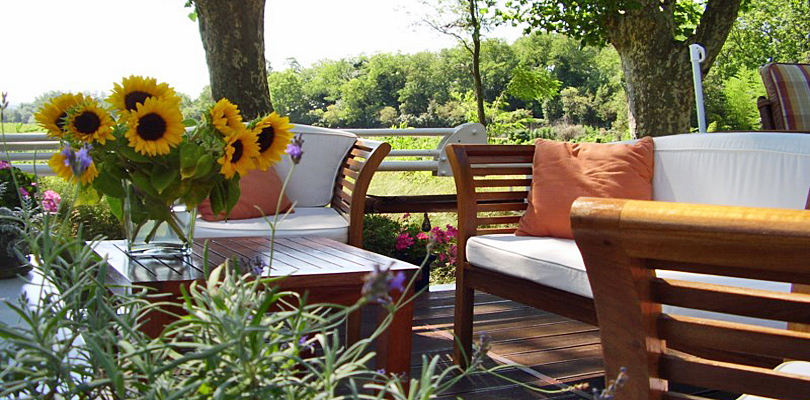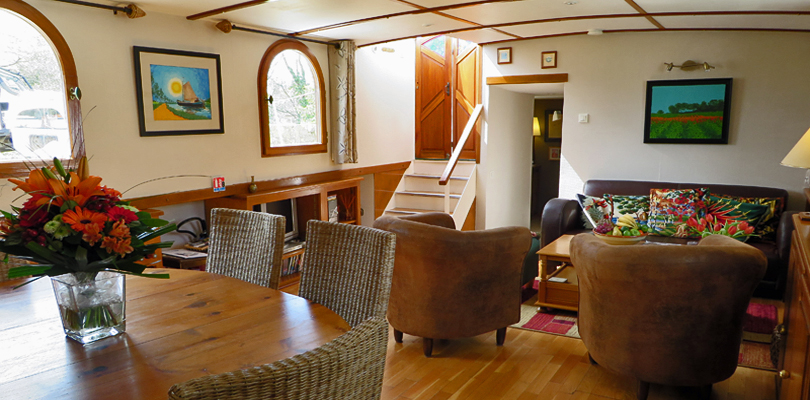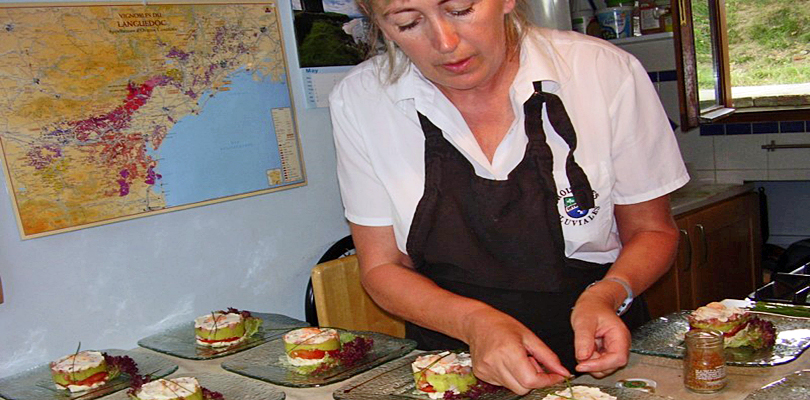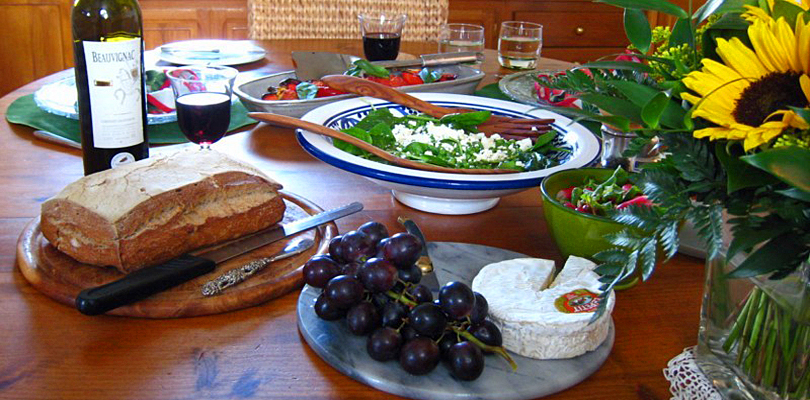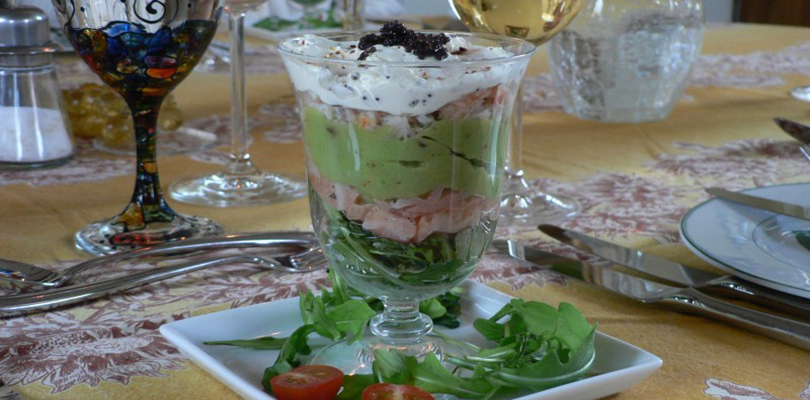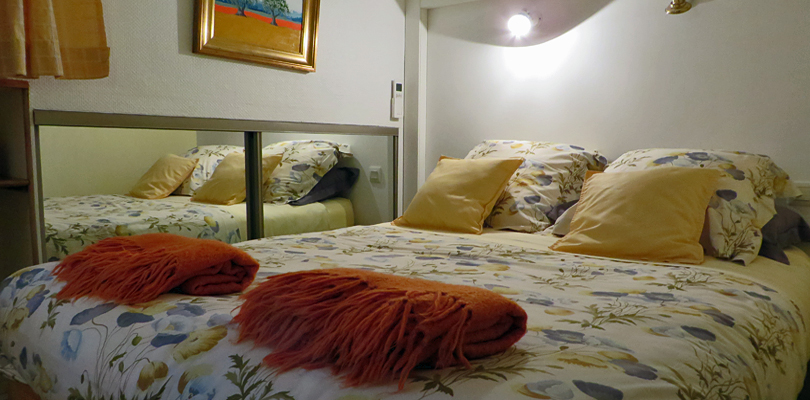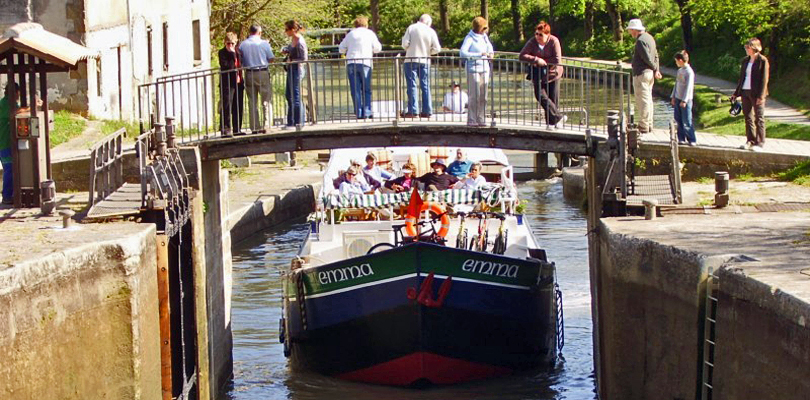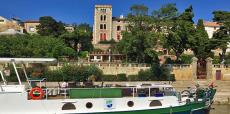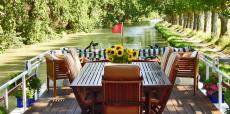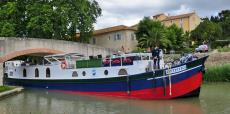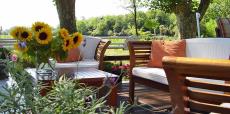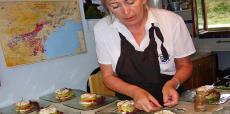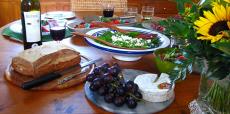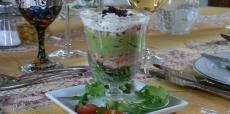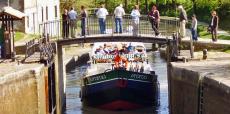 EMMA Cruise Stops
EMMA, a homey and immaculate six-passenger barge that cruises the scenic Canal du Midi. Take the warmth of an Irish welcome, add the seductive charm of the French, put it on a beautifully restored turn of the century barge, cover it with a balmy Mediterranean climate and what have you got? A lazy luxury cruise along the historic 17th century Canal du Midi with your hosts, René and Liz, aboard their floating home.
Cruise Highlights
Visit the pre-Roman site of Oppidum d'Enserunes, built in 800BC
A Unesco World Heritage Site, The Canal du Midi is lined with towering plane trees and winds through pretty Languedoc villages
Carcassonne, the most well preserved fortified town in Europe with its cobblestone streets, boutiques and castle
The fascinating history of the Cathars, a religious sect that was persecuted by Rome yet stayed true to their beliefs
Languedoc is the largest wine region in France bordered on the South by the Pyrenees Mountains and the Cevennes Mountains in the north
A sun washed Mediterranean climate with friendly people and beautiful scenery
Cruise Features
Owner Operated:
Yes - René and Liz Jacquot

Number of Passengers:
6
Category:
First Class
Cabin Bookings:
Yes
Charter Bookings:
Yes
Cruising Region
: Canal du Midi, South of France
Length of Cruise
: 6 nights - Saturday to Friday or 5 nights upon request
Cruising Season
: April - October
Theme Cruises:
Tandem cruises available on request, custom
Meeting Location
: Designated location in Narbonne
Floorplan

Cruise Rates 2020
Saturday to Friday (6 nights on Barge Emma)

All Season Departures
April 4, 11, 18, 25
May 2, 9, 16, 23, 30
June 6, 13, 20, 27
July 4, 11, 18, 25
August 1, 8, 15, 22, 29
September 5, 12, 19, 26
October 3, 10, 17, 24

Cabin Rates - 6 Nights - Full Board Only

Staterooms per person, double occupancy

$5,500
Single supplement


$1,500
Charter Rates - 6 Nights - Full Board

4 passengers
$25,000
5 passengers
$27,000
6 passengers


$30,000

Included in Cruise Price
Round trip transfers in air conditioned vehicle from pre-arranged meeting point in Narbonne or Beziers to the canal barge and return after the barge cruise
Accommodation for up to 6 passengers for 6 nights in 1 double bed cabin and 2 twin bed cabins (or queen), all with private bathrooms. (5 night cruise is available upon request.)
All meals including wine with meals and drinks from the bar
Excursions in the private, spacious air conditioned vehicle and admittance fees as stipulated
All meals, wine and drinks on board
Open bar
Entrance fees on excursions
Use of on-board bicycles
Champagne welcome aboard
Not Included in Cruise Price
Air or other transportation to the meeting location
Trip cancellation or medical insurance (available when booking)
Personal expense
A discretionary gratuity for the crew (suggested minimum is 5% of the cruise price)
EMMA Features
Passengers: 6
Category: First Class
Crew: 4
Barge Size: 90 ft long
Cabins: 3
Cabin Size: 100 sq ft including bathroom
Accommodations: 3 staterooms - 1 fixed double cabin and 2 cabins with queen or twin beds
Heat & Air: Central heat and air conditioning

Amenities

Hairdryers
Library and games
Music sound system
Bicycles
Sundeck with comfy chairs & table,
Minivan with A/C
Email Access: WiFi access
CD player in salon
Electricity: 220V

Theme Cruises

Tandem cruises on request, family cruises, custom cruises,

See the brand new Barge Cruise and La Tour du Chateau Program with 4 nights on the barge Emma and 4 nights in La Tour du Chateau complete with all meals and wines, the best sights in the area, a hands on cooking class and wine lovers tour.​











Cruising on EMMA
Itinerary #1 (Classic Itinerary)
Canal du Midi
Carcassonne to Beziers (or reverse)

Saturday - Transfer to Barge in Trebes
After your pickup in Narbonne on Saturday afternoon, you will be chauffeured to Emma moored in the village of Trebes. There will be time to meet your crew, pictured below, and enjoy a champagne reception. We shall let you get settled in and unpacked which is the most strenuous task of the week, and then sit back and relax while we take a short cruise so that you feel you really are on a boat. During this time the first of your gourmet dinners will be prepared.

Sunday - Trebes to Countryside Mooring
After a leisurely breakfast of fresh fruit, croissants, homemade jams, cereal and coffee you will be taken off in the minivan to explore the wonderful medieval city of Carcassonne. A stroll through the cobbled streets with the array of boutiques, a visit to the Feudal Castle, a foray into the Inquisition museum or a walk along the ramparts. Carcassonne has something for everyone to enjoy. Back to the boat for a lunch of tasty homemade pâtés, quiches and salads followed by a selection of the 365 cheeses which France has to offer and washed down with some of the finest wines of the Languedoc Rouissillon region. After lunch we shall cruise off to our next mooring spot along the canal, going down several locks as we start our descent towards the Mediterranean. Emma will stop at another lovely setting where your evening dinner will be served.

Monday - Your Choice of Excursions
After breakfast today you will be whisked off again to discover another delight of the region. We could go to Lagrasse, a little village in the heart of the Corbières with a magnificent Benedictine Abbey perched on the banks of the river Orbiel and where the little cobbled streets house a multitude of potters, artists, wood carvers, etc. Or we could go and visit the giant underground cave at Cabrespine, or again visit the ruins of the old Cathar stronghold Chateau Lastours. Another delicious lunch will be ready for you when you get back and you will be able to relax while we cruise on to our next stop.

Tuesday - Open Air Market
France is famous for its open air markets and today you will have the chance to experience this for yourself when we visit the market at Olonzac, pictured at right. The smells of the olives and herbs and the roasting chickens will make your mouth water and the arrays of fresh fruit and vegetables are a picture. We will then go up into the heart of the Minervois region to Minerve a spectacular village set on a rocky outcrop in the gorges formed by the rivers Cesse and Brian. There are lovely walks here, just the thing to build up your appetite for lunch. If you have plenty of energy after lunch while Emma is cruising to her next stop maybe you would like to take a bicycle ride or a stroll. The towpath follows the canal all the way so any time you want to this option is available.

Wednesday - Narbonne
Narbonne is our tour for today. The ancient capital of Roman Gaul still retains a lot of its history. You will see the Via Domitia, a road 2000 years old with its chariot ruts still visible, visit the old Roman storehouses, the Archbishop's palace, the Cathedral St Just with its cloister, high altar, and splendid organ.
For those of you who enjoy food and markets, the indoor market at Narbonne is one of the best. You will see the finest display of fish, shellfish, fruit, vegetables, meats, herbs, spices, olives, cheese, and the list goes on. Perhaps you would like to dip your feet in the blue water of the Mediterranean, or visit the little fishing port of Gruissan. Such wonderful choices.

Thursday - Narbonne to Beziers
Gala Dinner - then its music on Deck!
Today we continue our lazy cruise which takes us under the smallest bridge in France, if you can get under this, you can go anywhere on the canal system! A choice of visits awaits you. A wine tasting at Guery or at St Chinian, a visit to the Abbey at Fontcaud, a trip up to the prehistoric site of Enserune with its panoramic views, there is so much to see, you will be spoiled for choices! End the cruise in style at our final Gala Dinner, followed by an informal concert under the stars.

Friday - Transfer to Narbonne
Emma is moored in or near Beziers. All too soon your week is over, but we will still manage a short cruise before we say our good- byes and after your breakfast you will be taken to Narbonne to continue your travels, taking with you lasting memories of this most beautiful countryside.
Itinerary #2 (Alternative Itinerary Upon Request and Subject to Availability)
Canal du Midi
Carcassonne to Toulouse (or reverse)
Saturday - Trebes to Leveque
You will be met by your guide who will bring you to where Emma is moored in the port of Trébes. Once you are settled on board, we shall cruise off with champagne cocktails out into the vineyards, through 2 locks to Leveque.

Sunday - Carcassonne
This mornings visit will take you either to the walled city of Carcassonne or over the Alaric Mountains to the medieval village of Lagrasse with its beautiful bridges over the River Orbeil, its 14th century Abbey, cloister, Monks dormitory, and for those who like a spot of retail therapy, fabulous pottery, wooden and leather craft shops and art galleries. Return to Emma for lunch.

Monday - Carcassonne to Bram
This morning your guide will take you to Limoux, home of the famous sparkling wine. Can we tempt you to a little degustation? You will then carry on to Rennes le Chateau, which if you have read Dan Brown's novel The Da Vinci Code; you will remember the story of the Cure Saunier who all of a sudden had great riches. Did he find the treasure? This is a very interesting visit, through beautiful scenery, but keep your eye out for the lost treasure. After lunch we shall cruise to the typical languedocian village of Brams. It is known as a circulade due to its resemblance to the spiral of a snail's shell.

Tuesday - Bram to Lauraigais Countryside
From Brams this morning your visit will take you through the rolling plains of the Lauraigais, fields of sunflowers in summer and views of the snow capped mountains on a clear day, to the town of Mirepoix. We shall stop off at Fanjeaux, home of St. Dominic and the Dominican Convent; the views are spectacular. Mirepoix itself is renouned for its wooden columns surrounding the main market square, its colombaged houses and its cathedral. After lunch your Captain will gently guide you along the canal, going through a selection of lovely locks to moor up in the lovely Lauragais countryside.

Wednesday - Countryside to Castelnaudary
This morning we will shall cruise to the town of Castelnaudary. This afternoon your guide will take you to visit Castelnaudary. One of the contenders for "the original and best Cassoulet", the others being Carcassonne and Toulouse. The Grand Bassin, the Gothic Callegiale with its 56 meter bell tower, the 17th century windmill the vestiges of the Presidial, partly destroyed by Louis XII and the Chapelle Notre Dame de la Pitie with its gold covered wood sculptures depicting ten episodes in the life of Christ are all on the visit.

Thursday - Castelnaudary to Seuil de Narouze
We leave Castelnaudary this morning and continue our cruise to The Seuil de Narouze. This is the highest point on the Canal de Midi after which it descends the other side towards the Atlantic. Here the plane trees are the same age as the canal - amazing! This afternoon's visit is to the reason why the Canal du Midi was possible, the Lac St. Ferrol. It was the only land which had slopes both to the Atlantic and the Mediterranean. You will see the intricate irrigation system, which allows us to have the canal we love today. To think this was all discovered in the 1600's on horseback by Paul Riquet. Return to Emma for your final gala dinner lovingly prepared by your personal chef.

Friday - Transfer to Drop-Off Point
After breakfast, we must say our farewells and you shall be taken to your departure point for your onward journey.
This is a sample itinerary and is subject to change. The itinerary is in reverse direction on alternate weeks.
Barge Cruise Reviews for ​Emma
"It was a lovely relaxing trip. The barge was beautiful and the Emma crew were all great with us. The meals were outstanding, and we were able to experience much of the local color in the surrounding areas." Colette P and family
"Our barge cruise was delightful in every way. Liz and Rene couldn't have done more to make our week extra special. Thank you." The Arnold Party