LA BELLE EPOQUE, a 12-passenger deluxe barge, cruises the Nivernais Canal in Northern Burgundy, France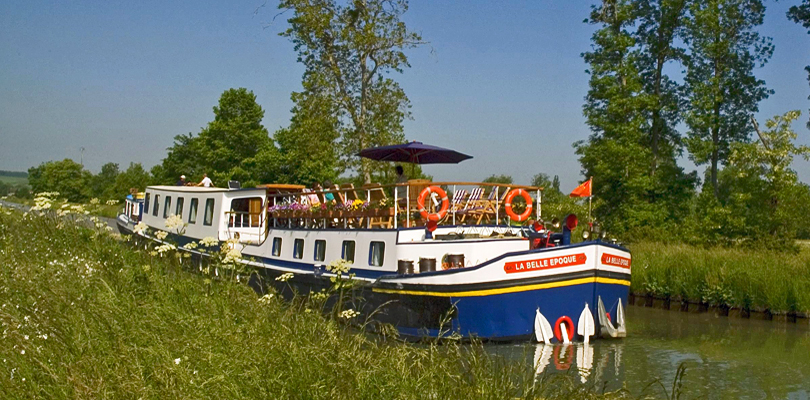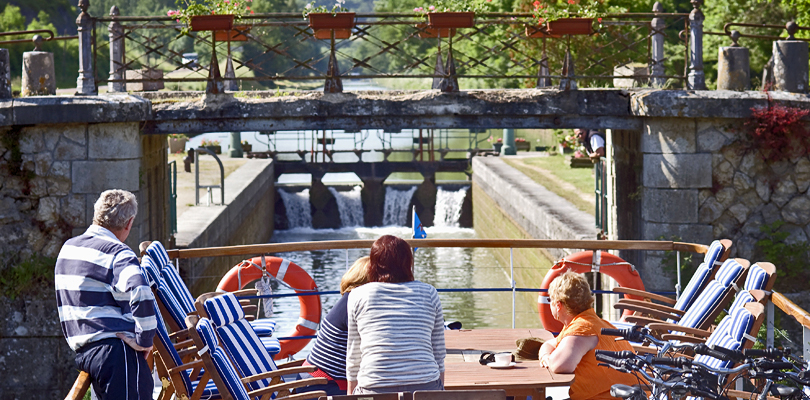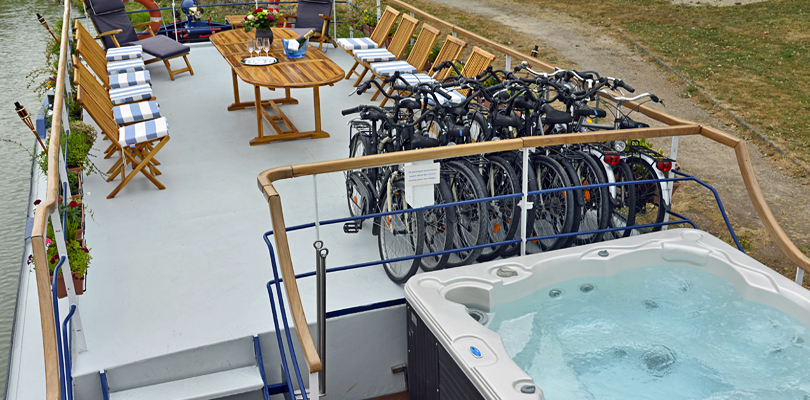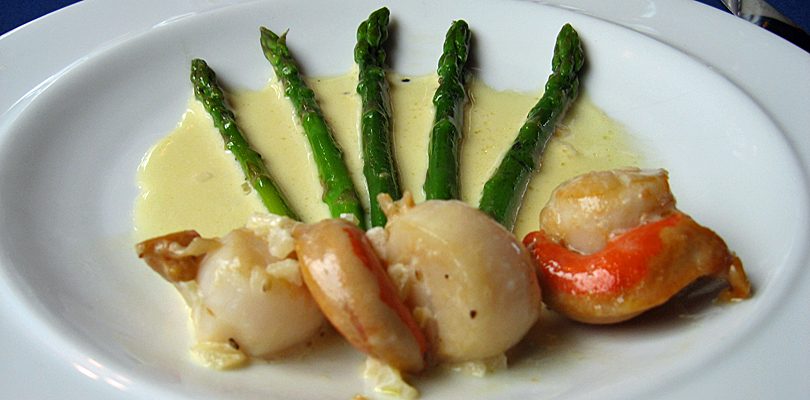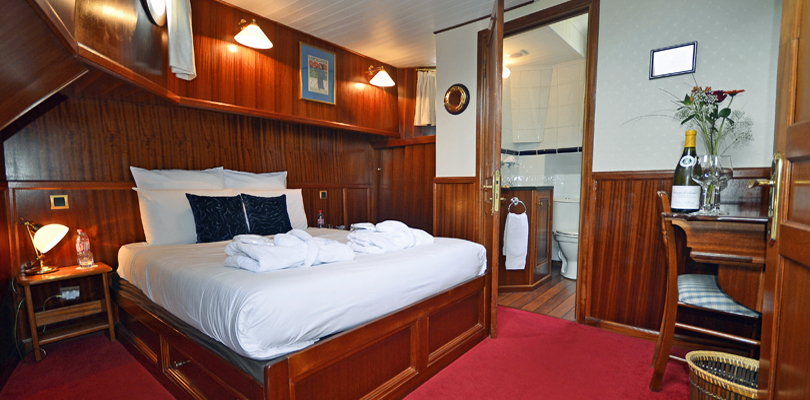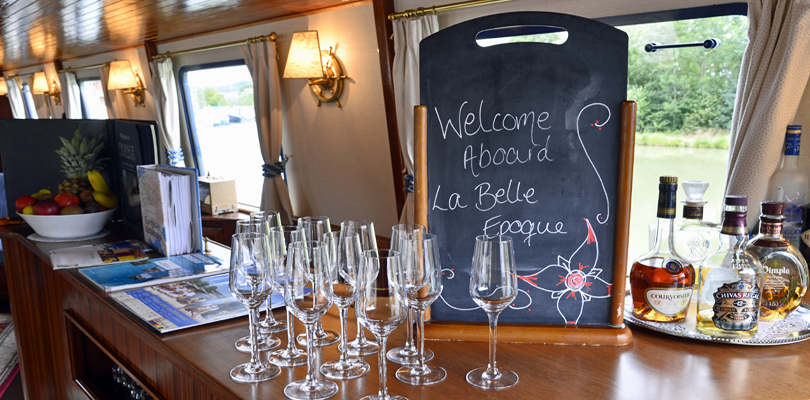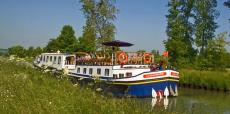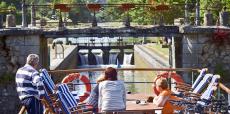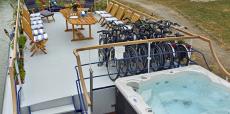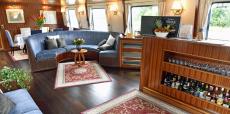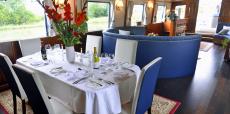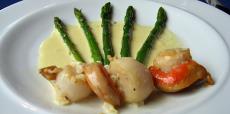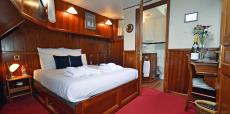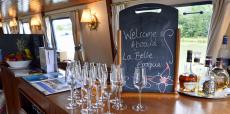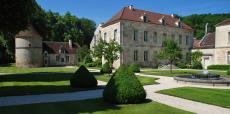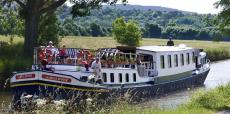 LA BELLE EPOQUE Cruise Stops
LA BELLE EPOQUE
is a deluxe barge cruise that has been designed with both elegance and passenger comfort in mind. La Belle Epoque cruises on the northern Burgundy Canal with old world villages, green rolling hills, nearby Burgundy wine regions and scenic countryside. This is an excellent route for walking and biking as the barge floats along.
Cruise Highlights
All-inclusive - open bar, free wines, gourmet cuisine, entry fees to excursions
Visit and lunch at the Abbaye de Fontenay, a UNESCO World Heritage site
Private wine tasting in the town of Chablis at a renowned winemaker
Visit the village of Flavigny sur Ozerain, location of the film 'Chocolat'
Visit to Noyers-sur-Serein, one of the most beautiful villages in Burgundy
Optional Hot Air Ballooning
Excellent towpath for walking and cycling
Cruise Features
Owner Operated: No
Number of Passengers: 12
Category: Deluxe
Cabin Bookings: Yes
Charter Bookings: Yes
Cruising Region: Northern Burgundy Canal, France
Length of Cruise: 6 nights - Sunday to Saturday
Cruising Season: April - October
Theme Cruises: Family, Wine Appreciation and Walking
Meeting Location: A designated meeting point in Paris

Floorplan

Cruise Rates 2023

Sunday to Saturday (6 nights)



2023 Value Season Departures
March 26-April 1
April 2-8, 9-15, 16-22, 23-29
July 16-22, 23-29, 30-August 5
August 6-12, 13-19, 20-26
October 8-14, 15-21, 22-28

Cabin Rates

Staterooms per person

$5,950
Junior Suites per person

$6,390

Single supplement


$2,200
Charter Rates

8 passengers

$60,200

9 passengers

$62,200

10 passengers

$63,800

11 passengers

$65,400

12 passengers


$67,000


2023 Regular Season Departures
April 30-May 6
May 7-13, 14-20, 21-27, 28-3
June 4-10, 11-17, 18-24, 25-July 1
July 2-8, 9-15
August 27-September 2
September 3-9, 10-16, 17-23, 24-30
October 1-7

Cabin Rates


Staterooms per person

$6,950
Junior Suites per person

$7,490

Single supplement


$2,500
Charter Rates
8 passengers
$70,000

9 passengers
$​72,300

10 passengers
$7​4,200

11 passengers
$7​6,100

12 passengers


$7​8,000

Included in Cruise Price
Transportation between Paris and the barge
Six nights accommodation in private stateroom with ensuite bath
All meals, wine and drinks on board
Open bar
Daily escorted excursions by air-conditioned van
All barge amenities including hot tub, bicycles, music system, library, etc.
Not Included in Cruise Price
Air or other transportation to the meeting location
Trip cancellation or medical insurance (available when booking)
Personal expenses
A discretionary gratuity for the crew (suggested 5-10% of the cruise price)
​
LA BELLE EPOQUE Features
Passengers: 12
Category: Deluxe
Crew: 6
Barge Size: 128 ft long
Cabins: 7
Cabin Size: Single at 90 sq ft, 4 staterooms at 125-130 sq ft and 2 junior suites at 150 and 165 sq ft
Accommodations: 1 junior suite with twins or queen bed, 1 junior suite with queen, 2 staterooms with twins or queen, 2 staterooms with twins, 1 single cabin, all with ensuite tile baths
Heat & Air: Central heat and air conditioning



Amenities

Hairdryers
Toiletries
Library
Bicycles
Spa pool
Sundeck with comfy chairs
Polished mahogany interior
2 minivans with A/C
Email Access: WiFi (subject to available reception)
TV/DVD/CD: CD / iPod docking
Electricity: 220V

Theme Cruises

Family, Walking, Wine Appreciation, World War I Cruises












Cruising on LA BELLE EPOQUE
Burgundy Canal, Northern Burgundy
Venarey-les-Laumes to Tanlay (or reverse)

Sunday - Transfer from Paris to Barge
Guests are met at the Hotel Westminster in Paris and transferred by private chauffeured minibus to La Belle Epoque. A full crew Welcome Aboard with champagne and canapés. After time to settle into your cabin you will enjoy your first dinner on board and an introduction to Burgundy's excellent cuisine.

Monday ​- Venarey-les-Laumes to Montbard
Enjoy a leisurely breakfast, then we cruise through woodlands and rolling fields with great towpath biking and walking opportunities past the tiny canalside villages of Nogent, Courcelles and Les Granges. After lunch, we enjoy either a stroll around the hilltop village of Flavigny-sur-Ozerain, where the film 'Chocolat' was set, or a tour of the medieval town of Semur-en-Auxois. On the way from the summit of Mount Auxois, we also look at Alesia, where the last battle between the Gauls and Romans took place in 52 B.C. and visit the impressive museum. Dinner on board.

Tuesday ​- Montbard to Ravières
Morning cruise with excellent towpath walking or cycling, passing the 18th century Forges de Buffon. Then after lunch we escort you to the exquisite UNESCO World Heritage Site of Abbaye de Fontenay founded by St Bernard in 1118. Representing a distinctive example of early Cistercian architecture and virtually intact, Fontenay allows an exceptional glimpse of Cistercian life and industry with its peaceful gardens, ponds and fascinating cloisters, dormitories and scriptorium. Return to the barge and cruise to Ravières. Dinner on board.

Wednesday​ - Ravières to Ancy-le-Franc
Morning visit to medieval Noyers-sur-Serein to admire the local produce, colours and delights of the traditional French market, or to wander the town ramparts in this, one of the most beautiful villages in France. We return to the hotel barge and after lunch on board, enjoy a gentle afternoon cruise past grazing Charolais cattle, with plenty of opportunity to walk or cycle along the towpath, to moor in Ancy-le-Franc. Dinner ashore at a local restaurant.

Thursday​ - Ancy-le-Franc to Lezinnes
This morning we visit Château d'Ancy-le-Franc. This beautifully symmetrical, 16th century masterpiece contains France's biggest collection of Renaissance murals and is set in magnificent gardens and parkland. In the afternoon, a gentle cruise as your hotel barge continues along the Burgundy Canal and descends through the picturesque locks to moor at Lezinnes. Dinner on board.

Friday​ - Lezinnes to Tanlay
After breakfast we enjoy a leisurely cruise to our final mooring at Tanlay, with the opportunity to cycle or walk into the picturesque village of Saint Vinnemer. Following lunch, we tour the vineyards and town of Chablis, dating back to Roman times and enjoy a private wine tasting at a renowned winemaker such as the family-run Domaine Régnard, which makes the most of the region's wonderful local terroir to produce high quality wines, before returning to the barge for Captain's Farewell Dinner on board.

Saturday - Transfer to Paris
After breakfast, guests are transferred to the Hotel Westminster in Paris.
This is a sample itinerary and is subject to change. The itinerary is in reverse direction on alternate weeks.
No reviews available at this time.