LIBJE, a 2-passenger charming class barge, cruises in Brittany, France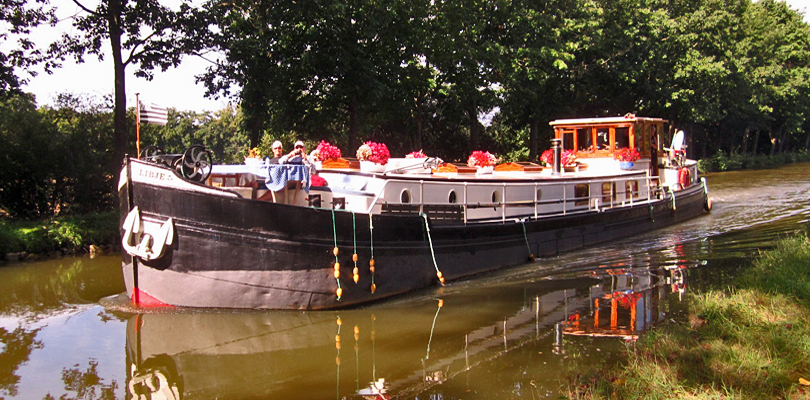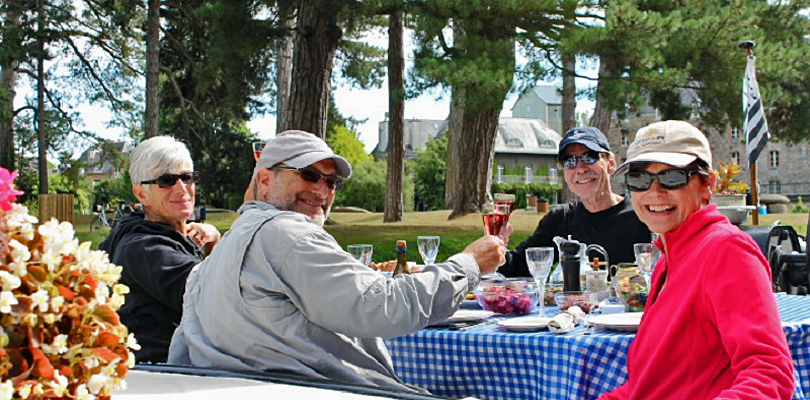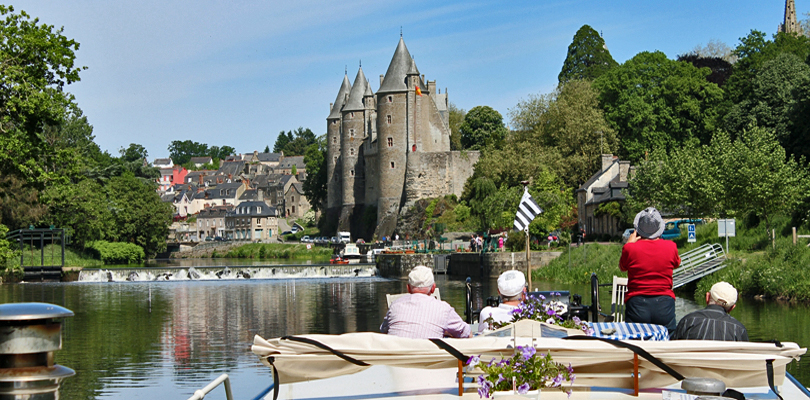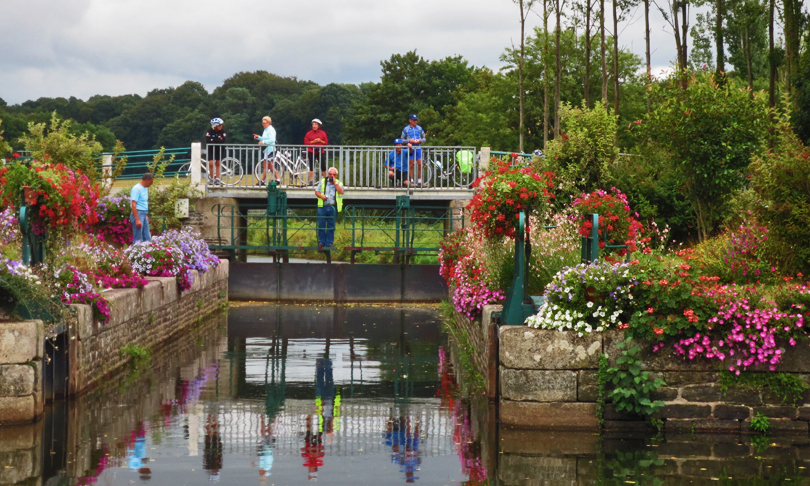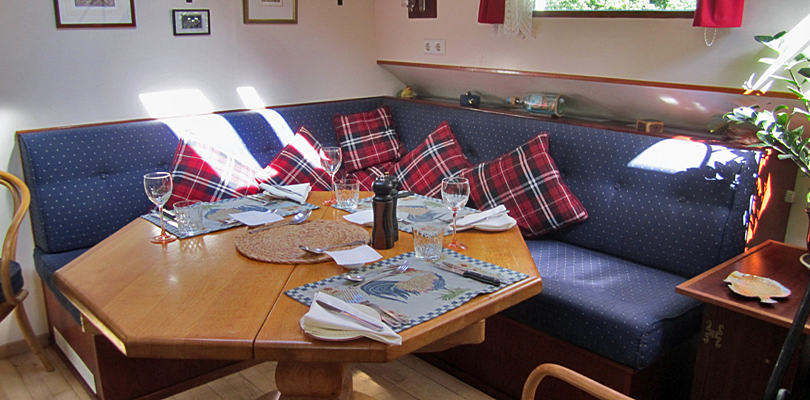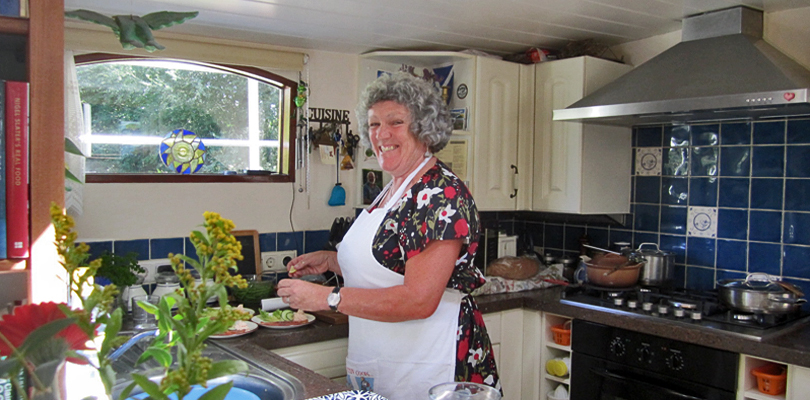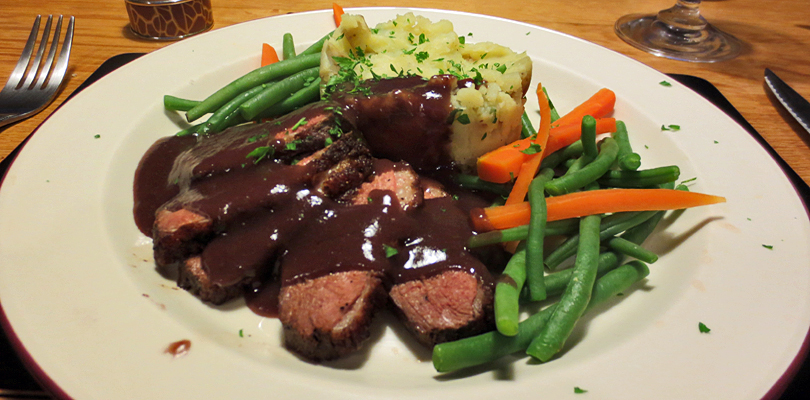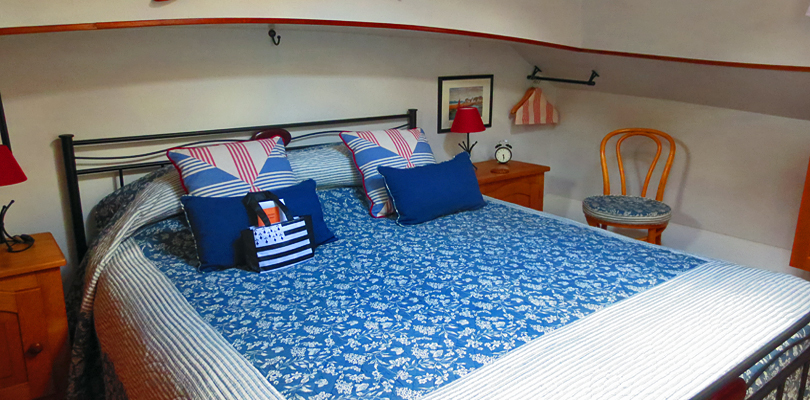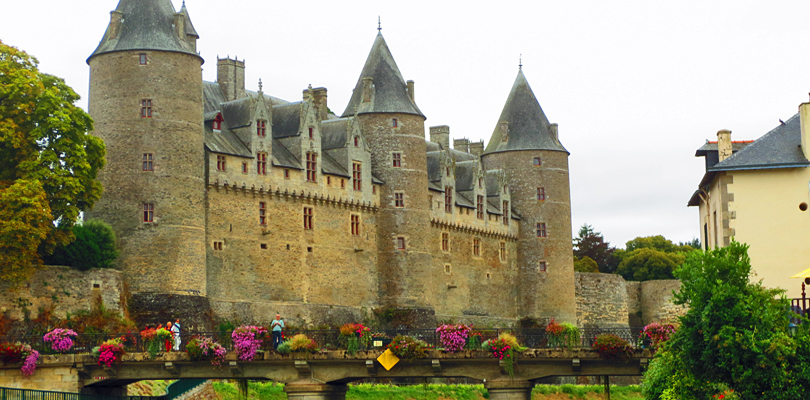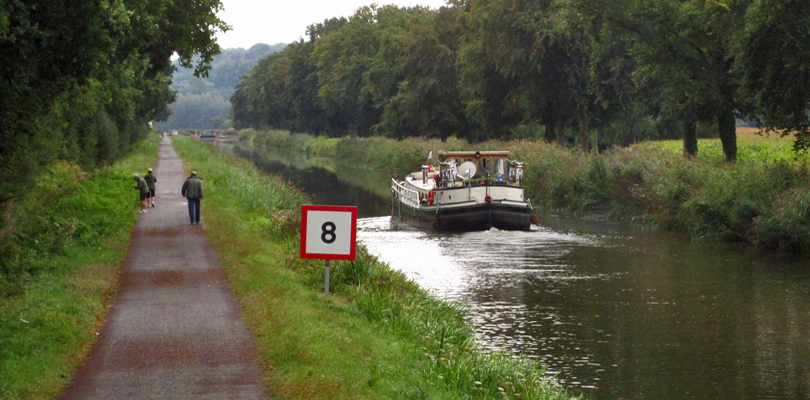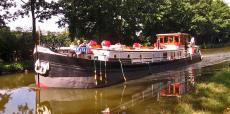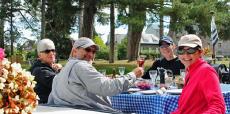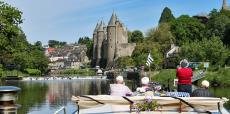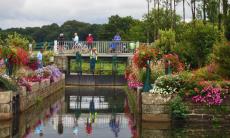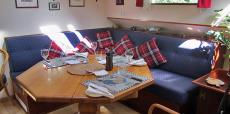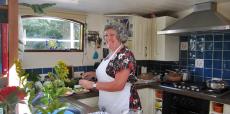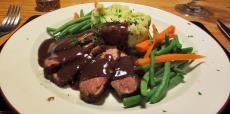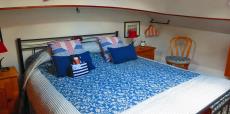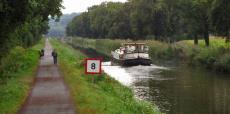 LIBJE Cruise Stops
2016 is the last year for cruising on LIbje as owners Ian and Jane Slade are retiring. We wish them the very best after many years of barging in beautiful Brittany.
LIBJE is a special barge cruise for a variety of pretty exciting reasons. First, it is the only charter barge cruise in Brittany, a hidden part of France which still retains its Celtic heritage. Relaxed and informal, it is owned and operated by the friendly Scottish captain, Ian Slade, and his wife, Jane, who is an award winning cook. Joining them are their two dogs, Millie and Pippa, who are friendly additions to your barging experience. The barge has one very comfortable guest cabin, a cozy salon/dining area and open kitchen to watch Jane prepare your fabulous meals. The passenger friendly wheelhouse invites guests to talk with Captain Ian as he expertly maneuvers the barge through flower-laden locks. Bench seating and a table at the bow of the barge are great for watching the countryside float by or savoring a delicious lunch. This is a carefree barge cruise for those who love walking, biking, markets, villages, shopping and food. The excursions are gladly customized around guests' interests.


Cruise Highlights
Historic town of Redon and it's 11thC abbey of Saint-Saveur
Sample the regional specialty, apple cider, from an artisan cider maker in St Martin
Browse the artisan shops of La Gacilly, the home of famous Yves Rocher beauty products
Visit the artisan shops of Rochefort-en-Terre, listed as one of the 'Prettiest villages of France'
Shop the lively outdoor market at Malestroit
Feast on a "market lunch" after walking the beautiful chateau village of Josselin
Plenty of opportunity for walking and biking along the canals and through villages
Cruise Features
Owner Operated: Yes - Ian and Jane Slade
Number of Passengers: 2
Category: Charming Class
Cabin Bookings: No
Charter Bookings: Yes
Cruising Region: Nantes - Brest Canal and the River Vilaine, Brittany, France
Length of Cruise: 6 nights - Saturday to Friday or Wednesday to Tuesday
Cruising Season: May - October
Theme Cruises: Family, Custom, Seafood Cooking Class, Markets
Meeting Location: Transportation between Redon station, Rennes airport or your hire car depot

Floorplan

​2016 is the last year for cruising on Libje - the owners are retiring!
Saturday to Friday or Wednesday to Tuesday (6 nights)



Saturday Departures
July 23
October 15

Wednesday Departures
June 1
July 13

All Charter Rates
3/4 Board - 3 dinners on shore at guests' expense
Up to 4 passengers


$12,000

Included in Cruise Price
Transportation between Redon station, Rennes airport or your hire car depot
Six nights accommodation in private stateroom with ensuite bath
All breakfasts, lunches and 3 evening meals (3 dinners taken on shore at guests' expense)
Wine is served with meals and guest refrigerator has beer, wine, cider and soft drinks. A limited selection of spirits is available.
Daily escorted excursions by air-conditioned van
All barge amenities including bicycles, music system, library, etc.
Not Included in Cruise Price
Air or other transportation to the meeting location
Trip cancellation or medical insurance (available when booking)
3 dinners taken on shore at guests' expense
Personal expenses
A discretionary gratuity for the crew suggested at 5% of the cruise price
LIBJE Features
Passengers: 2
Category: Charming Class
Crew: Captain Ian and Chef Jane with 2 friendly barge dogs
Barge Size: 80 ft long
Cabins: 1
Cabin Size: 138 sq ft including bathroom
Accommodations: 1 cabin with queen
Heat & Air: Central heat and a woodstove in the salon



Amenities

Hairdryers
Library
Games
Bicycles
Boules
Sundeck with chairs and tables
Retractable bimini (awning) over bow seating area for shade
Minivan with A/C
Email Access: Yes
TV/DVD/CD: Yes
Electricity: 220V

Theme Cruises

Family, Custom, Seafood Cooking Class, Markets


Video to welcome you aboard
LIBJE












Cruising on LIBJE
Canal Nantes à Brest and River Oust, Brittany
Rohan to St Martin (or reverse)
​Day 1 - Transfer to ​Barge
We will meet you at our agreed pick up point in Redon around 4PM and transport you to the starting point of your cruise. Redon is an important historical town and has many riches, particularly in the old quarter. The Saint-Saveur Abbey founded by the monk Conwoin in 832 brought cultural glory and riches to the town. Redon also hosts the excellent Inland Water Transport Museum. Arriving on the barge, you'll have time to settle in or stretch your legs with a stroll along the river banks. Enjoy your welcome champagne dinner on board as we discuss your cruise in detail.

Day 2 - St Martin to Malestroit with an excursion to La Gacilly
Starting from the riverside village of Saint Martin, where there is a cider maker and a lovely little country bar/restaurant which specializes in mussels, we set off upstream to cruise towards Malestroit through some of the prettiest stretches on the river Oust. We pass through natural woodland and unspoiled countryside, passing some of the prettiest locks on the canal. After lunch, we take an excursion to the artisan village of La Gacilly. You will have the chance to visit the various craft shops and the local 'vegetarium' museum dedicated to the plant world. Here too is the home center of the famous Yves Rocher beauty products. A true highlight of La Gacilly is the International Photo Festival from June through September - France's largest outdoor photography exhibition.
Malestroit: Founded in 978, this medieval town with its winding streets has many half timbered houses with overhanging gables liberally decorated with wood carvings. Malestroit hosts a street market on Thursday morning. In the town's church, some ancient Roman-Gallo frescoes were recently discovered on the ceiling of the oldest part of the church during renovation. At nearby St Marcel is an excellent museum devoted to the resistance struggle in the second world war. We often visit the nearby standing stones at Monteneuf, a smaller version of Carnac, discovered only 30 years ago. Dinner can be taken in one of the varied restaurants in town.

Day 3 - Malestroit to countryside mooring
We start the day with a visit to Rochefort-en-Terre, listed as one of the 'Prettiest villages of France'. Visit the many antique shops, artisan workshops and spectacular flower displays throughout the village. Rochefort won the village with best flower displays so many times that was eventually banned from entering again to give the others a chance! Back to Libje for lunch, or perhaps we'll dine in Rochefort at one of our favorite restaurants.
In the afternoon, we cruise our way through unspoiled countryside and small villages. We stop for the evening at a quiet countryside mooring and have dinner aboard or go to a lovely little countryside restaurant.

Day 4 - Countryside to Josselin
This morning, we pass through some of the prettiest countryside on the cruise, we arrive at one of the best and most famous canal views in France. As we round a bend in the river Oust, you see the magnificent chateau of the Rohan family towering above the river. We moor below the chateau walls and explore the medieval streets of Josselin in the afternoon. We also visit Chateau Kerguehennec, an 18thC chateau that has recently been restored. It is surrounded by extensive gardens and is host to a superb arboretum.The upstairs rooms of the chateau are used as a modern art gallery.

Day 5 - Josselin
You may well want to spend more time investigating Josselin. Its pretty streets, the ancient basilica, half timbered medieval houses, the excellent large street market (Saturday mornings), the museum in the chateau itself with France's largest collection of historic dolls, the street cafes and variety of interesting family run shops; Josselin is, in many ways, the heart of the region. If we are here on a Saturday morning, a favorite thing to do is to pick the best that the market has to offer and we all have a big 'market lunch' with seafood, fresh roast chicken, country pate and sausage etc.
Alternatively, we can take you down to the south coast of Brittany for the day to visit the historic town of Auray with its chic shops, seafood restaurants and impressive old port situated on an inlet from the Gulf of Morbihan. Auray was made famous as the landing place of US President Franklin Roosevelt who signed an accord with the French. We can visit the spectacular 17C fortress at St. Louis that was built by the Spanish to protect the entrance to Lorient Bay when they were allied with Brittany. The fort now houses 3 museums dedicated to the French Lifeboat service, underwater archeology, the French East India Company as well as several smaller exhibitions. Dinner at one of many restaurants in Josselin.

Day 6 - Josselin to Pomeleuc
After breakfast, we set sail once more and pass beneath the walls of Josselin Chateau and past the old artisan quarter of St.Croix. After several locks and increasingly quieter and more rural scenery, we arrive at 'La Tertraie'. The stretch of canal by this lock is our winter home and is next to the pretty little village of Pomeleuc, with it's quaint little church that was founded in 1220. This is one of our favourite spots. Sit by the river and watch for otters, see the inside of the church with its quite stunning carvings. You might also want to visit the tiny little local bar that sells everything from seeds to batteries and beer. On Wednesday afternoons, many of the elderly gentlemen of the area gather to play a version of skittles that is unique to Pomeleuc. After lunch we continue upstream passing the Abbaye de Timadeuc where monks offer retreat in their peaceful surroundings. They also have one of the best bookshops in the region. We finally moor up at the market town of Rohan that gave it's name to the Rohan dynasty that still own the Chateau at Josselin. Dine in Rohan.

Day 7 - Transfer to Rennes or Redon
After a final breakfast we say our farewells and take you back to the agreed point of departure.

This is a sample itinerary and is subject to change. The itinerary is in reverse direction on alternate weeks.
Barge Cruise Reviews for ​Libje
"Jack and I (Beth), along with two friends, cruised on Libje for a glorious week in September. We felt like kids again, as we romped along the canal on foot or bicycle, while Libje floated peacefully along. We took the half board cruise which allowed us to have lunch or dinner in local restaurants, which we loved. Ian and Jane were warm and friendly hosts and took excellent care of us - Ian with his interesting and fun tours and Jane with her creative and delicious cooking. We were amazed at the abundance of flowers at nearly every lock and the picturesque villages. For a casual, laid back and thoughtfully organized barge cruise, Libje was excellent." Beth Hanson, owner of CanalBargeCruises.com 2013

"The barge and crew were superb with comfortable, pristine and quaint accommodations. Ian and Jane were fun to be with, knowledgeable, interesting and knew just when to be available and when to give us time on our own. The excursions were interesting and varied, and the barge route beautiful with wonderful walking and biking trails. Loved the flowers in the villages and the scenery. The food was great! The barge exceeded our expectations. It was one of the most truly relaxing vacations we have had." Sarah R. 2012
​