MAGNA CARTA, an 8-passenger deluxe barge, cruises on the Royal River Thames, England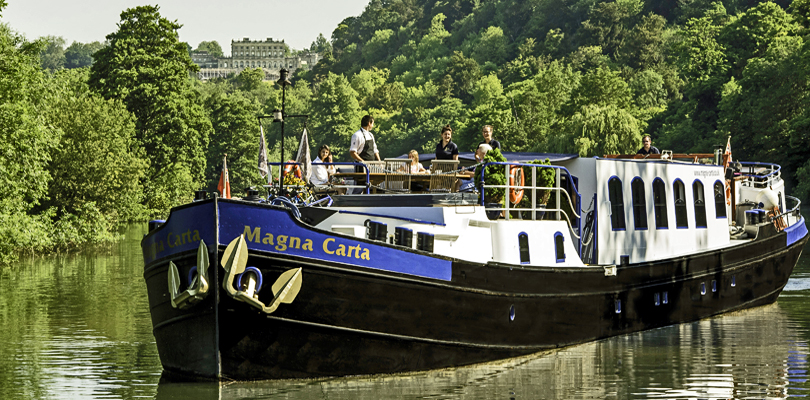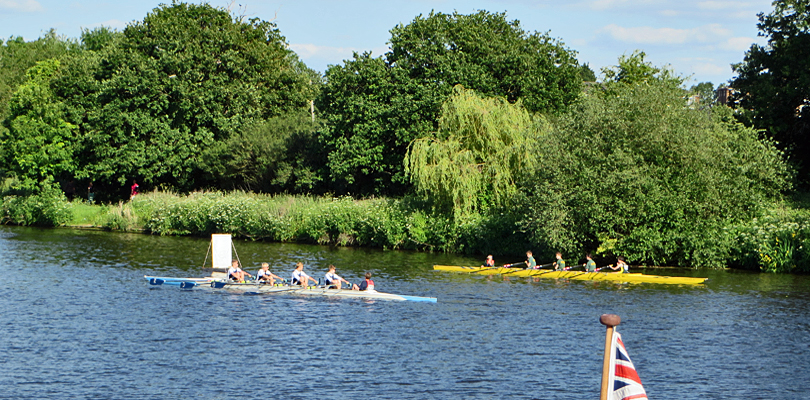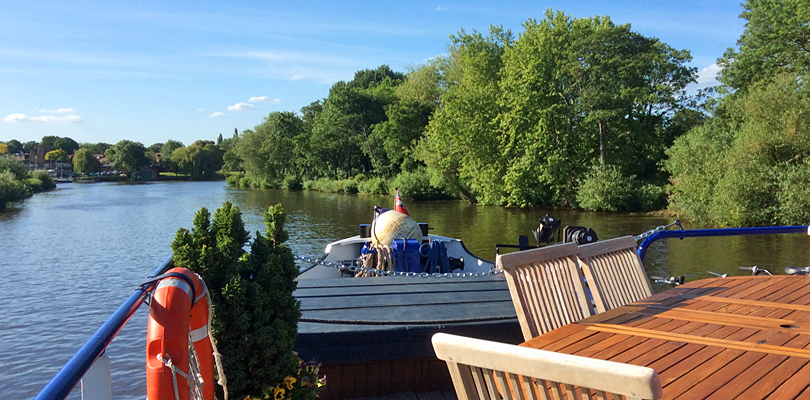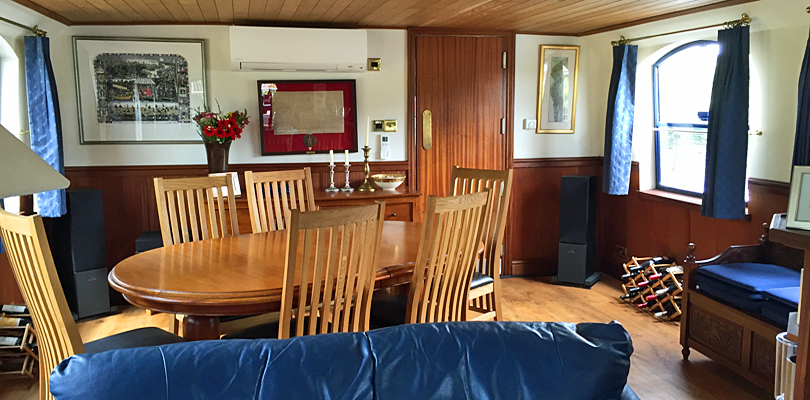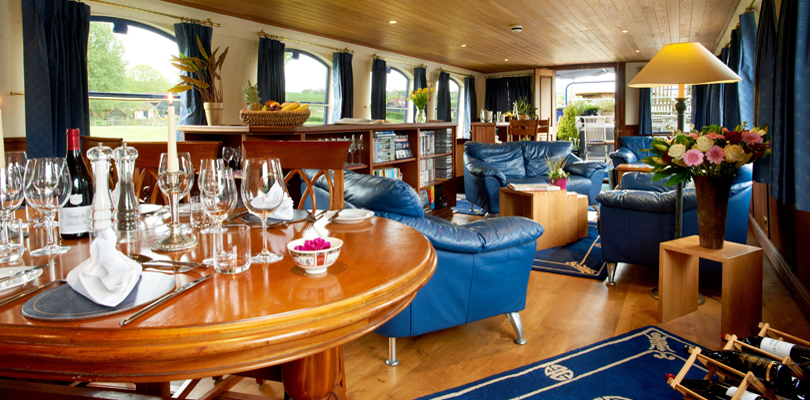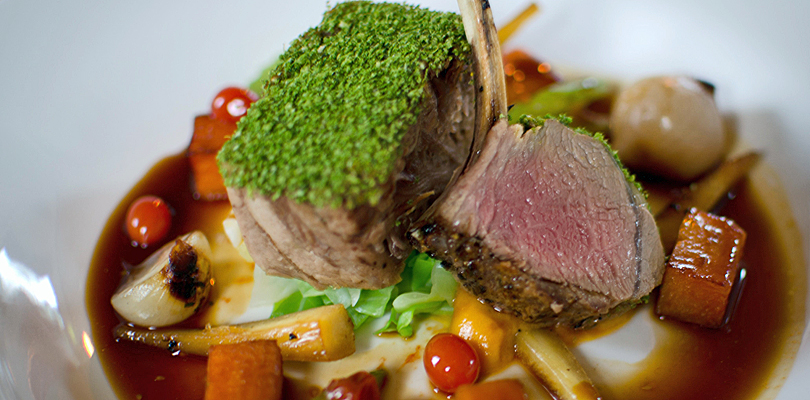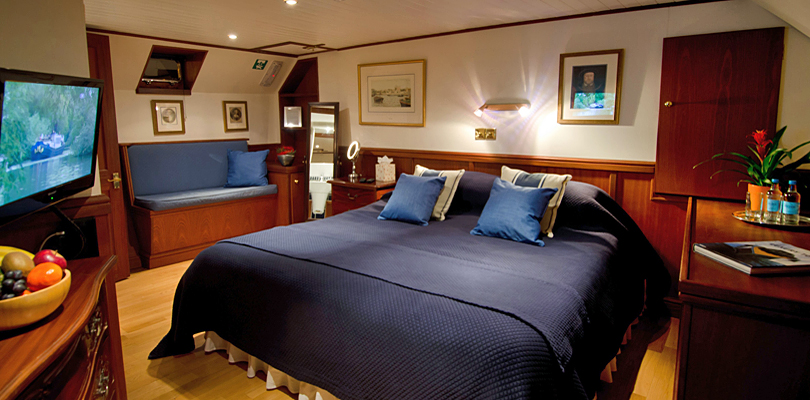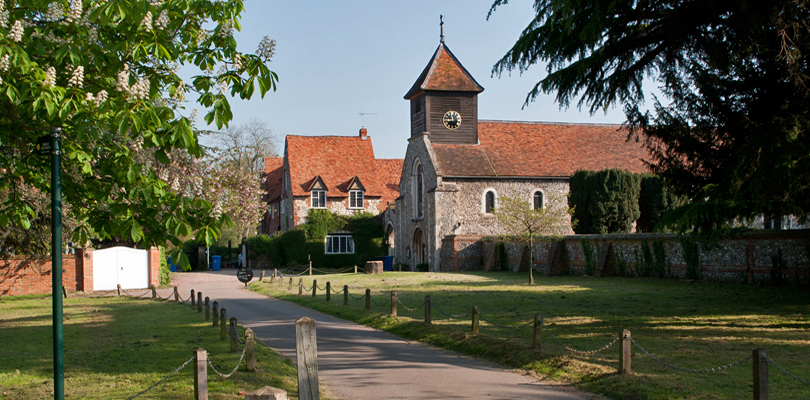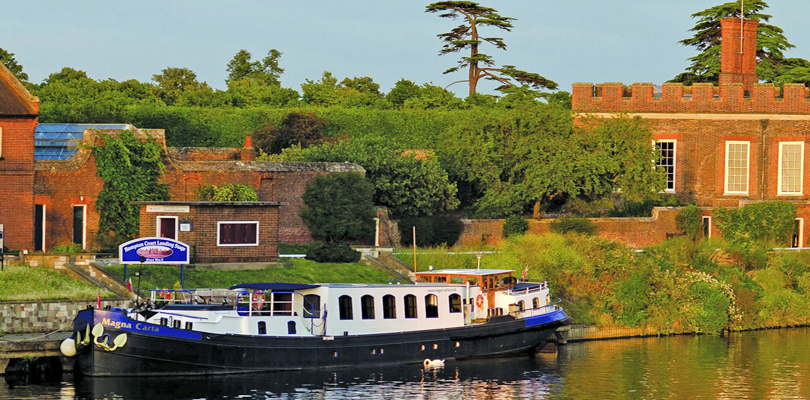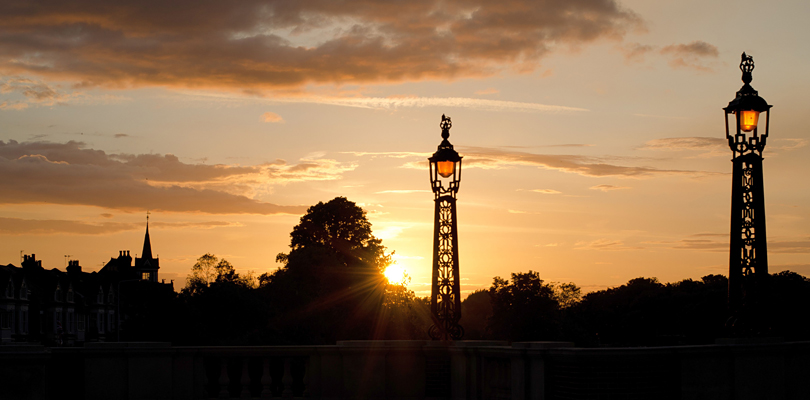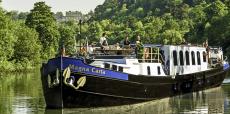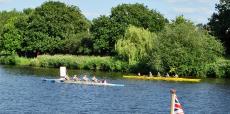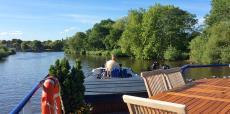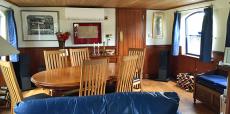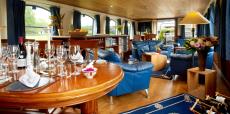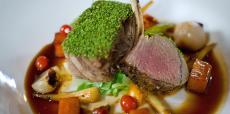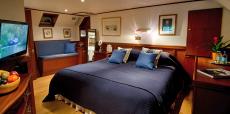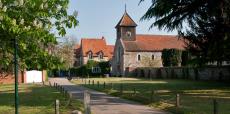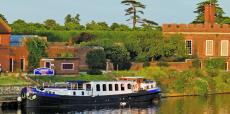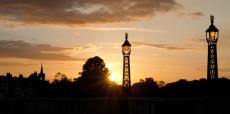 MAGNA CARTA Cruise Stops
MAGNA CARTA
is a deluxe canal barge that cruises England in luxury and elegance. Fine mahogany, teak and oak woods are beautifully incorporated throughout the barge. The large picture windows and stylish furnishing allow plenty of light and comfort in the salon and dining areas. Full width suites have spacious contemporary en-suite facilities. Mouth watering meals, fine wines, a comfortable sun deck and a spa pool to give you every opportunity to relax and truly enjoy the journey.
Cruise Highlights
English Cream Tea at the Stafford Hotel, London
Henley on Thames, Royal regatta town
Visit Tudor Hampton Court, Henry VIII's palace
Moor beneath Windsor Castle
Visit the Stanley Spencer Art gallery
A fascinating tour of Christ Church, Oxford's grandest college
Visit the Magna Carta & JFK memorials and the Saville Gardens
On certain departure dates, visit Highclere Castle, location of the Downton Abbey TV series. Please inquire.
Cruise Features
Owner Operated: ​Yes - Captain Dominic Read
Number of Passengers: 8
Category: Deluxe
Cabin Bookings: Yes
Charter Bookings: Yes
Cruising Region: Middle Thames River, between Henley and Hampton, England
Length of Cruise: 6 nights - Sunday to Saturday
Cruising Season: April - October
Theme Cruises: Family, Walking, Golf, Tennis, Antiques, Flowers, Christmas, New Year
Meeting Location: Stafford Hotel, London
Floorplan

Cruise Rates 2023
Sunday to Saturday (6 nights)



2023 Value Season Departures
April 2-8, 9-15, 16-22
October 1-7, 8-14, 15-21, 22-28

Cabin Rates

Suite per person

$ 5,550
Single supplement


$ 1,800
Charter Rates

6 passengers

$37,500

7 passengers

$39,000


8 passengers

$40,500


2023 Regular Season Departures
April 23-29, 30-May 6
May 7-13, 14-20, 21-27, 28-June 3
June 4-10, 11-17, 18-24, 25-July 1
July 2-8, 9-15, 16-22, 23-29, 30-August 5
August 6-12, 13-19, 20-26, 27-September 2
September 3-9, 10-16, 17-23, 24-30

Cabin Rates


Suite per person

$ 6,550
Single supplement


$ 2,100
Charter Rates
6 passengers
$44,100
7 passengers
$45,800
8 passengers

$47,500

Included in Cruise Price
Transportation between London and the barge
Six nights accommodation in private stateroom with ensuite bath
All meals, wine and drinks on board
Open bar
Daily escorted excursions by air-conditioned van
All barge amenities including bicycles, music system, library, etc.
Not Included in Cruise Price
Air or other transportation to the meeting location
Trip cancellation or medical insurance (available when booking)
Personal expenses
A discretionary gratuity for the crew (suggested 5-10% of the cruise price)
​
MAGNA CARTA Features
Passengers: 8
Category: Deluxe
Crew: 4
Barge Size: 117 ft long
Cabins: 4
Cabin Size: 1 queen suite at 200 sq. ft; 3 king or twin suites at 200 sq. ft, including bathroom
Accommodations: 3 suites with a choice of king bed or 2 single beds, and 1 suite with queen bed, all with ensuite bathrooms
Heat & Air: Central heat and A/C; underfloor heat in suites and bathrooms



Amenities

Hairdryers
Toiletries
Library
Bicycles
Spa pool
Sundeck with comfy chairs
Minivans with A/C
Email Access: Internet access in all suites
TV/DVD/CD: Yes, in all suites
Electricity: 220V

Theme Cruises

Family, Walking, Golf, Tennis, Antiques, Flowers, Christmas, New Year













Cruising on MAGNA CARTA
Classic England Cruise
Henley on Thames to Hampton Court (or reverse)

Attention Downton Abbey fans! On select cruises aboard Magna Carta, passengers will have the thrill of touring Highclere Castle, the location where the popular TV series was filmed. For 2017, the cruises are ​April 9, 16 and 30. Check Availability to book your cruise today.
Sunday - Transfer from London to Henley on Thames
Guests are met at the Stafford Hotel in London for afternoon English Cream Tea at 15:00, before being transferred to the Magna Carta that's moored along the famous Henley Royal Regatta course. On arrival guests receive a champagne welcome by the Captain and crew. Dinner on board.

Monday - Henley on Thames to Hurley
This morning we take a 40-minute drive to Oxford for a fascinating tour of Christ Church, Oxford's grandest college. Unusually, it was founded twice, once by Cardinal Wolsey and then by King Henry VIII. The magnificent surroundings were where Lewis Carrol wrote Alice in Wonderland. After lunch we set sail and cruise the famous Regatta Mile. Here, every year in July rowing teams from around the world compete in front of Champagne and Pimms fueled crowds. We pass through Hambledon Lock, and onwards through stunning countryside to the medieval village of Hurley. We wander through Peter Freebody's boatyard and watch in wonder as the traditional craftsmen build and restore classic wooden craft as they have for generations. Afterwards we have time to explore the ancient village including Ye Olde Belle, reputed to be the oldest inn in the country before returning to the barge. Dinner on board.

Tuesday - Hurley to Cliveden to Cookham
​On select cruises only, we are driven to *Highclere Castle (Downton Abbey). Highclere Castle is one of England's most beautiful Victorian Castles set amidst 1,000 acres of spectacular parkland. The Carnarvon family has lived at Highclere since 1679, and the current Castle stands on the site of an earlier house, which in turn was built on the foundations of the medieval palace owned by the Bishops of Winchester for some 800 years. Longstanding friend of the Carnarvon family, Julian Fellowes had Highclere Castle in mind as he wrote Downton Abbey. He often commented he wanted a house which spectacularly testified to the confidence and soaring optimism of the Edwardian period. After lunch we cruise through Bourne End and Marlow to Cookham followed by a visit to Stanley Spencer's gallery and a walk around the village. Dinner on board.
*The visit to Highclere Castle is only available on limited departures. Please ask at time of booking.

Wednesday - Cookham to Windsor
We cruise this morning through magnificent scenery into the spectacular Clivedon reach where we have special permission to moor at the house itself. Cliveden was once owned by the Astor family, though the original house dates back to 1666. The gardens are simply amazing and include a Parterre, Chinese water garden and topiary. We discuss the political intrigue and scandal for which Cliveden is famous!! Our afternoon cruise takes us through Maidenhead and Boulters Lock (made famous in Victorian times), past fabulous waterside homes in Bray and down to the heart of Windsor. We enjoy a late afternoon tour of Dorney Court. This very special home has been owned by the Palmer family for more than 450 years passing from father to son through 13 generations. King Henry VIII has stayed here and the manor is regularly used for filming including "Poirot" and "The Other Boleyn Girl" We are lucky to enjoy the house privately. Dinner on board.

Thursday - Windsor to Shepperton
A morning tour of Windsor Castle. Built by William the Conqueror in 1066 and a royal home for over 900 years, this is the largest inhabited castle in the world. We explore the State Apartments, Queen Mary's Dolls House and St George's Chapel and enjoy the far-reaching views from its elevated fortress position. During lunch we cruise and enjoy breath taking views of the castle and down through the fields of Runnymede. . Here in 1215 King John was forced to meet the powerful barons and seal this historic document, which took away absolute power from the King and later became the basis for the American Bill of Rights .We have the option to moor at Bell Weir Lock adjacent to a luxury spa hotel, where it is possible to visit and use the facilities including pool, sauna and steam room. Beauty therapies, massages and other treatments are available but are best booked in advance. Today's cruising continues to our secluded overnight mooring near Shepperton. Dinner on board.

Friday - Shepperton to Hampton Court Palace
After breakfast we spend the entire morning cruising through countryside and the delightful riverside towns and locks of Sunbury and Molesey to our spectacular mooring right outside the gates of Hampton Court Palace. After lunch we visit this magnificent palace, the finest Tudor building in existence. We can wander around King Henry VIII's apartments and the Royal Chapel, feel the chill in the haunted gallery, view Cardinal Wolsey's closet and stroll through the Tudor kitchens. Outside, the gardens are stunning. The Great Vine, the oldest in the world still produces grapes and the world famous maze awaits. Captain's Farewell Dinner on board.

Saturday - Transfer from Hampton Court Palace to London
Following breakfast, disembark the barge for your transfer to the designated drop off point in London.

This is a sample itinerary and is subject to change. The itinerary is in reverse direction on alternate weeks.


MAGNA CARTA Barge Cruise Reviews
"The barge and crew are the best we've experienced to date - the entire crew were exceptional. The captain, chef and crew made it most memorable. The cabin accommodations were generous and most comfortable. The excursions were great - we would have liked more time at Oxford. We didn't realize how much we would enjoy cruising down the Thames. We so enjoyed the entire experience - their "package" of barge, itinerary, outstanding food and crew is "spot on."
Beth, your service was excellent, as always! You are one of the best travel people I have ever worked with! Your site is most effective and the quality of the pre-trip information was thorough and helpful. You covered all the bases. I wish you handled other travels beyond barging! Many, many thanks to you, Beth, for arranging such a wonderful barge holiday for us!"
Nancy and Bill S.