MAGNOLIA, a 6-passenger charming class charter barge, cruises in Southern Burgundy, France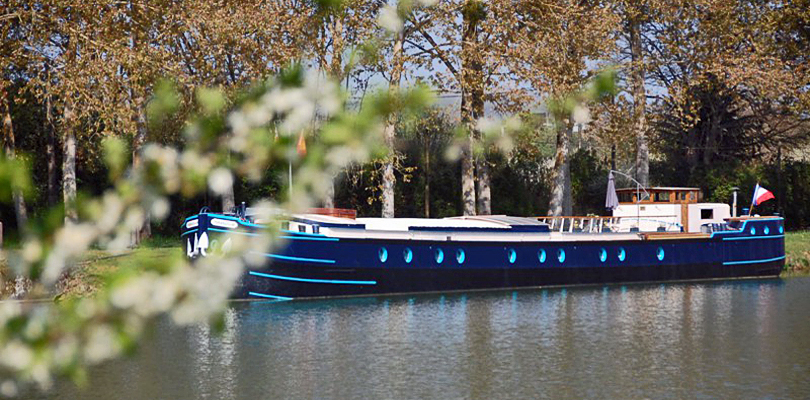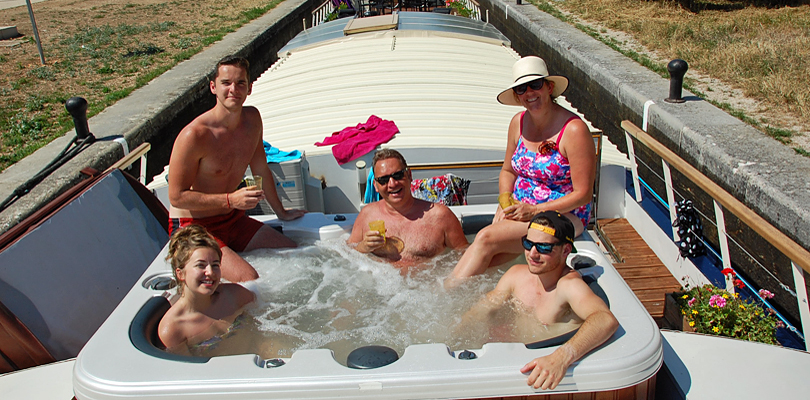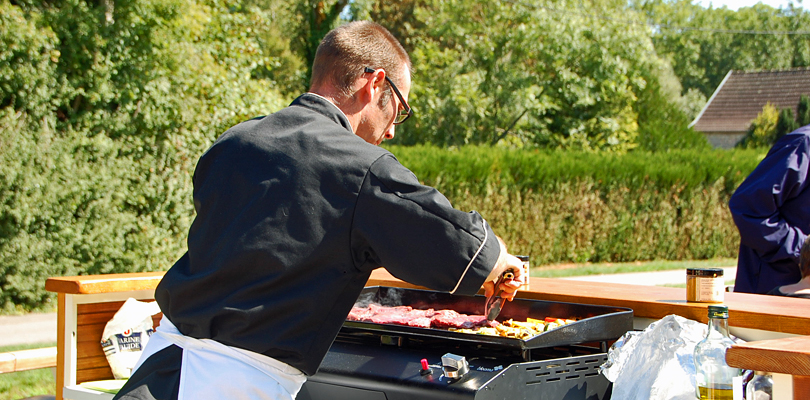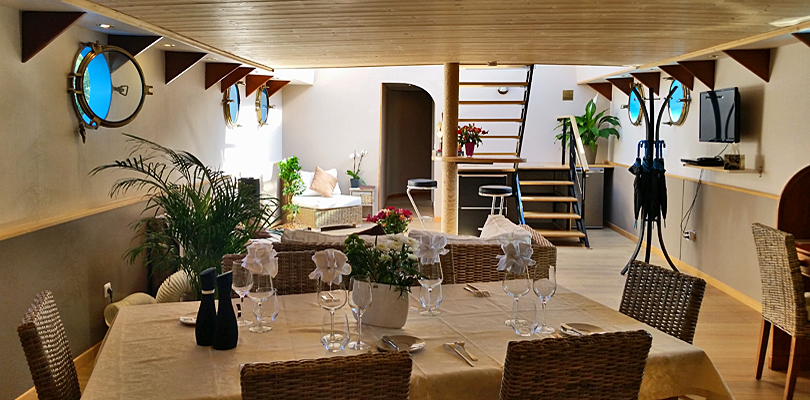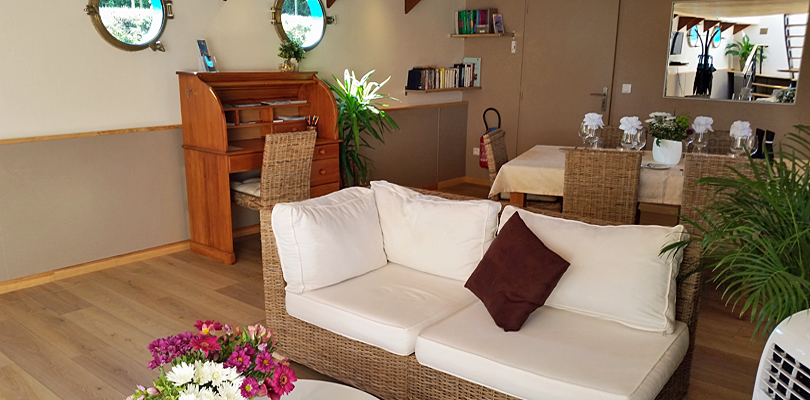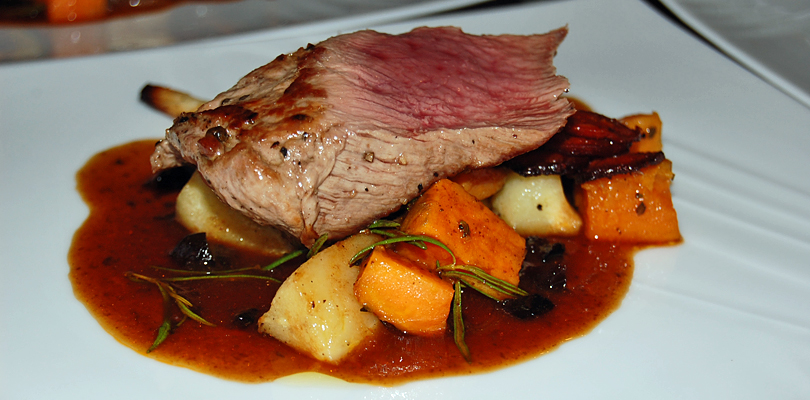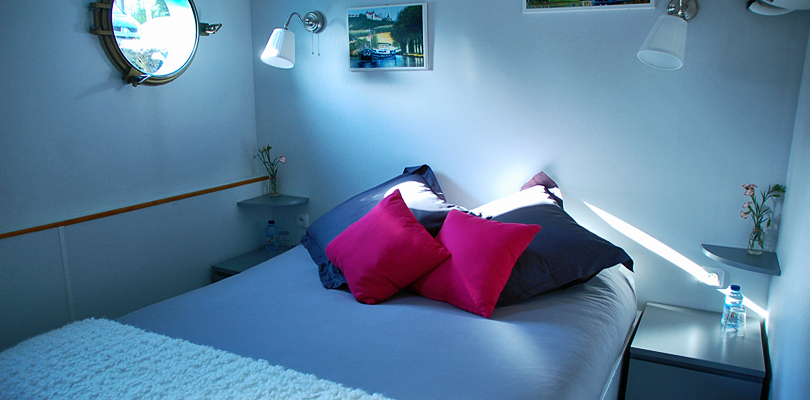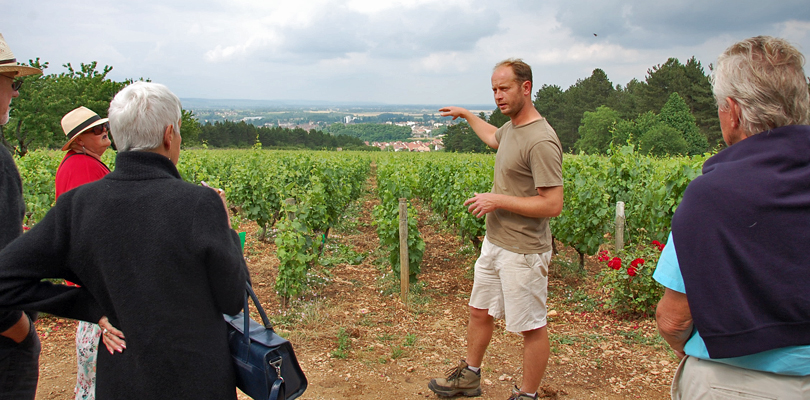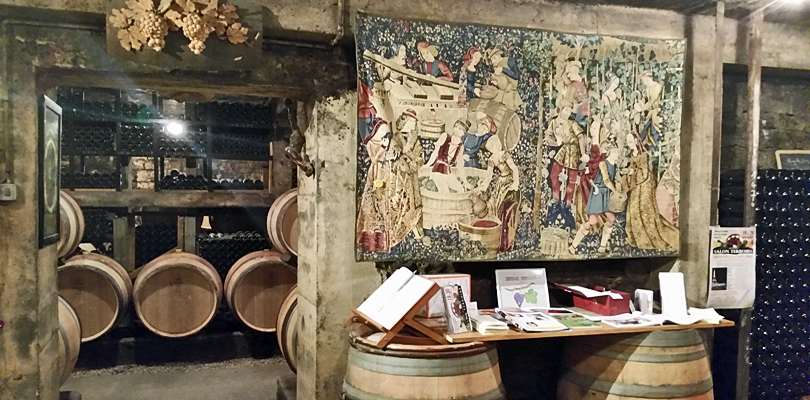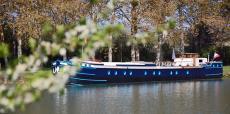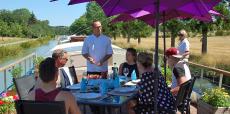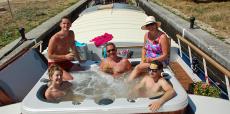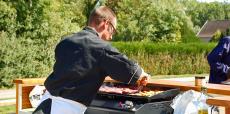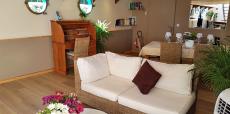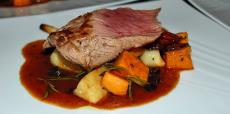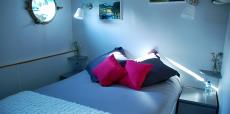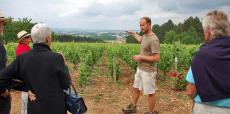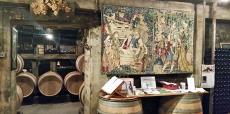 MAGNOLIA Cruise Stops
MAGNOLIA is a very welcome addition to our fleet operated by experienced French owners Magali and Nicolas Rancelot. Speaking fluent English, they offer an authentic French experience highlighting the best of Burgundy along with their local knowledge of the region. They have beautifully remodeled their boat with tasteful contemporary ​decor and boast the largest cabins available in the charming class category. Relax in the large and comfortable salon​ or lounge on the 2 decks as you enjoy the beauty of the peaceful Burgundy canal. ​Guests enjoy diverse dining on this half board cruise with 3 dinners and 1 lunch taken on shore at ​guests' expense​.
This is the perfect cruise for friends and family to enjoy the experience of barging at a very reasonable price.
Cruise Highlights
Authentic French dinner at the home of Magali's parents
Visit to the medieval chateau of Clos de Vougeot in the renowned Cote D'Or wine region
Enjoy a ​delightful wine tasting at a local family owned cellar​ in Vosne-Romanée
Visit a truffle farm to learn all about truffle hunting with trained dogs
Stroll around Dijon's medieval quarter, the Ducal Palace and the famous Dijon mustard shop
Visit Beaune, the wine center of Burgundy, and tour the historic Hospice de Beaune built in 1443
Stroll through the beautiful hilltop village of Chateauneuf-en-Auxois and visit the castle
Unique lunch on deck "a la plancha" with products selected at the Dijon market with Magnolia's chef
Ample time to walk or bike the towpaths along the canal
Cruise Features
Owner Operated:
Yes - Magali and Nicolas Rancelot with their friendly barge dog, Gypsy, who is not allowed in the passenger area.

Number of Passengers:
6
Category:
Charming Class
Cabin Bookings:
No
Charter Bookings:
Yes
Cruising Region
: Canal du Bourgogne, Southern Burgundy, France
Length of Cruise
: 6 nights - Saturday to Friday
Cruising Season
: April - October
Theme Cruises:
Family, Custom
Meeting Location
: Dijon
​train station
Floorplan

Cruise Rates 2023 - Charter only half board
Saturday to ​Friday (6 nights)



2023 All Season Departures
April 1-7, 8-14, 15-21, 22-28, 29-May 5
May 6-12, 13-19, 20-26, 27-June 2
June 3-9, 10-16, 17-23, 24-30
July 1-7, 8-14, 15-21, 22-28
August 12-18, 19-25, 26-September 1
September 2-8, 9-15, 16-22, 23-29, 30-October 6
October 7-13, 14-20, 21-27, 28-November 3

2023 Charter Rates - All meals included except 2 lunches and 2 dinners on shore at guests' expense

2 passengers
$​15,000
4 passengers

$​19,600

5 passengers

$​​23,000

6 passengers


$​2​6,400

Included in Cruise Price
Transportation between train station in Dijon and the barge
Six nights accommodation in private cabin with ensuite bath
All meals except 2 dinners and 2 lunches on shore at guests' expense. Restaurants will be arranged with transportation provided.
Open bar
Guided tours with entrance fees. Excursions are by air-conditioned vehicle
All barge amenities including bicycles, music system, library, etc.
Not Included in Cruise Price
Air or other transportation to the meeting location
Trip cancellation or medical insurance (available when booking)
Personal expenses
2 dinners and 2 lunches on shore at guests' expense
A discretionary gratuity for the crew (suggested 5-10% or more of the cruise price)
​
​MAGNOLIA Features
Passengers: 6
Category: Charming Class
Crew: 4 - Captain Nicolas, Tour Guide Magali, chef and hostess along with Gypsy, the friendly barge dog who is not allowed in the passenger area
Barge Size: 131 ft long
Cabins: 3
Cabin Size: 2 cabins at 136 sq. ft. and ​1 cabin at 1​​58 sq. ft​.
Accommodations: ​All cabins have queen or twin beds
Heat & Air: Central heat and air conditioning



Amenities

2 sundecks - 1 with table and chairs for dining and 1 with jacuzzi spa
Outdoor kitchen "a la plancha" on deck
6 bicycles - new for 2016
Minivan with A/C
​Internet Access: ​WiFi (limited in remote areas) and PC
TV/DVD player and iPod dock
Electricity: 220V

Theme Cruises

Family, custom
Cruising on MAGNOLIA in Burgundy
Burgundy Canal, Southern Burgundy
​Dijon to Escommes (or reverse)

Saturday - Transfer from Dijon to Barge
Guest are met at the Dijon train station at 3:00 PM and chauffeured to the ​barge moored ​in Dijon. Enjoy a welcome drink aboard and time to meet the crew and captain. Then settle in for a short cocktail cruise to Plombières. Dinner on the barge.

​Sunday - Plombières to Fleurey-sur-Ouche
After breakfast, we cruise to Fleurey-sur-Ouche​, with plenty of opportunity to cycle and walk along the towpath exploring small villages along the route or just sitting on the deck and watching the world glide by. The Ouche Valley is known for its dense deciduous forest, wild boar, deer and birds of prey. ​Following brunch on board, we visit Clos de Vougeot, built in the 12th century by the monks of Citeaux, ​before enjoying a wine tasting at Domaine Rion in Vosne Romanée. Dinner at "Le Petit Repère du Goût" in Fleurey at guests' expense.

​Monday - Fleurey-sur-Ouche to Lock 34
This morning, ​we cruise along the canal to our mooring at Lock 34, where we have lunch on board. In the afternoon, we visit a truffle farm at l'Or des Valois" to experience a truffle hunt with dogs and a tasting. Dinner at Lock 34, an authentic lock house converted into a welcoming gourmet "guinguette" for canal side dining, at guests' expense.

​Tuesday - Lock 34 to La Bussière
After breakfast we visit Dijon, the capital of the Dukes of Burgundy. ​Walk through the covered market, built by Eiffel, accompanied by Magnolia's chef who will help you ​choose the fresh products that he​'ll cook for lunch "à la plancha" on ​the deck's outdoor kitchen. In the afternoon, cruise to La Bussière. ​Dinner at L'Abbaye de La Bussière at guests' expense.
Wednesday - ​ La Bussière to Pont d'Ouche
Morning cruise to Pont d'Ouche with lunch on board. In the afternoon, drive to the historic town of Beaune, the capital of wine production in Burgundy. Tour the world famous Hospice du Beaune built in 1443. Free time to browse the town and shop. You are welcomed at the home of Magalis' parents for a "home hosted" dinner ​in ​typical Burgundy style.

Thursday - Pont d'Ouche to Escommes
​The morning is spent cruising to Escommes. Plenty of time to walk or bike the towpath along the way. Or spend the time relaxing on deck and taking in the beautiful scenery. After mooring in Escommes, ​guests will have lunch in Chateauneuf-en-Auxoix or "Chez Lucotte", a traditional French restaurant in Villeneuve-en-Auxois, at guests' expense. Afterwards, a visit to Chateauneuf-en-Auxois, a 12th century castle and medieval village with winding cobblestone streets and stunning views of the countryside. Farewell dinner on board.

Friday - Transfer to Dijon
After breakfast, guests disembark and transfer to Dijon train station by 10AM.
This is a sample itinerary and is subject to change. The itinerary is in reverse direction on alternate weeks.
Barge Cruise Reviews for Magnolia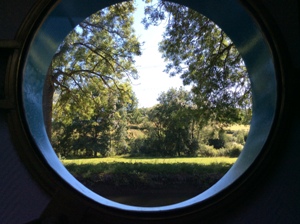 "The barge was beautiful and spacious, the crew helpful, very upbeat, knowledgeable, and they went above and beyond in every way. There were lots of nice touches -- fresh flowers everywhere, an assortment of high end toiletries, a wonderful and reasonably priced assortment of wine right on the premises. Excursions were just right -- a few hours each day with plenty of time back on the barge to walk or bike alongside or just lounge around. Each excursion was different and fascinating, Magali was an excellent tour guide, and it was nice to be just six in our private tour." Sharon P.
"Fantastic! The rooms were larger and better appointed than expected. The photos don't do them justice. The hot tub was an appreciated extra feature. All the excursions were wonderful -- each different and fascinating. The cruise route was interesting and peaceful. The trail alongside the canal was perfect for walking and biking." Susan R.