PROSPERITE, an 8-passenger ultra deluxe barge, cruises in Southern Burgundy, France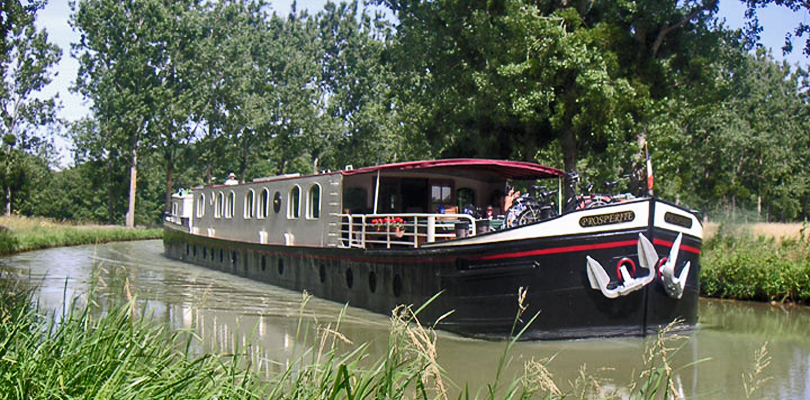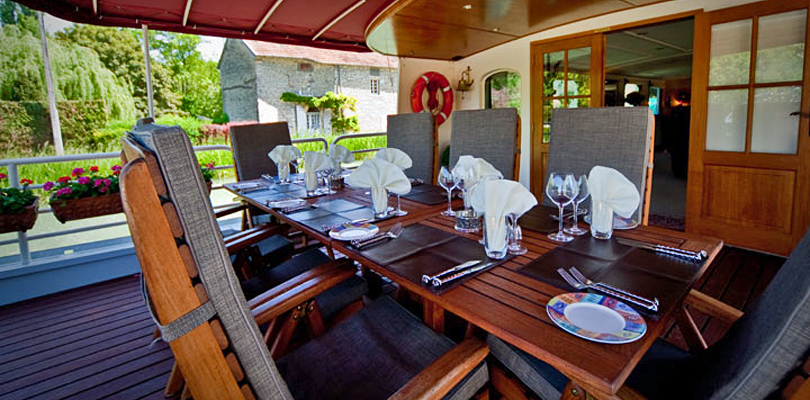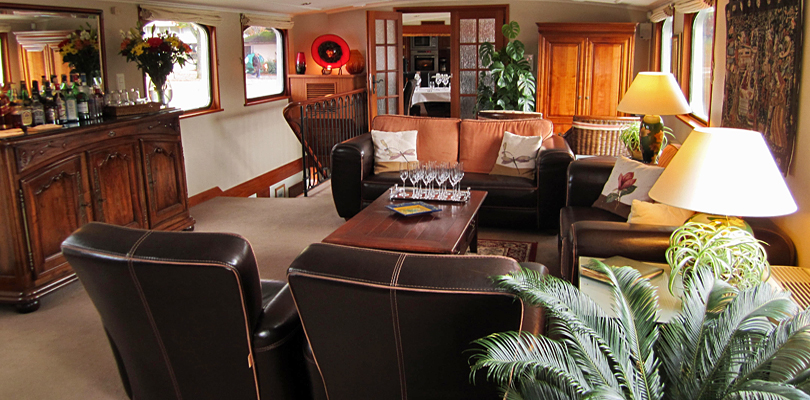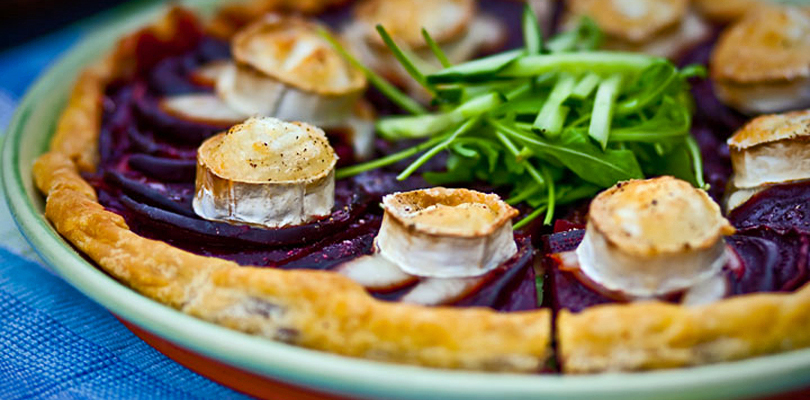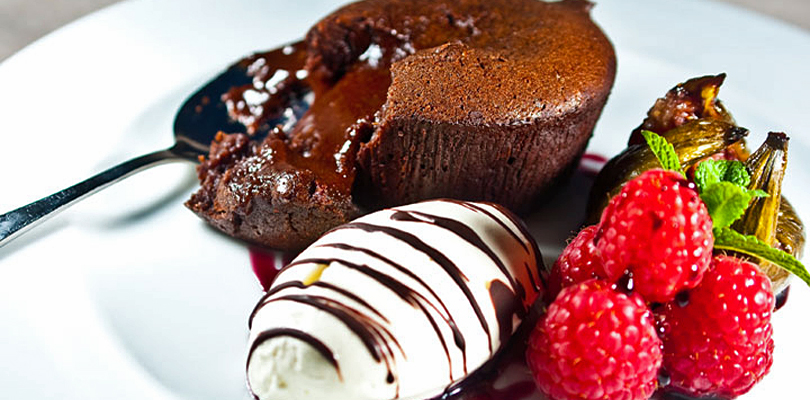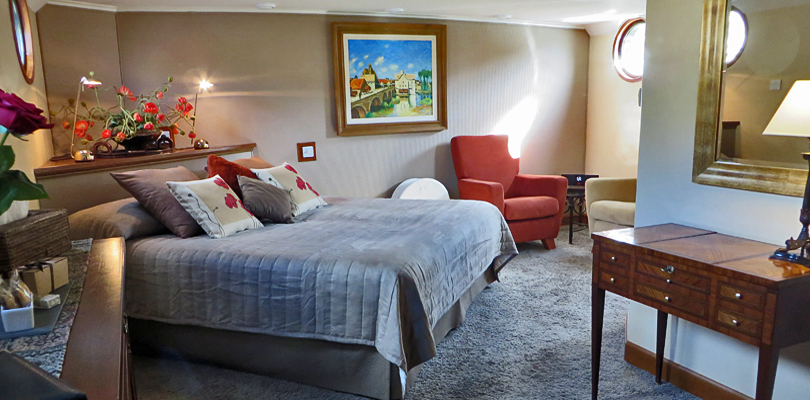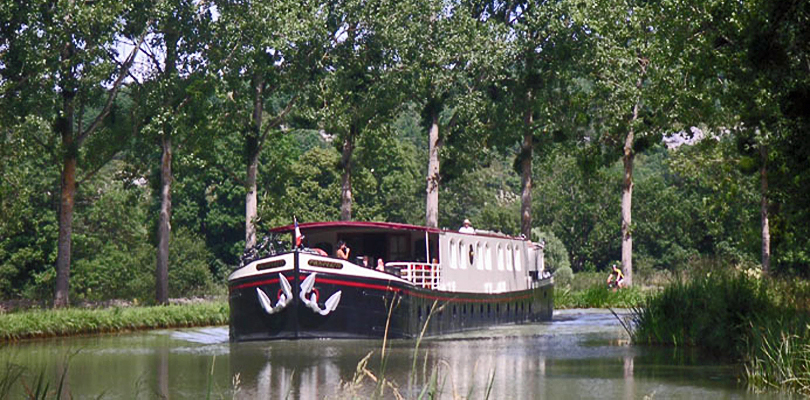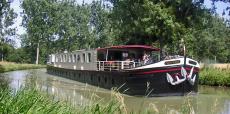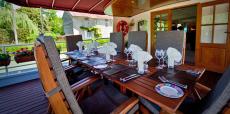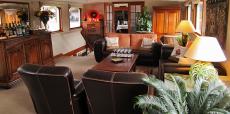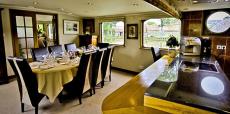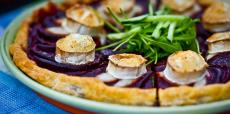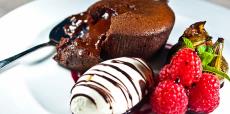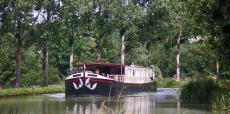 PROSPERITE Cruise Stops
PROSPERITE is one of the most luxurious barge cruises in France well deserving of its "ultra deluxe" rating. With Operations Manager Spencer Hayes and Tour Guide/Barge Manager Rejane Hayes managing the experienced crew of 6, Prosperite combines luxurious contemporary styling with the warmth and comfort of traditional barge cruising. Rare in the world of barging is the demonstration kitchen where guests may watch the chef prepare gourmet fare. Huge suites of 270 square feet boast large twins or king size beds with the added feature of a tub and shower in the spacious bathroom. With a hot tub on deck for relaxing with a glass of wine - bliss! Cruising on the popular Burgundy Canal with excursions to the highlights of the Cote d'Or wine region, this could be one of your best vacations ever!
For those loving an elegant environment with a casual atmosphere, Prosperite is the ultimate barge for private charters celebrating special occasions and the good life!
Cruise Highlights
Cruise the picturesque Valley of the Ouche River
Route des Grands Crus
Wine tasting at the medieval chateau of Clos de Vougeot
Colorful 'Les Halles' covered market of Dijon
Tour of historic Dijon town center and Ducal Palace
Dinner at the Restaurant Gastronomique at the gorgeous new hotel at Abbaye de la Bussiere
Hospice of Beaune located in the town of Beaune, the wine center of the Cote d'Or
Hilltop castle and village of Chateauneuf-en-Auxois
Opportunity to walk and bike along the towpaths as the barge cruises through the beautiful Vallee d'Ouche
Cruise Features
Owner Operated:
No
Number of Passengers:
8
Category:
Ultra Deluxe
Cabin Bookings:
No
Charter Bookings:
Yes
Cruising Region
: Canal du Bourgogne, Southern Burgundy, France
Length of Cruise
: 6 nights - Sunday to Saturday
Cruising Season
: April - October
Theme Cruises:
Wine, Cooking, Families, Golf, Custom
Meeting Location
: 2:00 pm in central Paris or 4:00 pm in Dijon or Beaune - one location for all passengers
Floorplan

Cruise Rates 2023 - Charter only
Sunday to Saturday (6 nights)

2023 Regular Season Departures
April 16-22, 23-29, 30-6
May 7-13, 14-20, 21-27, 28-3
June 4-10, 11-17, 18-24, 25-1
July 2-8, 9-15, 16-22, 23-29, 30-5
August 6-12, 13-19, 20-26, 27-2
September 3-9, 10-16, 17-23, 24-30
October 1-7, 8-14, 15-21, 22-28

Charter Rates
Up to 6 passengers
$5​7,000
7 passengers
$​60,200
8 passengers

$​64,000
Included in Cruise Price
Transportation between one location in Paris, Dijon or Beaune and the barge
Six nights accommodation in private stateroom with ensuite bathroom
All meals, fine wines and open bar
9 passenger Mercedes mini-bus with guide/driver available for sightseeing expeditions and shopping
All barge amenities including bicycles, hot tub on deck, demonstration kitchen to watch food preparation.
Not Included in Cruise Price
Air or other transportation to the meeting location
Trip cancellation or medical insurance (available when booking)
Personal expenses
A discretionary gratuity for the crew (suggested 5-10% of the cruise price)
​
PROSPERITE Features
Passengers: 8
Category: Ultra Deluxe
Crew: 6
Barge Size: 128 ft long
Cabins: 4
Cabin Size: 270 sq ft including bathroom with 6'7" ceiling height
Accommodations: 4 large suites with reading corner, extra size twins or king size bed, bathroom with shower and bathtub
Heat & Air: Central Heat and Air with individual controls



Amenities

In each suite

Hairdryer
Bathroom toiletries
Bathrobe
Ironing board and iron
Safe
Bathroom with separate shower and bathtub
iPad, iPhone chargers in each suite​

Library and games
Hot tub on deck
Eight 7-speed bicycles and adult helmets
Deck for dining and lounging

Demonstration kitchen

Mercedes minivan with A/C
Email Access: WiFi with limited access
iPad and docking station for iPhone
TV/DVD/CD: Yes
Electricity: 220V with converters provided

Theme Cruises

Wine, Cooking, Families, Golf, Custom













Cruising on PROSPERITE
Burgundy Canal, Southern Burgundy
Plombieres-les-Dijon to Vandenesse-en-Auxois (or reverse)

Sunday - Paris to Plombieres-les-Dijon
A member of Prosperite's crew will meet your party at one pickup location in central Paris at 2:00 pm or, alternatively, one pickup location in Dijon, Beaune or the immediate Cote d'Or area at 4:00 pm and then chauffeur you via Mercedes Minivan to the barge, at anchor in in the petite port of Plombieres-les-Dijon, located just outside the larger town of Dijon. You'll be welcomed by the traditional champagne reception, and enjoy the first of many gourmet dinners on board.

Monday - Plombieres-les-Dijon to Fleurey-sur-Ouche
Prospérité departs Plombieres-les-Dijon - heading onto the Burgundy Canal for a tranquil morning cruise. Prospérité will go through the first of many locks. After lunch, devote the afternoon to an introduction to the Cote d'Or wine region lying south of the canal. First, we'll drive among the vineyards and villages of the "Route des Grand Crus" on the way to Clos de Vougeot a 12th century chateau where Cistercian monks learned the art of winemaking. Explore the ancient wine presses and soak in the ambience of this elegant chateau surrounded by vineyards. Then it is back to Prospérité, now moored in Fleury-sur-Ouche.

Tuesday - Fleurey-sur-Ouche to Gissey-sur-Ouche
This morning we'll drive back to Dijon for a morning devoted to this lovely town. First, we'll walk the historic district, with its colorful tiled rooftop buildings, and then stop at the Covered Food Market, which was designed by Eiffel of Tower fame! A vast selection of produce, fish, cheeses, breads, baked goods and prepared delicacies brings this bustling market to life. There will be time to browse in tiny shops lining the cobblestoned streets, too. Then it's back to Prospérité for lunch and an afternoon cruise to Gissey-sur-Ouche. On the way, what about getting out our bicycles for a meander on the towpath and into a village or two? Dinner on board ends this wonderful day.

Wednesday - Gissey-sur-Ouche to La Bussiere-sur-Ouche
A short morning cruise to Le Bussiere-sur-Ouche begins this eventful day. After lunch, we visit the adorable village of Chateauneuf-en-Auxois perched high on a hill overlooking the canal. Here is an enchanting old chateau - very simple but with history and ghosts around every corner. Then walk the cobblestoned streets of the village; perhaps one of the craft ships is open. Then it's back to Prospérité where there will be time to prepare for a Michelin-Starred dinner at Abbeye de la Bussiere, a former Cistercian Abbey now immaculately restored into a hotel and restaurant.

Thursday - La Bussiere-sur-Ouche to Pont d'Ouche
This morning, cruise deeper into the Ouche Valley to Pont D'Ouche. This is a great time to walk, bicycle or sit on deck and watch scenes of great beauty float by. After lunch, its back into the Mercedes Minivan for a cruise high point; An excursion to Beaune. This enchanting town is the wine capital of Cote d' Or; underneath its streets lie hundreds of miles of wine cellars. Visit the 14th-century hospital Hotel Dieu; it is gorgeously preserved and provides a unique glimpse of life in the Middle Ages. There may be time for an impromptu winetasting, browse the shops, or enjoy a cafe in the square. Then it's back to Prospérité to re-live the day at dinner on-board.

Friday - Pont d'Ouche to Vandenesse-en-Auxois
Our final morning cruise takes Prospérité to Vandenesse-en-Auxois. Take a last, long morning to relax! Then, it's back to the Cote d"or vineyards, passing through colorful villages on the way to a cellar tour/winetasting at Comaine Prieur-Brunet in Santenay. Return to your barge - now your home away from home - for cocktails and the festive Captain's Dinner. End your Prospérité cruise in style!

Saturday - Transfer to Paris
After breakfast, you will be chauffeured to ​one location in Paris, Dijon or Beaune. We hope to see you soon on Prospérité!
This is a sample itinerary and is subject to change. The itinerary is in reverse direction on alternate weeks.


Barge Cruise Reviews for ​Prosperite
"The barge was incredible and the crew was exceptional. The cabins great - tall ceilings, expansive bathrooms, and lots of space to move around. When compared to our hotel rooms we had later in Paris, the cabins were fantastic. Not only did we see sites and enjoy wine, but we also learned about the area and the people. When weather did not cooperate, the excursion plan was quickly re-planned and it worked out great. The Ouche canal is very picturesque. Since this was our first barge experience, it is hard to compare with other routes, but this route was perfect for walking, biking, and exploring the small villages of Burgundy. Our tour leader was very knowledgeable about the regions that we visited, but she could only share her knowledge with the passengers who sat closest to her. It would be nice if she had a system to broadcast her voice within the van. (This suggestion has been relayed to the barge owner). Thank you for making this an adventure of a lifetime." Archie A.
***************************
"Our trip was a stupendous success. The barge, staff, route, amenities, food and wine were above reproach. I would recommend this to most. Since our return I have told others that in all my travels (considerable), I can only think of two that I would recommend. This is one." S. Harris