RANDLE, a 4-passenger charming class barge, cruises the Nivernais Canal in Northern Burgundy, France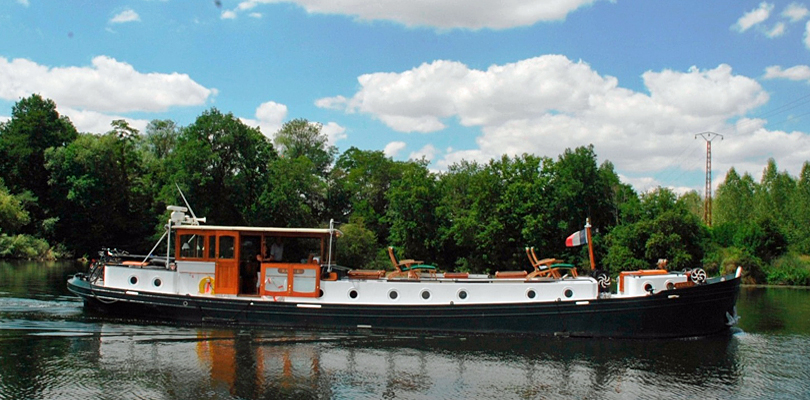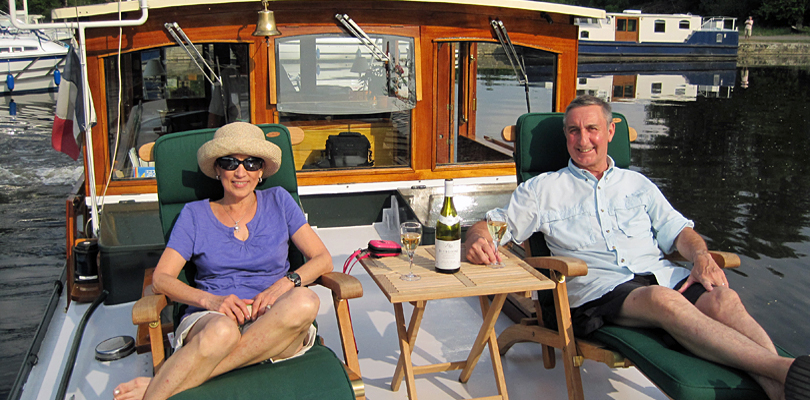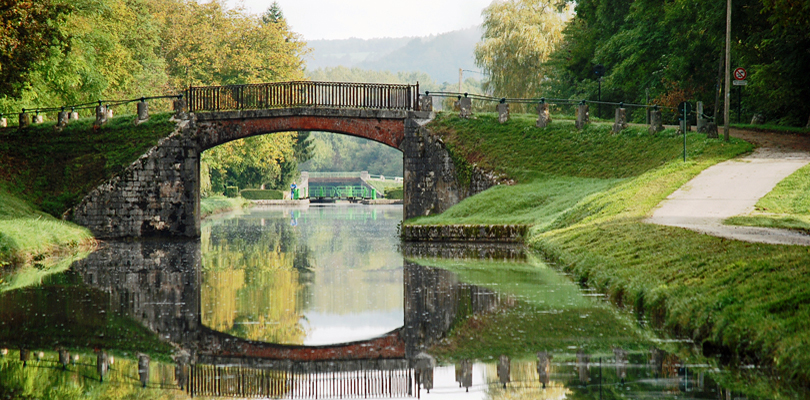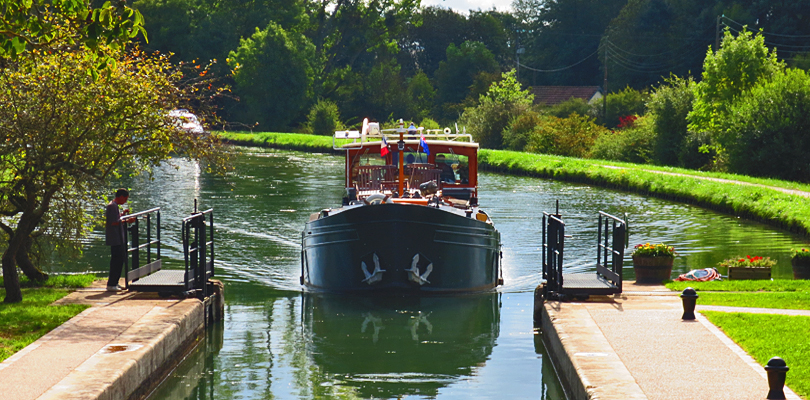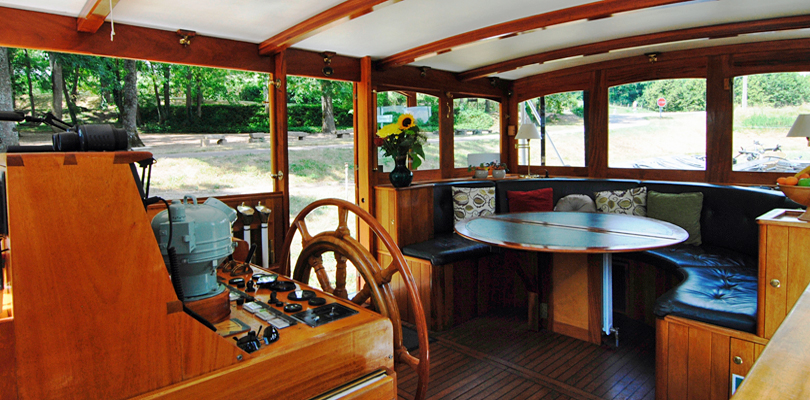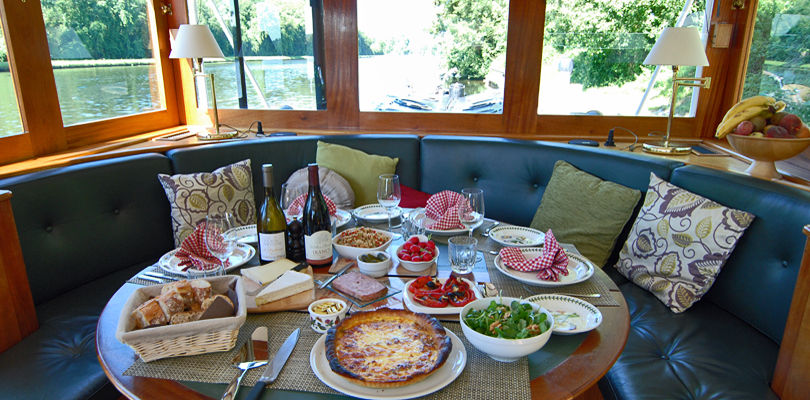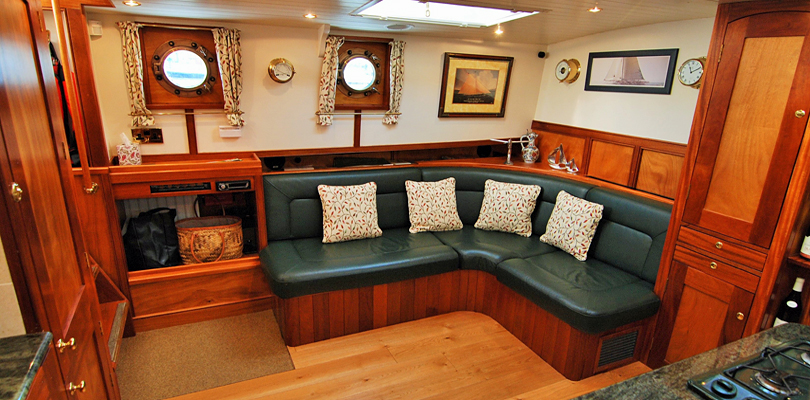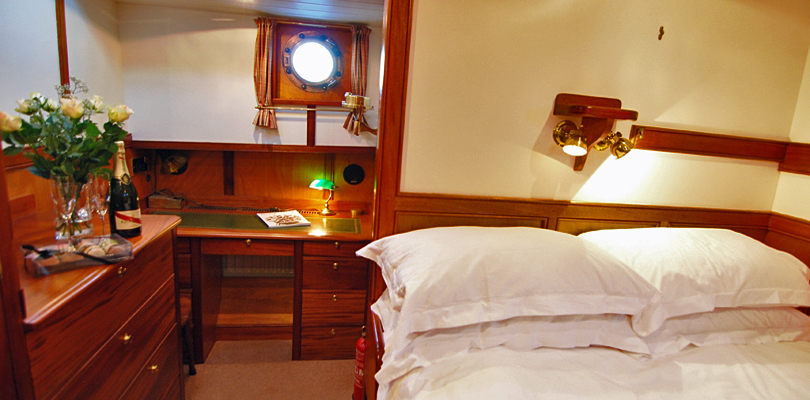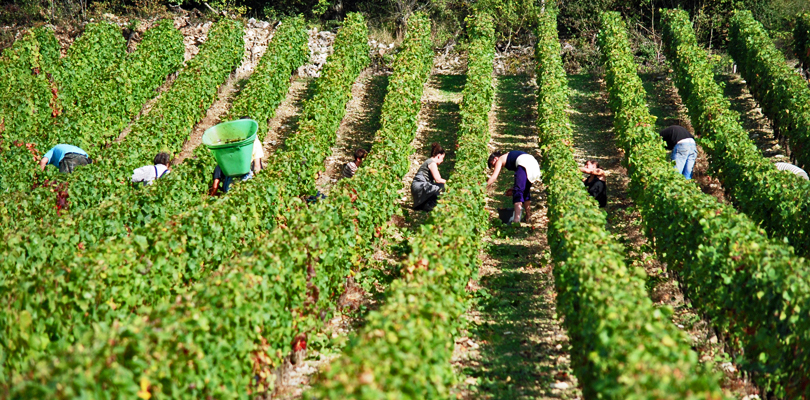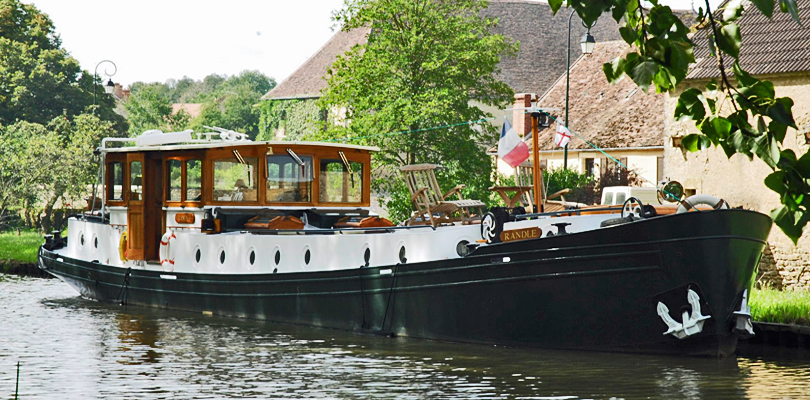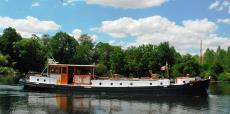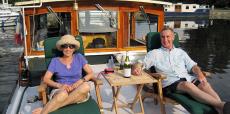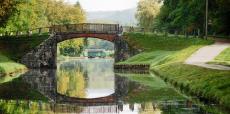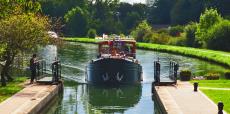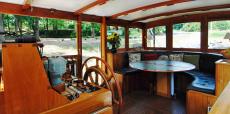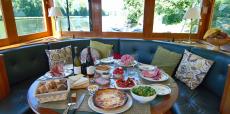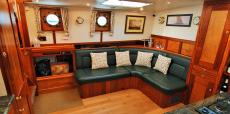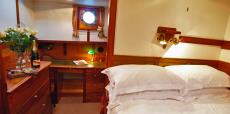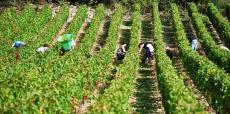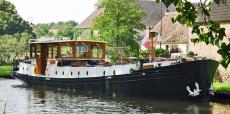 RANDLE Cruise Stops
RANDLE is a beautiful and classically styled river boat constructed by English craftsmen in 2001, with all the facilities demanded by our modern cruising clientele. Varnished hardwood, granite and marble surfaces compliment the comfortable interior. The barge is powered by a slow running 1939 vintage engine for relaxed cruising, and crewed by a professional English company of three, Captain, gourmet chef and tour guide. Owner/Captain Tim's priority is to make your cruise through France as enjoyable as possible. When you charter Randle, the time is yours!

Cruise Highlights
Tour the fascinating Chateau de Bazoches, home of the Marquis de Vauban, France's great military engineer
Visit the hilltop artisan village of Vezelay and the beautiful Basilica of Mary Magdelene
Enjoy a private wine tasting in the charming village of Chablis
Explore Auxerre, the bustling market town of the Nivernais Region
Walk the pretty medieval town of Noyers, with its art and craft shops
Plenty of free time to relax on deck, walk or bike the towpath or play the French game of petanque
Alternative routes are available on Randle between Clamecy and Baie on the Nivernais Canal and between Auxerre and Paris. Please contact us for more information or call 1-800-880-0071.
Cruise Features
Owner Operated:
Yes - Captain Tim Harrold
Number of Passengers:
4
Category:
Charming Class
Cabin Bookings:
No
Charter Bookings:
Yes
Cruising Region
: Nivernais Canal, Northern Burgundy, France
Length of Cruise
: 6​ or 13 nights - Sunday to Saturday
Cruising Season
: March - November
Theme Cruises:
Classic, Family, Activity
Meeting Location
: Designated meeting point and time in Paris
Floorplan

Cruise Rates 2023 - Charter only
Sunday to Saturday (6 nights) - Charter Only



Value Season Departures
April ​2-8, 9-15
October 8-14, 15-21, 22-28

Half Board Charter Rates
2 passengers
$11,235

3-4 passengers - 6 nights

$13,218


Regular Season Departures
April 16-22, 23-29, 30-May 6
May 7-13

Half Board Charter Rates
2 passengers
$1​2,490

3-4 passengers - 6 nights

$1​4,694

High Season Departures
May ​​14-20, 21-27, 28-June 3
June 4-10, 11-17, 18-24, 25-July 1
July 2-8, 9-15, 16-22, 23-29, 30-August 5
August 6-12, 13-19, 20-26, 27-September 2
September 3-9, 10-16, 17-23, 24-30
October 1-7

Half Board Charter Rates
2 passengers
$1​4,071

3-4 passengers - 6 nights

$1​6,554
Included in Cruise Price
Transportation between Paris and the barge
All breakfasts and lunches
1 dinner on board
Wine with lunches and 1 dinner, open bar and soft drinks on board
3-4 hours of cruising each day with stops at villages and towns
Guided excursions to local sights. Excursions are flexible based on season and guests' interests
All barge amenities including bicycles
Not Included in Cruise Price
5 ​dinners taken on shore at guests' expense. Transportation and restaurant reservations provided.
Air or other transportation to the meeting location
Trip cancellation or medical insurance (available when booking)
Personal expenses
A discretionary gratuity for the crew (suggested 5-10% of the cruise price)
​
RANDLE Features
Passengers: 4
Category: Charming Class
Crew: 2-3
Barge Size: 70 ft long
Cabins: 2
Cabin Size: 1 double cabin at 100 sq ft.; 1 cabin with classic bunk beds at 80 sq. ft. including bathroom
Accommodations: 1 double, 1 bunk beds with ensuite bath
Heat & Air: Individually controlled heat and air conditioning



Amenities

Hairdryers
Bathroom toiletries
Library
Bicycles
Sundeck with teak chairs & table
iPod player & games
Minivan with A/C
Email Access: WiFi
​New Satellite TV/DVD in wheelhouse
Electricity: 220V

Theme Cruises

Family














Cruising on RANDLE
The Nivernais Canal, Northern Burgundy
Clamecy to Auxerre (or reverse)
Sunday - Transfer from Paris to Barge
You are met in Paris, Auxerre or Dijon and transferred by private car to Clamecy for a champagne reception aboard Randle. Take a short walk into Clamecy to visit the town, the Collegiale de St Martin and the Logging and Barging Museum. The narrow streets lined with ancient buildings present opportunities for shopping too. See our restaurant guide for your evening dining.

Monday - Clamecy to Lucy-sur-Yonne
In the morning, leave Clamecy for a cruise through beautiful countryside to the tranquil village of Lucy-sur-Yonne. In the afternoon there is a choice of possibilities to visit by car: Chateau de Bazoches, whose illustrious visitors included Richard the Lion-heart and later remodelled by French military architect Maréchal Vauban; Chateau Fort de Druyes, where in 1216 Pierre de Courtenay was offered the crown to the Latin empire of Constantinople; Les Fontaines salees, salt water springs dating from the end of the Neolithic era and site of Gallo-Roman baths; Vézelay, one of Burgundy's most famous treasures with the Romanesque Basilica of St Mary Magdalene, craft shops, restaurants, art galleries, and fine views of the surrounding countryside. Evening dinning at one of the local restaurants.

Tuesday - Lucy-sur-Yonne to Mailly-le-Chateau
Today, cruise through the Yonne valley to moor under the cliffs of Le Saussois for lunch. There is a path to the top to reward you with fantastic view of the surrounding countryside. After lunch, cruise on to the mooring in Mailly-le-Chateau. Enjoy a walking tour of the village set on a high ravine and stop by the fortified church overlooking the beautiful Yonne river valley, roof tops of Mailly-le-Bas and the Nivernais canal. In the afternoon there is a choice to visit by car: Grottes d'Arcy-sur-Cure, amazing illuminated caves with stalagmites, lakes, and Paleolithic cave paintings dating from around 28,000BC; the medieval fortified village of Noyers-sur-Serein, with timber buildings and ramparts from the middle ages, besieged and sacked by King Henry IV in the 17th century after a suspected plot against him. Dinner is at the La Castel in the town square for a taste of authentic France.

Wednesday - Mailly-le-Chateau to Accolay
Depart Mailly-le-Chateau in the morning, stopping for lunch at a trout farm, originally founded by Crisenon monks and revived in modern times within the walls of the old monastery. The fish are caught and served onboard just 30 minutes later. After lunch, cruise on to Accolay and our mooring for the night. In the Afternoon, there is a choice of tours by car: Escolives saint Camille, site of roman villa and bath house with a museum situated adjacent the old north/south Roman arterial route; Abbey de Regny, a beautifully preserved monastery with country gardens. Dine at the superb Hostellerie de la Fontaine in Accolay.

Thursday - Accolay to Vincelles
After a morning cruise, arrive at our riverside mooring in Vincelles. The choice of afternoon tours by car include: Irancy, a beautiful wine village where we visit the caves of William Chariot for a taste of great artisanal Pinot Noir and Caesar wines; visit the Caves de Bailly, where 8 million bottles of Cremant de Bourgogne are stored during their two year maturing process. A guided tour is also possible; visit Chablis to view the Grand Cru vineyards and into the village to sample wines, from the Petit Chablis to the Chablis Grand Cru.

Friday - Vincelles to Auxerre
A morning cruise takes us to our city mooring in Auxerre. Twice visited by Jeanne d'Arc and a cathedral citadel since the 5th century, Auxerre is dominated by the Saint Etienne Cathedral and the Saint Germain Abbey. Embracing its medieval roots with interesting cobbled streets and half timbered houses, there is more to see and do than can be possibly fitted into one day. Stop for a drink at one of the many bars and cafes and enjoy the city's active ambience. For dinner, choose from an authentic bistro to Michelin starred restaurant.

Saturday - Transfer to Paris
After breakfast aboard Randle, transfer by car to Paris, Auxerre or Dijon.
This is a sample itinerary and is subject to change. The itinerary is in reverse direction on alternate weeks.
Restaurants may be substituted based on availability.
Barge Cruise Reviews for Randle
"The barge is pristine. Built in 2001 to the highest standards, and maintained to perfection. Many people thought our barge was the prettiest on the canal. The Burgundy countryside is beautiful beyond belief. And it never seems to end. We visited four wine tastings and each visit was a private tour/tasting, which was great. This was different from an all-wine tasting trip - seeing medieval villages and towns, sitting on the deck, reading and watching lovely scenery."
Don & Judy R.