SAINT LOUIS - BORDEAUX, a 6-passenger deluxe barge, cruises near Bordeaux on the Canal de Garonne, Southwest France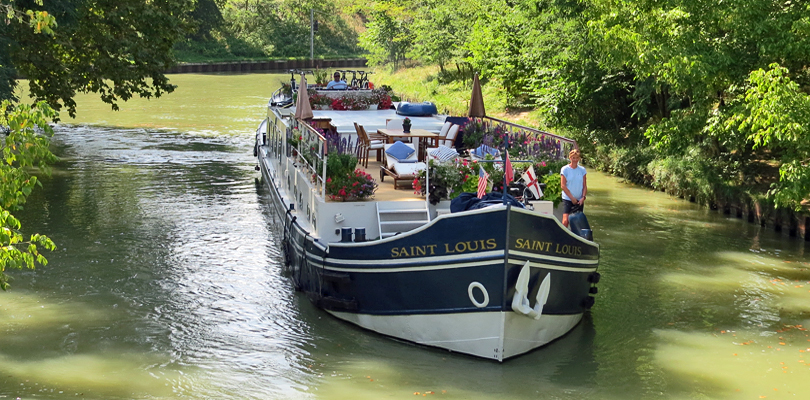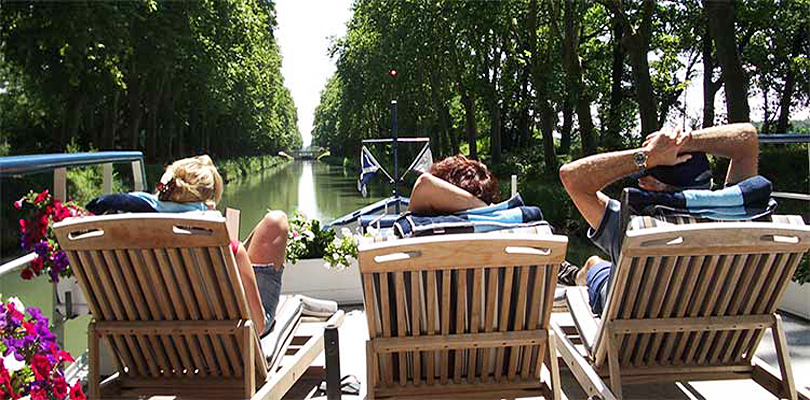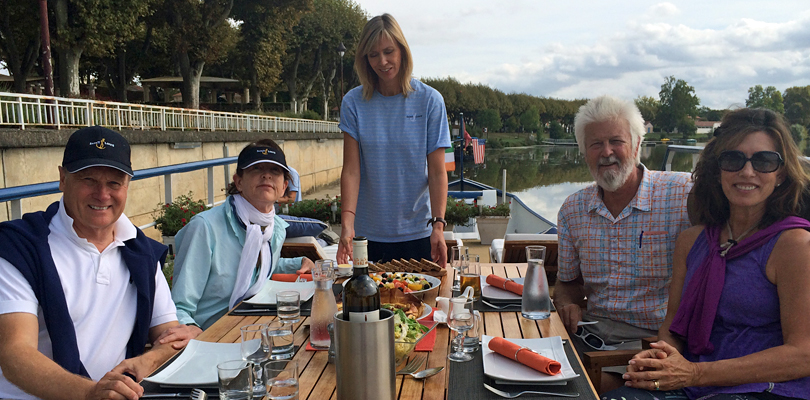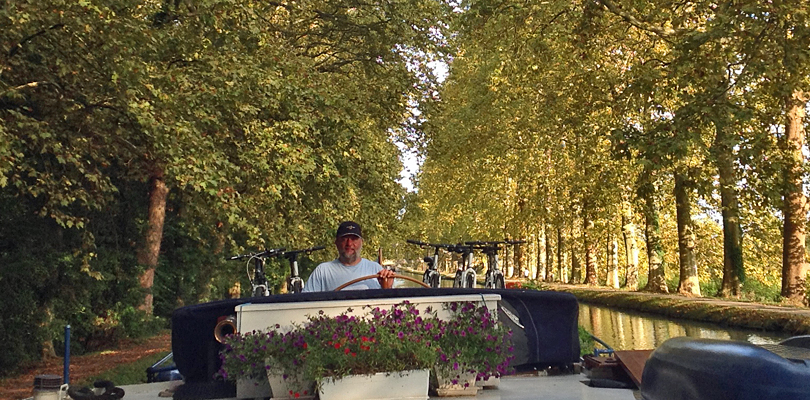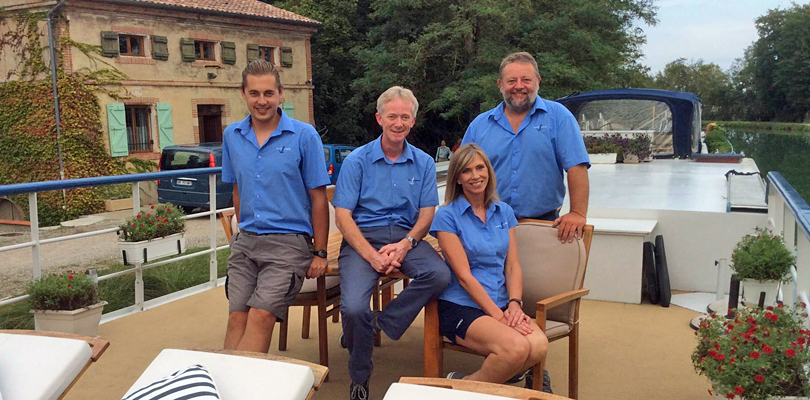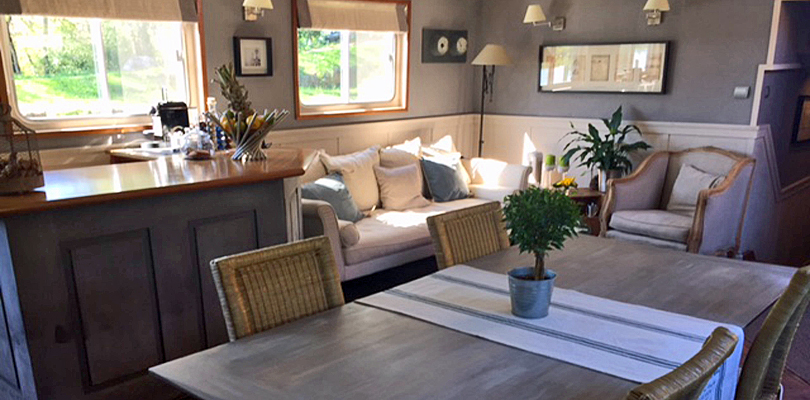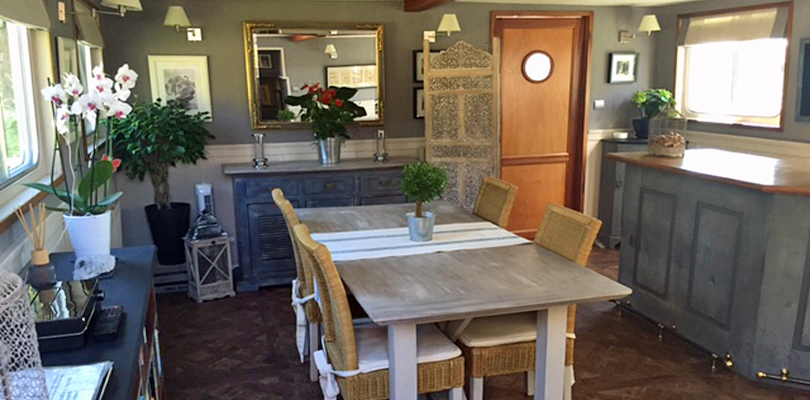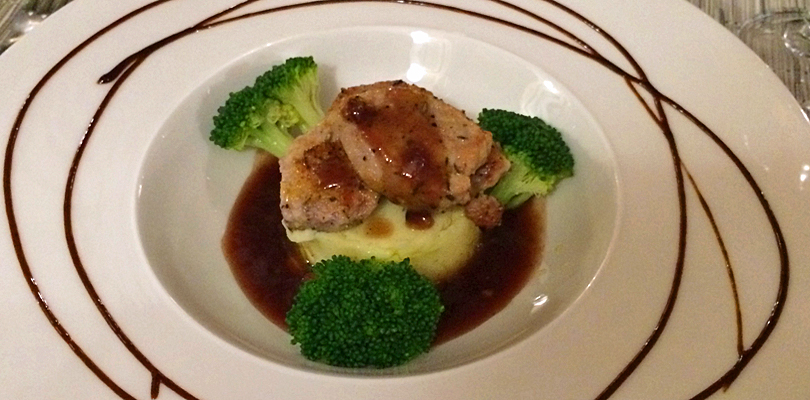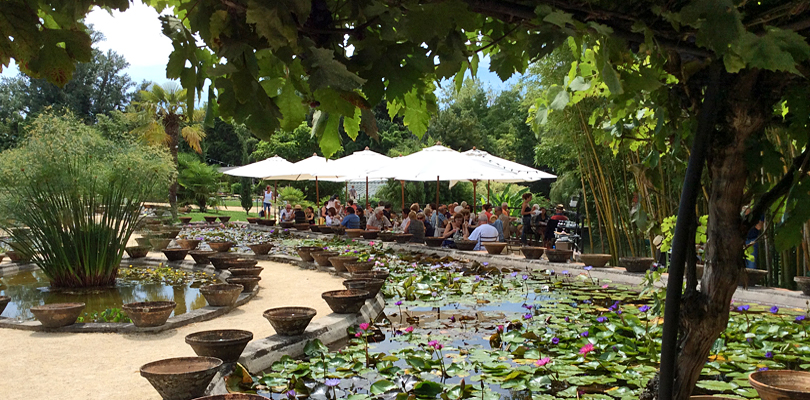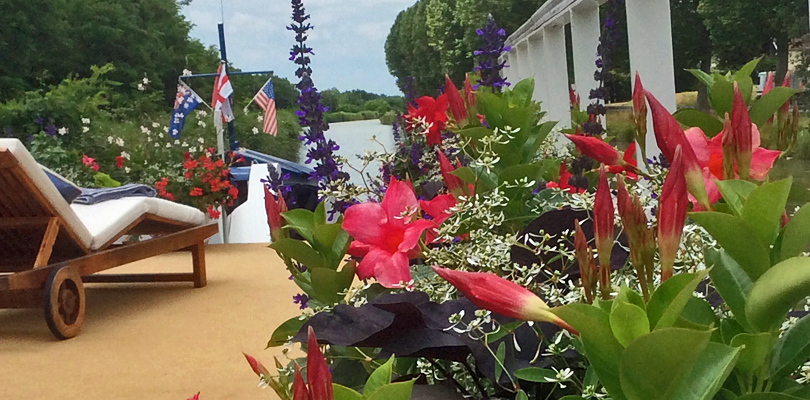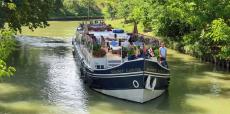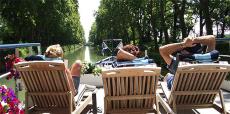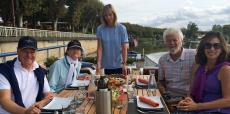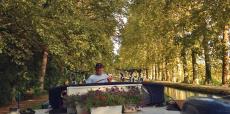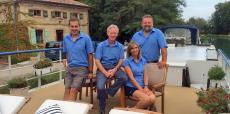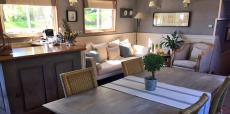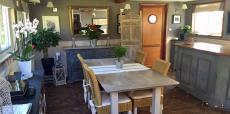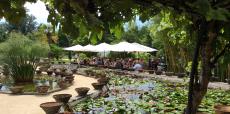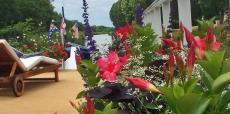 SAINT LOUIS - BORDEAUX Cruise Stops
SAINT LOUIS, a pristine deluxe barge, cruises the little known, yet beautiful, Canal de Garonne in southwest France. Just east of Bordeaux, it traverses through the historic lands of Aquitaine and Gascony. With owner-operators Chef Peter and Hostess Wendy Carrington on board, the friendly crew ensures that your barge cruise vacation is happily customized around your interests. Daily guided excursions to local sites immerse guests in regional history and culture. Peace and tranquility exude as Saint Louis passes through lush green countryside, pretty villages and memorable port towns on this quiet canal. Local French cuisine is lovingly prepared with fresh local produce accompanied by local wines and aperitifs. The Bordeaux wine region and the Dordogne valley are ideal pre or post cruise visits to round out a unique and beautiful vacation in southwest France.
Cruise Highlights
Explore the picturesque village of Serignac
Spend a fabulous day in St Emilion, exploring, shopping, lunch and a private wine tasting
Enjoy the Latour-Marliac Lily Gardens with thousands of lilies on display
A tasting of the fine Armagnac spirit tasting at a local distillery
A privately owned natural history museum with fossils, minerals and semi-precious gems
Chateau d'Arche with its famous Grand Crus Sauternes
Have leisure time to walk or bike along the towpath​
Cruise Features
Owner Operated:
Yes - Peter and Wendy Carrington

Number of Passengers:
6
Category:
Deluxe
Cabin Bookings:
On select weeks or by special request
Charter Bookings:
Yes
Cruising Region
: Bordeaux and Gascony in Southwest France
Length of Cruise
: 6 nights - Saturday to Friday
Cruising Season
: May - October
Theme Cruises:
Wine, Golf, Custom
Meeting Location
: Bordeaux or designated location
Floorplan

Cruise Rates 2023 - Charter only
Saturday to Friday (6 nights)


2023 Gascony Departures - Please call 1-800-880-0071 or inquire for itinerary
May 6-12
July 8-14, 15-21
October 14-20

2023 Bordeaux Departures
May 13-19, 20-26, 27-June 2
June 3-9, 10-16, 17-23, 24-30
July 1-7, 22-28, 29-August 4
August 5-11, 12-18, 19-25, 26-September 1
September 2-8, 9-15, 16-22, 23-29, 30-October 6
October 7-13

2023 Charter Rates

4 passengers

$29,200

5 passengers
$32,000
6 passengers

$34,800
Included in Cruise Price
Transportation between designated local meeting location and the barge
Six nights accommodation in private stateroom with ensuite bath
All meals, wine and drinks on board
Open bar
Daily escorted excursions by air-conditioned van
All barge amenities including bicycles, music system, library, Wi-Fi (10G per week)
Not Included in Cruise Price
Air or other transportation to the meeting location
Trip cancellation or medical insurance (available when booking)
Personal expenses
A discretionary gratuity for the crew (suggested 5-10% of the cruise price)
​
SAINT LOUIS Features
Passengers: 6
Category: Deluxe
Crew: 3
Barge Size: 96 ft long
Cabins: 3
Cabin Size: 127 sq ft including bathroom
Accommodations: 3 twin or queen cabins with private ensuite toilet, shower, sink; 2 windows in each cabin, 1 in each bathroom
Heat & Air: Central Heat and Air Conditioning
Ceiling Height: 6'6" in the salon



Amenities

Hairdryers and heated towel rack
Full length mirror
Dressing table
Storage
Library and games
Bicycles and helmets
Sundeck with teak dining table, cushioned
chairs & lounge chairs
Mercedes van with A/C
Email Access: Laptop with internet access; WiFi
Electricity: 220V

Theme Cruises

Wine, Golf, Custom











Cruising on Saint Louis
Canal de Garonne, Southwest France
Serignac to Castets-en-Dorthe (or reverse)
Saturday - Arrival to Serignac
In the afternoon, you will be met by a crew member of the Saint Louis at the designated meeting point. From here, relax as you are chauffeured to the barge, moored at Serignac. A traditional champagne welcome and introduction to the crew awaits you, before your first gourmet dinner onboard.
Sunday - Serignac to Buzet
Relax with a cup of freshly brewed coffee or tea on deck this morning as Saint Louis lazily cruises through the most serene of landscapes. This afternoon, your Tour Guide introduces the Latour-Marliac Lily Gardens, where thousands of water lilies are on display. This garden inspired and provided Monet with lilies for his own gardens at Giverny. Return to the barge for canapes and cocktails before enjoying another gourmet dinner.
Monday - Buzet to Lafolotte
Tour and taste this morning during a visit to a fourth-generation producer of Armagnac, the region's iconic brandy. After sampling this special spirit, select a year which signifies an important event, and watch as your own personal bottle of Armagnac is drawn from your chosen barrel, corked, and sealed. Your Tour Guide then returns you to the Saint Louis for an afternoon cruise, offering the perfect time to explore the towpath by bicycle or on foot. Or, feel free to join Chef for informal cooking demonstration before tonight's dinner.
Tuesday - Lafolotte to Forques, via La Mas d'Agenais
This morning, your Tour Guide accompanies you on a tour of a privately owned natural history museum. The owners offer a guided exploration of their unique collection of fossils, minerals, and semi-precious gems from around the world, carefully collected over 50 years of travels. Return to the barge for an afternoon cruise, stopping at the quaint town of Mas d'Agenais for a visit inside its church, where there is an original Rembrandt painting of Christ on the Cross. Then, cocktail hour precedes another multi-course gourmet dinner.
Wednesday - Forques to Meilhan
A morning cruise gently winds through gorgeous vistas and bucolic scenery. Relax on deck, or explore the towpath with a gentle pedal or leisurely stroll. This afternoon, enjoy a private visit to Chateau d'Arche, one of the top producers of Grand Crus Sauternes. Characterized by the balance of sweetness with the zest of acidity, these wines offer a lingering finish, resonating on the palate for several minutes. Return to Saint Louis, which will have moved to tonight's mooring at Meilhan, for another lovely evening of drinks and dinner.
Thursday - Meilhan to Castets-en-Dorthe
Explore St. Emilion, the most charming of French wine towns. Discover a 12th century underground church, and then enjoy luncheon ashore at a local bistro. The afternoon is spent with Saint Louis' negociant for an exclusive tasting of hand selected Grand Crus Chateaux wines. Complete the cultural immersion with time to browse St Emilion's shops and boutiques. Then, your Tour Guide returns you the Saint Louis for an evening cruise to Castets-en-Dorthe before tonight's celebratory Captain's Dinner, served onboard.
Friday - Castets-en-Dorthe to Bordeaux
After breakfast, you will be chauffeured to the designated drop off point.

This is a sample itinerary and is subject to change. The itinerary is in reverse direction on alternate weeks.
The following daily arrangements are indicative only. In keeping with our philosophy of "custom cruising," we will always adapt a cruise to the interests and wishes of the guests on board.

Barge Cruise Reviews for ​Saint Louis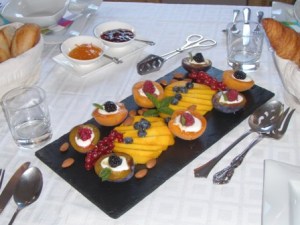 "We love the Saint Louis!!! Yes, we were disappointed that we could not move on the canal (due to trees in the canal because of a huge storm), and yes, we had a fabulous time. We have had five trees fall in our yard in the last three years and two of them fell on our house, so if anyone could be sympathetic to the situation, we could. Peter, Wendy and Minnis could not have done more to make our vacation fun and memorable. The excursions that we took were interesting. The history that our guide(s) for the day gave to us made the trip more fun. They worked hard to tailor the excursions to our interests. We saw things that we are sure that most tourists do not see. The barge is beautifully decorated. Wendy has excellent tastes. They plan to redo the bathrooms. The food was outstanding, the presentation a feast for the eyes, and the wine pairings were well done." Mary and Ed S.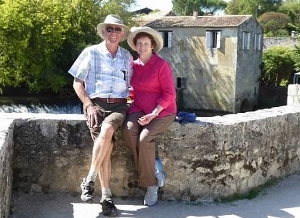 "We had the delightful chance to experience great weather and the wonderful scenery and hospitality of our hosts, Peter and Wendy Carrington on the Saint Louis in September of 2014. We had resisted booking conventional cruises or even larger river cruises because of the number of passengers and the resulting need for standardization of itineraries. When we learned about the Saint Louis we were attracted to the fact that it takes only six passengers and allows for considerable flexibility of itineraries and meals. All services are included in the fee. Every day included a few hours of gentle canal cruising and a guided tour of the local countryside. An eight passenger Mercedes van was used for the daily excursions as well as for picking passengers up at both ends of the cruise. Each day we were offered some suggestions for the excursions and we could opt to come or not or to modify it.

Beth Hanson, our booking agent, contacted us some time before the cruise began, asking for any food allergies or preferences and conveyed this information to Peter, who accommodated all our requests if at all possible. This included preferences for drinks. The open bar was available at any time and every lunch and dinner was accompanied with two different local wines chosen specifically to compliment the dishes being served.

It is hard to describe adequately the level of service Peter and Wendy provide. Wendy is a true artist in arranging beautiful place settings for every meal, including breakfasts. I think every meal had different linens and color schemes. Peter is a talented chef, who provided a wide range of fine French cuisine using local food items. Every day he made an early morning run to a different local boulangerie for fresh croissants and bread and some time each day he or Wendy shopped for fresh food. One afternoon he climbed a hill where he knew borage flowers grew that he used to decorate the evening dessert! Nothing was left to chance in creating the gourmet meals.

Speaking of special service, my camera battery charger stopped working on the first day and I was afraid that I would not be able to take any more photographs, but Wendy offered to look for a universal charger that might work. She shopped for it while we were enjoying our daily cruising and would not even accept money to reimburse her expenses! That is what I call going above and beyond.

They really seem to enjoy people and to providing the very best possible experience for their guests. While the price may be more than equivalent time spent on larger vessels, the value is exceptional for anyone who appreciates being treated to a slow paced glimpse of luxury in a beautiful part of France.

Book ahead because this experience is contagious." Jeff and Linda W.
"We are back from our wonderful trip to France. Our barge trip was the best!!!!! Great people, great boat, beautiful scenery, fabulous food - what more could we have asked. Thanks for advising us well." Ben and Kae