SAROCHE - CHAMPAGNE, a 6-passenger deluxe barge, cruises the Champagne region of France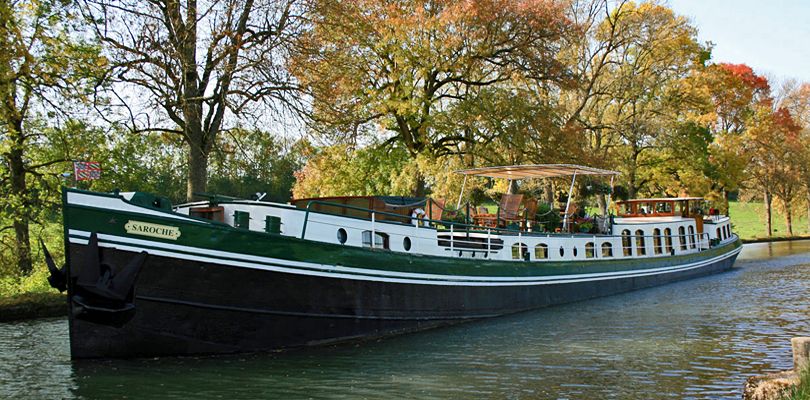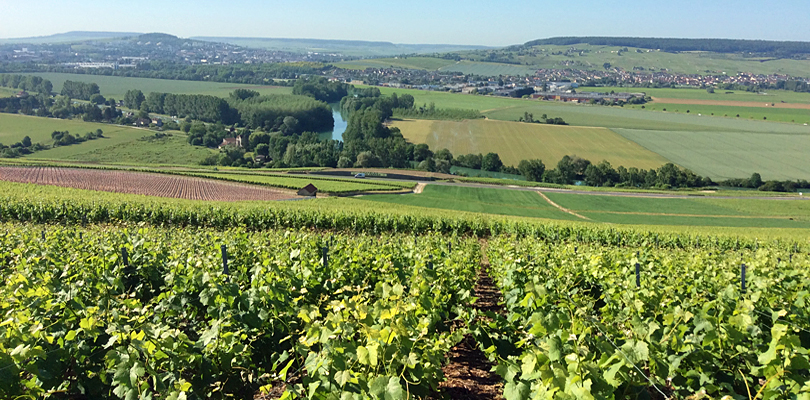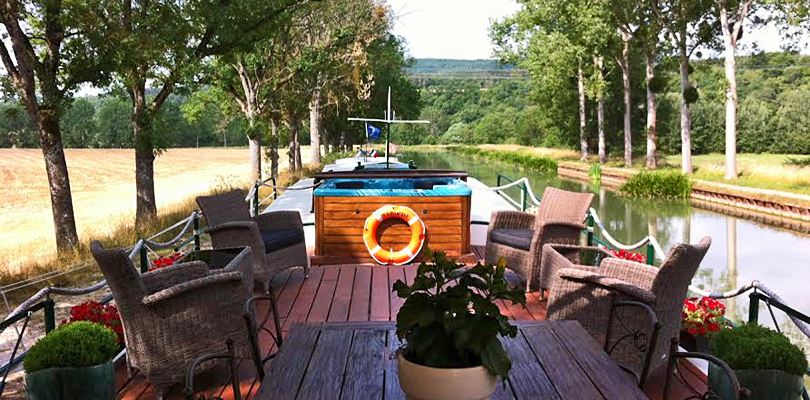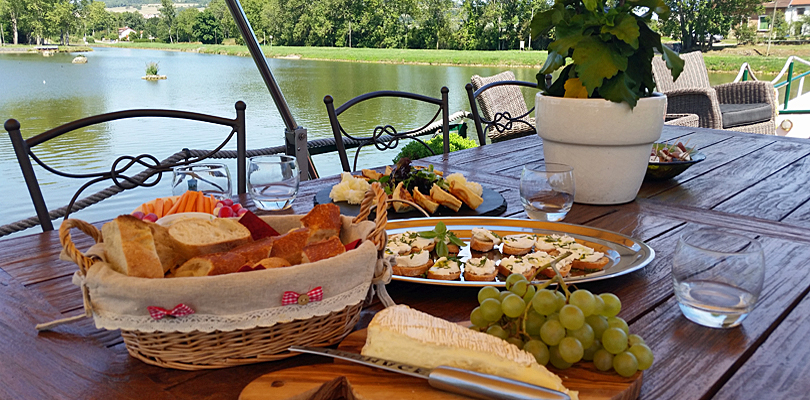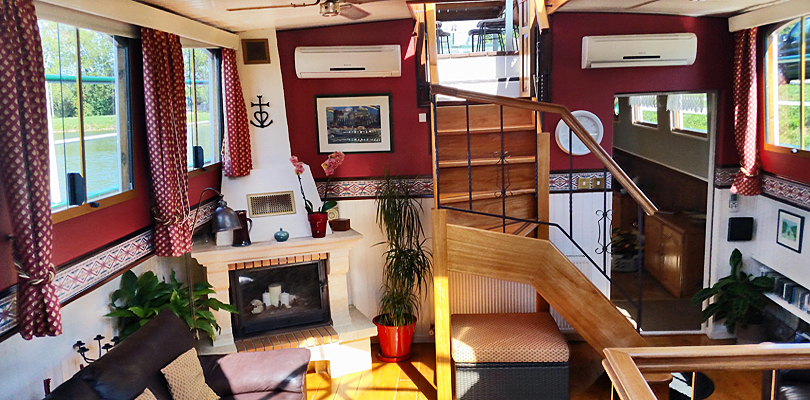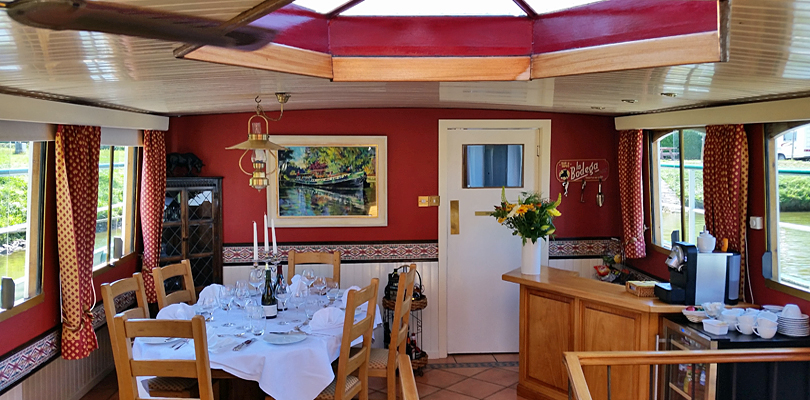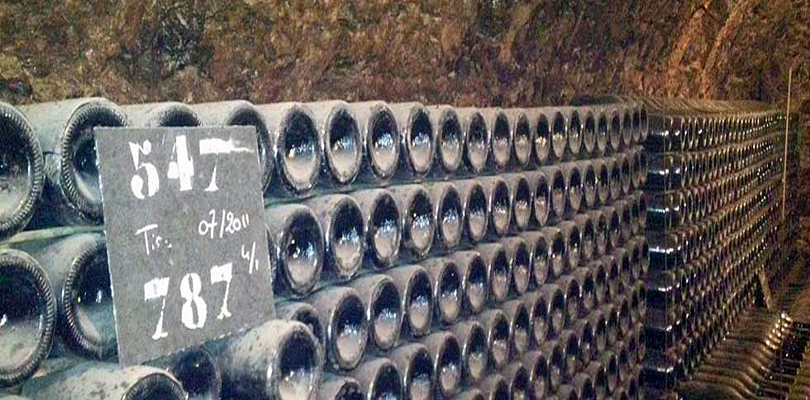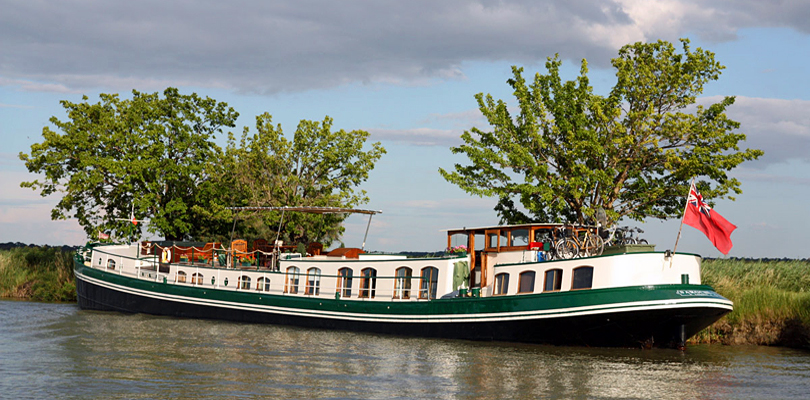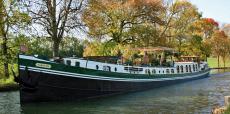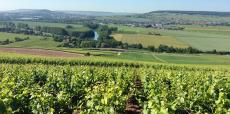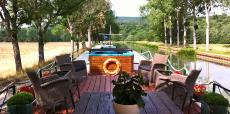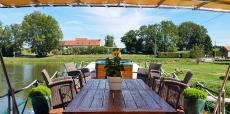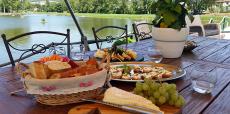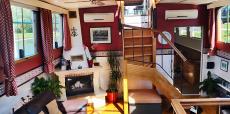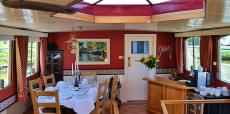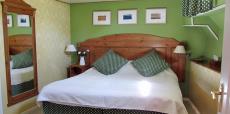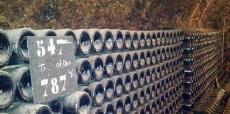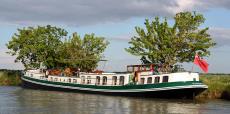 SAROCHE - CHAMPAGNE Cruise Stops
Captain Jason Ashcroft and Chef Dawn Coles, much loved owners of Saroche, will be floating the canals of Champagne in ​2024. ​The barge ​has three large, well-appointed cabins​ with modern en-suite bathrooms. Features include arched windows throughout, ​large sundeck with awning and a hot tub.
The Marne River Valley meanders through the center of the Champagne Region of France. Bordered on both sides by lush vineyards​, this region is rich in history, abundant natural beauty and a world of mystery. With the mere word "Champagne", images of luxury and wealth spring to mind. Let Saroche cruise you through this magical part of France and indulge you in the drink of kings and queens to enjoy it at its best.
Cruise Highlights
Visit the 16th century hunting lodge of Conde-en-Brie
Make chocolate and watch the working of an artisanal master chocolatier
Tour the magnificent Cathedral of Reims and walk through the historical center
Lunch at Jardin Brasserie at Domaine Les Crayeres
Learn about the making of Champagne and taste the results at the Champagne house of Billecart Salmon
Walk the battlefields of WWI and see the trenches at the Mains de Messige
Enjoy Jason's "bubbles du jour" and Dawns' gourmet on board cooking classes
Ample time to walk or bike the towpaths along the canal
Cruise Features
Owner Operated:
Yes - ​Captain Jason Ashcroft and Chef Dawn Coles

Number of Passengers:
6
Category:
Deluxe
Cabin Bookings:
​​No
Charter Bookings:
Yes
Cruising Region
: ​Champagne, France
Length of Cruise
: 6 nights - Sunday to Saturday
Cruising Season
: ​April - July
Theme Cruises:
Family, Custom
Meeting Location
: Designated point in ​Paris
​
Floorplan

Cruise Rates 2024 (2023 Sold Out) - Charter Only
Sunday to Saturday (6 nights)



​All Season Departures
April 28-4
May 5-11, 12-18-19-25, 26-1
June 2-8, 9-15, 16-22, 23-29, 30-6
July 7-13, 14-20, 21-27


Charter Rates
4 passengers
$35,000
5 passengers
$38,000
6 passengers


$​43,500
Included in Cruise Price
Transportation between designated meeting point in ​Paris and the barge. Only one pick up and drop off destination may be chosen for the whole group.
Six nights accommodation in private cabin with ensuite bath
All meals with fine wines including gourmet lunch on shore in Reims
Open bar
Guided tours with entrance fees. Excursions are by air-conditioned vehicle
All barge amenities including bicycles, music system, library, hot tub, etc.
Not Included in Cruise Price
Air or other transportation to the meeting location
Trip cancellation or medical insurance (available when booking)
Personal expenses
A discretionary gratuity for the crew (suggested minimum is 5% of the cruise price)
​SAROCHE Features
Passengers: 6
Category: Deluxe
Crew: 4
Barge Size: ​128 ft long
Cabins: 3
Cabin Size: 200 sq. feet
Accommodations: 3 cabins​ with queen or twin beds
Heat & Air: Central heat and air conditioning



Amenities

Hairdryers
Library and games
Large arched windows and skylight
Sundeck with chairs, canopy and hot tub
6 Bicycles
Minivan with A/C
Email Access: WiFi
CD Sound System
Electricity: 220V

Theme Cruises

Family, Custom











Cruising on ​SAROCHE in Champagne
Vandières to ​Soulange-en-Marne (or reverse)
Mostly canal with some time on the Marne River
Sunday - Transfer from Paris to Vandieres
Guests are met at a designated point in Paris by Captain Jason Ashcroft and chauffeured to your floating home for the week moored at Vandières. Enjoy a Champagne welcome and time to settle into your cabins before Dawn, your private chef, creates your first gourmet dinner on board Saroche.

Monday - Vandières to Cumières
After breakfast, we visit the chateau of Condé-en-Brie. This 16th century hunting lodge has hosted kings and queens, murderers, saints and sinners. Jason will guide you on a private visit through this wonderful building. And, if the owner is in residence, we are introduced to the Count and perhaps invited to join him in a glass or two of Champagne. We return to Saroche for a lazy lunch with surrounding views of the glorious Champagne vineyards before setting sail and heading up stream towards Cumières. We moor in the shadow of the Abbey of Hautvillers, with time for a gentle stroll along the towpath before Jason introduces you to "bubbles du jour". We dine aboard with another of Dawn's fabulous meals.

Tuesday - Cumieres to Tours-sur-Marne
After breakfast, we drive through Epernay with Jason to visit Chocolatier Thibault, where we'll spend the morning making artisanal chocolate with the master chocolatier, famous as the last chocolatier to make the alcohol filled chocolate champagne cork. This is a rare and exciting chance to get up close to one of the worlds' favorite foods. We return to Saroche for lunch, then begin cruising to Tours-sur-Marne on the Canal latéral à la Marne. We pass by hill covered vineyards owned by many famous Champagne houses such as Mumm, Philipponnat, Moët & Chandon and Heidsieck, to name a few. We'll have plenty of opportunity to walk and cycle along the well paved towpath as we slowly ascend the valley toward our mooring in the center of the village of Tours-sur-Marne. Time for another "bubbles du jour" before dinner on board.

Wednesday - Visit to Reims from Tours-sur-Marne
We drive this morning into the historic city of Reims (pronounced rance as in France). Our first stop is to the Eisenhower war rooms, an important yet undiscovered museum where the end of World War II was ​formally signed. From here, Jason takes you to the world famous cathedral of Reims. Having survived the revolution and two world wars, it is a testament to the resilience of the people of Reims. With its amazing nave and wonderful architecture, it deserves the world heritage status it has gained. We'll have time to wander the vibrant shopping and café district of Reims before meeting up with Jason for lunch. We'll dine at "Les Crayeres Bistrot" for a tantalizing Michelin dining experience and to enjoy the gardens at this most magnificent Relais and Chateau hotel, once home to the Pommery family and now one of the best small hotels in the world. Leaving Reims, we drive back to Saroche. On the way, we stop off in Bouzy for a small private tour and tasting before returning to the barge. Free time to relax or take a dip in the jacuzzi before our light dinner on deck.

Thursday - Tours-sur-Marne to C​halon-en-Champagne
After a lazy breakfast, we take the minibus to Mareuil-sur-Ay, home to many famous Champagne houses but none more so than Billecart Salmon. Here, we enjoy a private tour of the last remaining independent large Champagne houses followed by a delectable tasting. Returning to Saroche for more of Dawns' creations will leave you well nourished for a relaxing afternoon on deck or walking/biking along the towpath as we climb the 8 locks to the summit of the canal. While cruising, those interested can join Dawn in the kitchen and watch her prepare her famous pates and terrines, quizzing her about her menus and creations. Our mooring tonight is in the middle of the peaceful French countryside. "Bubbles du jour" happy hour followed by dinner aboard.

Friday - ​Chalon-en-Champagne to Soulange-en-Marne
This morning, we cruise along the canal to the tunnel at Mont du Billy. This tunnel, a marvel of 18th century French engineering, allowed commercial barge traffic to connect Paris with Reims in the 18th century. We pass through the tunnel and continue down the canal to our night's mooring at Soulange-en-Marne on the Marne River. After lunch, we drive to the WWII trenches at La Main de Massiges. These trenches were discovered by a Parisian archeological student doing a summer dig. Today, they are the newest discovery of this grizzly episode in Champagne's torrid history. A walking tour of real trenches is a reminder of the other reason Champagne is world famous. Return to the barge in time to freshen up before the festive captain's dinner. Tonight Captain Jason will host your dinner, starting with "Bubbles du Jour" and cocktails on the deck before Dawn wows you with more delights from her kitchen.

Saturday - Transfer to Paris
After breakfast, your chauffeur driven minibus will take you back to Paris, with time on the journey to reflect on a truly unique vacation.
This is a sample itinerary and is subject to change. The itinerary is in reverse direction on alternate weeks.



Barge Cruise Reviews for Saroche
Jason and Dawn have owned and operated the barge "Who Knows" for many years and are thrilled to have purchased the deluxe barge Saroche debuting in 2016. We know their passengers will be even more delighted with the more spacious accommodations and services of a larger crew while retaining the charm of cruising with accomplished captain and tour guide Jason and widely-acclaimed chef Dawn.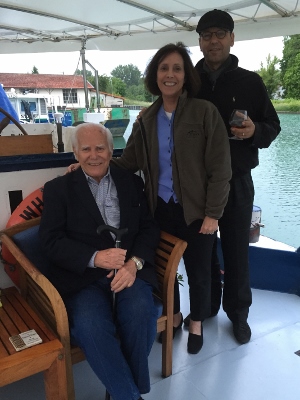 "Hello Beth, Yes indeed we have great memories of our barge trip with Jason and Dawn who are great hosts. We feel fortunate to have spent our time with them - they are truly accommodating and took care of all our requests and then some. Thank you so much for bringing them to our attention and also for all of the other details you took care of (transportation, etc) that made this barge trip such a pleasant experience." Leonard L and family - 2015 in Champagne on Who Knows​
​