SAVOIR VIVRE, an 8-passenger charming class barge, cruises the Burgundy Canal in Southern Burgundy, France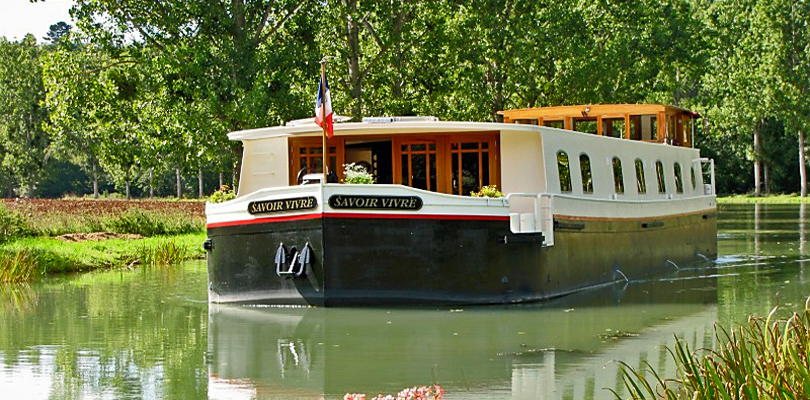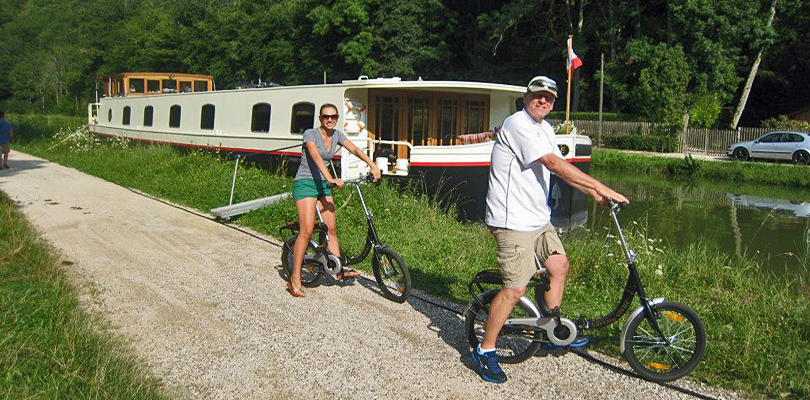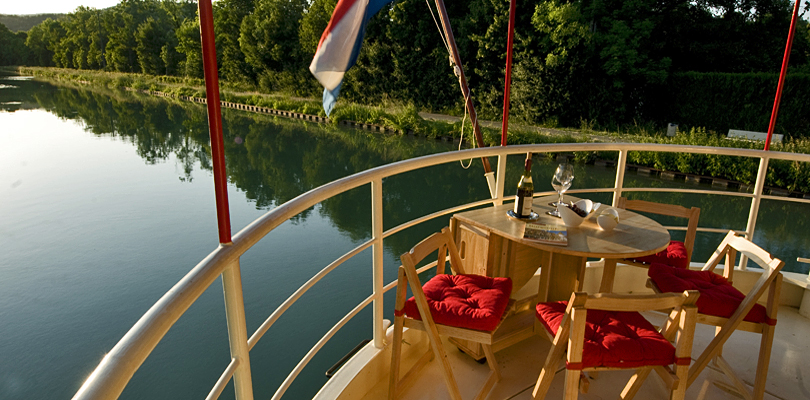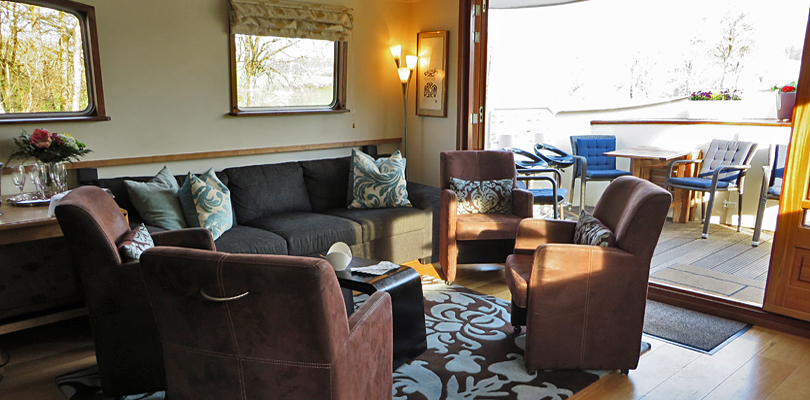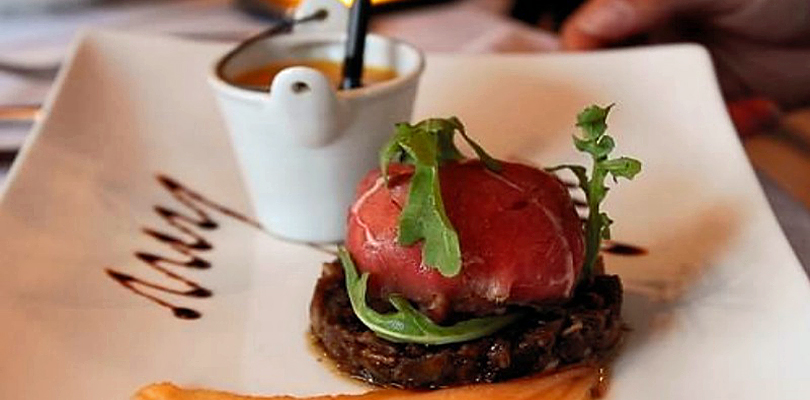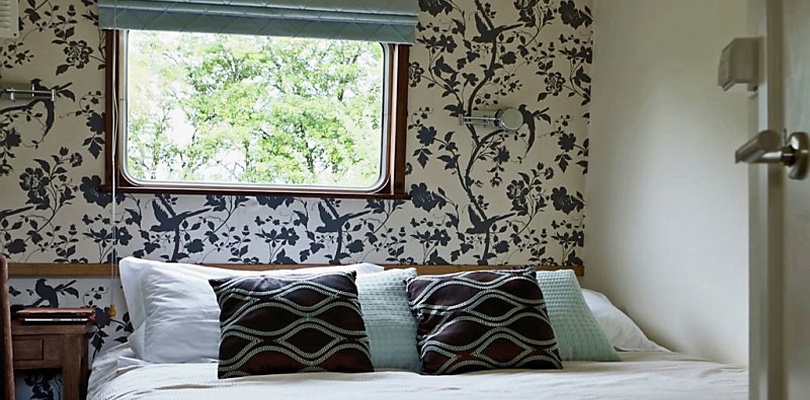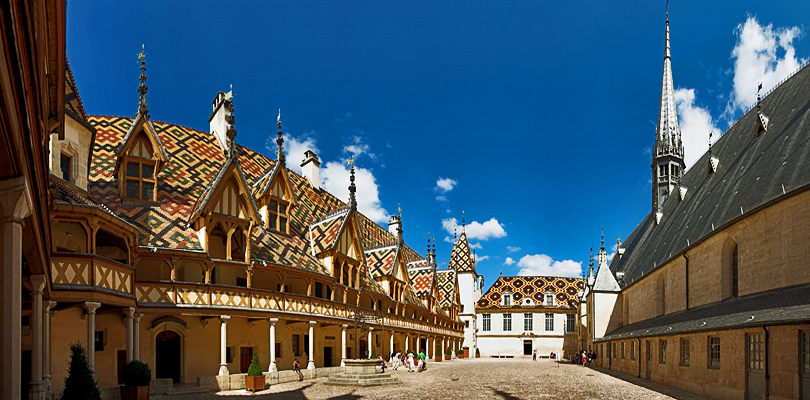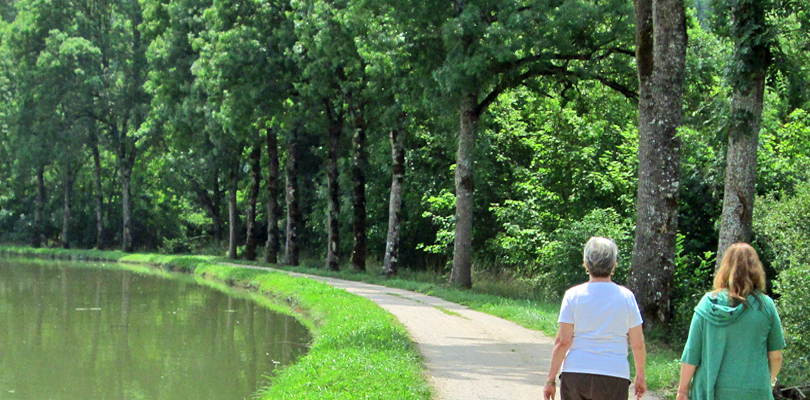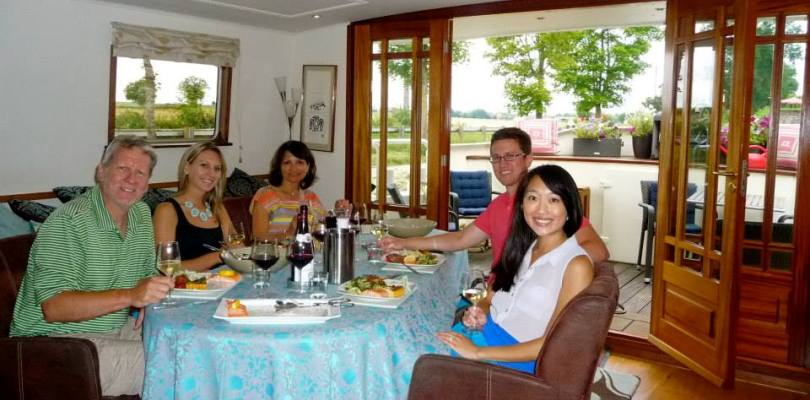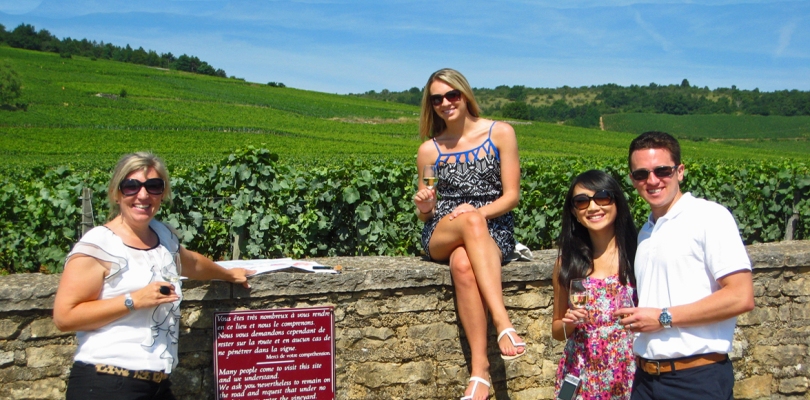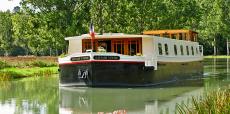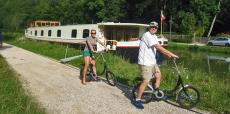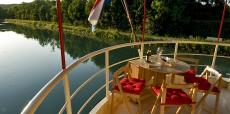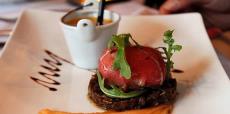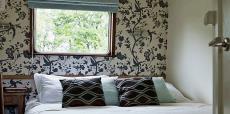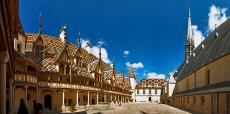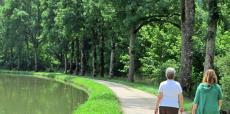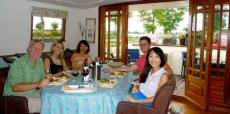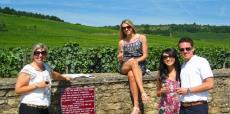 SAVOIR VIVRE Cruise Stops
The only barge offering dinners on shore in a variety of restaurants included in the price!
SAVOIR VIVRE offers a creative barge cruise accentuating spontaneous experiences in small villages and along the canal. The purpose built vessel is chic, stylish and comfortable. With an itinerary designed for the adventurous souls who enjoy dining in small restaurants and country auberges, dinners are taken on shore included in the price. Excursions to the highlights of southern Burgundy give guests a diversity of historic sights and emphasize the villages, the markets, and the wine and food producers. For a casual, yet elegant, cruise, Savoir Vivre is affordable, flexible and fun.
Richard Megret is the experienced Captain hailing from a prominent French "barging family," members of which have been crewing in our industry for generations. He has worked on the canals since 1989, serving as pilot or chef on such top vessels as Fleur de Lys and Hirondelle. Attractive, strategic and fun, Captain Megret is ready to delight guests with his knowledge of history and wines. He is assisted by a crew of two chosen for their expertise in the hospitality industry.
Cruise Highlights
Dinners onshore each night in local restaurants or auberges
Route des Grands Crus
Winetasting at the medieval chateau of Clos de Vougeot
Colorful outdoor market of Dijon with time to see the historic town center and Ducal Palace
An entire day in Beaune, the wine center of the Cote d'Or, to enjoy the famed "Hospice", lunch in town followed by winetasting and plenty of time to browse the shops or enjoy a cafe
Visit Ferme de Poisset, an authentic cheesemaker - tastings, bien sur!
Hilltop castle and village of Chateauneuf-en-Auxois
Opportunity to walk and bike along the towpaths as the barge cruises through the beautiful Vallee d'Ouche.
Cruise Features
Owner Operated:
No
Number of Passengers:
8
Category:
Charming Class
Cabin Bookings:
Yes
Charter Bookings:
Yes
Cruising Region
: Burgundy Canal, Southern Burgundy, France
Length of Cruise
: 6 nights - Sunday to Saturday
Cruising Season
: April - October
Theme Cruises:
Custom, Family
Meeting Location
: Designated meeting point in Dijon
​
Floorplan

Cruise Rates 2023
Sunday to Saturday (6 nights)



2023 Value Season Departures
April 9-15, 16-22, 23-29
October 15-21, 22-28


Cabin Rates

Staterooms per person, double occupancy

$ 4,000
Single Supplement

$ 1,750
Charter Rates

6 passengers

$30,000

7 passengers

$31,000

8 passengers


$32,000


2023 Regular Season Departures
April 30-May 6
May 7-13, 14-20, 21-27, 28-June 3
June 4-10, 11-17, 18-24, 25-July 1
July 2-8, 9-15, 16-22, 23-29, 30-August 5
August 6-12, 13-19, 20-26
October 1-7, 8-14

Cabin Rates


Staterooms per person, double occupancy

$ 4,250

Single Supplement

$ 1,750

Charter Rates
6 passengers

$32,000

7 passengers

$33,000


8 passengers

$34,000


2023 High Season Departures

August 27-September 2
September 3-9, 10-16, 17-23, 24-30

Cabin Rates

Staterooms per person, double occupancy

$ 4,500
Single Supplement
$ 1,750
Charter Rates
6 passengers
$34,000
7 passengers
$35,000

8 passengers

$36,000
Included in Cruise Price
Transportation between designated location in Dijon and the barge
Six nights accommodation in private stateroom with ensuite bath
All meals, wine and drinks (including the 6 dinners on shore with 1/2 bottle of wine per person)
Open bar
Daily escorted excursions by air-conditioned van
All barge amenities including bicycles, music system, library, etc.
Not Included in Cruise Price
Air or other transportation to the meeting location
Trip cancellation or medical insurance (available when booking)
Personal expenses
A discretionary gratuity for the crew (suggested 5-10% of the cruise price)
​
SAVOIR VIVRE Features
Passengers: 8
Category: Charming Class
Crew: 3
Barge Size: 80 ft long
Cabins: 4
Cabin Size: 100 sq ft including bathroom
Accommodations: 4 staterooms with queen or twin beds
Heat & Air: Individually controlled heat and air conditioning



Amenities

Adjustable beds with individual controls
Bathrobes
Desk in cabin
Library
Small bicycles with one gear
2 compact sundecks with table and chairs
Minivan with A/C
Email Access: WiFi where available
Laptop for guests' use
TV/DVD/CD: Flat screen TV and Sound System
Electricity: 220V

Theme Cruises

Family, Custom Charters upon request














Cruising on SAVOIR VIVRE
Burgundy Canal, Southern Burgundy
Fleury-sur-Ouche to Escommes ​(or reverse)

Sunday - Transfer from Dijon to Barge
You will take a train arriving to the Dijon train station between 3-4 pm. (The cost of transfers to/from Dijon is in addition to the cruise fare and must be booked separately.) Your Captain will be in the platform as you alight and chauffeur you to Savoir Vivre moored in Fleury-sur-Ouche, a classic village nestled on the Canal de Bourgogne. Or….we'll see you in the lobby of your local Dijon hotel or in the office of your car rental return. Enjoy a champagne welcome as you are introduced to your top crew for the week. There will be time to unpack and explore, helping you work up an appetite for your first on-shore dinner at the local, friendly and refined restaurant, "Auberge Les Gourmands."

Monday - Fleury-sur-Ouche to Gissey-sur-Ouche
This morning begin your cruise back in time through the unhurried and authentic Valley of the Ouche. You'll float past limestone cliffs, wooded hills and enchanting villages. After lunch on board, enjoy the first of many excursions. Richard, your Captain now becomes a trusted guide who will introduce you to the sights and history of Burgundy. You will be driven south to the famed Cote d'Or wine region. First visit Chateau du Clos de Vougeot where wine was produced by Cistercian monks from the 12th century on. Examine the ancient wine presses and learn more wine-making and life in that long ago era. Then it's back to present-day pleasures at a winetasting which introduces area vintages. Return to Savoir Vivre. Later you'll be transferred to dinner at the lovely nearby restaurant of "O Petit Repere du Gout."

Tuesday - Gissey-sur-Ouche to La Bussiere-sur-Ouche
After breakfast on board featuring village-baked pastries just warm from the oven, head back to Dijon to mingle with locals at the famed outdoor market. There will be time to look around the well-preserved Medieval town core and shop - think mustard! Then it's back to Savoir Vivre with lunch on board and an afternoon cruise through gorgeous scenery to La Bussiere-sur-Ouche. Relax on deck or explore by bicycle and meet the barge at the next lock! Explore the subtle charms of La Brussiere before preparing for dinner tonight at the restaurant, highly regarded "Ferme de Rolle".

Wednesday - La Bussiere-sur-Ouche to Pont d'Ouche
Take a moment to reflect this morning as we cruise to Pont d'ouche. After lunch aboard, sightseeing takes center stage as you head to enchanting Beaune - wine capital of the Cote d'Or. There's much to enjoy in Beaune; most important is the immaculately preserved Hospice de Beaune, a charity hospital built in the 15th century (and which treated patients until the early 20th century!). There will be time to explore the shops or visit a cafe in the square. Return to the barge in late afternoon, then relax until we drive you to the nearby delight of "Le Spuller", your restaurant for this evening.

Thursday - Pont d'Ouche to La Repe
After a peaceful start to your day we visit Ferme de Poisset, an authentic cheesemaker. Yes, you'll learn and then you'll taste! After all, you are in France! Return to Savoir Vivre and walk the towpath or bicycle into a nearby village - or just relax on deck with a good book - as Savoir Vivre continues its journey on the historic Canal de Bourgogne to La Repe. Tonight you will dine at "L'Oree du Bois," an authentic creperie (which are a French dining institution) located in the heart of Chateauneuf en Auxois. Before dinner enjoy a glass of wine at the stunning lookout point.

Friday - La Repe to Escommes
After breakfast on board, we visit the lovely Medieval village and chateau of Chateauneuf-en-Auxois perched high on a hill overlooking the canal. Explore on cobblestoned streets, peek into private gardens, and then tour the haunting chateau. Return to Savoir Vivre for a drink on deck and then continue our cruise through the Valley of the Ouche to our final mooring in Escommes. Your final on-shore dinner is at the 'straight out of Ratatouille', "Chez Camille," in the heart of nearby Arnay le Duc. Now is the time to share memories of your authentic encounters with the people, cuisine, wine and sights of Burgundy.

Saturday - Transfer to Dijon
At 9:00 am, you will be chauffeured to the Dijon train station for a departing morning train. Or perhaps you'll pick up a rental car in Dijon and continue your adventure. After your final breakfast on board, it will be hard to leave Savoir Vivre! We hope that your cruise on Savoir Vivre has created memories to last a lifetime!
This is a sample itinerary and is subject to change. The itinerary is in reverse direction on alternate weeks.
Barge Cruise Reviews for SAVOIR VIVRE
"Savoir Vivre lives up to it's name. My wife and I along with three other couples had a wonderful week aboard this immaculate barge. Our room was small but perfectly adequate. Richard, our host/pilot was cordial and anxious to tend to our every need. Same with Marie, the pleasant young lady who arrived each morning with fresh fruit,croissants, and baguettes for breakfast. Lunch was served on board with a variety of delicious creations from a nearby bistro. Each day we went on a 3 to 4 hour tour in a comfortable van with Laura, an attractive British lady, who has lived in the neighborhood for 20 years. She has a great sense of humor and provided many insights to spice up our tours of nearby attractions. On the trip, we probably didn't travel more than 35 miles, traversing 41 locks. Most of us got off the barge for walking or biking on the wide path next to the canal, enjoying the picturesque surroundings and villages. A unique experience for me was assisting the attendant in opening and closing the locks, which date back a century or more. They are no more automated today than when they were when installed. We love France and have been there many times. This, our first barge trip, ranks near the top of the many wonderful experiences we have had in this, our favorite foreign country." Pat and Dick T, Yakima WA
*******************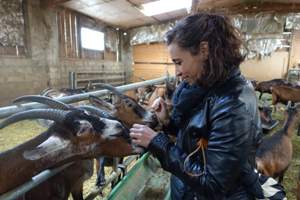 "We had a really wonderful time on the barge. We were incredibly impressed by the crew - Richard, Marie and Laura - they took great care of us, especially my grandmother. They all showed great hospitality and worked hard to make sure she was comfortable as possible. Richard even went to the Dijon train station and helped to arrange a different seat for her on the train in first class so that she would be able to travel easier.

We were most impressed with Laura. She was fantastic. She was very knowledgeable about French history, the region, wine, etc. Several times we discussed that she was one of the best (if not the best) tour guides we've ever had. We found all of her information fascinating. She was also incredibly thoughtful and accommodating to the group, particularly our grandmother.
We ate and drank far too much :). We really enjoyed the lunches prepared by Steve. I think his meals turned out to be everyone's favorites!" Allie E.
********************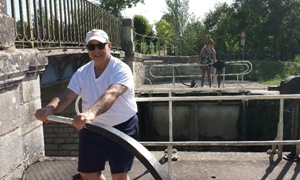 Jean and I have been raving about the trip we had with you on the Savoir Vivre. The more we talk about it, the greater our appreciation becomes for all that you did for us. It was truly the best trip we have ever taken. Everything was beyond our wildest expectations, including the accommodations, wine, food, cruising along the canal with its beautiful scenery, the excursions to the important sites and fine restaurants, but especially the wine and food. I can't recall a time when I have enjoyed so much wine, bread, cheese and desserts in such a short time. Of course, I left the barge with a major case of "barge belly, barge gut and barge butt" but it was well worth it and I will now try to get back into better shape?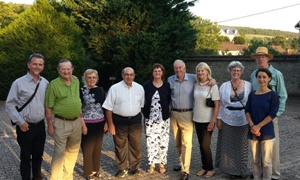 I particularly loved our excursions to Clos de Vougeot, Dijon and Beaune. I loved seeing the vineyards and old wine presses at Clos de Vougeot. I can't tell you how honored I felt by Laura's sharing her bottle of 2004 Clos de Vougeot with us. The walking tour of Dijon was very interesting and makes me want to return to see it again. Laura, your in depth explanations of all the sites was wonderful, but what you told us about the Hospice de Beaune was really special, as was your explanation of Chateauneuf en Auxois.

Richard and Marie, your service throughout the trip was wonderful. It seemed like you could not do enough to make our trip special. Your smiling faces and good humor during our stay with you was what set the tone for all of us to keep smiling and laughing. I know that you were working hard to make our trip special and it became special largely due to your efforts. Thank you for all that you did for us.
Jean K and David T.
*******************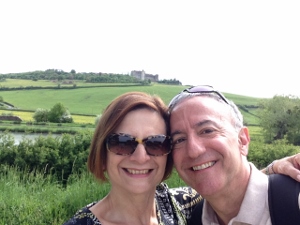 "The barge was wonderful and the crew was extraordinary! The excursions were fun, informative, and quite interesting. Our tour guide, Laura, was the best we have ever had. She offered so much more than the basic historical information.This was quite a memorable vacation. The staff was charming. There was nothing they would not do to accommodate us. The breakfasts and lunches were beautifully served and delicious. Being gluten free is sometimes difficult when on vacation. Not on the Savoir Vivre! Each day Marie, our hostess, would surprise me with something different from cereal, to bread, to treats. If we mentioned something we liked, the next day it was on board. The restaurants that Richard arranged for us were outstanding both in beauty and in culinary delight. And again, they were able to accommodate without any difficulty. Two of the restaurants even baked special gluten free bread for me! Overall, this was an extraordinary experience! The barge was outstanding, the crew was extraordinary, the tours were fabulous, and the food and wine top notch! I would recommend this in a heartbeat! It will be difficult to top this experience from start to finish!"
Barbara and Larry C.
********************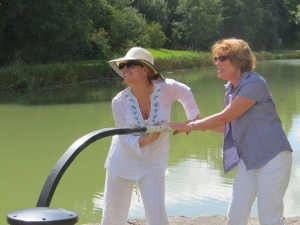 "We did not know what to expect as we had never talked to anyone who had taken a canal barge trip. Well, it far exceeded our expectations! The food, the sights, the wines, the laughs, the staff, and the new friendships we made will all be precious memories that will last forever. We really can't say enough about this experience. We were treated like royalty! The crew made the trip absolutely superb!! Richard, the skipper, had the best sense of humor. Everyone loved having him with us on the boat and at dinners. Laura set the most beautiful tables for breakfast and lunch; so attentive and happy to serve us. Simon's tours and information were so interesting - a wealth of details and facts all presented in fascinating ways."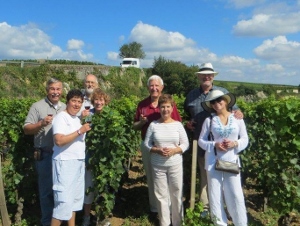 "I didn't mention how much we enjoyed the other 2 couples we traveled with! We all became great friends and hated saying good-bye. It was quite an adventure while sharing each day with new friends that enjoyed everything as much as we did." Jan and George H.
********************
"Loved the barge and the crew! The crew was exceptional. Richard was fun and took care of all our needs, Jo made us comfortable and feel like we were at home and Laura was so knowledgeable about the area and had great stories. A perfect threesome! The excursions were perfect. We all felt that it was the perfect mix with the larger towns mixed in with the vineyards, goat farm, chateau. The food and wine! We couldn't wait to come back from our sight seeing trips every day to see what was for lunch. We also loved going to different restaurants every day for dinner. You were so nice, Beth, that I felt I was booking this trip through a friend." Jackie F.
********************
"It truly was a wonderful trip. We can't say enough good things about Richard, Jo, and Laura and all they did to make our stay enjoyable. The countryside was beautiful - every view was a picture postcard. The dinners were our favorite part - visiting small local restaurants with excellent chefs, delicious food, and fine wines made the end of every day perfect." Phil S.
********************
"Awesome!! Richard, Jo and Laura were more than we could have hoped for. They were friendly, accommodating, patient and FUN! They treated us like we were old friends. The cabins were tiny...but SO comfortable. I was impressed with the excellent design of the cabin...convenient to use inspite of the limited space. Loved the excursions! Laura's knowledge of the history of the area was excellent. The excursions were just right in length so that we could also have time during the day to ride bikes or read or whatever. The barge route was great...very beautiful scenery. EVERYTHING was outstanding...the crew, the food, the wine, the excursions, the scenery...and our boat mates turned out to be great people and a lot of fun." Judy W.