Airport Transfers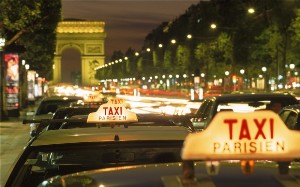 I personally prefer taking a taxi from the airport to my hotel in Paris. Upon arrival, it is simple to go to the taxi stand to take a licensed taxi and away you go. As of March 1, 2016, the taxi fares are fixed from the airport to central Paris at 50 euros from Charles deGaulle Airport to the Right Bank and 55 euros to the Left Bank. The fare will increase if there are more than 4 people in your party.
​Transfer service booked through your hotel
More hotels are offering a ​"meet and greet" transfer service which they contract with a local company often working only with hotels. When making your reservation, inquire if this is available at what cost.
Viator - Paris Airport Shuttles
If you are a group of 4 or more, an airport shuttle is an affordable option. I use Viator which contracts with reputable local shuttle companies to provide shared or private transportation to your central Paris hotel.
Airport to Paris Transportation
Here are some great tips from our favorite France travel planner for the various ways to get from Charles De Gaulle Airport to the center of Paris.